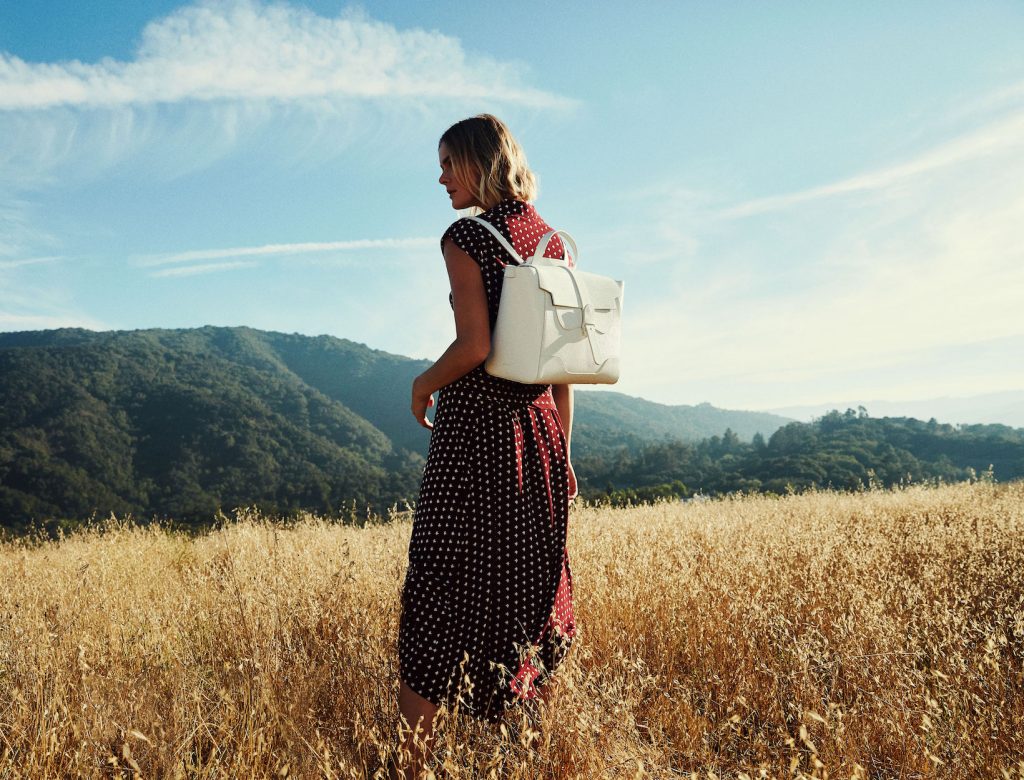 The Women Making Luxury Handbags Versatile
FEMALE FOUNDERS
The Women Making
Luxury Handbags Versatile

In partnership with our friends at


Perhaps the only upside to workplace inequality is it has driven a lot of amazing women out of corporate America—and straight to the helm of their own companies. We decided we didn't want to just cheer them on anymore. We wanted to meet them and interview them and write about them. With that, we give you: Female Founders, a column featuring women who create, design, and inspire.

From left: Coral Chung and Wendy Wen.
Coral Chung and Wendy Wen were working in Silicon Valley when they had their lightbulb moment: Luxury handbags and laptop portability were mutually exclusive. In fact, all their laptop-friendly bags were ugly—they knew they could do better. So they did.
They created Senreve (a play on "sense" and "dream"). The mission of Senreve is to give busy women handbag options that can hold their life and laptop without looking…meh. "We have extremely high standards," says Wen. For example, early on, "people told us that it would be too costly and unnecessary to invest in the quality of the interior of the bag—no one ever sees it. But we know that women who use the bag actually see it because we are those women." Their first design was the Maestra. It's a bag that can be worn as a satchel, tote, crossbody, or backpack (thanks to a convertible strap) and proves that utilitarian chic is far from an oxymoron.
A Q&A with Coral Chung and Wendy Wen
Q
Why did you decide to create Senreve?
A
Chung: I could never find the perfect handbag. I was constantly trading off and having to choose between either a bag that was beautiful and luxurious or one that was practical and functional, like a laptop bag or briefcase, but those were masculine and did not fit my aesthetic. So I set out to create products that were a combination of all the things I wanted and needed—gorgeous Italian craftsmanship combined with versatile design; supple, luxurious materials with organization and all the right pockets; and thoughtful details that were functional but feminine.
---
Q
What was your design process like?
A
Wen: The design process took about eighteen months and involved taking our creative process and infusing it with data and feedback. We collaborated with artisans at our Italian factory as well as with designers who have deep expertise and background from designing with leading traditional luxury brands. At the same time, we surveyed and interviewed hundreds of women. We conducted focus groups to really understand deeply their perspectives on what was missing from their existing handbags and, in a way, what was missing from their lives.
---
Q
How do living and working in Silicon Valley, a place known more for technology than fashion, inspire your design?
A
Chung: What we love most about Silicon Valley is the vibrant community for entrepreneurs and people who want to create. I'm inspired by other female entrepreneurs and changemakers every day. The Stanford community was hugely important in the early days of Senreve, especially in forming our "design thinking" approach. We focused on rapid iteration of our prototypes and constant testing and improvement. This process has been a key ingredient of our success to date, and it's something that is ingrained in our DNA even as we grow and scale.
---
Q
What surprised you about launching a business, especially a start-up luxury brand?
A
Wen: Starting a business is hard because it's really your blood, sweat, and tears. It takes a lot to take a leap of faith and jump; starting is the hardest part. Creating a luxury brand is something that is particularly ambitious because many brands take decades to break through. We are focused on the long-term but also want to see constant results. It's a balance. The main thing that's surprising about starting a company is that the highs are extremely high, and the lows are extremely low. So it's important to keep things in perspective and not get too stressed about every little thing. Having a cofounder is nice for that since we can commiserate. The other surprising thing is how fast we've grown and how hard it is to prioritize all the opportunities that come our way.
---
Q
How do the two of you divide up your responsibilities?
A
Chung: As CEO, I focus on overall strategy, long-term vision, strategic partnerships, hiring, and overall product road map and development, including managing our relationship with our Italian factory. I'm also focused on outbound activities, like PR and communications, sales, and business development. In general, I have a longer time horizon and focus on the upside potential—I'm the optimist in our relationship.
Wen: As Senreve's COO, I'm focused on the daily operations, finance, customer experience, and internal aspects of the company as we grow and scale. I also lead our digital experience and marketing. As a former private equity investor, I am laser-focused on making sure we're in a solid financial position and protected in any downside scenario. I'm more of a pessimist, so we balance each other out.
---
Q
How did you land on the name Senreve?
A
Chung: Senreve is derived from the French words for "sense" and "dream." We also wanted to create a brand that represents dichotomies coexisting, so we felt that this represents who we are as a brand and represents our products: beautiful, handcrafted, luxurious, and at the same time, versatile, well-organized, and for the everyday. It also sounds elegant and distinctive. Like many aspects of our companies and products, we sought input from advisors, editors, and influential women who gave us positive feedback.
---
Q
What are your favorite pieces from your collection?
A
Wen: I'm currently using the classic Noir Maestra with silver hardware, which is a little edgier than our traditional gold hardware. But our original Maestra is my go-to bag. I can't imagine traveling or living without it.
Chung: I love our newest Aria Belt Bag style. I can be hands-free, and it's so versatile. It fits my phone, passport, credit cards, lip gloss, and other essentials. Another fun fact is that it's named after my daughter, Aria. My favorite right now is the bright fuchsia color.
Q
Was there a tipping point when you felt like the brand was really taking off?
A
Chung: It's the real customer moments that always remind me that we're doing something right: A woman stopped me in the Frankfurt airport customs line and asked me about the bag I was wearing. She later showed up a month later at a pop-in event we were having at Five Story in NYC to purchase the Maestra. There have been many stories like this that constantly inspire us and remind us that we're creating products for real women and we have a responsibility to do right by them.
---
Q
How much does customer feedback affect what you decide to make?
A
Chung: We are a customer-centric company. Each of us on the team, including the executives, takes shifts replying to customer emails and chats. It's always surprising to women when I'm talking to them directly, but I really care about their questions and feedback. CEOs don't spend enough time engaging with their customers, but for me, it's one of the most rewarding things. It's a huge honor for me, and I genuinely love it. We have the most supportive, intelligent, and insightful customers who are always providing nuggets of valuable feedback or advice. Keeping a pulse on customer feedback has been a huge part of this company, and many product insights have come directly from them, including the development of the Midi Maestra. This was because many customers who were petite and didn't carry a huge laptop wanted something slightly smaller than the original Maestra.
---
Q
What sets Senreve apart from other luxury bags?
A
Chung: The aspect that is absolutely foundational is that we started Senreve from the perspective of the woman. We believe that the handbag is an extension of that woman and is a representation of the evolution of women in society, including their participation in the workforce. We create products for women who are intelligent, sophisticated, and multifaceted, and who refuse to be stereotyped into one bucket or another. She's a young mom, a seasoned executive, a creative force, a community leader, a global traveler, and much more. Our story and products resonate with this woman because we understand how busy and complicated her life is, and we know that she needs a bag that transitions from day to night, from casual to formal occasions, a bag that is durable for everyday commuting or long-haul travel, but at the same time, she wants to look polished and feel feminine and elegant.
---
Q
What's next?
A
Chung: Senreve's growth over the last two years has created strong momentum for us, so we're setting our sights even higher. We'd like to grow internationally, expand our product offering, and build strategic partnerships along the way. As we grow, we still want to stick to our core principle of never sacrificing brand for short-term sales and our customer focus. We're here to build a lasting, global brand.
---