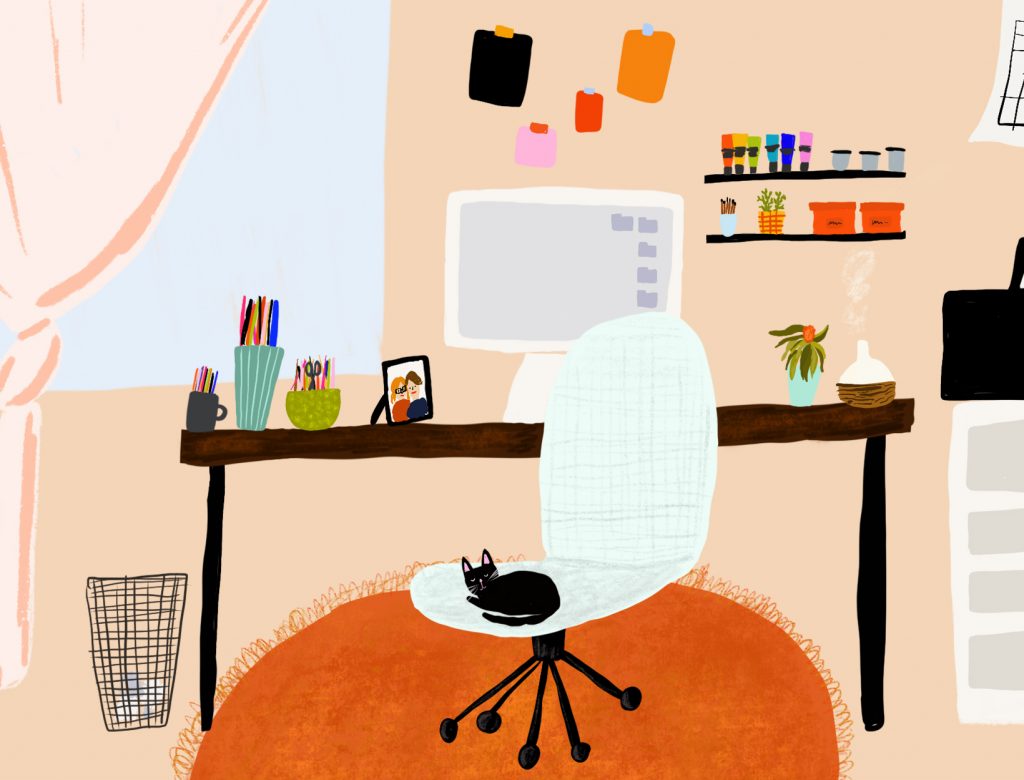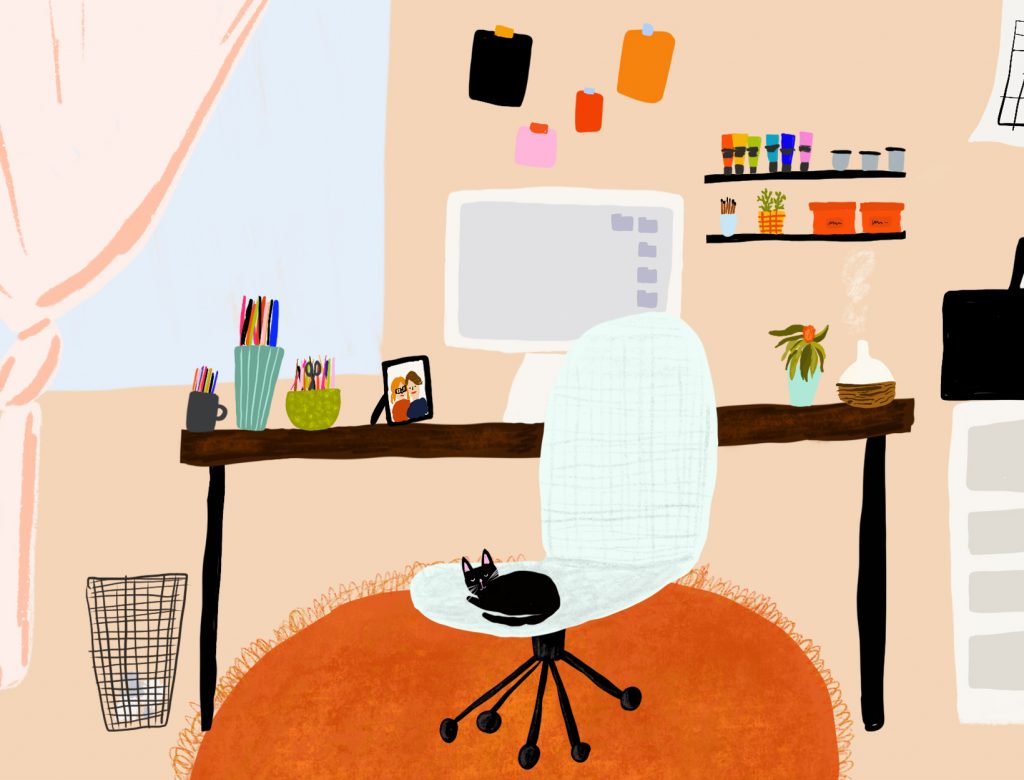 Illustration Courtesy of Kristen Barnhart
The Woman—and Program—Changing the Game for Female Entrepreneurs
First, the good news: Female entrepreneurship is expanding. Female-owned businesses grew 58 percent from 2007 to 2018, according to the eighth annual State of Women-Owned Businesses Report. And businesses started by women of color grew by 163 percent in that same period.
Now the bad: Female entrepreneurs get less than 10 percent of all venture capital. And along with minority entrepreneurs, they face often insurmountable barriers. They're less likely than white males to have a network that opens up access to start-up capital and mentorship. Those networks are largely homogenous—"and if you don't know somebody who knows somebody who can get you a meeting, then you never get a shot," says Carla Harris, the vice chairman of global wealth management and a senior client advisor at Morgan Stanley.
Harris has plans to change this. She's heading Morgan Stanley's in-house team working to transform the investment landscape for female and multicultural entrepreneurs, as well as small business owners. At the heart of those programs is Morgan Stanley's Multicultural Innovation Lab, an intensive six-month incubator program that helps female and minority founders grow their tech-forward businesses. (Less than 10 percent of start-ups in the tech field are founded by women, according to 2017 Harvard research.) The Lab educates entrepreneurs, gives them tools for navigating the entrepreneurial field, and introduces them to investors—things that should be accessible to everyone, not just those of a certain gender or race.
Now in its second year, the Lab has nearly doubled the size of its class. And its entrepreneurs are impressive: One founded a financial-literacy platform to help educate young people. Another created a direct-to-consumer platform for at-home testing and treatment for sexually transmitted diseases. The supply of talent is huge, says Harris. (This is the really good news.) We asked Harris to tell us more about the Lab and clue us in to the vital things every entrepreneur needs to know.
A Q&A with Carla Harris
Q
Why is the investment landscape so biased?
A
We can talk about two major factors. The first is that traditionally, in order to get to venture capital dollars, you have to be in a certain network and have access to those asset allocators. And traditionally, women and people of color have not had easy access to those networks because those networks are largely closed off.
Now, let's talk about the other one. Even if you get a shot, a lot of investors have not had exposure to these kinds of entrepreneurs, and people tend to invest in people or businesses they know and understand. So if you have not already been spending time with entrepreneurs who are women or entrepreneurs of color, you really feel out of your comfort zone and out of your knowledge zone about how to invest with these people. And if you are investing in a business, you are investing partly in the business idea, partly in the size of the opportunity, and partly in the individual and your belief in whether or not that individual can actually execute what might be a great business plan in a large market. So if you don't have that comfort zone in doing that, then you're not likely to invest a lot of—or any—money.
---
Q
How does the Morgan Stanley Multicultural Innovation Lab aim to break these barriers?
A
In its simplest form, the Lab is an accelerator that offers cash, content, and connections to emerging businesses founded by women and people of color to help them build and grow their businesses. We target entrepreneurs of color and women. We understand what the public market environment is looking for. I started my career in mergers and acquisitions, so I have a good idea of what the private market would find attractive in these companies.
Because we've spent most of our careers in capital markets, we've seen a lot of management teams. So we have an understanding of what you need to be or who you need to be or the skills that you need to have in order to actually manage and grow a business.
---
Q
When you first launched the Lab last year, there were five companies in the class. This year you've nearly doubled the size. What do you attribute that to?
A
The demand is huge among these companies that are trying to access the capital. And we are at a point when I think millennials and even Gen Zers have an extraordinary appetite for entrepreneurship. I would even argue it has exceeded the entrepreneur appetite among boomers and even Gen Xers. I would say for boomers, the appetite was to get into some of these large companies and be successful. But with millennials—and I spend a lot of time with millennials—there is much more of an entrepreneurial appetite. And even with respect to those who want to be in a large corporation, they are looking for an intrapreneurial opportunity.
So the supply today is very, very robust. And I don't see anything on the horizon that's going to slow that down. I think this is a really great time for us to be in this market, frankly, underscoring our appetite to have relationships with these emerging companies so that we are the institution of choice when they're looking for capital to expand their business. Because of our relationships, we can access all kinds of talent to show some of these companies. We can help them think through the kind of talent that they need to go to the next level.
---
Q
What are some moments at the Lab that have stuck out for you?
A
It is particularly rewarding for me because it's a very inspiring way to take thirty-one years of experience—financial services experience, capital market experience—and give advice to some of these emerging companies and these young entrepreneurs. And it's a great fit, because they have great ideas. But they're so deep in the trenches, they're seeing what's in front of them and they are thinking about day-to-day execution. I have the luxury of being able to think more strategically in a broader way because of the experience I've had. And then I can come to them and say, "Have you thought about X? And why wouldn't you position it as Y?"
One of the companies from last year came in with a very robust B2C (business-to-consumer) strategy. After a breakfast meeting with the CEO, I said to her, "I think there's a B2B opportunity here to pursue that will not penalize your B2C opportunity. And it can give you a higher generating revenue line and further substantiate and give you exposure to your B2C customers." She took my advice and pursued it, and it took off.
I helped another company with how to negotiate a term sheet and not give away too much of the company. And there was a company where I sat in on a major call with a potential customer and introduced myself as that company's executive resident. I did that because that is how I view our role. When these entrepreneurs come to the Lab, we are working for them.
---
Q
What's driving you to even the playing field?
A
For a long time that there has been an inequity with respect to the distribution of capital to women and to entrepreneurs of color. There's so much data out around that, and everybody likes to report on it. But nobody was really doing anything about it.
And then, in the summer of 2014, I had an opportunity to be a judge at an organization called Power Moves. It was designed to try to bring visibility to New Orleans as an ecosystem for budding entrepreneurs. And frankly, it was at that event that—and I was acting as a judge—I saw so many outstanding companies that were tech-enabled and that were founded by people of color and/or women.
And I thought to myself: Wow. Everybody says you can't find it. And there is a plethora here. So clearly there's a real opportunity. The issue is not the pipeline. And if you listen to the popular business press or you believe the research that's out there, you are led to believe there is a supply problem. And there's not a supply problem. I was did an economics concentration in college, and I knew just by my own training that whenever you have a market inefficiency, there's a commercial opportunity—because everybody hasn't found it yet. There are some great companies there. And part of the game as an investor of any kind, institutional or individual, is to find something that's a gem before anybody else finds it. So I thought it was just a great opportunity commercially. That's the number one driver.
The second thing is given who I am, as a woman and a person of color, any time there's an opportunity to eliminate those kinds of inequities, it's personally rewarding.
And thirdly, because Morgan Stanley is a global leader in financial services, there's really not a person that we can't get to. We are in the business of advising on, managing, trading, and distributing capital. And that's exactly the sweet spot of what these companies need. It was a perfect opportunity to bring the right players to an opportunity that's just waiting there.
---
Q
What's your advice for new entrepreneurs?
A
Every entrepreneur needs to be able to answer two questions: Why me? You need to be able to explain to investors in the marketplace why they should do business with you, or buy your products, or invest in you. And what is different about you from any other opportunity that's out there? As an entrepreneur, you really have to answer that question in a compelling way, because there is a plethora of other things that investors could invest in. You need to also be able to create a case around why now—because there's always a reason for investors to wait. Maybe they don't want to invest in this round. They'll see you in the Series C. Series A is too much risk. So you have to be able to create an impression that if they don't invest now, they're going to be sorry because it's going to be so much more expensive later.
I learned that from all of the companies that I took public. I would tell the CEO, "You need to be able to answer two questions on the road show. Why you, and why now? Because at the end of the day, your company is already proven. You've already grown as a private company. They know this is a good business plan. They know that this is a big market opportunity. But the reason that you do a road show is they have to look you in the eye and know that you understand that you have to deliver that first quarter after being a public company. And the why now? The fact of the matter is they could wait until after the company is public and not take any of the liquidity risks. You have to create the illusion of scarcity. You've got to have it now. That's the first thing that I say to somebody who wants to start a company.
And make sure that you have enough money to actually get to the point where you're making some money or you have proof of concept. Too often, people say, "Oh, I want to work for myself. I'm going start my own company." But they haven't really thought through: What is this company? What is the market opportunity? How much money will I need for the first year if I do not make a sale? I've seen too many businesses make it to one year in, and then they don't have enough money to go one more quarter. And they fold. You don't want to find yourself in that situation.
And the third thing I would tell an entrepreneur is to start investing in capacity even before you think you need it. What I mean by that is, again, where too many emerging companies find themselves: If they get momentum, if the product is embraced, then they find that they have a lot of orders coming in and they cannot execute them. And you do not want to have yourself in the position where you're turning away business very early on, because that is certain death.
---
Q
Any other one-size-fits-all tips?
A
Ask for help. So often, especially for entrepreneurs who are women, we get to this point we try to be so self-reliant, but nobody—whether you are an entrepreneur or whether you are a big corporation—nobody can do it on their own. Do not be shy about tapping your network. And don't be shy about asking those in your network to expose you to other relationships that could be helpful. That is how it's done. There is no magic trophy or badge to say I did it all on my own, by myself. And if you did, then you probably are not as big or as successful as you could be if you leveraged your relationships.
To learn more about the Multicultural Innovation Lab, visit Morgan Stanley and listen to its recently launched Access & Opportunity podcast.
---
Carla Harris is the vice chairman of global wealth management and a senior client advisor at Morgan Stanley. She is responsible for increasing client connectivity and penetration to enhance revenue generation across the firm. Harris formerly headed the Emerging Manager Platform, the equity capital markets effort for the consumer and retail industries, and was responsible for equity private placements. In her thirty-one-year career, she's had extensive industry experiences in the technology, media, retail, telecommunications, transportation, industrial, and health care sectors. In August 2013, President Barack Obama appointed Harris to chair the National Women's Business Council. Harris received an MBA with second year honors from Harvard Business School and an AB in economics from Harvard University, magna cum laude.