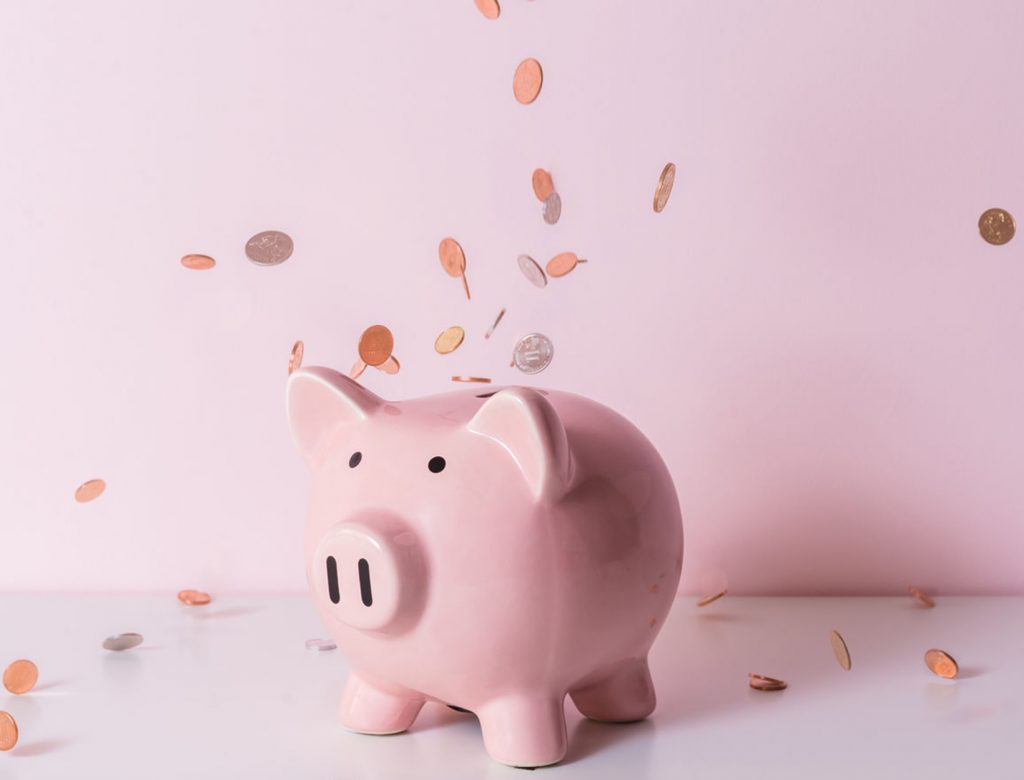 The Shopping Site That Makes You Save Money
You see something you love. You throw down your credit card. Or double click your Apple Pay. It's yours. Boom: instant gratification. Elation. Dopamine release. Then you spot something else you love…
It is a vicious—and familiar—cycle. The average American has nearly $7,000 in credit card debt, which makes up about $420 billion across the country. And more than a quarter of us aren't paying our credit card bills on time. So instead of a $0 balance, we get—big surprise!—financial anxiety.
"The root of the issue is that we have been led to believe that instant gratification leads to happiness," says Daniela Corrente, who contends that the path to joy isn't lined with a shopping trip here or a new purchase there. It comes from patience and education.
Which brings us to Corrente's start-up: Reel. This is the counterintuitive part: Reel is a luxury shopping site, but it doesn't exacerbate the credit card cycle. It actually it breaks it. The key difference: It accepts only cash. And as Corrente tells us, it also sets you up with its savings plan. So when you see a dreamy, four-digit investment coat or a beautiful pair of stilettos, you don't have to use your credit card; you pay with real money that you've saved.
Corrente calls it lasting gratification. You get what you want, and you also get "the satisfaction of having achieved something with your own hard-earned money—not the bank's."
A Q&A with Daniela Corrente
Q
How does Reel work?
A
It's very similar to most shopping sites, but the difference is that you pay with savings.
It's super simple. First, you search what you want to save for. Then you choose how much you want to set aside daily or weekly. (For example $7.50 a day for sixty days can get you to that pair of $450 heels you have been dreaming of.) You connect your bank account, and voilà! Reel automatically deducts the money toward the item you want. After you complete saving for it, we place the order for you. It's flexible. You can always change your saving strategy, pause it, or move your savings toward a different item. And if the item goes on sale while you are saving, then you have to save less.
---
Q
How's it different from layaway?
A
Layaway is not only outdated but very limiting. You can lay away only certain products, you pay higher fees, and the price is set, plus you are locked to one retailer. We like to say we're the evolution of layaway, because the beauty of Reel is that you're not locked to one retailer. You have the flexibility of moving your saved money around if change your mind as you save.
---
Q
What can you buy on Reel?
A
For now, Reel has been very focused on fashion, similar to what Amazon did with books way back when. We recently added furniture and home décor and are planning on expanding our products and services. Our main vision is to allow people to save for anything that they'll need in the near future.
---
Q
How can it help someone change their financial habits?
A
We live in a society where we don't even like to look at our bank accounts anymore. Reel helps you see the potential of your own saved money over time. We believe you have what it takes to buy the things you think you can't afford. Even saving $1 a day goes a long way. That's the key for us: Giving people the satisfaction of owning what they love without having to go into debt to do so. And the way we communicate with our "Reelers" reinforces that: We educate customers. As you're saving, we send you positive and encouraging status emails. Also, our customer success team helps you get there.
Our blog does a good job at helping people plan ahead for things that matter to them and go about it in a responsible way. For example, we have a column called The Reel Cost, in which we do a breakdown of paying for something with credit vs. Reel. Our latest one is about paying for an Apple Watch S4. It's incredible how much money people waste on interest alone each month. I think we do a great job at putting that into context to help our users realize their saved cash is more powerful than the cash they'll lose to creditors over time.
The only way to break the credit card cycle is with education. People have to start seeing the potential of their own money. That's the key. To everyone out there, I say: Your money is valuable! You can get what you want with your own money.
---
Q
But with Reel, you don't get that instant gratification.
A
For years we have been led to believe that instant gratification (using credit cards) leads to happiness, and financial stability has been deprioritized. In fact, I always thought it was funny that our financial presence (our credit score) is measured somewhat by our ability to get in and out of debt, and not just our ability to manage money. We are, as humans, very aspirational. We will always want things. The important thing is to understand that we can have whatever we set our minds to without feeling that the only option is to swipe a card and deal with the consequences later.
I do believe that things are changing. America's younger generations are spending very differently. They are trying to be more savvy, and I believe we will see the deep effect of that behavior in the coming years.
We all spend way too much time thinking about that purse or a pair of shoes we would like to have. But we do hardly anything about it. People spend hours building Pinterest boards or adding items to wish lists that they end up forgetting about. With Reel, you are taking an action. Our thinking is that if you know you want something that much, then there's nothing stopping you from starting to save for it. You stop just dreaming and start having. That brings a lot of gratification—the fact that you're not stuck in a want anymore, and you're doing something about it now. Once our users complete saving for what they want and we place their orders, it's theirs. It's not the bank's, not the credit lender's. That has brought a lot of satisfaction to them. So much so that the vast majority start saving for a new item right after.
Reel is more than helping you own that new pair of heels or a couch. It's about the fact that you did it with your own means. When people realize that they were able to save $500 without even noticing, that opens a world of possibilities to them. Reel is not saving for retirement or a rainy day, it's short-term saving with the purpose of spending it on what you love. When you look at saving through that lens, then you can see how your cash flow has the power to unlock many things and experiences for you through time. You just have to be patient.
---
Q
What led you to start Reel?
A
I've always been fascinated by human behavior. Why we make the decisions we make, especially when it comes to money. When I found out that 85 percent of Americans live with financial anxiety, I could not stop thinking about it. Why? What lead us here? What can I do to help? Honestly, I believe that people should be able to achieve their aspirations without having to go into debt, and that's the core mission of Reel. We help you set money aside for the things you love. We call it "save to buy."
---
Daniela Corrente is the cofounder and CEO of Reel, a luxury shopping site that empowers people to buy what they want without incurring into unnecessary debt. A native Venezuelan, she is driven by curiosity and innovation, and that is precisely what let her to build a solution that reinvents the way people shop. Prior to founding Reel, Corrente focused on developing digital marketing solutions for top global brands.