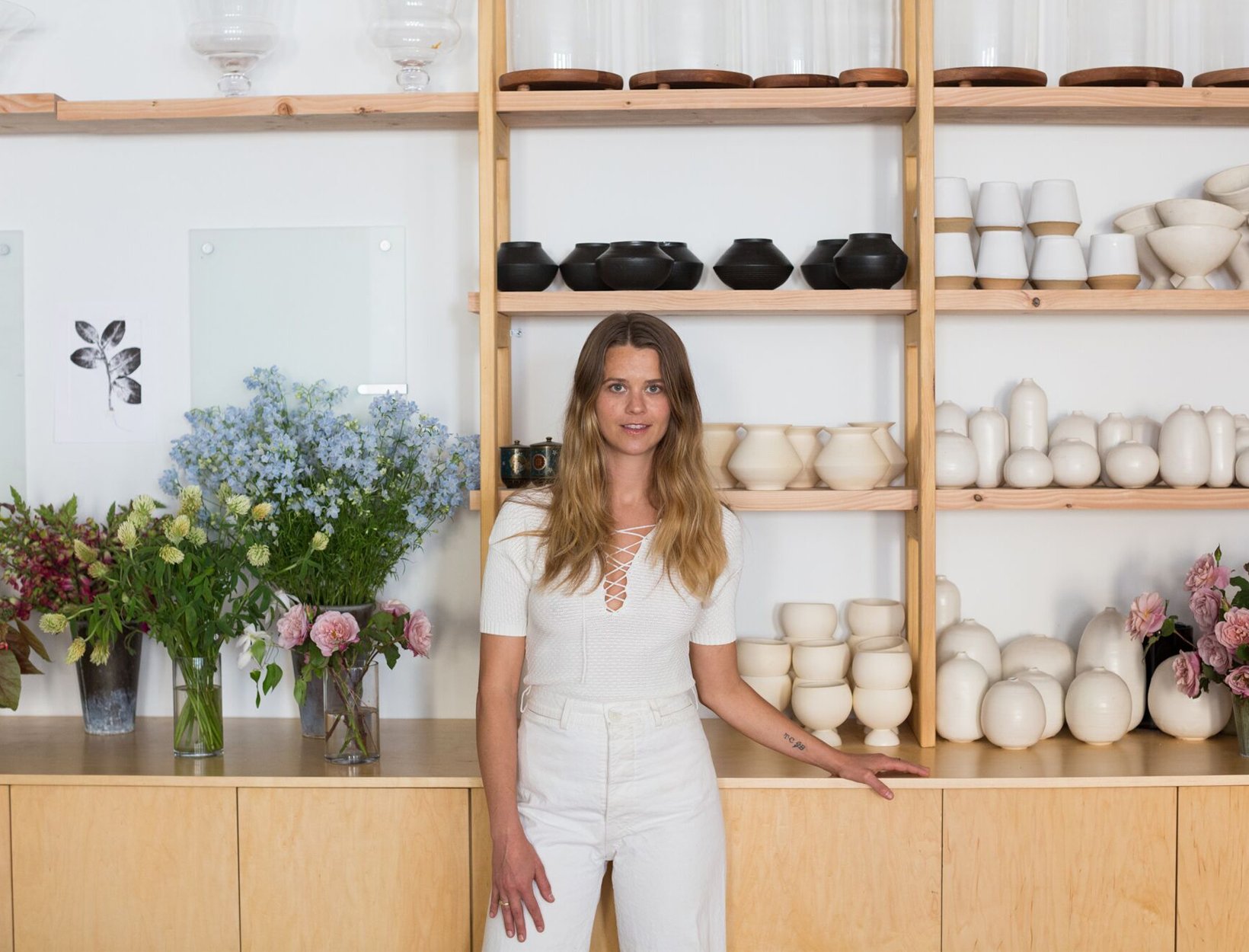 The Road Less Traveled: A Dream Job in Flowers
Even more impressive than Fox Fodder Farm's Taylor Patterson's knack for floral design is her ability to turn what many would agree is a dream gig into a flourishing business. The young entrepreneur's success can be attributed in large part to Patterson's leadership style, which strikes the perfect balance between #girlboss badassery and warm humility. Below, she chats with us about mustering the courage to break out on her own, knowing when to ask for help, and keeping those black thumbs in check.
A Q&A with Taylor Patterson
Q
Did you always know you wanted to work with flowers and plants or was this a passion you discovered later in life?
A
I have two plant geeks for parents, so growing up I assumed plants and gardening were something all old people were into. (Remember, when you're ten, thirty seems ancient.) I never really thought about it as a potential career path until I actually started doing it. And now, when people ask, what would you do if you weren't working with flowers, I stare at them blankly because I have no clue.
Q
What was the tipping point that made you leave a steady 9-5 job and do your own thing? What were the biggest challenges in those early days?
A
It was after a period of feeling really lost, constantly questioning what I was doing with my life and what I wanted for my future, that I discovered how much I loved working with flowers. I had moved to New York and was waitressing. In between the waitressing gigs, I had some other odd jobs here and there: I worked for a jewelry designer, a costume designer, in an art gallery. I knew I couldn't work in a corporate environment and I also knew that I needed to be doing something that was creative—I had dreams of being a creative director but then realized I didn't really even know what that meant. It just sounded cool: Taylor Patterson, Creative Director. Nice ring to it, no?
The flower thing happened on purpose and by accident. From the moment I started working with flowers, everything started to make sense—the anxiety I had been feeling for so long started to disappear, and I knew I found my thing. It's not just that flowers are…well, dreamy, but being able to have a connection to nature while living in the city is really important to me. Also working with my hands. I've learned that I need that physical connection to my work.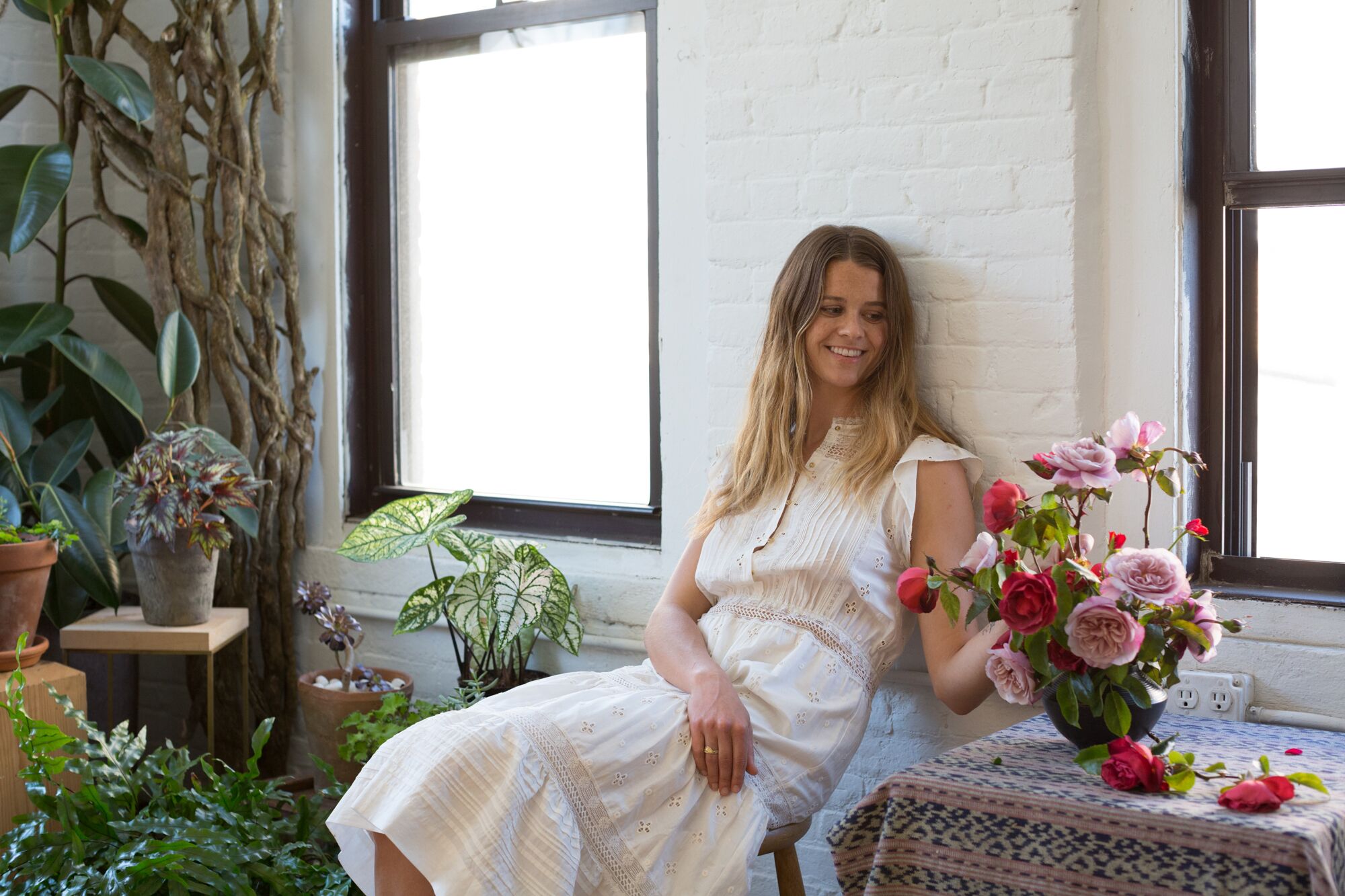 Q
How did you manage to turn such a fun gig into a successful business?
A
Luck? Every day I'm like, "No, no, no. I'm not a business woman. I'm just a florist." But then the reality is that this is not just a hobby, it's a business and it's working, so I must be doing something right. I will say that having the right people to help you, knowing how to ask for help, and accepting that you probably don't know sh*t (so you better not be afraid to ask someone who does) is a big part of it. Also, always say "thank you." It's important.
Q
What are the top three tips you'd give someone looking to start their own business?
A
Not only ask for, but accept, help and advice. You don't know everything, so don't try to pretend that you do.
Relationships are important. Fostering them and maintaining them are how you will grow. Always treat people with respect. No one wants to deal with a diva.
Get a good accountant. Tax time can really bite you in the butt if you're not paying attention. I speak from experience.
Q
You opened your first bricks-and-mortar space in Brooklyn, NY in 2011—what made you choose Brooklyn?
A
Convenience and price point. I lived in Brooklyn and at the time, I could only afford Brooklyn. But I've also been living in Brooklyn since about eight months after I moved to NYC, and have always identified with Brooklyn over Manhattan as where I felt I fit in best.
Q
What's the best thing about being your own boss? The worst?
A
Best thing: You're the boss.
Worst thing: It's a lot of pressure because at the end of the day, you're the one who's responsible for everyone else. If you can't take care of your employees and make sure they have what they need to do the best job that they can do, then you shouldn't be a boss.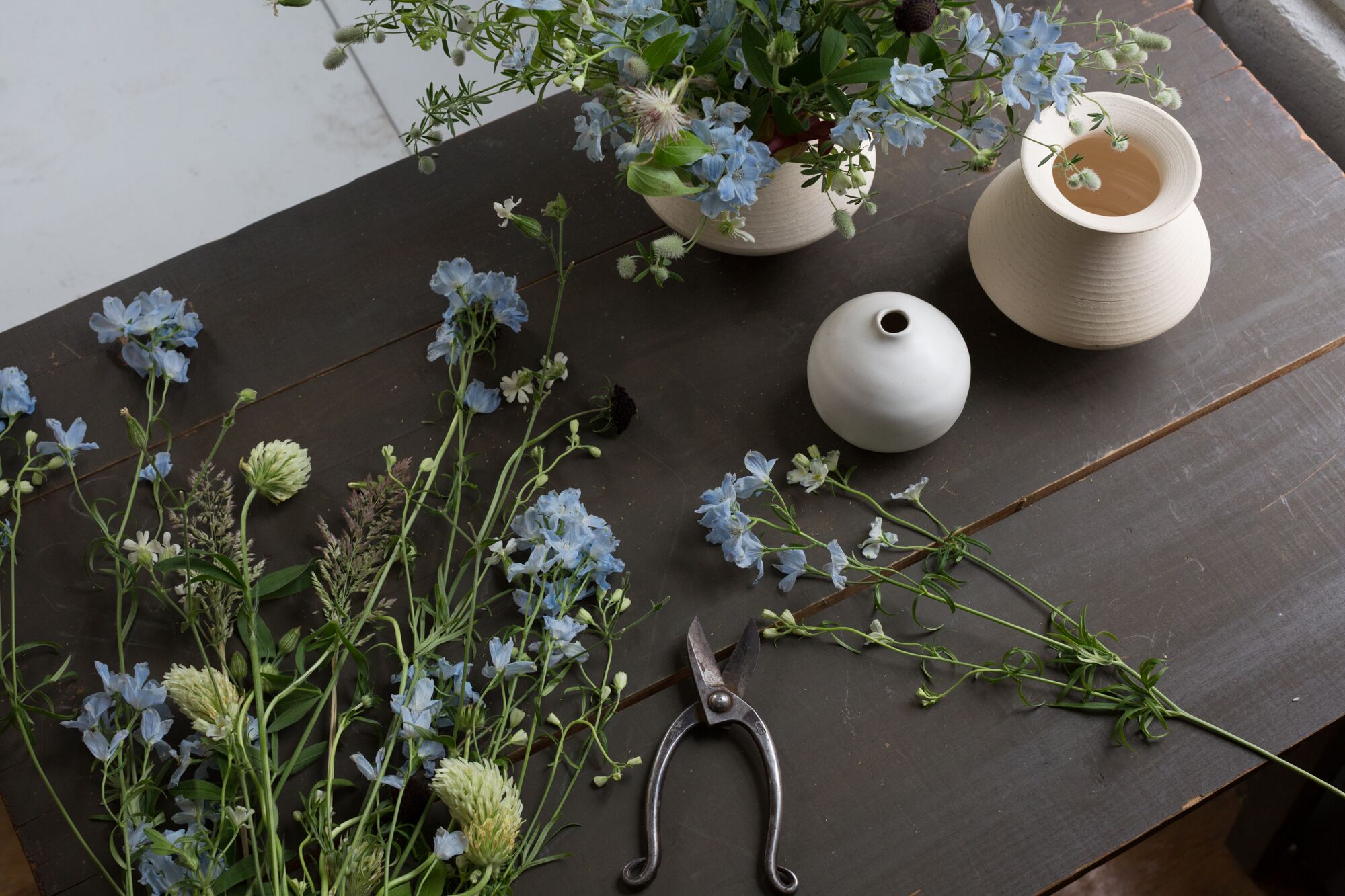 Q
You work on a lot of events, how do you keep it together in high-stress situations?
A
I remind myself that it's not heart surgery, and while times can get tense, let's be honest, we're dealing with flowers. IT WILL ALL BE OK. And there is always a solution.
Q
You probably get asked this on a daily basis, but how can we black thumbs keep house plants alive?
A
Buy the ones that are black-thumb friendly and do minimal research on how best to care for them. Snake plants, Zeze plants, all varieties of philodendron, and rubber plants. These are just a few examples of things that will love you more, the more you ignore them.
Q
Same question for fresh flowers?
A
Anthuriums! They're getting a lot of air time right now in the floral arranging world but it's well deserved. They'll last you a week easily and they come in amazing colors. If you want a more wildflower or romantic flower look, keep it super seasonal. In the late summer/fall, dahlias are starting to pop up everywhere. Stick to the smaller varieties, because they tend to be hardier. (I know everyone wants the au Laits, but they're finicky and will wilt if they decide they want to.) I love going to the local farmer's market this time of year because the end of summer flower game its soooo good.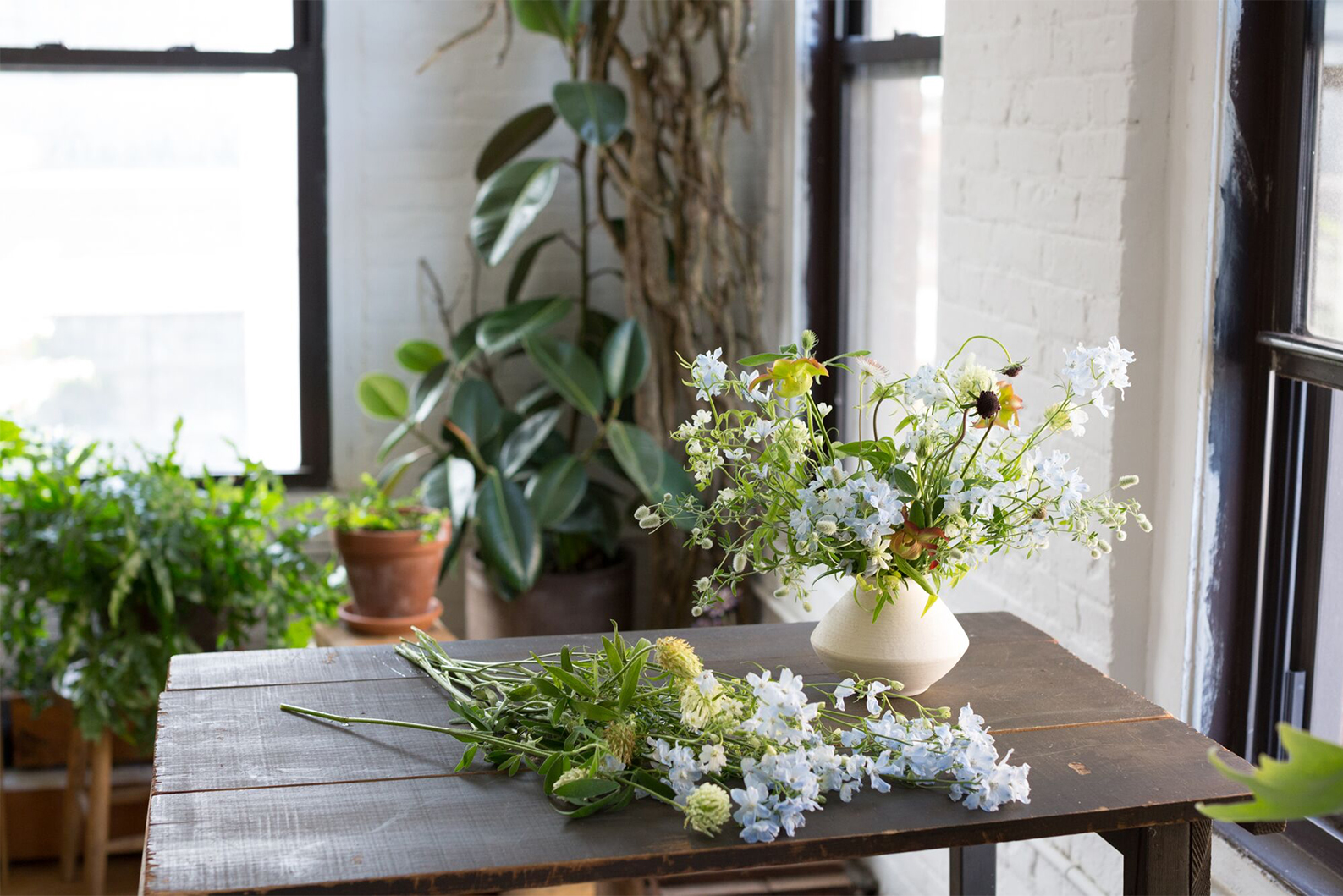 Photographer: Brian W. Ferry
Hair & Makeup: Allie Smith
Stylist: Jen Patryn
Taylor's Favorite Brooklyn Spots
...For Getting in Touch with Nature

95 Prospect Park W., Park Slope | 718.965.8951

Prospect Park is a favorite. Take one of the small side paths through the woods and get lost.

9 Carroll St., Red Hook | 718.852.3116

I love going to the Gowanus Nursery near Red Hook. Owner Michele Palladino has a great eye for selecting plants. Every time I go I find something I haven't seen before that I then NEED to buy.

...Take-Out Spots for Working Lunches in the Studio

262 Irving Avenue, Bushwick | 718.483.9837

This Bushwick spot has the best pho and banh mi's. That's actually all they have, so you better believe they do them right.

378 Metropolitan Ave., Williamsburg | 718.387.4777

Saltie In Williamsburg has been one of my favorite places since I moved to Brooklyn seven years ago. I always get the egg bowl, a turmeric tonic, and a peanut butter cookie.

...Unique Shops for Home Décor

372 Atlantic Ave., Boerum Hill | 718.522.1804

Primary Essentials in Boerum Hill is a go-to of mine. Lauren Snyder (the owner) has amazing taste and carries everything you want before you know you even want it. Lauren introduced me to Natalie Weinberger who we've collaborated with for our custom delivery vases. I was obsessing over this donut vase of Natalie's. Like I said it was exactly what I was looking for but I never knew I was looking for it…until I found it.

48 Bogart St., Brooklyn, NY | 917.922.1159

This vintage shop just opened across from our studio in Bushwick. They sell mid-century modern furniture, lighting, and other homey stuff. I just got the best light fixture from them for our studio. It's like a futuristic disco ball.

...Newcomers to the Neighborhood

718.701.1630

This truck is magically parked on the corner of Seigal and Bogart every day (next to our studio). We all just took a midday break for some vegan banana walnut ice cream that was probably the best thing that's happened to me all week.

40 Bogart St., Bushwick | 718.386.3399

This movie theater/bar/restaurant on Bogart in Bushwick is fun. They always seem to be showing my favorite movies and tickets are just $3. (Last week was Wes Anderson week and the week before they played Cool Runnings).

...Late-Night Spots to Unwind with a Drink

82 Berry St., Williamsburg | 718.387.1945

I've been going to Hotel Delmano in Williamsburg for years. It's my favorite spot for a nice cocktail or a glass of wine and some oysters.

180 West St., Greenpoint | 347.987.3666

Achilles Heel in Greenpoint is also great. It's cozy and familiar. I always run into a friend or someone I'm happy to see.