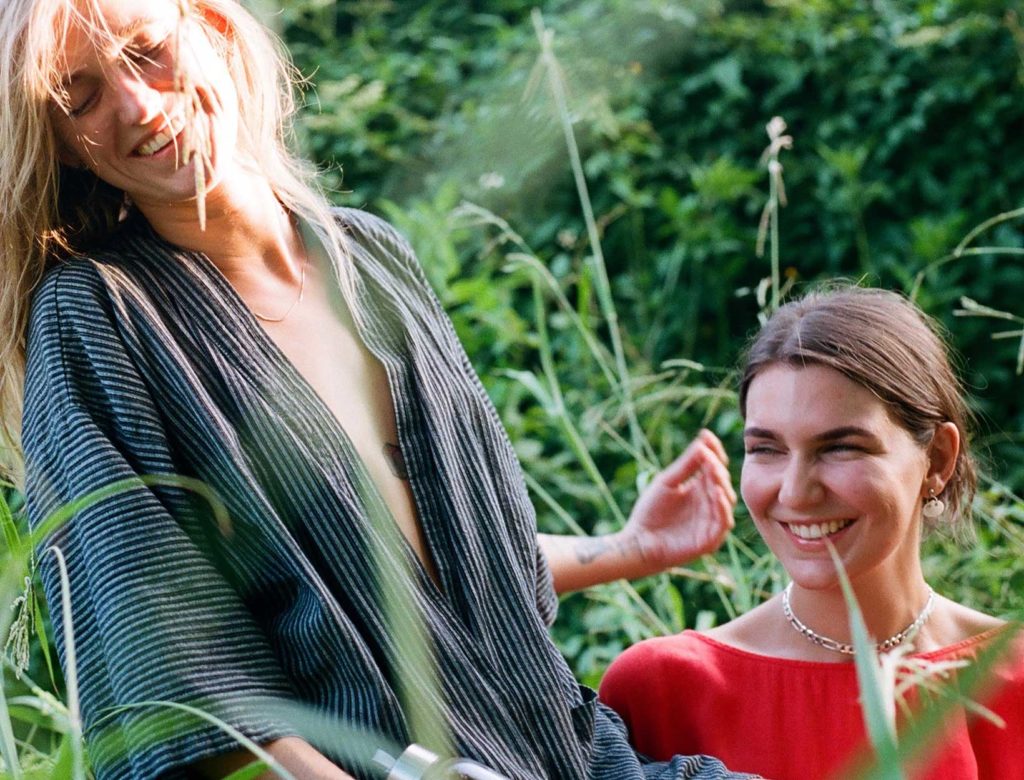 Which Milestones Define Success?
Female Founders
Which Milestones Define Success?
Sharon Leslie was taking a nap. It was 2013, and she had just finished college. She had a dream about a crystal-filled water bottle. As a kid, Leslie had felt inherently creative. She spent her childhood in New Orleans with her best friend, Julia Schoen, captivated by unseen realms, mysticism, and magic. So when the crystal-filled vision came to her, she called Schoen, who was living in New York City at the time. And they started hatching a plan.
In 2015, they launched Glacce, a line of crystal-infused water bottles. If you've seen the bottles, you know they stand out. Leslie and Schoen have spent the past five years navigating a world of knockoffs (they hold three patents for their design) and some scrutiny at first. They've created reusable stainless steel straws with removable crystals. They've had big disagreements. And: It's all been incredibly rewarding.
We interviewed Leslie and Schoen before the COVID-19 pandemic began. Today, the way they define success and community has taken on new meaning for us. Glacce is one of the small brands (and crystals) we're holding close right now.
A Q&A with Sharon Leslie and Julia Schoen
Q
How did your upbringing in New Orleans shape the concept for Glacce?
A
Leslie: It was magical and a little mystical. We've been friends since kindergarten, so my memories are of me and Julia in her tree house making potions and running around her beautiful, historic old house. We would spend hours pretending we were witches and brewing up random potions.
Schoen: We had a really special childhood. New Orleans today is so different from how it was when we were growing up. It's always been a crazy, amazing town, but the energy was a little bit different then—it was a lot quieter. It gave us a lot of room to use our imaginations.
My dad always had tons of crystals around the house. We had a pantry that was full of colorful glass water bottles, so we'd imagine that drinking water from different-colored containers would give us different types of energies. We were both exposed to this different way of thinking from a young age. There was mysticism and spirituality, and the longing to connect with the unseen realms is something that connected us from the moment we met.
---
Q
What is it like to run a company with your best friend?
A
Schoen: When Sharon's gut is telling her something, she is very fearless and will do exactly what her gut tells her nine out of ten times. That has taken me a lot longer to learn. I feel that now I'm very much in alignment with my own inner voice and my intuition. I study and do human design readings, and it's been a helpful tool for me to learn that within myself. But watching Sharon be so fearless and dive in and trust herself has helped me find the same sensibilities within myself.
Leslie: It's amazing 99 percent of the time, but it's been a blessing and a challenge. We've done a good job of being honest to each other, which not a lot of people can do. Anytime we've had a disagreement—and we've had a couple of pretty big disagreements—we've always come to a resolution at the end of the day that wasn't either of us just settling.
---
Q
What was your design process like?
A
Schoen: Sharon tinkered around with the idea for a really long time, and she made a bunch of DIY prototypes. Our first one hundred bottles were handmade by Sharon. She was living in Colorado at the time, and she made everything by hand in her basement.
In the first design, we used eco resin rather than wire, so they were all basically glued into the bottom of a bottle. It was very different from what it is now, but we just wanted to get the product out there. We put our heads together because it was really close to being a legitimate product, but we needed to tweak a couple of things and make it easier to manufacture and be sustainable. In the end, we came up with a bottle that we patented for its design and utility.
Leslie: Even before that, as soon as I'd had the dream, I woke up and cut a plastic water bottle in half. Then I had a crystal that someone had given me as a gift and put some glue down just to see the shape of it. I put that on an altar in my house and would just sit and stare at it. Eventually, we decided to drill into the crystal and tie it down. We've recently redesigned the bottle, and it's rewarding to see where it is now compared to where we started.
---
Q
What was the early feedback?
A
Leslie: At the beginning, there was a specific type of crystal community. We had a very different aesthetic, so at the time, there was a lot of pushback from this community. When I first started our Instagram, I was trying to ask questions and learn about crystals, how people were using them, and what was spiritually okay to do. There were different conversations back and forth about drilling holes into the crystal and whether that would affect its energy. I asked myself whether it would spiritually affect how I'm using my crystal and if it changed the way it made me feel, and at the end of the day, it didn't.
---
Q
How do you define success?
A
Schoen: Money milestones are how people have traditionally defined success, and that's the programming that I've received my whole life. That was something that I had to really think about throughout this process because a lot of the decisions that we made together cut into potential profits. We said no to a lot because we didn't feel like it would have been the right decision for the integrity of the product. I'm not saying you don't compromise, because compromises are important, but on certain values that you have and the way that you want to see the world operating, those are the things you can't compromise on. If you can check off all of those things on your list and still run a business and make it viable, then I would say that to me is success.
So what makes me feel proud is choosing not to have plastic in our packaging, choosing our manufacturers even though they might be more expensive because of their practices, choosing quality materials that go into the product, and being able to not feel pressured to make those decisions because of some sort of financial gain.
Leslie: A toast that I like to do is, "Perfect health, endless love, infinite funds." What I mean by that is that success is community, financial freedom, and good health. Another thing that is huge is doing something that no one's ever done before and then having that be a positive impact on people's lives.
---
Q
How do you want people to feel when they use your products?
A
Leslie: I want people to feel what their intention is behind it. If you're going to drink from the clear quartz Glacce bottle to raise your energy, if that's the intention that you're putting into your crystal, that's what I want for our customers in return. If someone's drinking rose quartz water and they want to draw in love, I wish them the best adventure of experiencing more love in their life. If you're going to drink the obsidian and dive deep into yourself and want to work on some stuff in your subconscious, I hope that helps you do what you're intending to do.
Schoen: I want people to feel empowered that they are their own ultimate authority and that these are only tools to amplify that and to help people see that. All of the power that you need is already within you. This was one of our philosophies on crystals. It's different from a lot of traditional crystal literature. We have only five crystals that we work with in our product line. And a lot of that has to do with the safety of crystals in water.
I love the simplicity of our line because within these five crystals, you get the entire range of the energies. I like to think of crystals as energy role models for ourselves. If we're feeling our energy around love, rose quartz is about the self and amplifying the love that you have for yourself, so project that in your aura and draw that kind of love back into you. Let it be a role model for how it feels to truly accept and love yourself and have that beautiful connection. Love it. Enjoy it. And drink a lot of water.