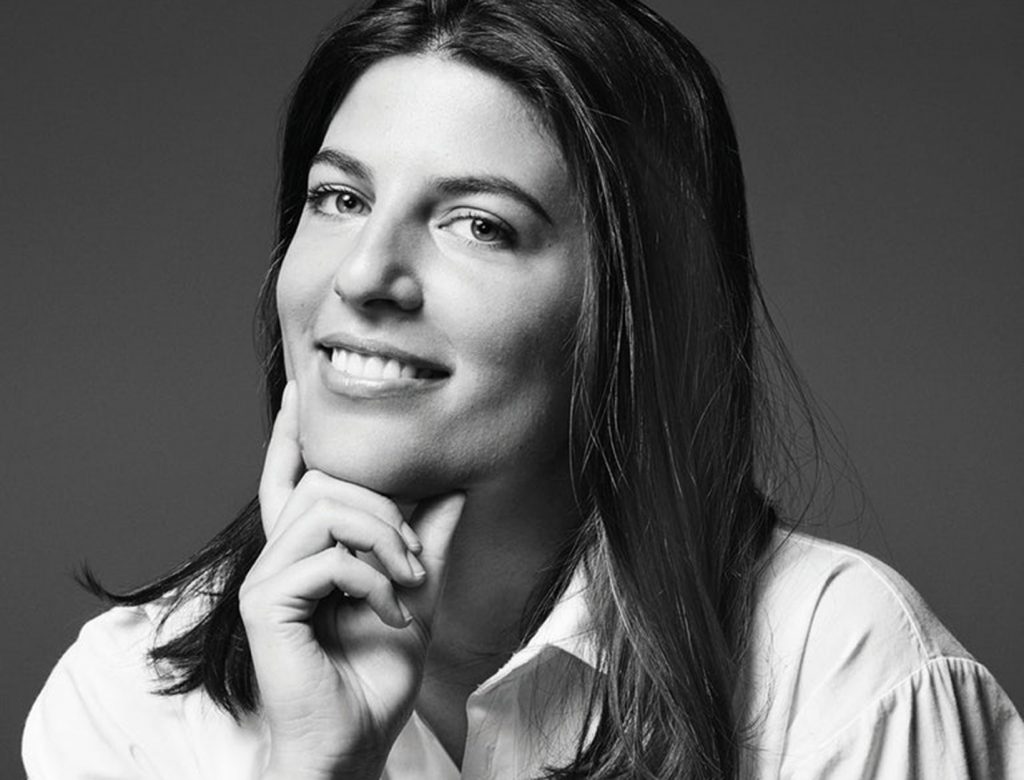 Why This Designer Says "Kill the Dream" to Be Successful
Why This Designer Says "Kill the Dream"
to Be Successful
One look at the designs of Rosie Assoulin—the structure, the artistry, the exquisite tailoring—and you'd be forgiven for thinking: Assoulin went to a prestigious design school. She has boardrooms full of investors. It's the textbook story of fashion designer success.
Except it's none of that.
Rosie Assoulin built her clothing line by taking the fashion road less—if ever—traveled. She didn't get a formal design education. She instead relied on internships and stints at fashion houses, like Oscar de la Renta and Lanvin, to inform her. And she followed her instinct—an instinct that could trace its roots to her family's Brooklyn basement, where she would throw herself into cutting up her "mom's old clothes and rag blankets" and turning them into dresses. These weren't the dresses of a little kid—they were inspired, artful pieces of design.
Perhaps this explains why Assoulin considers everything when she's designing. It's why she might add what she calls "a little twist" to a blouse or a skirt to make a person feel "a little bit alive or a little bit curious or a little celebratory." That appreciation for every facet of her pieces extends to all her clothing—a line so nuanced, so captivating, so intoxicating that we were dying to collaborate with her. The result is goop x Rosie Assoulin, an exclusive six-piece limited-edition collection of dresses and separates. Each piece marries Assoulin's architectural unexpectedness with goop's signature neutral tones and stripes.
There is nothing expected in Assoulin's universe: not the asymmetrical blouses, not the gathered maxidresses, and certainly not the fortitude and tenacity with which she approaches every endeavor.
A Q&A with
Rosie Assoulin
Q
You've said that you've always loved fashion. But what was the point when you realized that it was what you wanted to spend your days doing?
A
It hit me maybe a bit earlier than most. I was around eleven or twelve. Growing up, I was always drawing fancy ladies in dresses. I don't know if that was because I had a flair for the dramatic or because I was really sincerely interested in clothing. You could express not just yourself but stories and ideas through dress.
It went 3D for me was when I was around twelve. I would cut up my mom's clothes and use her old jewelry. The '80s had been a fun time. This was the '90s, so she wasn't wearing much of that anymore. She gave me a bunch of fun things to play dress up with. I'd cut it up and repurpose things. I'd go to shops and get crafty with it and really explore. Getting tactile was the beginning stage of it for me. And my grandmother Rose used to sew dresses for my aunt and my mother, but she wasn't doing that anymore, so she gave me her sewing machine when I was around fourteen when she saw my interest.
It was an amazing time. Again, there was this curiosity and exploration and craft and all of that playing: playing through the night, playing with old fabrics, cutting up my mom's old clothes and rag blankets and things like that. I think that was really fun, and I had a lot of space to play.
---
Q
Was your family supportive?
A
We grew up in Brooklyn, and we had a big basement, and my mom had a little desk for me. She was very supportive—so was my dad—and allowed me space for whatever extra energy I had. Those were always really happy memories.
But there were a lot of tough things, also. School was very difficult for me. So my happy place was this little basement desk where I could create and explore and not feel as inadequate as I did in school. I had a lot of learning challenges in a very traditional learning environment. So the tougher it got in school, the more I threw myself into my creativity.
---
Q
That's so important to talk about, particularly now as we face defunding arts programs in schools. How do you feel about that?
A
It's absolutely true. It can kill your self-esteem. [My creative outlet] was almost like a lifeline for me. It's like cutting off all these lifelines, cutting the programming for music and arts and even the engineers. There's an artistic aspect to science. So it's a lifeline for a lot of kids who have a hard time with rote and time-specific and front-facing class learning. I've always known that I am very curious and that I love learning. I was in a dual curriculum—a dual-language school—which I loved. But those things are not always quantifiable. I can't say that I was a bad kid, but I definitely spaced out in class. But I feel very lucky to have had supportive parents and this whole other aspect of my life, which was my creative output and creative outlets. I am so grateful to my parents.
---
Q
You've had incredible mentors in your career, like Oscar de la Renta. How did that experience influence you?
A
Oh my gosh, I wish I could call [Oscar de la Renta] a mentor. He was more like a role model. He was doing very special work in New York. Most of the business model here does not include having grand, in-house, European-style ateliers where people still do things by hand with incredible couture fabrics. He was doing that right here on Seventh Avenue in the heart of the garment district in New York. To see that type of work was very inspiring for me, particularly at an early stage of my sort-of-professional learning experience. I didn't go down the academic route, but my professional environments taught me.
---
Q
You also learned from veteran jewelry designer Roxanne Assoulin, who's now your mother-in-law. What did she teach you?
A
So many things—and she continues to. She's an amazing mom. I feel like she really was doing it all: raising a family, running a business, having a social life. And she was great at all of it. I'm sort of a juggler, and I'm doing my best. She's a very wise woman. She is very good at making decisions and being very strong about her opinions. She knows herself and is not apologetic about her decision-making process. She's very secure in that way. I'm a little bit more circuitous in my questioning and testing things out and asking myself a million questions. But at the same time, I almost always end up back where I started, which is where my first instinct was. But I kind of have to go through the rigmarole sometimes. It's a little more trial and error for me. We're very different in that way.
---
Q
Can you talk about not taking the academic route?
A
I wish I could have done the academic route. I'd always dreamed of going to a fashion high school. But that likely would have been disastrous for me because it was still very traditional in terms of the way that they expected you to learn. For me, internships were amazing. There was very little pressure. You were basically asked to help. But you weren't being tested necessarily. Whatever it was, it was much better for me learningwise, being thrown into the process and learning on the go. I can't say that I was very hirable or as hirable as I would have liked to have been because I didn't have the résumé. Unless people knew me and knew my work, it was difficult to sort of go by recommendation.
---
Q
What is your creative process like today?
A
It's like being in a lab. I like testing things out. I like trying things, but at the same time, if something works, if I find myself going to a certain piece, like a uniform, over again, I think: How can I improve it? How do I wish I had improved this uniform that I've worn the last six months? Do I wish I had modernized it this way or updated it this way? Or had it in a different color? Things like that. There's a practical side, and then there's also this experimental side that we bring to a lot of these pieces that we are putting out there.
That's what was nice about this capsule we did for goop. We were able to explore it through different colors and textures and then really pare it back and go clean and classic and crisp with our poplins and our cottons. We made it about the silhouette or about the drape or the uniform aspect of it. We went through all the other processes and then distilled it into this essential group.
---
Q
What do you want your customers to feel when they put on your clothing?
A
I'm always hoping that people feel comfortable, maybe a little bit excited, and that they can make great choices. I'm hoping that people are feeling empowered, not to say empowered like they're dominating people, but empowered like they're able to really go about their day and be kind of comfortable and also show up. I always think it's important that you show up to things. It not just about you and your vanity; it's about respect for the people you're meeting throughout your day or the people you're presenting. In a way I represent this group of around fifteen people we work with and by extension the freelancers we work with. I am tasked with the representation role of that. I hope that I'm showing up for them. As much as they love wearing sweatpants and old T-shirts with holes in it, sometimes you have to show up for people. I think about that, too. So there's always that tension. But there's definitely that fantasy side, where I sit down every season and often start with the dream pieces and sort of pare back down to reality.
And back into my life, it's also seeing my sisters and my mom wearing some of my designs, and I'll be like, shit—excuse my language. I wish I had thought of that for them so that they didn't have to deal with this thing dragging today! Or I wish I'd made them feel a little more fancy in this piece, or I wish I'd added an inch here. I think of being there for my friends and my family. And the people in my office who are wearing my things.
---
Q
Where did that "showing up" mentality come from?
A
It very much taught to me by my grandmother. Even if she was wearing her Alessi sweat suit, she wore it with the scarves and earrings and makeup and perfume. She was not a vain woman in any way. It was about respect. It's consideration and respect to the people she might have come across in her day—and showing self-respect is a way of showing respect to others. And I struggle with that because I love coolness. I overthink things. I'm relaxed in a way, but I'm not cool. So there's definitely a tension for me in a lot of this. I'm trying to strike a balance with what we put out there. And sometimes I go balls to the wall in either direction, and I make these super loose, relaxed, easy silhouettes because that's what I want to feel like. But at the same time, they're done in double-faced silk.
---
Q
Are there certain pieces in your collections that you gravitate toward more than others?
A
I always have a hard time picking favorites. At the beginning stage of developing our collection, it's usually the piece that nobody quite understands and that I have to fight for. I'll have to say, "We can't give up on this." And then at market, sometimes it's the piece that's being overlooked that becomes my favorite. Or sometimes a piece that's canceled. So then I'll wear it every day and that's when someone says, "Hey, I really love that. Can I get it?"
So it's really always a different piece at every time. There are weird things that I see other people wear sometimes that become my favorite. There are those hero pieces that lots of different women from lots of different backgrounds and with lots of body types can wear. I end up gravitating toward those pieces, too.
---
Q
What have been some of your biggest challenges, biggest rewards, and biggest lessons as a female founder?
A
It's exciting because every day is different. There are definitely parts that have been challenging this year that were not as challenging in the very beginning. And then there are certain things that we are seeing as less challenging as we grow. Cash flow is difficult. Wanting to grow and do new things and attack new categories. Not having any investors and being independent has limited our ability to really grow sometimes, but at the same time, we're doing it on our own, which has been so rewarding. Every day is different and whatever's most pressing that day gets addressed. It's about being strong enough to make decisions when you're faced with hard choices—and getting scrappy and figuring it out.
---
Q
How important is getting scrappy in entrepreneurship?
A
You've got to get scrappy when you're an entrepreneur and when you're independent. And at the same time, there are principles, and there are codes that you hold to and follow as much as you can, even when it's most difficult. That's where your integrity is challenged but hopefully shines through. You have to really grow up in those unideal circumstances. That was difficult: having seen such wonderful, beautiful examples of successful businesses, like my mother-in-law's. Seeing these amazing offices and in-house studios while I had a bathtub full of bolts of scrap fabric and my dining table as my office. I'd be thinking: How can I do this? How are you going to start?
---
Q
How did you do it?
A
I always say, kill the dream. I had to kill the fantasy. I had to kill it and just start. I had to get the fantasy out of my way and say, "You can't have any of that—now let's begin." That's hard. And still happens today. It's like, wait, why can't I have twenty SKUs and then choose the top one? No, you get three shots. And they all have to work because you don't have the budget to do the other one. So it's challenging. And while it might sound romantic, it's not. And it's not glamorous. But it's rewarding in its own way. And we're very lucky and privileged that we even get to do it—there are plenty of extremely talented people who are probably dying to get the chance to make their pieces a reality. I feel very lucky. And I appreciate every day.
---
Q
What would you say to a designer just starting or wanting to start out today?
A
I hope you have a really great group of friends because you're going to need them for moral support. You need to be able to talk things through. For me, it's so important to have an incredible, strong, supportive, powerful group of friends whom I admire. I don't have any friends that I don't admire for something or other. And I'm very privileged that my family has been so supportive in so many ways. My dad's incredible. My mom's incredible. I talk to them about everything.
You can't do anything in a bubble. You can't do anything by yourself. The hardest part for me was that I had years and years of sketchbooks and dreams and fantasies of pieces with swatches of fabric attached to every picture and ideas of how I was going to develop them. And I had kept it hidden away in a locked cabinet—literally in the back of a closet—because I was too afraid to show it to anybody. I connected it to this sort of basement mentality that this is my little dream world where I get to feel in control and powerful. So you have to be vulnerable and know that you need help. You have to show it to other people to make it a reality.
It was so difficult for me to present my work to anyone else without feeling scared. That still haunts me. But it's also part of what keeps me going. Just do it and deal with every day as it comes. It's scary, and it's hard. I'm not fearless. I'm not so brave. But my friends and family helped me through it.