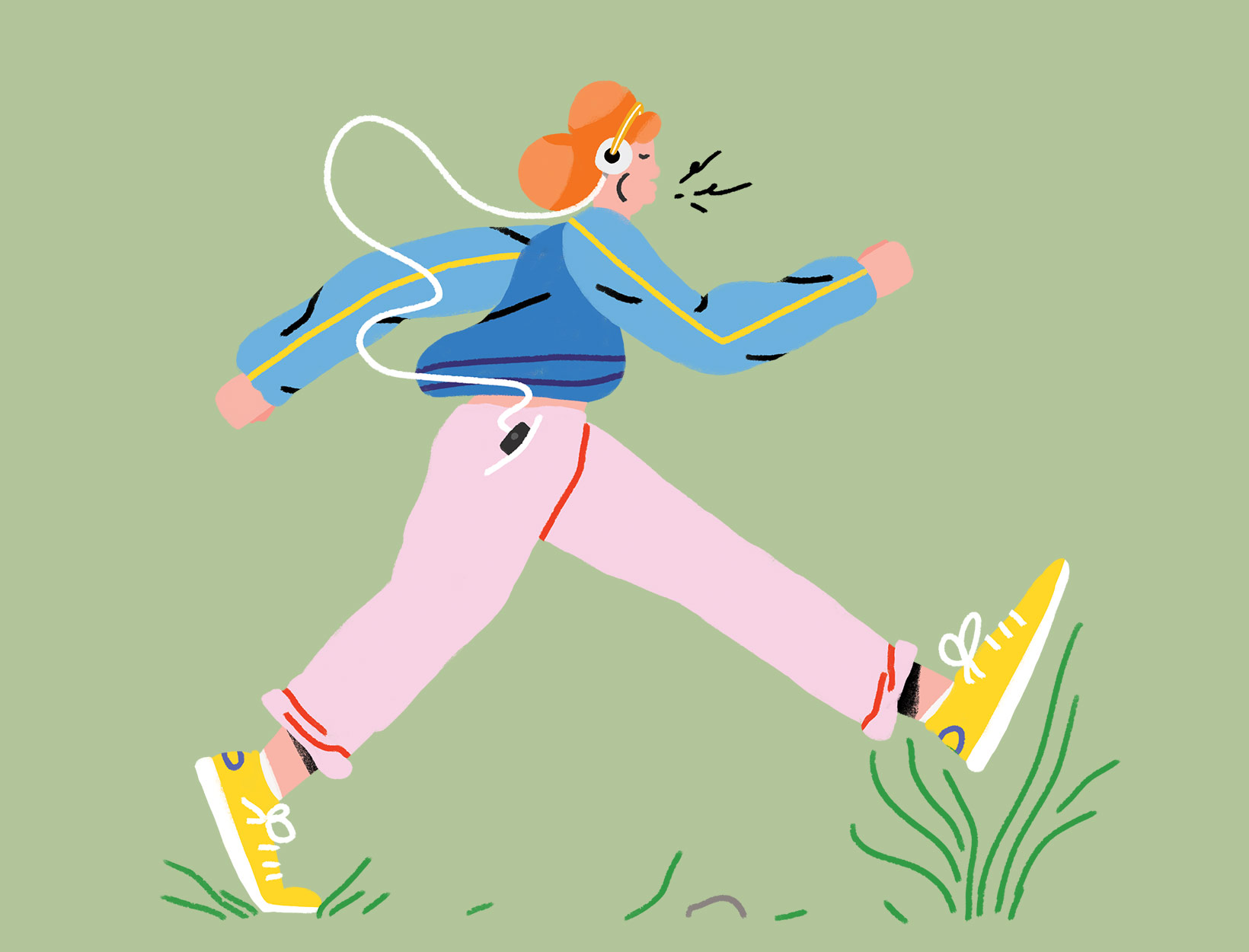 Illustration by Sebastian Curi
10 Productivity Tools Our Tech Team
Uses Every Day
In partnership with our friends at Teslar
If you have a stereotype of a typical tech team in your mind, you're not picturing the goop tech team. "We care about two things in the office," says technical operations manager Nate Quaresma. "And that's keeping it chill and keeping it productive."
Our tech team is all about efficiency. They help us when we forget our passwords and keep our systems running smoothly. And they're into ear seeds, infrared saunas, oat milk, and trampolining with Colette Dong. They know the latest cutting-edge info about tech and anything digital. So when we see them sporting a cool new gadget, we have to ask: What is it, and what does it do?
From a powerful self-massager to a watch that does more than tell time, these are the essentials our tech team uses when they're on the go or need to recharge and refocus. Their energy-saving tools help streamline the day so we can work smarter, better, faster—and have more fun doing it.
1

watchmen

Our IT department is always looking for new ways to optimize not only their productivity but also their well-being. This Teslar watch brings both those things together effortlessly. The Timex-designed watch, made for both men and women, has a chip inside that syncs up to the battery and puts out waves matching the earth's natural frequency. The idea is that the watch could help keep the body in balance, too. Also: It looks good.

2

unplugged

There's no shortage of cords in the tech team's office—it's why we run there when we need a spare charger. A wireless charger is a game changer: When you are hopping from conference rooms to different desks, setting a phone down instead of having to look for another wire to plug it in is one of modern life's simple pleasures.

3

support system

Showing up and staying healthy is step one. Because the tech team works with different people every day—and touches everyone's keyboards—we appreciate that they take care of themselves. These tasty, two-a-day chews—made with elderberry extract—give their immune systems a healthy boost.

4

cool it

Even though most people like using the Yeti tumbler to keep drinks hot, it also keeps cold-brew iced for hours. No more watered-down coffee.

6

slam dunk

When you're stretched across a lot of different projects, little breaks make the day feel less hectic. To keep the energy high, the guys have this basketball hoop posted in their office—and everyone comes through for guest shots.

8

no more knots

The great thing about the Theragun is that you can use it on yourself. It's a heavy-duty massage tool (don't be fooled by its handheld size) that helps relieve tension and soreness from a long day of sitting at a desk or running around.

9

power through

When you need to dial in, put on these noise-isolating earbuds and cross off that to-do list.