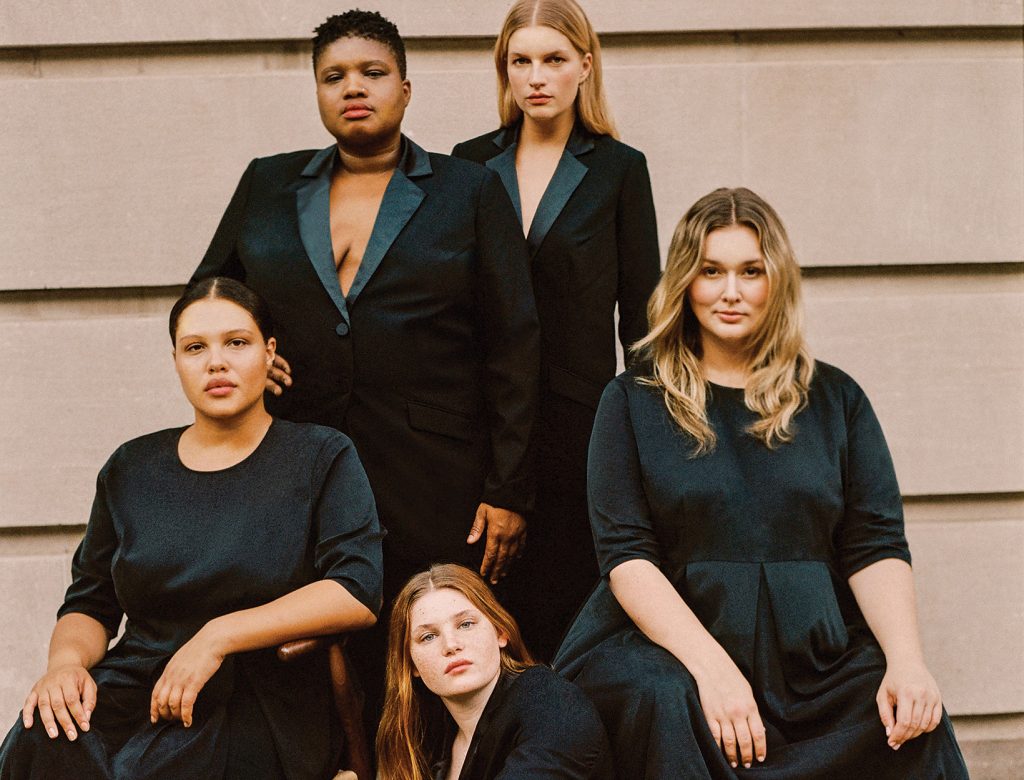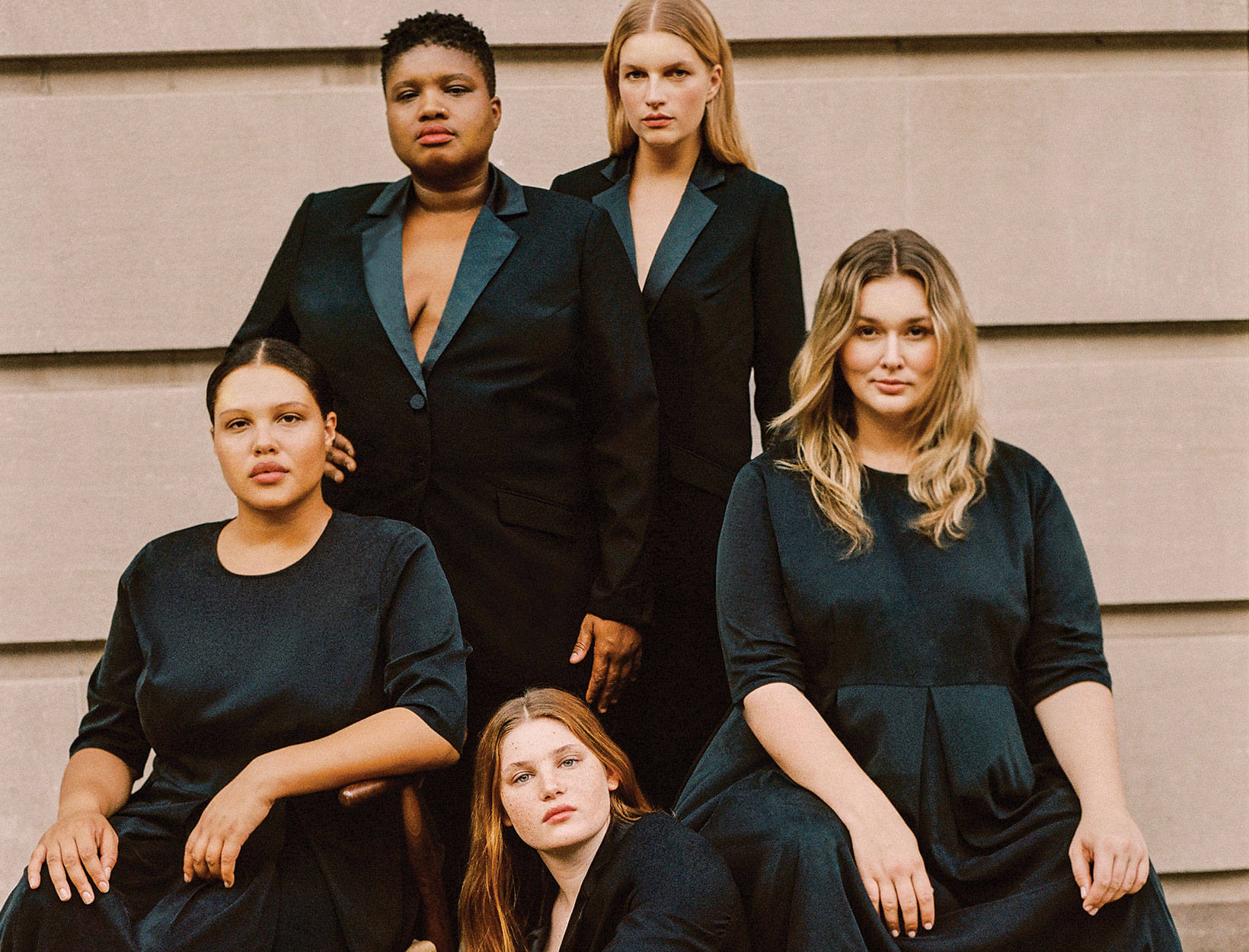 Photograph courtesy of Tiffany Nicholson
Meet Universal Standard: The Women Creating Clothes for Every Body
FEMALE FOUNDERS
Meet Universal
Standard: The
Women
Creating
Clothes for
Every Body
Perhaps the only upside to workplace inequality is it has driven a lot of amazing women out of corporate America—and straight to the helm of their own companies. We decided we didn't want to just cheer them on anymore. We wanted to meet them and interview them and write about them. With that, we give you: Female Founders, a column featuring women who create, design, and inspire.
The idea was simple: make clothes that fit every body. It's not a novel concept, but Alex Waldman and Polina Veksler weren't able to shop together because of their size difference. So the two set out to create a clothing line that would suit them both—beautiful, minimal, modern, the kind of streamlined fashion that appeals to everyone. They set out to disrupt the fashion industry with its long history of ignoring customers who weren't sample size—and they called their line Universal Standard. What began in 2015 as eight pieces, in sizes 00 through 40, has steadily grown. "The first collection included pieces that Alex had always wanted to have in her wardrobe and could never find," says Veksler, the CEO. Waldman is the creative director.
This month marks the launch of goop x Universal Standard, a line of five classic pieces that transition easily from the office to an evening out. What Veksler and Waldman want is to bring women together, not separate them. To them, it's not "extended sizing" or "plus sizing"; it's just…clothing. "Because whether you're a size 6 or size 26, you fret about your size. We wanted to alleviate this burden," says Waldman. "And women can lead this change."
A Q&A with Polina Veksler and Alex Waldman
Q
What made you want to create Universal Standard?
A
Veksler: We started the brand three years ago, and it came of out a shopping trip. We were invited to an event, but all of the sudden, Alex said she wasn't going to go with me. I said, "Why not?" And she said, "I have nothing to wear." I said what I thought was obvious: "You live a couple of blocks from Fifth Avenue—let's go buy you something." She looked at me like I had two heads and said, "Do you know there's not a single store on Fifth Avenue that I could walk into and buy clothing for myself?"
That conversation was the first time I realized not everyone can walk into whatever store they want to and shop. I'm pretty determined, so I still made Alex go to the event with me. We ended up shopping at a department store, and Alex took me to where she could shop. We passed by all the beautifully merchandised floors before she took me to the furniture floor. Next to some nonstick pans and couch cushions was this small section, and Alex said, "This is it—that's all I can buy for myself."
We decided then that we wanted all women to be able to shop together, not to be segregated by location, or websites, or any other reasons for separating women. We wanted to create a brand that allows a size 2 and a size 32 to use taste, not size, as their only filter in selecting clothing they wanted to buy.
---
Q
How do the two of you divide your responsibilities?
A
Waldman: We have very different abilities, namely that Polina runs the company, and I assist her. I do the creative stuff and am involved with the product itself, and Polina's the CEO and basically does everything else.
Veksler: Alex is the creative director, so she designs every single piece of the clothing with an amazing team of four people. Everything visual falls under Alex, and then the business side falls under myself.
Waldman: We always laugh at the fact that we're very different people, and I always joke that Polina is a human equivalent of an Excel spreadsheet, and I'm a human equivalent of Photoshop. The thing that we do have in common is our values. That allows us to have different points of view when we talk about what we want to do with our company and our strategy. Between the two of us, we seem to make sense.
---
Q
Most clothing companies use a formula to scale their sizes—they go either up or down based on one fit model. How did you approach fit?
A
Waldman: It's not that simple to make something that fits well across the board from a woman who is a 00 to a woman who is a 40. It comes with very unique challenges. There is engineering involved, and there is a reason why our T-shirts and our jeans sell the way that they do. We have given them a lot of thought, from the fabric to the cut.
Veksler: Alex and I did not have a background in manufacturing or design. When we started making clothing, we didn't even know that grading rules existed, so the way we approached it was different. In order to make sure the garments fit, we tried them on every single size that we were making and made adjustments where they needed to be made. We coined the term "micrograding" for that process, so that we could make adjustments not solely based on the formula but by looking at the way that the garment fits on every body. We've continued that even as we've grown as a brand, always fitting on varying fit models, rather than going up and down based on the formula.
Waldman: It's completely impersonal when you use a mathematical formula. If your piece is supposed to be culottes and it's just below the knee on a size 8, it's going to be palazzo pants by the time you get up to a size 28. We wanted to make sure that all things were equal, so in terms of height, for example, that those culottes would fall on the same place on the leg for a size 8 as they would for a size 28. It's time-intensive; it's cost-intensive. It's not the easiest way to do it, but it yields much better results, and that is reflected in our return rates and customer loyalty.
Photos courtesy of Tiffany Nicholson
---
Q
What were some of the early setbacks?
A
Waldman: We wish we knew what the word "grading" meant before we stood in front of a room full of experts at a factory in Peru, with Polina desperately looking it up on Google. We've faced a lot of things, but somehow, we've managed to get through it all.
Veksler: Starting off, finding good partners and factories was very difficult. You want to find factories that are willing to invest in you, but there are minimum issues.
Waldman: Minimums are how many pieces you have to hit before a factory even considers working with you. You might want to make 300 pieces, but a factory in China is going to go, "I'm sorry, you have to make a minimum of 10,000 if we're going to open our doors to you." That's a huge obstacle.
Veksler: We both barely knew how to turn on our computers, but we had to set up an e-commerce site. We didn't have Instagram or Facebook accounts ourselves, so what does it mean to grow a social following? What does the digital marketing even mean? How do you set up a website?
Waldman: We took courses at General Assembly in order to understand what those things were because we knew nothing.
---
Q
Why do you think more brands don't offer more sizes?
A
Waldman: There are a lot of reasons why they are not including extended sizes. There are infrastructural reasons, where certain looms aren't big enough to weave things that you would need for a size 40 sweater. You also have to look at the width of fabric. If you have to go length-wise rather than width-wise, there's a lot more wastage. Plus, there's a lack of expertise. There are not a lot of people who really know how to do this well—it's a different ball game. There are a lot of very real obstacles.
---
Q
What surprised you about starting a business?
A
Waldman: I think the fact that we knew very little actually served us well. Ironically, that was probably the best thing, because we couldn't see the obstacles that lay ahead. It prompted us to move further, and it allowed us to think creatively. We didn't say no to things because we didn't know any better. Interestingly, it allowed us to develop new ways of looking at things and new ways of trying them out. Conceptually, everything from policy to manufacturing was a wonderland to us that we experimented with. It allowed us to come up with some pretty good ideas that now, in retrospect, we know are pretty normal.
---
Q
Was there a point where you felt like your company was really taking off?
A
Waldman: We were fortunate enough to have Refinery29 write a story about us at the beginning. I think we had ten followers on Instagram at that stage; we hadn't even sold anything yet. They wrote a piece on us, and we sold out of everything in six days.
That was a bit of a head-turner, and we thought, Well, maybe there's something here. We still cautiously groped further on and decided to take a chance with one of the holy grail items, denim. We created jeans that I'd always wanted because I had so many problems with jeans—they wore out between the thighs too fast, or they were too short in the waist, or they created the infamous muffin pop, or they didn't stretch, or whatever it was, there was always something wrong. So we created a pair of jeans that I thought were the jeans that I wanted to wear.
We sold out quickly, and it wasn't until we had 1,700 people on a waiting list for jeans that we looked at each other and said, "Okay, this is a real business, so let's just go for it."
---
Q
How much does customer feedback affect what you do?
A
Veksler: We started in Alex's apartment, but a year into the business we got an office space. We always wanted to hear customer feedback, so what we did was separate the floor so that we could have a showroom.
Waldman: The showroom wasn't for buyers. It was for our customers, so they could come in, try things on, and see everything in real life. What was born out of that is our Fit Liberty program. We saw a lot of people reacting to the clothes in a certain way and then reacting to their own reflection in the mirror. I'm a size 20 or 22, so I have my own personal experience with having a bigger body. It wasn't until I saw other women and the similarity of their reaction to their own reflections that I realized there was a big, universal problem.
---
Q
What were you seeing?
A
Waldman: People were seeing themselves, or they were seeing their bodies, as a temporary condition. In other words, they didn't want to commit to what they were seeing in the mirror because maybe they became a vegetarian yesterday, or they started yoga last week, so they were going to be a completely different human being in three months. They were not going to treat themselves to these beautiful clothes because the person in the mirror didn't deserve them. They were thinking that their better self would deserve it when it manifested itself.
Living with that bully in your head affects your life, so we came up with Fit Liberty program, which basically says: Look at yourself in the mirror and buy for that person you see there. Make sure it fits you perfectly as you are right now, and then take a year. If that yoga practice works, and if your veganism is fantastic, and everything goes a certain way, and you lose weight, great. If you don't, and you happen to gain weight, no problem. Just return the clothes that no longer fit you. You have an entire year, and we'll replace those pieces with brand-new ones in your new size, for free.
---
Q
Does "plus-size" clothing have a future?
A
Waldman: No, it does not. I believe that if we're still talking about plus-size clothing in five years then we will have all failed. There's no reason for it to exist. It should just be clothing for women. If you're starting a brand, there's no reason for you to start one that is for a particular group of women and excludes another group. It just doesn't make any sense. We are not a plus-size clothing brand, and we don't like any of those monikers. Plus-size or size-inclusive, none of those things need to exist if everyone has access. They become irrelevant. That's the world that we want to live in, and that's what we're pushing hard for.
---
Q
What do you envision for the future of Universal Standard?
A
Veksler: We want to set a standard for the industry and say that this is the new normal, and we want to be the example that leads the change. Everyone should be allowed to participate in fashion whether you're a size 0 or a size 40. But it's also the responsibility of brands to ensure that they provide those options to the consumer.
Waldman: In many ways this is the last acceptable prejudice. The idea of segregating women from one another based on size needs to disappear. One of the most beautiful things we've seen, at our SoHo pop-up, was a group of five girlfriends who came in together for the very first time ever, sat down, had a glass of prosecco, and had a blast trying stuff on, making recommendations to one another. That's how it should be. We're trying hard to make sure that no one is waiting outside of the dressing room.