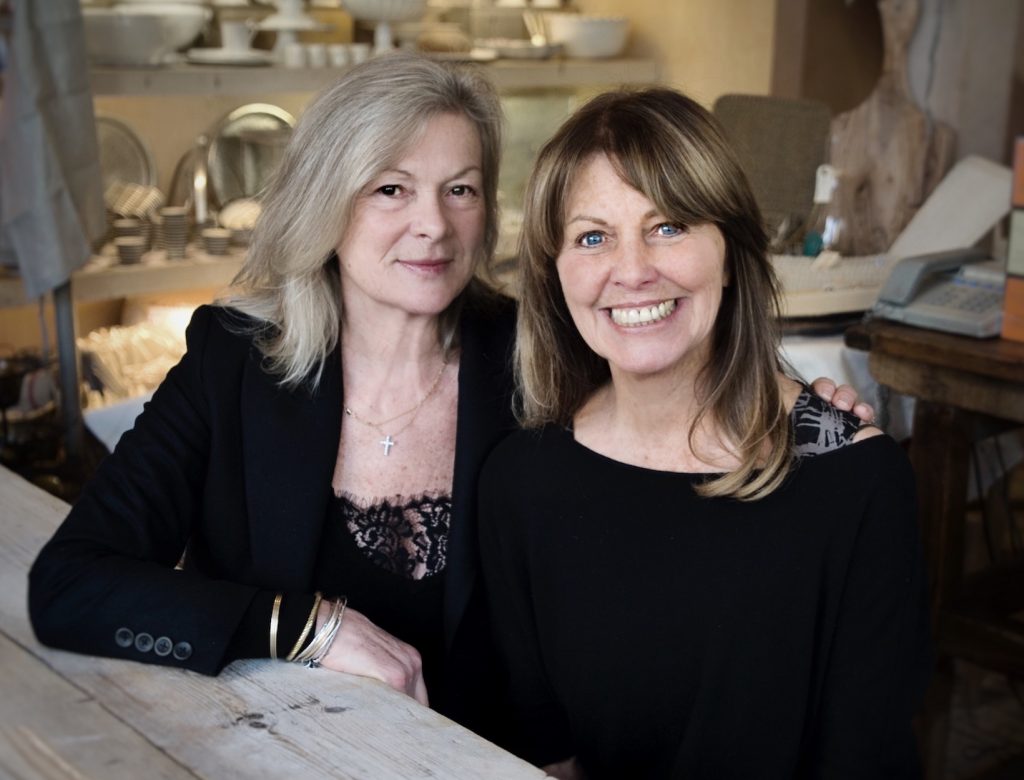 How Two Best Friends Turned a Love of Entertaining into a Full-Time Business
Female Founders
How Two Best Friends Turned a Love of Entertaining into a Full-Time Business
Perhaps the only upside to workplace inequality is it has driven a lot of amazing women out of corporate America—and straight to the helm of their own companies. We decided we didn't want to just cheer them on anymore. We wanted to meet them and interview them and write about them. With that, we give you: Female Founders, a column featuring women who create, design, and inspire.
Dreamed up by two best friends, June Summerill and Bernadette Bishop, who met through their kids, London-based Summerill & Bishop has exploded since it started. What was once a groundbreaking kitchenware shop has become a worldwide purveyor of famously exquisite hand-painted tablecloths, with napkins, aprons, and place mats to match; there's also glassware, serving trays—you name it. The linens are all made with an elegant, easy-to-care-for vintage wash and all add a pretty burst of color to any table. "Both of us felt that kitchen was the heart of the home, so we wanted it to look effortlessly beautiful—just like the rest of the house," says cofounder Summerill.
After first opening their doors in 1994, the pair took the brand from one bright, gorgeously curated storefront in Notting Hill to two (the second is in Belgravia) and launched a beautiful e-commerce site with features like Meanderings, a section with stories about the artisans the company works with.
Bernadette's sign-off in all her notes and letters
included this sweet flower motif.
When Bernadette Bishop passed away suddenly in 2014, Summerill and Bishop's families were faced with the difficult decision of what to do with a business the two had so lovingly built from scratch. Bishop's son Seb stepped in as CEO to work with Summerill to honor his mother's love of gathering friends and family around a table, a sentiment that remains at the core of S&B's mission today. A lightbulb moment came when Seb's brother Oli came across an old cookbook inscribed by Bernadette to her mother. "Whenever my mum wrote a letter or signed a card, she used a flower as her signature," says Seb. Inspired, the company teamed up with a centuries-old Italian stamperia to create a floral motif to use on everything from linen placemats to tea towels. "It felt like the most natural thing to have a range of tablecloths and napkins featuring that flower, in her honor," he says.
This month, Summerill & Bishop is helping celebrate goop's tenth anniversary with the release of a just-for-us linen tablecloth and cocktail napkins, fittingly timed with the arrival of our pop-up shop in Notting Hill.
A Q&A with June Summerill and Seb Bishop
Q
How did Summerill & Bishop get its start?
A
SUMMERILL: Bernie and I met through our children, who were in school together. We both loved to cook and entertain, and we knew we wanted to do something together.
Our idea was to create a welcoming space where people wanted to linger, one where they would say, "This is how I want my kitchen to look." We imagined a naturally beautiful mix of linens—old and new—plus handmade bowls, boards, and baskets. We opened our dream shop in 1994. It was a place for people to come and spend time.
"We felt the kitchen was at the heart of the home, so we wanted it to look effortlessly beautiful—just like the rest of the house."
---
Q
What surprised you the most about starting your own business?
A
SUMMERILL: That it became so popular so quickly. People loved it, and we got loads of press. We never used any PR. The brand took off at a time when people were looking for something more personal and so were open to our style. GP included us in one of her early newsletters, and our website blew up from all the traffic she sent our way. We've since upgraded the site, but we still refer to it as the goop effect.
---
Q
In addition to a long-standing relationship with goop, you've also partnered with UK brands like Solange and Shrimps. How do you decide who to team up with?
A
BISHOP: Most of our collaborators have been long-term customers of S&B, so they already share our passion and vision for the table. We're lucky to have an incredible mix of creative, eclectic customers and friends. We team up with people we enjoy sitting around the table with. The design process needs to be fun.
---
Q
As you've grown the business, what's been the biggest challenge so far?
A
BISHOP: Figuring out how to make the tablecloth relevant again. When an item you're so passionate about is largely seen as not only unnecessary but also antiquated, it's a challenge. Our designs have surprised people into reconsidering tablecloths and, in many cases, even inspired them to change their whole attitude toward them.
Our word collection, which features words written across the table in large letters, has created the most debate and converted the most nonbelievers. We created one with goop for the opening of the Dallas pop-up that says, "TEXAS." In general, they range from the delicate, such as "LOVE" and "HAPPY," to the more controversial "FUCK" and "ORGY" tablecloths. Our clients range from couples putting together their wedding registry to fashion designers and rock stars, and this collection has been a big hit with all of them. Whether the message is sentimental or risqué, once it's on the table, the phrase isn't really visible, so it's up to the hosts to share it with their dinner guests.
On a design level, the biggest challenge remains that a large proportion of our linens are hand-painted, so some of our more complicated, crazy designs can be very difficult and time-consuming to execute. Each tablecloth is effectively a nine-foot painting. We've recently started using a more effective printing techniques that enable us to produce more elaborate, off-the-wall designs for our clients.
"How to make the tablecloth relevant again?"
---
---
Q
You have such a wide breadth of products, from table linens to storage baskets—what do you hope sticks with people after they've experienced Summerill & Bishop for the first time
A
SUMMERILL: Both Seb and I love the Maya Angelou quote, "…people will forget what you said, people will forget what you did, but people will never forget how you made them feel." When you walk into any Summerill & Bishop shop, we want you to feel both inspired and comfortable.
---
Q
How have your customers' needs changed over the years?
A
SUMMERILL: Back in 1994, our stock was focused toward beautiful items for the kitchen that people couldn't find anywhere else–everything from wooden spoons and mixing bowls to scales and linens. Gradually, with the advent of e-commerce and international brands shipping directly to the consumer, we had to evolve and adapt to what our customers needed, which is the world's most beautiful tablecloths.
The company's mission is still to change the way people eat and to get more people around the table. The table is where you make life's big decisions and surround yourself with those most important to you. We've found that people stay longer at a table that is beautifully set, and the foundation for all of it is a gorgeous tablecloth.
As technology takes over our lives and we're all moving at a faster pace, we believe that mealtimes are more important than ever. Spending more time at the table means that we communicate better and that we are truly present for our family and friends.
"The table is where you make life's biggest decisions and surround yourself with those most important to you."
---
Q
What's next?
A
BISHOP: S&B is now recognized globally for its beautiful table linens, and we ship all over the world. We're now being asked by our customers to produce linens for the rest of the house, so we recently launched our first collection of hand-painted bed linens and cushions. We're currently working on a range of products for the bathroom.