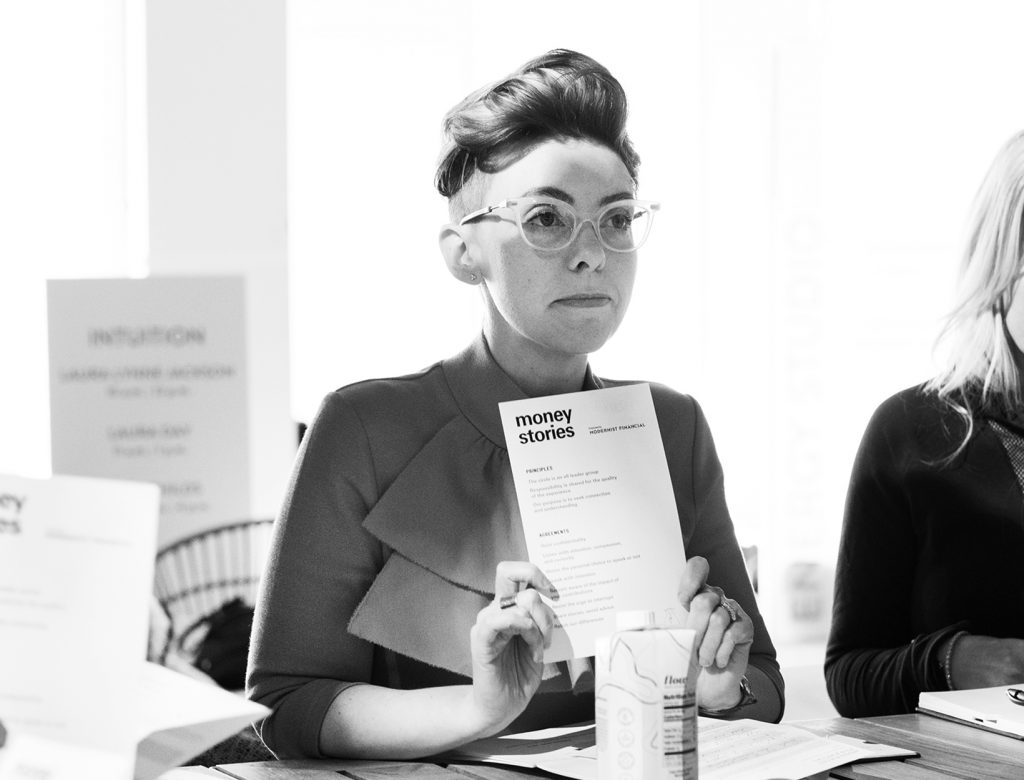 Improve Your Relationship with Money by Looking at Your Past
It was the mid-2000s in Portland, Oregon. Georgia Lee Hussey was a few years out of college, was writing essays and novels, doing performance art, and she generally had her hands in "all kinds of stuff." She was struggling financially, and wanted what she'd never had growing up—stability. So she did something radical: She bought a house. Only she couldn't afford it, and almost immediately, she realized she knew "jack about money."
"I started learning everything I could," says Hussey. "I started talking to all my friends about money. The more I looked around, the more I realized, Oh, none of you know anything about money either! We are in serious trouble." So Hussey did a few more radical things: She sold her house, went back to school, and become a financial planner. She found a job at a huge brokerage firm that was almost uniformly straight, white, and male. "I was like, what the…?" she says.
That's the creation story behind Hussey's progressive wealth management firm, Modernist Financial.
"I want to help those who have been systematically disenfranchised from the world of money," she says, explaining that it's her goal to help people manage their wealth in a way that is meaningful "and in alignment with what they think is important."
And that often means helping people rewrite what she refers to as their money stories—the narratives that define how people relate to money. It's a totally personal thing that can be intimidating and revealing. But it can also be freeing. Hussey encourages her clients to look deep—at their heritage, their childhood, their beliefs, and their surroundings—to understand why they have the relationship they have to money. ("You could have a family member who is particularly conservative and frugal," Hussey says. "Then you find out that their parents were in the Depression.") Hussey hosted a workshop on discovering your money stories at In goop Health. There were listening circles. Raw stories. And breakthroughs.
How we relate to money is, in many ways, symptomatic of how we relate to anything else in life. And we have the power to shift that, to redefine our ideas and thoughts, says Hussey. Having a healthy relationship with our finances is not only possible—it's probably easier than you think.
A Q&A with Georgia Lee Hussey
Q
How do you define a money story?
A
Money stories are the conceptual framework that undergird all of our financial decision-making. They're basically our personal strategic plan that we're unconscious of in our day-to-day life. Our money stories drive our decisions and our behaviors.
To me, it's a truly intersectional concept. Because money stories are really about our cultural background, our gender background, the stories from our family. And money stories can often be influenced by a religious background. They can be impacted by race. They can be impacted by the class we move in. I use myself as an example: As a creative person, I might have second thoughts about taking a lucrative opportunity in my work if I'm scared of living up to a sellout stereotype. So they're these stories that we've been telling ourselves or that we've been told about who we can be, what our identity means, and how we operate in relationship to money and financial decisions.
---
Q
Essentially, our money stories are a huge part of our lives, and many money stories seem to be markers of society and culture.
A
Yes. There's research that shows that all of our financial decisions—and all decisions really—are driven by our emotions. But one of the biggest money stories in our world is that money is rational. And that we just need the right pie chart or spreadsheet to tell us the right thing to do with our money. But that's not true at all. That spreadsheet will not make our next move clear. If anything, what we'll do is driven by our emotional state, whether it's fear, or greed, or worry, or anxiety, or a desire to build up our self-worth. That is what will drive our decision. We will make the data make sense for the decision we ultimately want to make.
That money story—that you just need the data—is a very prevalent story. It's also a very strong patriarchal story. But the truth is that many people don't have access to the data, or have the financial literacy to be able to make "good decisions" with their money. So there is also a very strong narrative of exclusion with that money story.
---
Q
How can someone discover their money story?
A
The first thing is to address the taboo of talking about money, which is a very significant taboo in American culture. We need to create a healthy habit of having conversations around money. They can be conversations with yourself, your friends, your partner, your parents, your grandparents. There's so much to be discovered about who we are in relationship to money, wealth, and well-being.
A resource we use to help our clients discover their relationship with money is our toolkit, which can be found here. The questions in these tools will help you discover your money story, build financial awareness, and understand your level of financial satisfaction.
This discovery process is really about building self-awareness. You can also do some journaling and reflection exercises, which is what we did at the In goop Health workshop. And therapy can be hugely impactful in your process. There's also something called financial therapy, which is a burgeoning field. If somebody is stuck around their financial lives, they can hire a financial therapist to help them.
The goal here is to help you bring clarity to your money story, so that, through conversation and discovery, you can then start envisioning a new story that is more supportive of who you want to be in the world—and how you want to move in the world.
---
Q
What are some other ways to explore the history behind a money story?
A
Asking and talking about some of the questions in our toolkit can be really meaningful for people—and it's different from sitting down and having a specific money talk. I love using this tool at a dinner party. Ask those around you: What did your mother teach you about money? What did your father teach you about money? They're often different stories or lessons from each parent, and they're very rarely a specific conversation they had with you. It's usually a lot of things that you've gleaned from your experience.
What can be really interesting is—if you have access to these people—to talk to your mother or your father about what their mother and father taught them about money. That reveals so much. From my personal experience, I grew up with a mother who was basically a single mom. It was a tenuous financial life, but she wanted to provide me with everything she possibly could, so in order to keep me in private school and all these things that she was supporting with multiple jobs, there was a lot of money shuffling around, a lot of robbing Peter to pay Paul. I inherited that sort of shuffling-money behavior in my personal finances, and then I figured out that my great grandfather—her grandfather—was a gambling addict. That's the definition of a money shuffler who is constantly trying to keep the debts paid. I needed to learn that having stability for myself is okay.
That's the kind of thing that can come down from generations. You could have a family member who is particularly conservative and frugal. Then you find out that their parents were in the Depression. That's a direct line between behavior and what you've inherited. But is that a useful story for you going forward, one of extreme frugality? Or would it be healthy to shift that story?
---
Q
What else can someone's money stories potentially reveal?
A
One example that came up during our conversations at In goop Health was about women's relationship with money (the majority of the people at summit seemed to identify as female). It's no accident that many women think they're bad with money. What most people don't realize is that a woman could not have a mortgage without a male cosigner until 1974. And a woman couldn't have a business loan without a male cosigner until the late 1980s. So we have to understand that this belief that we can't manage our financial lives is actually historical. And structurally, that was very true until recently. And then if we think about how much harder access would have been for women who weren't white, it feeds this belief that we can't access capital, that we can't make decisions for ourselves, and that we need somebody to tell us what to do. Because that was true until very recently. So that's a story that you can really point to as a reason we feel that way. This is a historical and gendered example of a money story.
Another example is a client of mine. She was one of four or five siblings. Her father had built up a significant real estate fortune. She had received a monthly distribution from those properties until her father's death. Then she became one of the inheritors of that money, but the only people who were allowed to manage the money were her brothers and an uncle. The uncle retired from that role, which allowed her to make decisions. So suddenly she was in a position where—in her late forties, after a lifetime of being told it wasn't her concern—she had to understand the family business for the first time. She understands that she comes from privilege, but at the same time she is really stressed and terrified that she's going to make a mistake. So that's a story she was told: that she didn't need to worry about handling the money. She needed to just get married to a nice guy and everything would be taken care of for her. That was not mean-spirited on her father's part or her uncle's part or her brothers' part. It's regressive.
---
Q
Are there gendered money stories about men?
A
I think about this a lot with my clients who identify as men. They don't have a particularly good situation either because they're told they're supposed to be good at money. Men are told that they are supposed to know the answers to these things; they're supposed to be logical about it all. But of course we know that now there's no footing for that story. So one of the things we hope to provide for our clients who identify as male is the knowledge that they can let go of that stance. They can not know. And they can have an emotional relationship with their money, which oftentimes can be very uncomfortable if they have a female partner. That is because if a male-identifying partner shows emotional needs in a conversation about money yet none of us have learned that it's okay for them to orient in that way, that oppression can impact everyone's money story.
---
Q
How do you define a healthy money story?
A
I like to say that we're on a spectrum of money stories. If we think about the far-left side of that spectrum, that is the frugal story. And the far right of the spectrum is the spender story or the spendthrift's story. The frugal story is the one that we reward, culturally. But that is basically a behavior based in fear. Fear that there's not enough, fear that there won't be plenty. The spending side is also usually a fear-based thing. You may think that you have to enjoy the money now because it won't be here in the future. So my questions with clients and in the community are: How can we walk the middle path? How can we define for ourselves what enough is so that we can then define what plenty is and we can make choices in that space?
It is about believing in plenty. Believing in enough.
---
Q
But isn't some fear good?
A
Some fear is reasonable. Some fear is just looking at the world and saying, "Okay, we're probably going to have a recession soon. I should probably make sure that we have plenty of cash, just in case something happens." That's just reasonable. But saying, "We're not going to go on a vacation ever because we may need that dollar for something else" or "We're going to buy cheap stuff because it's scary to invest in nice things" is not balanced. I think this is everyone's project. I think that defining enough for each of us is a project for everyone. I like to put it: "Believe in plenty; believe in enough." If you can believe in enough, you can therefore believe in plenty because you've defined your floor, if you will.
---
Q
Do you believe everyone is able to shift their money story and perspective?
A
I really do. I think it's a mandate, quite honestly. As a progressive queer woman running a progressive financial firm, I need to know that we can shift these stories because the current state of affairs is unacceptable to me. We cannot continue on in a world where people are hungry and unhoused and uneducated, and if their kid gets cancer, they can't take care of them. I can't accept that. So we have to be able to shift these stories so that we can then shift how we show up in our communities, how we vote, and the way we take care of one another. And I will also say that I have seen money stories shift in both my work and personal life, as well as that of my clients.
People change. It takes a little while. It takes usually two to three years to really start seeing significant shifts, but in my mind, financial planning and wealth management in general are about helping people navigate the transitions that happen in our lives. Some of them are planned; some of them are unplanned. But doing that in a thoughtful and values-aligned way often means changing how we behave in the world. Maybe it means saving differently, or maybe it means investing differently. Maybe it means engaging around the things that we own in a different way. Maybe it means engaging with our loved ones in a different way. In order to make those changes, we have to become clear about who we are and what's important to us.
---
Q
During your In goop Health workshop, you held listening sessions where people could talk about their financial histories and learn about their money stories. Will you explain the power of listening?
A
One of the ultimate gifts we can give one another is our full attention. When asking these questions—and it's one of the nice things about these tools—you can answer them for yourself, and then you can ask somebody else to answer the question and you can be fully present because you've already written down your thoughts. Again, in a culture that doesn't support talking about money, it is really radical to truly listen to somebody else's story and be present for them.
I think creating that space is so important. We often promote our toolkit around the holidays because it can be so incredibly important when we get together with our family to actually have real conversations. These can be really powerful questions to ask in a situation with one's family. Stories are a great generosity to others.
---
Georgia Lee Hussey is a certified financial planner and the founder and CEO of Modernist Financial, a B Corp wealth management firm dedicated to helping progressive people structure wealth around their values. Before she launched Modernist Financial, Hussey was a CFP for national and local financial firms.