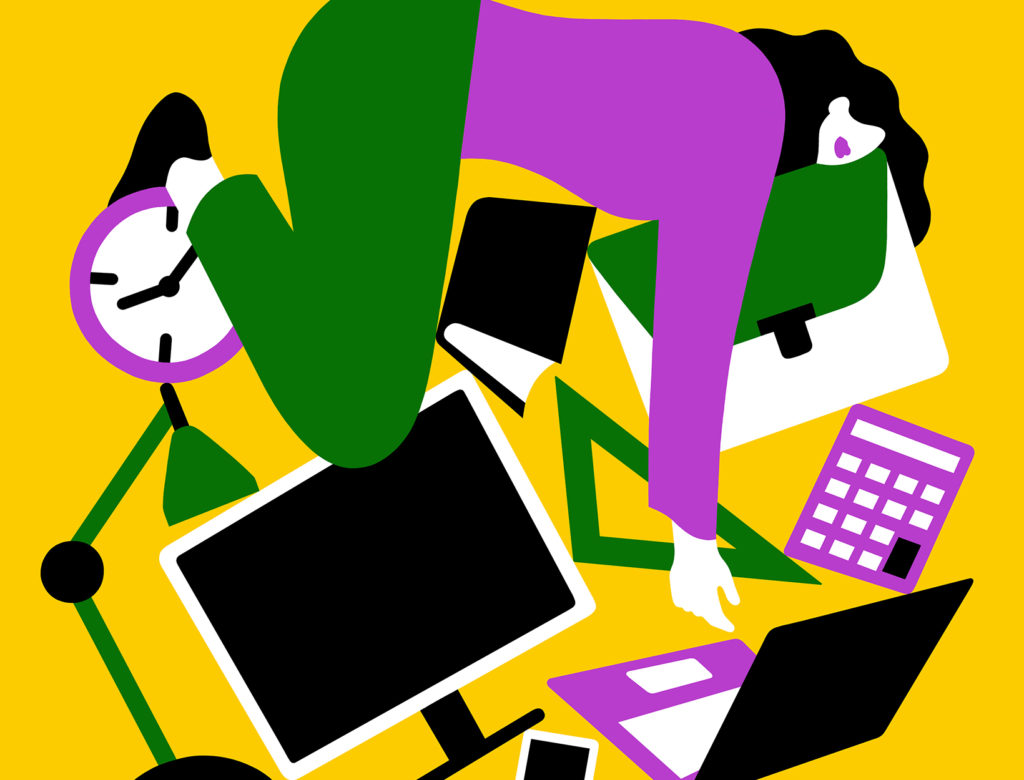 Illustration by Lisa Tegtmeier
How to Find a Career You Feel Good In
How to Find a Career You Feel Good In
There was once a woman who worked from dawn till way past dusk. She was tired. Misunderstood. Every minute felt like an uphill sprint. She couldn't wait to get into bed. She often dreaded going to work. But that woman persevered. She always smiled. She always said yes. And she listened to the words glued into her consciousness: Work your butt off. Hard work pays off. Hustle.
Until one day that woman burned out.
That woman could be millions. That woman was Amina AlTai. After existing in a self-made "work prison" for more than seven years, AlTai had an awakening—after experiencing adrenal fatigue and receiving two autoimmune diagnoses—that made her stop and ask: What gives? Sure, some corners of the professional world seem supportive of work-life balance—unlimited vacation, flexible schedules—but there's still a thick thread of burnout tying knots in all of us.
AlTai wanted to know why. She no longer wanted to accept the notion that struggle and exhaustion were prerequisites for success. So she dived deep. She studied meditation, nutrition, fitness, and career coaching, and she began helping people build careers that are aligned with the way they want to live. AlTai created a program that guides professionals to find flow in their day-to-day and build a dream career—which she says opens the gate to making more money and finding greater satisfaction. The program also helps clients shed unhealthy habits and unrealistic expectations—the limiting ideas that one's career path should look a certain way. Because it's that mind-set that can result in our "spending our heartbeats all day, every day in a space that's not aligned with our values," AlTai says. "And that tends to feel really terrible."
But being happy at work is possible. It requires effort, or "being in discovery," as AlTai refers to it, to realize our values, purpose, and passion. And when we do, we can release ourselves from the traditional work chains and build a career—as well as a life—that feels really good.
A Q&A with Amina AlTai
Q
What does it look like to be in a job that is a struggle? How does it feel to be out of flow?
A
One common thread is an awareness that something isn't working. With my clients, this tends to express itself as resistance. Maybe you're on this trajectory in your career and then, all of a sudden, it's not going the way that you want it to. You keep meeting roadblock after roadblock. You're not feeling great in it.
In my practice I often hear: "I'm feeling really frustrated. I don't know what the next thing is. I thought I'd be in a different place." There is a mismatch between the expectations of what we thought our career would look like and where we really are and how we feel in it. This can lead a lot of people to feel frustrated and resentful.
Another common thread I see in my practice is burnout. Whether we're burned out emotionally or physically, it's as if we have worked so hard to try to make something happen that it comes at the expense of our health or emotional well-being.
---
Q
What are some ways to distinguish between burnout-level work and normal, necessary hard work?
A
I talk to my clients about two types of tired—one is a dire need of sleep and the other is a dire need of nourishment. Ask yourself: Is this something a few extra hours of sleep can solve, or is there something bigger that needs addressing? If we don't address the underlying misalignment, no amount of sleep is going to save us from burnout. This is a soul question, not a sleep question.
If a client comes to me and is really unhappy in their business or their career, one of the first areas we look at is the why and their role in it. From there we can discern what's theirs to heal and what isn't. It doesn't always end with someone abandoning their day job and sailing off into the sunset of venture-funded entrepreneurship. The mind-set work is the hardest and most rewarding.
Additionally, a lot of my work centers around perfectionism and imposter syndrome. I leverage Dr. Valerie Young's work on the five competence types. I notice that one of the competence types, the Superwoman/man, has a higher propensity for burnout because they are driven to perfectionistic tendencies in all areas, not just work.
---
Q
How do you help your clients shift toward having flow and building a dream career?
A
One of the first things that I do with clients is a values exercise. We work to understand what it is that they value in this world, and then we line that up with their day-to-day. A lot of happiness has to do with an alignment of values. But here's the rub: How often do we sit down to think about our values? Many may quickly say they value freedom, equality, and justice. But it's important to pause and consider whether those are truly our values or they are values we picked up from our family system. I invite people to sit down and discover for themselves where they want to direct their compass.
And then I take it one step further. I believe that our purpose—our dharma or what we're called to do—sits at the intersection of what we value, what our gifts are, what gives us joy, and what we want to impact. Things feel way better when we're having fun and when we feel lit up, right? This is a privilege, of course, but it's about spending as much time as possible embodying our gifts and doing things we're good at rather than things we have to do or feel like we should do. Then it's important to anchor in our impact. What is it that we want to change or make better or heal in the world?
When we line up those pieces, that's when things flow.
---
Q
How can someone discover their values, gifts, joy, and impact?
A
I have a worksheet that I take my clients through to start to pull the thread here. I take myself through it at intervals because whenever we're growing, we're changing, and our next level up requires a different version of us. It's important to always check in with ourselves and to ask if what we're doing still feels true to us or if we need to update it and navigate it in a different way.
It's important to know that these questions are not just for those of us who feel lost. As we grow, we change, so it's important to always check in with ourselves.
---
Q
What is your advice to someone who isn't sure whether they should shift to a new job or put time into seeing if they can find alignment in their current work situation?
A
A lot of people will come to me and say that they're not happy in their current career and that they want to leave and build the next thing. The first step I recommend is to understand what that dissonance is about. Because the last thing I want is for somebody not to examine the shadow, not to examine the wound, and then take that into their next career path. If we're not evolving, we're going to take the issue into each new situation. It'll follow us everywhere. The first step is to own what's not working and discover where we need to heal. Where is there a big shadow?
One common issue I hear from clients is having a difficult boss. But so often their difficult boss is actually a piece of themselves that they haven't owned and integrated. So there's work to do there. Once we've done that work, the next step is to design the dream career scenario. Now that we've taken the emotional charge out of things, we can have more clarity. Then we can ask: Is there a way to transform your current role into the dream? Maybe. Or is it so far removed from the dream that we can't make it work? At that point, that's when we look at what could be the next big thing that feels right and true.
---
Q
What if you have a job that does not necessarily align with your values or passions but pays well or offers great perks?
A
We all have choice. I invite clients to evaluate work in the context of their whole lives. If you can say to yourself that you're willing to sacrifice certain aspects for a great salary or time off to spend your heartbeats in other areas that matter most to you, that is great. But if you're coming to me and you're saying that you're spending twelve hours a day at a job that is sucking your soul and burning out your adrenals and you have little left for the things you do love, that's something that we need to look at.
Sometimes when people are resisting change, I believe that may be the voice of fear talking, and it's important for us to explore that. There's no shame in the voice of fear—we all have that voice come up sometimes. But instead of burying it, we can make friends with that voice, unpack it, and see what could be on the other side of it.
I also invite clients to align their work with what they're truly exceptional at. Gay Hendricks talks about zones of genius, excellence, competence, and incompetence. I have my own version, which is the eh, the excellent, and the exceptional. And in the exceptional, our gifts flow through us often quite readily. We may think, How could something that comes so effortlessly be valuable? How could we charge for this? Because the hustle mentality is so ingrained in us. But when we're in that space and our gifts are flowing through us, we use much less energy. It's less stressful. And our time expands. We're not forcing life to happen. There is so much available to us when we're in that space. And that's what I want everyone to get to, in varying degrees, in their work.
---
Q
What is your advice to someone who is strapped—timewise, financially, or in other ways?
A
It's a privilege to get to share this work, and it's a privilege to get to be the student. And we don't all have the freedom, time, or money to get to go all in on this work—let's name that. That is why it's been really important for me to create work that feels inclusive and honors different learning styles, time considerations, and pricing. With the free trainings I do in my newsletter and on IG, with my journal and digital course, and with coaching, I'm attempting to offer something for those feeling challenged at every stage of the journey. And I am continuing to evolve this.
I was in my mid-twenties and running a marketing agency when I burned out. I was a cash-strapped entrepreneur. I maxed out my credit cards to get well, literally going to seven different functional medicine doctors, coaches, and healers to find the ones who could help me. It was an expensive learning curve, and I don't recommend that route. There are small steps we can take each day that can get us closer to the dream and closer to the life we want that don't take up all of our resources. I help clients design their trajectory in bite-size steps, so we don't overwhelm our minds, hearts, and wallets.
And this work doesn't have to be another job. I don't want it to be. Even a five-minute daily reflection or mind-set exercise to reframe challenges can yield tremendous impact.
---
Q
There is such a societal message perpetuated that hard work and hustling begets success. What's your response to this?
A
So often we're operating from old programming, the "no pain, no gain" idea. When things feel good or feel easy, we think we're not working hard enough—we feel guilty. I've certainly felt those limiting beliefs and ideas myself. But that's all they are: limiting beliefs. We really don't have to suffer.
There can be a lot of shame in there, too. As a society, so often we see the image of the CEOs trudging their way to the top. Or even in popular culture. It's so woven through the fabric of everything that we see. We believe that we have to force life to happen. That that's the hero's journey, the only way to do it, and anything less means that you are lazy. That couldn't be further from the truth.
When we're using the word "should," we're often in somebody else's belief system. It's something that somebody projected onto us, like "You should work hard to succeed, and it should look like this." And it's really about questioning whether that is true for you. Can you imagine a different way of being for your life? How can we create that? I work with clients to lean into that instead. I'm really interested in the science of optimality from a heart-centered perspective. How can I show up in my highest and best and have the biggest impact with my work, in the most kind, loving, and efficient way?
---
Q
What makes for a good support system while you're navigating career discovery and changes?
A
I love this question. I think accountability partners are huge. When I was working on my journal, I had a friend who was also working on a side project. She asked if we could be accountability partners. Once a week, we'd check in with each other. I think our friends tend to bear the brunt of everything that's happening in our lives, so I don't think it's always fair to go to them for everything. But being really strategic about having an accountability partner or a coach or a therapist if you need it can be really beneficial. Having an objective team that's going to support you through a change can be really helpful.
---
Q
What self-care do you recommend?
A
Self-care is so important when we're rewriting the script for our work and life. Shifting our perspective on work and finding flow can mean overcoming generations of limiting beliefs and trauma. When we're ready to release that and step into flow, it can be a lot of hard work—on our minds and our bodies. Rest is so important. Taking time and space to process and integrate is important. I do a lot of self-help work. I'm always working on myself, but sometimes I'll need to catch myself and take time to integrate all that I've learned and processed. There's a moment after we've done all the doing when we need to pause and take the time and space to integrate the work. That is such a big piece.
It's also important to use our physical tools as we go through these changes. Take a bath. Eat nourishing foods. Spend time on the yoga mat to process. And make sure to apply the same care to our mental and emotional hygiene by being kind to ourselves with our inner dialogue. A daily gratitude practice or a journaling practice is a beautiful tool. When we put things down on paper, we can often see the spaces where we're blocking ourselves or denying ourselves. It's about loving ourselves physically, emotionally, mentally, spiritually—all the ways.
---
Amina AlTai works with clients to help them feel happy at work. Her mind, body, and business coach methodology combines her experience in brand building and marketing with training in nutrition, fitness, and mindfulness to help people build careers and businesses—and lives—that are aligned with their values and passions. AlTai offers one-on-one and group coaching sessions, a digital course, and a journal for mindfulness exercises. She is based in New York City.