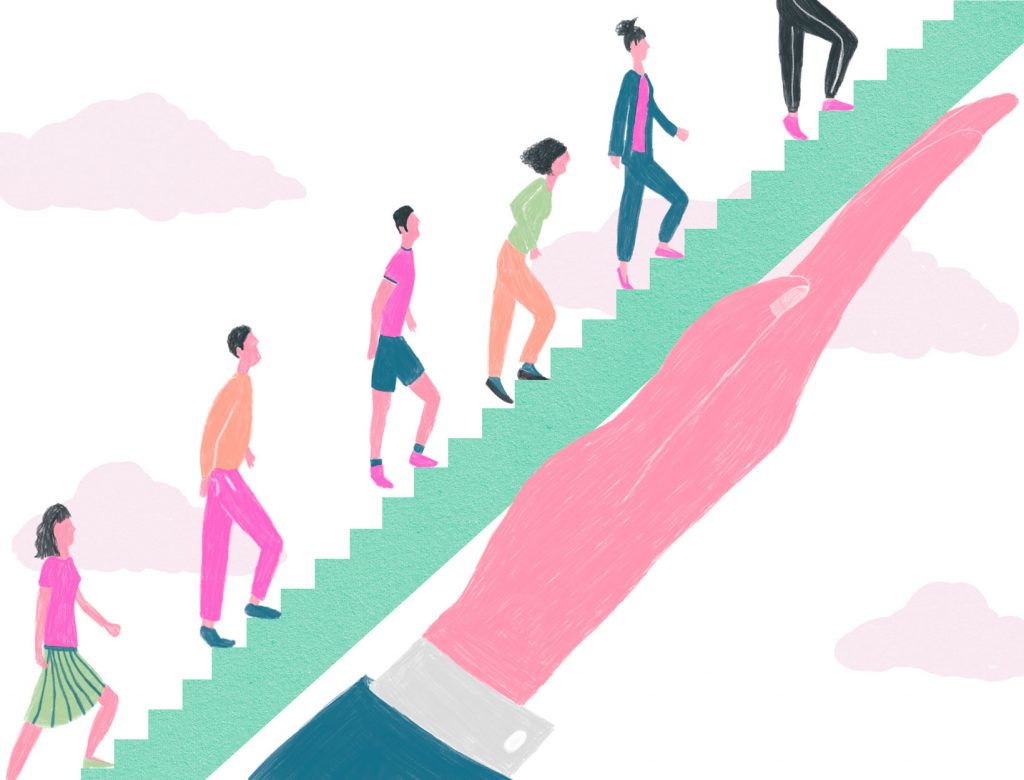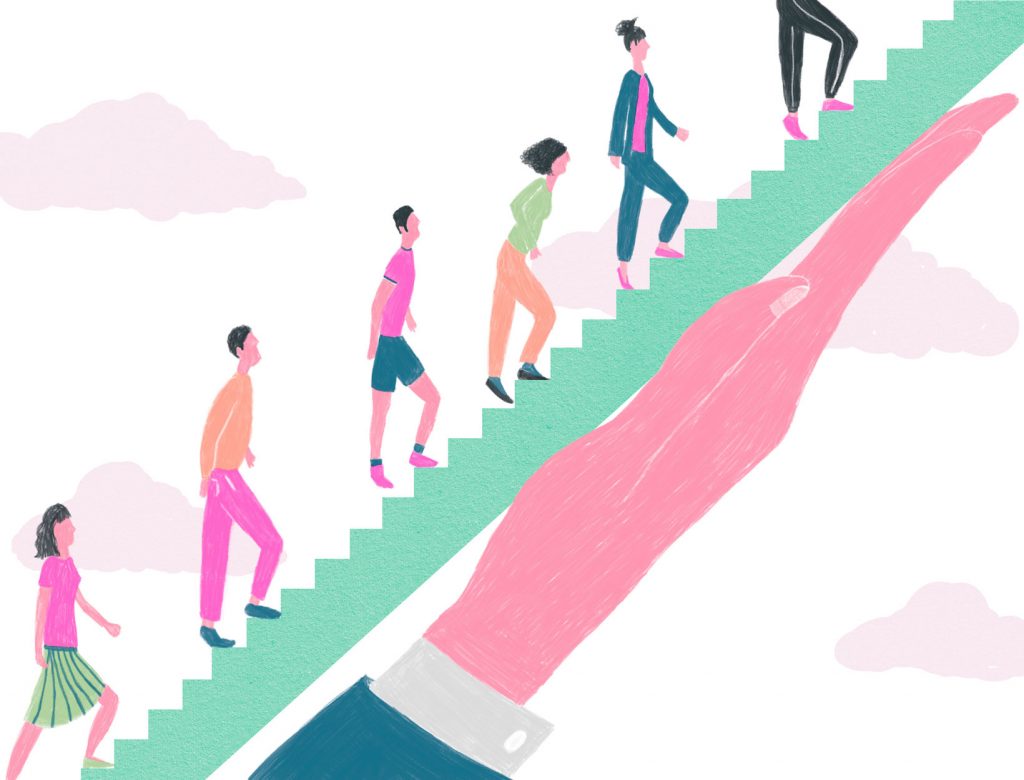 How to Be a Great Mentor—and Why It's So Important
How to Be a Great Mentor—and
Why It's So Important
Women need to support one another. Sure, it's a tagline, it's a rallying cry, it's a catchy thing to say. But it's also a financial necessity, according to Lauren McGoodwin. For one thing, every time a woman looks out for another woman, she is that much closer to lessening the collective inequality, biases, and wage gaps of the world. (Women are less likely than men to receive sponsorship experiences, like being a panelist at a national meeting, according to 2017 research.) There's also the financial factor, explains McGoodwin. If women don't look out for other women, they could miss out on the leadership opportunities that could lead to "economic decline among companies."
McGoodwin, the founder and CEO of Career Contessa, a site that offers women career-building advice, makes a compelling case for female mentorship: "If someone doesn't have a mentor—male or female—while others do, those with mentors will naturally have an advantage." There is a natural advantage to a female mentor: They are well-versed in the roadblocks that come with being a woman in the workforce. And even more importantly, they can "open the dialogue around how men and women can thrive in the workplace together."
A Q&A with Lauren McGoodwin
Q
What are the benefits to mentorship? And why is it important for women to prioritize mentoring other women? 


A
Mentorship is invaluable. It gives mentees exposure to new ideas, new ways of thinking, and new opportunities for growth. Specifically:
• Advice on developing strengths and feedback on important communication skills, such as public speaking and presentations.
• Guidance on professional development.
• Insight on advancement opportunities, such as management, new projects, or higher education.
• Increased visibility and recognition within the company. This is especially beneficial when a mentor invites the mentee to meetings with leaders and/or the C-suite.
• The opportunity to increase your network through introductions, referrals, and recommendations.


And the benefits of women mentoring other women are abundant because:
• Women might not receive any mentorship unless another woman steps in. Research shows that women aren't being given the access to the traditional routes of advancement that men are, and that's because male leaders are less likely to mentor or sponsor women. So if you're a woman in power, use that power to lift other women up.
• It increases the opportunity to have female role models who can help shape your communication, leadership, and professional style. If women have only men to look up to or ask questions of, women will continue to have a workplace that works best for men, not men and women.
• The leadership pipeline will include men and women, and that will help shape company culture, policies, and more.
• It opens up opportunities for more collaboration and less isolation at work. No one is self-made. All the best leaders, athletes, actors, creatives, engineers, and (insert career here) were—and are—team-made.
---
Q
What's the return for the mentor?


A
There are many:
• Mentors can develop a reputation as someone who is a subject-matter expert and leader.
• They can gain exposure to fresh perspectives, ideas, and approaches. This can be especially beneficial if the mentor has been in an industry for a long time or at a company for many years.
• It can help mentors build their own professional network, which could lead to new opportunities and provide valuable insight into their own professional goals.
• It can lead to the development of their personal leadership, communication, and coaching styles.
---
Q
What are the different types of career mentorship?

A
The traditional or "formal" types are called mentorship and sponsorship. But there are also plenty of informal types as well.
Peer mentors: These are usually work colleagues but could also include people in similar roles at different companies. Peer mentors are usually close in age and have a comparable amount (or number of years) of work experience. Peer mentors are great for motivating and encouraging one another, spotting opportunities for each other, and keeping each other accountable to goals and aspirations.
Reverse mentors: The world of business moves fast, and it's always evolving, so it can be helpful to have mentors who are younger than you. A reverse mentor may better understand a new type of software, be better in touch with your target audience, be privy to new social media tactics, etc. Having a mentor who is younger than you can help you stay informed in ways you might never think of.
Network mentors: These include people who run in your network of friends (and friends of friends).
Online mentors: These include people you follow online. You may value their work and/or see them as role models.
Yourself: The world is full of resources like books, podcasts, and online sites, like Career Contessa, that offer access to incredible experts and resources that you can use to mentor yourself.
---
Q
Mentors don't have to be in your field?

A
Definitely not. I actually love having peer mentors in a similar role or at a similar level as myself but in different companies and industries. And with an increase in career transitions among millennials, it's a smart thing to do.
---
Q
What are the qualities of a good mentor?
A
They genuinely care and want to help. They show positive energy and commitment. (It's a terrible feeling to be assigned a formal mentor and then get the feeling that they don't really care about the relationship.) Good mentors are trustworthy, are great listeners, and understand how to give feedback in a way that inspires and doesn't cut down the mentee. They also offer support in ways other than just an introduction. One example could be listening to a mentee practice a pitch aloud. 

---
Q
How can you be a mentor in everyday workplace settings? Does it have to be big gestures, or can you weave it through your days in smaller ways?

A
It definitely doesn't have to be only big gestures. It can be as simple as asking a team member or colleague what they are working on, giving friendly feedback to someone after a team meeting, or asking someone to walk you through a project because you worked on something similar and can share insights. It could also be asking someone in a different department to grab a coffee and just talk to them about their career path, job responsibilities, and overall goals. You'd be surprised at how far a genuine "How are you?" can go in the workplace—for both people involved.
Women can offer mentorship to one another via formal or informal arrangements. If you prefer scheduled check-ins or progress reports, then a formal one might work best. But if you prefer to meet or chat with someone as questions pop up, without a lot of structure, then informal can work well. In order for mentees to get the most out of a mentorship relationship, it's important to communicate what works best for you—and ultimately, communicate your mentorship needs.
---
Q
How do you know whether you need a mentor or could benefit from one?

A
Anyone can benefit from a mentor—and the best mentor/mentee relationships happen organically. Check in with yourself once a month and think about who your role models are or who is working on something you're curious about. That's a good place to get started when thinking about whom you want to build a relationship with and why.
---
Q
And what about men? What's your advice to those who are afraid to be mentors to women?
A
Talk to your HR team (or someone in a similar position) about implementing hard-and-fast rules around sexual harassment, office romances, antiharassment training sessions, and any other structure that might be helpful. In addition to some rules and continued training, it can be helpful to suggest that your company implement commonsense solutions, like increasing the number of women in leadership roles, holding meetings with doors open, and encouraging handshakes instead of hugs. Once more structure is in place and there is a common understanding, senior-level men should act as examples and mentor women in public places. This will give other men real-life examples of what it means to be a mentor.
---
Lauren McGoodwin founded Career Contessa in 2013 after experiencing a gap in career development resources for women. McGoodwin was formerly a university recruiter for Hulu focused on hiring, employer branding, and program management. She has a bachelor's in education from the University of Oregon and a master's in communication management from the University of Southern California, where she wrote her thesis on millennials and career resources. In 2018, McGoodwin and the Career Contessa team launched The Salary Project, a free, anonymous salary database that helps women know whether they are being paid fairly.