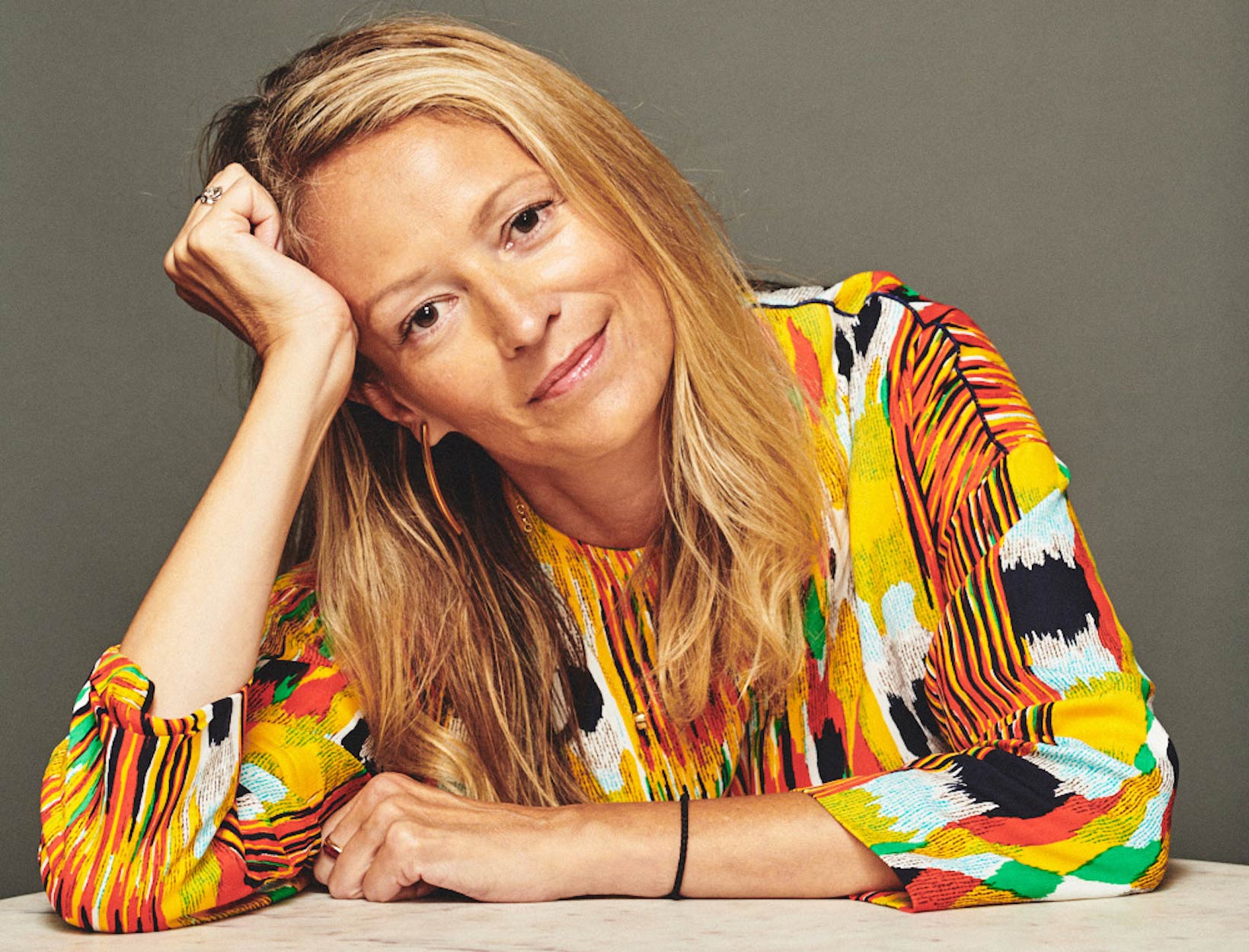 GAME CHANGERS
Jennifer Justice
Is Getting
Women the
Pay, Recognition,
and Respect
That They Deserve
It started with a reality check. Jennifer Justice was in a meeting for the Annenberg Inclusion Initiative, a think tank that leads research on diversity in the entertainment field. Justice, a founding member of the initiative, looked around and had a thought: "I'm sitting here, and I'm not walking the walk; I'm just talking the talk," she tells us during her visit to goop HQ. That walk, she explains, was using her skill set to "help the underserved population"—women who weren't getting the credit or attention they deserved—"do really great business deals."
Justice had spent the previous two decades as one of the entertainment industry's most respected lawyers and executives, early on at Carroll, Guido & Groffman, where she represented artists including Jay-Z, Outkast, and Slipknot. Later she worked exclusively for Jay-Z, helping him build Roc Nation from the ground up. (She ultimately worked for him for seventeen years.) Justice was, to say the least, accomplished. And walking many walks. But she wanted more. She wanted purpose, she says. And looking around that room, amid the conversation about gender parity and inclusivity, it became starkly apparent: "I had been working for men, for men, for men," she says. "I'd helped them structure these deals, and I'd fought on their behalf. And nothing was changing with women." In fact, she says, "it was going backward."
The fury and hypocrisy that she felt led Justice (also known as JJ) to cofound the Justice Dept., a legal and advisory firm that aims to support female-identifying talent and professionals. Only a year old, it's already serving as a beacon and an educator. Women are tired of being hindered and condescended to by their male representatives and their male attorneys, says Justice. This isn't always the case, but it is common—and it has caused a lot of women to miss out the money, opportunities, and voice that they deserve.
As its name suggests, the Justice Dept. is fighting for equity: in the workforce, the world, the universe. Justice and her team are working toward getting their clients—female-identifying and woke male-identifying creatives, executives, and entrepreneurs—better pay, better deals, better everything. And they're fighting to make inclusivity the default. You could say their work is leveling the playing field and increasing gender parity, but it's really more about exploding the status quo and unveiling a new paradigm. With the velocity at which Justice is going, years from now we may all look back at today and think, Wow, it really used to be like that?
Becoming someone who fights for inclusivity and parity wasn't Justice's career goal. But becoming a lawyer was, only because it was one of the handful of vocations she heard about growing up in small-town Washington. You heard about "doctors, lawyers, firefighters," she says. And arming herself with a law degree would give her the means for autonomy. "We had nothing," she says of her family. "I saw how when you have no money, you sometimes have to make decisions that you don't want to make. I wanted that ability: the freedom to make all the decisions I wanted to make."
Justice got her undergrad degree at the University of Washington during the heyday of the Seattle grunge scene. Record execs were flying out to the Pacific Northwest to go to dingy underground clubs to see Pearl Jam, Alice in Chains, and Nirvana, and Justice was friends with many of the band members. Music was a huge part of her social life at the time—little did she know it was a portent of what was to come in her career. After graduating, she got a scholarship to Cornell Law School, and it was then, when she was living in Ithaca, that she visited New York City for the first time, to see her boyfriend play at CBGB. When she saw the city—the lights, the buildings, the energy—she thought, This is amazing.
She moved to NYC and landed her first job out of law school at the business law firm Hughes Hubbard & Reed. But soon she realized she didn't have the pedigree that many of her colleagues had, which hurt her prospects of getting clients. So she interviewed at Carroll, Guido & Groffman, where "they had all these music artists, Marilyn Manson, Sugar Ray, Dave Matthews Band," she says. And there was this one young hip-hop artist named Jay-Z, the team told her, to which Justice replied, "Reasonable Doubt is my favorite album." She smiles when she remembers their reaction: "They weren't like, What?"
When she got that job, she started working with Jay-Z, along with a mix of other artists, including Method Man, Slipknot, Wolfmother, and Sean Kingston. Holding her own in among music-scene heavyweights was second nature, both in her professional life and her personal life. One day some friends from Seattle were in town because Pearl Jam was playing at Madison Square Garden (some of those friends being the band members). Before the show, an all-access backstage pass arrived at the office for her—it was greeted by some of Justice's colleagues with their jaws on the floor. "They were like, 'How did you get that?'" she says, laughing.
That she is this connected with some of the world's most notable entertainers and at the same time really just down to earth is, admittedly, a little unexpected. But Justice's lack of affectedness is what has come to be expected from her as she's risen in the entertainment world. She's real. And it's why so many of her clients, particularly the ones in the spotlight, are drawn to her. She doesn't see the celebrity; she sees the hardworking, emotional, human side. She relates to their struggles, she says. (During our conversation, GP walks by and gives her a hug. They last saw each other years ago backstage at a Jay-Z concert.)
Talking with Justice, it's interesting to see how the pieces of her fit together. There's the tough-as-nails lawyer who speaks with conviction and is driven to get her clients what they deserve. So often, "women think you have to be nice in negotiation," she says. "And that is not going to get you anywhere. That's not for me." Then there's the empathetic, hardworking, single mother of two juggling a million things and facing the limits of time. When asked if she ever feels like throwing in the towel, she answers with razor-sharp honesty: "Yeah, like every day. I get up and go, 'I know this is the right thing to do. But it's fucking hard.'"
This realness is Justice's MO. There's no room for the bullshit or the petty stuff. There's work to be done. And there's a patriarchy to quash. But she wants to be very clear: She's not looking to crush men. She references something she's heard before: that lifting up women does not mean putting men down. "If women make just as much money as men, that doesn't replace men; it just literally puts more money in the marketplace," she says. "It's not like there's a pie of the economy."
There's a lot to be done before we see parity in the world, Justices admits. But in this lifetime, she's proud to be planting the roots. She wants her son and daughter to have the same opportunities. This is one of the biggest drivers of her work today—and why she started the Justice Dept. "It was only when I had the kids that I realized I needed purpose," she says. "Now I just want to show them that if Mommy's away at work, she's fulfilled. And it's because she's super passionate about it. It makes her really happy."
What about fear? What does Justice say to the woman who wants to take a risk as she did? To the woman who wants to make a huge leap and, say, leave an institution to start her own enterprise but is just way too scared to do so?
"What's the worst that could happen?" Justice replies. "You know you have your tribe. You know that they have done it. If you don't try it, you're never going to know."
This mention of tribe compels her to make one more point: We're all in this together. "I want women, especially younger women, to know that we Gen X women are here for you," she says. "Hire us; listen to us; learn from our mistakes. Let us help each other."
She takes a beat before finishing her thought.
"You know that together we're unstoppable, right?"