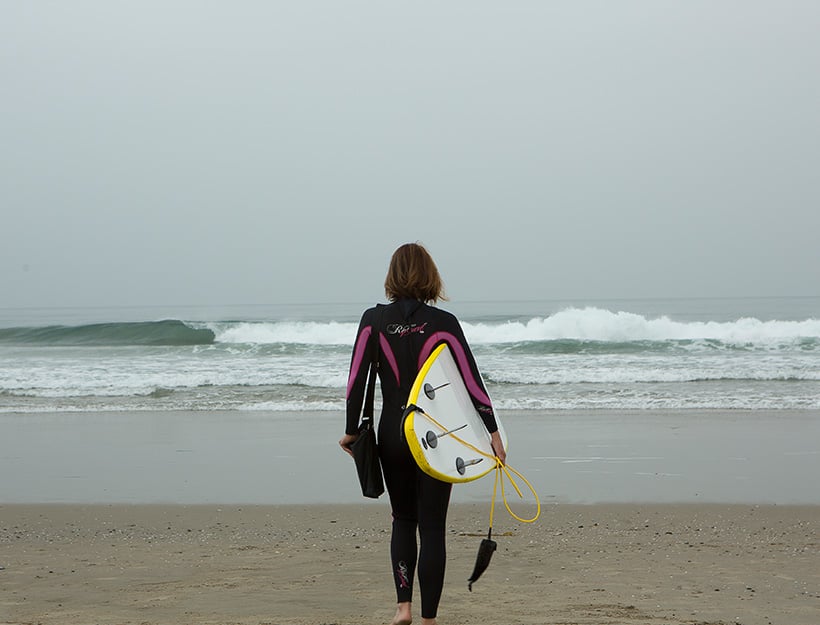 Helen Hunt on Self-Direction
On May 1, Helen Hunt's new movie, Ride, will make its debut—with multiple credits for Hunt, including writer, director, producer, and lead. It's the story of an overbearing mother (Hunt) whose son drops out of college and moves West—Hunt, who plays a magazine editor, tracks him down only to be repeatedly shaken off…until she comes to the realization that her son's life is not hers to lead. There's a love story with Luke Wilson, a love story with learning how to surf, and of course the story of rebuilding her relationship with her son. Below, Hunt answered some of GP's questions about being on both sides of the camera.
Q
When did you know that you wanted to direct?
A
I knew I wanted to direct after I wrote my first screenplay THEN SHE FOUND ME. The thought of trying to explain what was in my complicated head to another poor soul seemed impossible. Plus, once you start telling a story you want to take it all the way to the end.
Q
What is it like to direct yourself?
A
I first directed myself in MAD ABOUT YOU. I loved everything I did on that show but as one might imagine, it was very hard to know what to think about when. I would be in the middle of playing a scene, looking in Paul Reiser's eyes but really I was worrying about the fact that the camera move didn't happen when it was supposed to.
When Then She Found Me happened I had big plans to hire another actor to play my part. For many reasons I played it myself: Someone very smart told me, "If you play the part there will be at least one person in the movie who sees it the way you do." Also, on a independent movie you are sort of a criminal, begging borrowing and stealing to get the actors and the crew to work in crazy conditions. Was I really going to get Gwyneth Paltrow to change in a van or work all night. Actually she might have done it because she knows the drill but there wasn't anyone I knew that I had the guts to make work as hard as I did. Lastly, it was a really good part and I wanted it.
So I went to work and got as ready as I possibly could before we started. Actors have time to sit around and learn their lines. Not actors who direct so I told myself I had to be as ready as if I was in the eighth month of the run of a play.
For both Then She Found Me and Ride it turned out to be great fun. It was an "all in," kind of experience and in a funny way, it may have done something fun to my acting.
Q
How do you know if you're good in a take or not? Does someone step in to direct you?
A
No, just me. I have producers who tell me if I have a bug on my face or if my sunscreen looks stupid but at the end of the day, it's me.
Q
What inspired you to make Ride?
A
It started as wish to write a silly comedy with my partner, Matthew Carnahan. Then he got busy and I got deep and so this mix of comedy and drama is what emerged.
Q
What do you have for lunch when you're on set?
A
Usually I have whatever the catering company makes. On Ride I did a good deal of eating wrapped in a wet, wetsuit wrapped in towels on the beach. Sandy turkey sandwiches mostly.
Q
Do you cook? If so, what's your go-to weeknight meal?
A
I cook. I also live with someone who cooks and order out so don't be too impressed. We're eating salmon enchiladas at our house lately.
Q
What are your three favorite restaurants in the world?
A
Pasqual's in Santa Fe, La Cuisa in Multipulciano, In 'n Out Burger
Q
What's your favorite city hotel?
A
Four Seasons Maui (Wish I stayed there more often.)
Crosby in New York
Covent Garden London
I especially like the above hotels when someone else is paying!
Q
What's your favorite vacation hotel?
A
I went to the Four Seasons in Montecito recently. I never do that kind of thing. Fun!
Q
How do you make directing/shooting a movie work with raising your daughter? What does the schedule look like?
A
Ride was the best time I've had making a movie. We shot 15 minutes from my house on the beach. My daughter came to work, played in the sand. It was a family affair which is my favorite way to work.
SURFING SCHOOLS FOR LADIES WHO WANT TO LONGBOARD
​