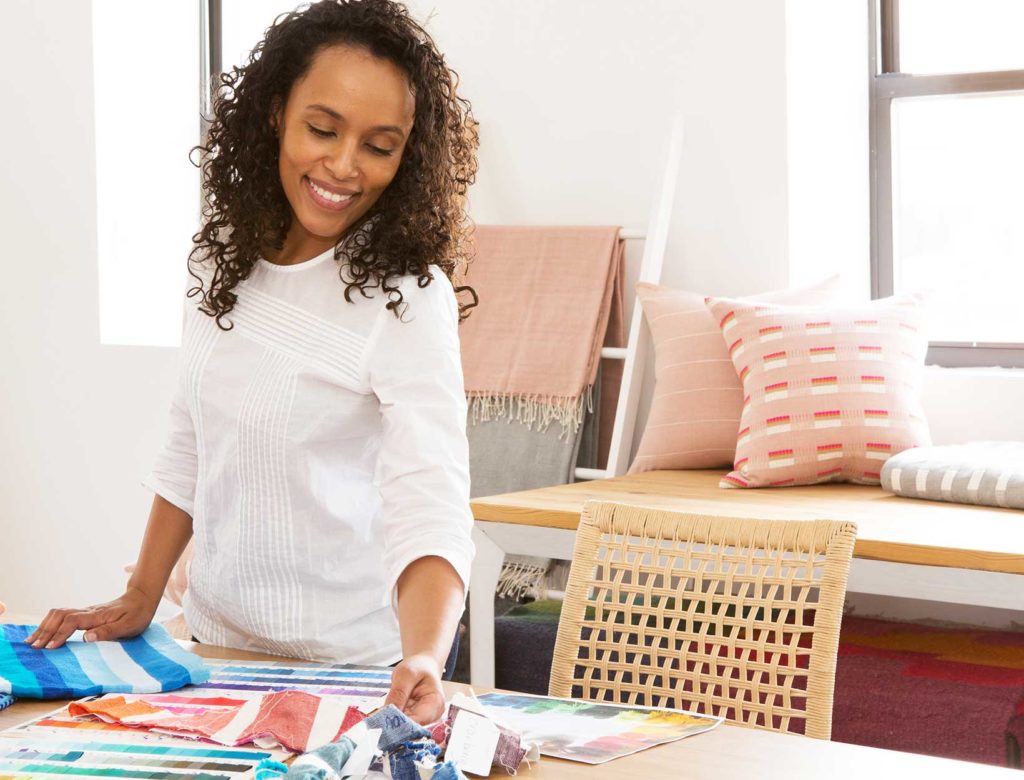 The Designer Working to Preserve the Vibrant, Colorful World of Ethiopian Textiles
FEMALE FOUNDERS
The Designer Working to Preserve the Vibrant, Colorful World of Ethiopian Textiles
Colors aren't merely decorative for Hana Getachew. Colors are her heritage. Born in Addis Ababa, Ethiopia, Getachew immigrated to North America with her family when she was three (first to Canada, then eventually to New York), and they brought with them their cultural traditions. Those included wearing handmade, intricately embroidered, colorful Ethiopian dresses to events and holidays. And when Getachew's relatives would visit their native country, they'd bring back suitcases bursting with new ones: bright white cotton styles bordered in dazzling pink and sapphire blue and emerald green. "It was the most glorious feeling," says Getachew. "The colors were just so vibrant and amazing, and no two patterns were the same."
These days, Getachew honors her vivid heritage through her textile and homewares collection, Bolé Road. The line of pillows, throws, curtains, rugs, towels, and linens is handmade in Ethiopia and designed in Getachew's cozy Brooklyn studio. Each piece defies expectation. The prints boast graphic shapes and ravishing hues (icy-hot pink juxtaposed with burnt orange, smoky blue married with dusty grey). The motifs are commanding and textural, inspired by traditional Ethiopian handweaving techniques.
Getachew launched Bolé Road after working for ten years as a designer in an architecture firm in New York. She "loved the whole world of architecture and design," she says, but something was missing. "I wanted more of my heritage in my life than just visiting Ethiopia for two-week vacations. I wanted to be more connected."
Getachew never saw herself as a business owner, but her perception changed after a fateful comment from a friend—and she built the way to "continue bringing my Ethiopian and my American lives together." Bolé Road, she says, is more than a business. It's a way to control her destiny, allowing her to marry design, creativity, culture, and color into one continuously inspiring career.
A Q&A with Hana Getachew
Q
How have you carried your Ethiopian heritage with you?
A
I left Ethiopia and first went to Canada and then New York, where we settled on Long Island. I suppose Canada was like my Ellis Island. There was a consistent theme throughout my childhood and young adult life where I was always interested in and engaged with my Ethiopian heritage. I knew that's what made my family and me different and special. I always incorporated that into my life. If I had to give a presentation in class, I would talk about my heritage. I was in the Ambassadors' Club, and when I went to Cornell, I was the president of the Ethiopian Students Association. So there's been this arc, this theme of me tying my heritage into whatever I was doing. And that brought me to where I am today.
---
Q
From there you went and studied design. How did that evolve?
A
I went to school for interiors, and then I worked in an architecture firm for ten years. I loved it. I love being a designer. I loved working with clients and the whole world of architecture and design, but I wanted more of my heritage in my life. I wanted to be more involved; I wanted to give back. I never really saw myself as an entrepreneur or as a business owner, but I felt that starting my own business was a way that I could control my destiny. And so: Textiles became the way. It's been a dream. I still can't believe this is my life.
---
Q
What was the moment when you realized that Bolé Road was your destiny?
A
In 2008, when so many people lost their jobs, I started seeing my friends do interesting things. That was the beginning of this maker movement and the gig economy. I was seeing that all around. A few years later, in 2010, I moved to Brooklyn, where so many young entrepreneurs and creatives are carving their own paths. One day I was at work, and my friend Millie was telling me how her friend Alexandra had quit her full-time job to pursue her pillow company. And right then, I experienced an audible pop in my ear. I thought, Okay, this is what I'm going to do.
---
Q
Can you take us with you to Ethiopia? What are the sounds, sights, and smells that resonate with you?
A
My trips are all about family—this enormous extended family that I have there. On my first trip back, when I was twenty, it felt like this really generous homecoming, like I had all this waiting for me there, and I hadn't even realized it. That was (and is) the main thing that kept drawing me back.
There's definitely a series of smells and sounds that I associate with Ethiopia. From the airport there's always a smell of—this is strange—a bit of diesel fuel mixed with mist. I remember the fresh rain, that smell it gives when it touches dirt and plants.
"I loved working with clients and the whole world of architecture and design, but I wanted more of my heritage in my life. I wanted to be more involved; I wanted to give back."
In terms of the colors and aesthetic, my first experience with Ethiopian textiles was through dresses. We would wear traditional Ethiopian dresses throughout our American experience. We'd go to Ethiopian events and celebrate holidays either in our home or in the local Ethiopian church. And weddings were a big one that would require a new Ethiopian dress, which was so exciting. The dresses are pretty much white, but with pattern or color on the border of the skirt, on the cuff, or down the collar. When I first went to the markets in Ethiopia to see where these dresses are made, there were textiles in every color and every design you could think of jumping out at you. That has always stayed with me.
---
Q
How did your heritage impact your work as an interior designer?
A
One of the things my clients noticed about my style was that I did not have a fear of color or of mixing different patterns and palettes together. That's when I first started developing my aesthetic. I have a series of colors that I like to bring together. I have a few favorite combinations of simple patterns that I adhere to. And there was a slow building up of experiences that led to some of the collections and lines I put together with Bolé Road.
---
Q
How does Bolé Road help preserve the heritage of Ethiopian craftsmanship?
A
The disheartening thing is that there's less and less production of the traditional Ethiopian dresses that I grew up with. I recently went to an Ethiopian New Year's celebration and wore a dress that my sister told me was twenty years old. I had no idea I'd had this dress for twenty years. The embroidery was so detailed. My mother said you can't buy dresses like that anymore—no one will make them. The cost of labor has gone up, and the average Ethiopian may not be willing or able to pay. They can no longer afford a traditional Ethiopian dress, and so the craft is dying.
There are now Ethiopian-style dresses that are machine-manufactured and imported from China. This is incredibly disheartening. So part of my goal is to bring all of these crafts to light. I want to introduce them to people who may not be as familiar with Ethiopian artistry and Ethiopian craftsmanship. And if Bolé Road can employ a certain number of artisans so they can continue making dresses on the side, that is tremendous.
"Owning a business is really the biggest practice of self-awareness and self-reflection. Like any challenging task, it will push up against all of your boundaries, and then you'll start having to define or redefine them."
Sometimes in my collections I explore traditional textiles. I tell the story of where this textile comes from and how it may have been involved in my life. Preserving the heritage is something that I try to integrate into my collections.
---
Q
What do you want your customers to experience with your products?
A
Over the summer, I had two clients who visited my studio within the same week: One had been searching for throw pillows for a year; the other had been searching for two years. And they both left with pillows. That is what I would like to happen with my clients, where they feel that this is their aesthetic, that this is exactly the texture and the color they've been looking for to make their home complete. I also hope the fact that my pieces are handcrafted represents their values. It's so rewarding, as a designer, to be able to offer that to my clients.
---
Q
How do you define success?
A
I read in a book called The Happiness Advantage that the ancient Greeks defined happiness as striving for your full potential. So whenever I'm feeling a sense of alignment—like: Yes, this is the direction I want my life to go; this feels right—I think that is success.
When you start becoming dissatisfied or you feel like your life is not what you want it to be, that is when things start to fall apart. But if you're always moving toward some purpose and you feel that you're making strides in that direction, there's no better feeling.
---
Q
What have been your biggest learnings as a business founder and owner?
A
A business is a reflection of its leader. That's easier for a small business like mine. All of your strengths and your weaknesses are mapped out in this organization that you have made. You will come to terms with some things that you may not be ready for or will be shocked to discover. And if you're not willing to address them and evolve, you will not make it. So owning a business is really the biggest practice of self-awareness and self-reflection. Like any challenging task, it will push up against all of your boundaries, and then you'll start having to define or redefine them.