The Best Coworking Spaces for Parents
Written by: the Editors of goop
|
Published on: February 24, 2019
|
Updated on: February 24, 2019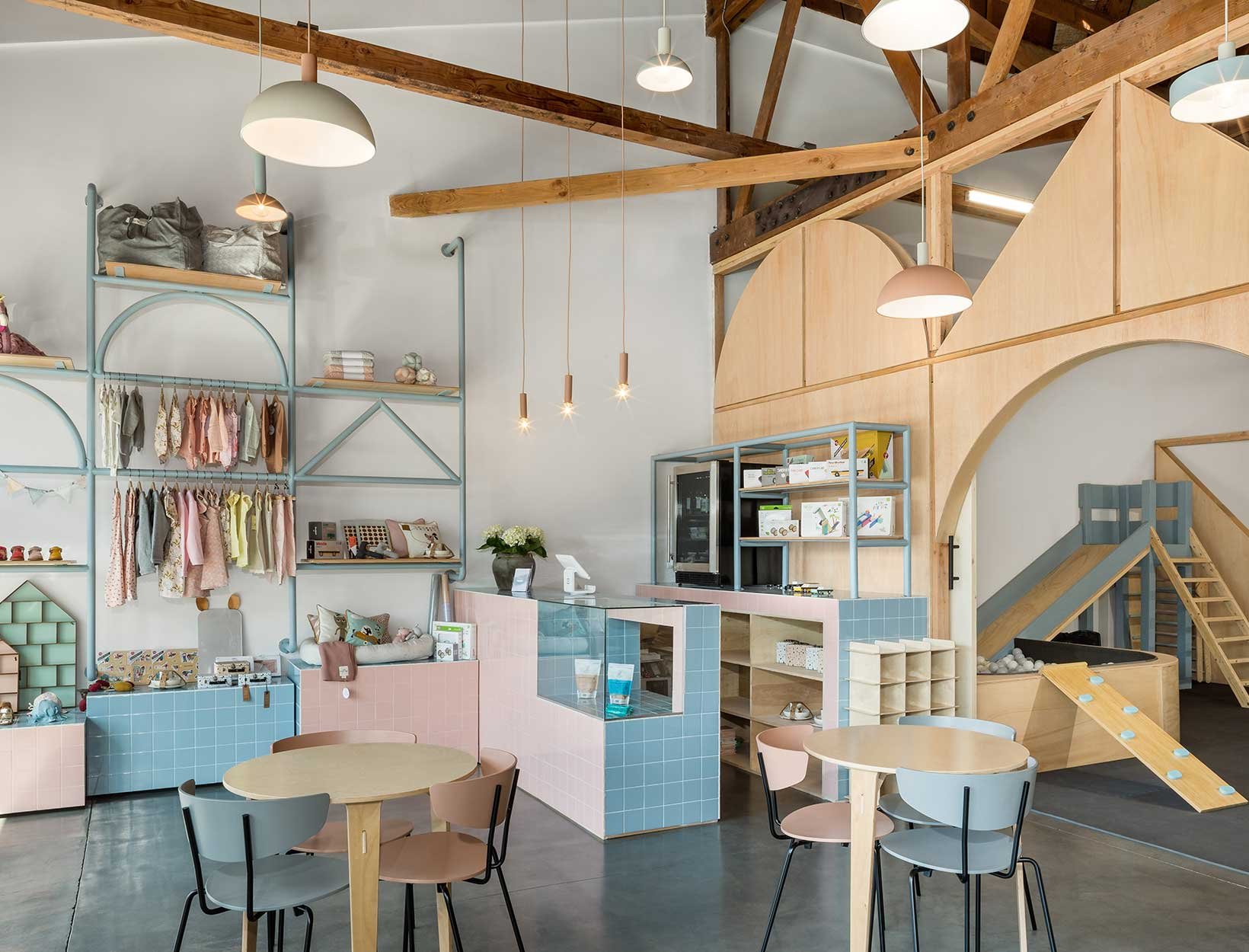 Do all parents want every day to be take-your-kid-to-work day? Depending on a million variables, the answer might be a reluctant "not so much" or an emphatic "hell yeah" or, more likely, something in the middle. But imagine a world in which we all had the option. What a game changer that would be for anyone who doesn't have a regular job with regular childcare. Freelancers, part-timers, work-from-homers, the list goes on. Which is why coworking spaces with in-house childcare are an act of genius. But as great as the need is, they're still not so easy to come by. There's a gauntlet of regulation hurdles to jump that vary by state (and country), not to mention uncomfortably skimpy profit margins. Which is why we tip our mother/career woman hats to the crop of shared office spaces that have cracked or are working to crack that code.
P.S. We'll keep updating this list as more coworking spaces with childcare options become available. Know of a great one? Shoot us an email at [email protected].
Los Angeles

The Jane Club—as in, Jane Addams, the social worker, activist, ACLU cofounder, and Nobel Peace Prize recipient—has a clear mission: To "take care of the women who take care of everything else." The separate childcare bungalow (it's called the Nest, and it's achingly cute), the hushed communal work spaces, and a calendar of inspiring on-site events, wellness classes, and talks only help the cause. It also doesn't hurt that, set up in an Erin Fetherston–designed home and done in eye-pleasing neutrals, it's breathtakingly beautiful. Founders June Diane Raphael and Jess Zaino promise more of the same at the new space down the block on Larchmont Boulevard, set to open in spring. Unsurprisingly, memberships are going fast, so book your tour sooner than later.

The first thing to know about Brella is that its services, which are plentiful, will not be reserved for members alone. Meaning that everything from daycare to enrichment classes to a few hours of babysitting can be booked ahead on an app or on a drop-in basis. The second is that it's predominantly a childcare facility. The shared workspaces, community events, and wellness classes are added perks for the parents.

The doors to the kids' area at this Westside spot—where they have a swing, a ball pit, and tons of those cool vintage-looking wooden toys—have a little window parents can peek through without disturbing playtime. A brilliant feature if your mind keeps wandering back to your little one while you're trying to get work done in the dedicated coworking space in the back (outdoor garden and phone booth included). Drop by for a parents-welcome class, drop off while you run errands (Costco is a hop and a skip away), or post up to work for up to four hours a day while the staff keeps children as young as three months old happy. They also host and plan themed birthday parties right on-site, which is a life hack in and of itself.

Bay Area

Besides having the coolest name, this 100 percent mother- and member-run collective acts as a support system, creative outlet, and proverbial village for women at various stages of motherhood or career. The Business Incubator is for anyone looking to pick up a new skill, explore, learn something. And the Failure Club is where members challenge themselves to tackle a specific goal—be it a blog launch, an Etsy shop, a novel—within a three-month period with fellow club members acting as both sounding boards and boosters. As the name suggests, failing (and picking yourself back up) is wholeheartedly supported. And yes, there's on-site childcare.

You don't need to be a Recess member to huddle up in the cozy coworking space for a few hours while the kids are in the playroom under the watchful eyes of the well-trained staff. Nor do you have to be a member to sign up for a parenting or prenatal workshop (on everything from childbirth preparation to newborn care), a wellness class, or a group workout; they're booked on an à la carte basis (and the staff will watch your kids for $12 an hour while you do your thing). But membership does have its perks: Arrange a drop-off so you can take care of errands or, you know, yourself.

New York

We won't bore you by listing the reasons the Wing is a genius concept, because you very likely already know. But to anyone who's been living under a rock, the highlight reel goes something like this: exclusive events, on-site cafés, beauty rooms (plus showers), plenty of coworking space, and no boys allowed (except, you know, for actual boys who tag along with their moms). More locations are constantly in the works, and the SoHo space also serves as the pilot program for the Little Wing. The Crate&Kids–furnished play area is where members can take advantage of affordable, professional babysitting services, in addition to a roster of enrichment classes (for the kids) and workshops (for the 'rents), plus weekend open play (for the whole family).

The "work" part of Giocare's Work & Play program is an option only till 1 in the afternoon. But parents are masters at getting a lot done in not a lot of time. The "play" part borrows heavily from the traditional preschool experience, with supervised of songs, imaginative play, music, and crafts. The Park Slope location means that most errands are within walking distance should you opt for the drop-off preschool alternative program.

London

The airy communal spaces, bookable meeting rooms, and business-building events are not geared specifically toward parents, but it's no surprise that those with children flock to this place in droves. Inspiring, productivity-inducing environments with childcare built right in are not easy to come by. Month-by-month packages can be customized to allow for as much or as little time as you'd like in the nursery—a magical, well-staffed, toy-filled space modeled after the child-first principles of the Reggio Emilia method.

This cool, minimalist space was started by a mom. And you can totally tell because there's a flexible membership option that allows parents to book both the coworking space and the daycare on an hourly basis, depending on what a particular day calls for. The space itself is airy and bright, with minimalist work stations and all the productivity creature comforts (coffee, phone rooms, etc.). The nursery staffers are all experts in the field of early childhood education, making dropping off the kids that much more pleasant.

Of the four London and one Lisbon outposts of Second Home, London Fields is the only one with a Nursery Membership option. Meanwhile, all look like what we imagine a scaled-down version of the Google offices might look like—but chicer. Greenery is everywhere, there are outdoor spaces galore and food and coffee for days, inter-member collaboration is encouraged, and there's space enough for teams big and small. At London Fields, the fittingly adorable daycare center is managed by the experts at local preschool N Family Club. (Second Home members get a foot in the door if they wish to apply.) For those of us stateside, a Los Angeles location is set to open this year (no word yet on whether kids will be allowed at this one).

Austin

On-site kid care you can reserve online, a spacious light-filled café (with snacks! and free Wi-Fi!), a shaded outdoor space with picnic tables—the Hive is a working-parent's dream. And like many of these multiuse kid- and parent-friendly spaces, the Hive came from humble beginnings: New mom Shelly Weiser struggled to manage a graphic design career while juggling an eighteen-month-old and a newborn. And so the Hive was born. Need to dial in to a conference call? Pop into one of the private rooms. Looking for somewhere to meet for coffee? There's a spot for that, too. Oh, and did we mention that when lunchtime rolls around and you're on deadline and your kid is as happy as a clam running around the playground? There are food trucks outside.

Washington, D.C.

Elemeno is a moms'/dads'/kids' sanctuary. What used to be a drop-by space nestled in Capitol Hill is now members-only—because the place is so damn popular. And with all of the many different levels of memberships comes access to ample perks: chic and airy working spaces, family-friendly social events, an inside play space (with monkey bars, slides, all the things to keep kids busy during those long D.C. winters). Plus, you can find skill-building classes, quiet areas, and a "room with balloons" that kids go absolutely apesh*t for. Coffee in the a.m., beer and wine for happy hour—it's all here. (Pro tip: Take advantage of the "date-night" hours.)

Dreamed up by business school friends and new parents Kelsey Lents and JP Coakley, Two Birds (launching in the spring of 2019) is essentially a family-friendly version of WeWork. The premise: a place you can drop off the kids for the day, learn new things, manage your work-life-baby balance, meet like-minded people, and get things done. Which is exactly what one can expect to do at the new Tenleytown, D.C., location, which is just as conducive to settling into one of the pump or nursing lounges as it is to scheduling a meeting with clients in a conference room. And there's a little something for everyone: parent-focused educational classes, like sleep training, and community-focused events, like happy hours.

Chicago

The future is female, and Alicia Driskill of EvolveHer is counting on it—her dreamy, community-driven loft space in the River North area of Chicago is women-only. She's got it all here: event areas, phone booths, exposed-brick conference rooms, stocked kitchen, career-building workshops, panels, networking events, meditation sessions, and other weekly happenings—there's even a chic vanity room with plush velvet seating for quick touch-ups and such (you know, should you need to dash off to a dinner after). And for the mamas? Convenient pumping rooms and access to childcare on the regular thanks to a partnership with the neighboring Sprouts Academy.

All Over

Quilt is a company focused on "get to-gathers." It's built a massive following of like-minded individuals, entrepreneurs, and other creatives who come together over one common interest: community. Whether it's connecting with inspiring women in your city over a chai-and-chat or linking up with other professionals at a coworking session to help get in the zone, there's a gathering happening in a real home in a real neighborhood near you. Got kids? No problem. Become a host and you, too, can start leading coworking sessions right in your own living room. You can also find nearby Quilt members and book gatherings via their new app. Genius.

Freelancing? New business venture? Balancing kids? Looking for camaraderie? Whatever it is that you do or want to do, the Riveter is probably the place for it. And yes, it's a coworking space in every sense of the term, but more than that, it's a community. A community that's conveniently taking over, with locations in LA, Seattle, and Austin and more coming (look out Dallas, Portland, Denver, Atlanta, and Minneapolis). And then there's the space: open and inviting, modern and minimal, with curated shared working areas, local coffee on tap (it's the little things), and all-around good vibes. New moms will truly appreciate that each one is properly equipped with a mothers' room for nursing, pumping, whatever you need. And while there's no on-site daycare available (yet?), the Riveter locations are open 24/7, so you can work when your unique schedule allows. Other perks: career-building panels, tech talks, wellness sessions, office workouts, yoga hours, and something called "cougars on computers"—we'll let you marinate on that.