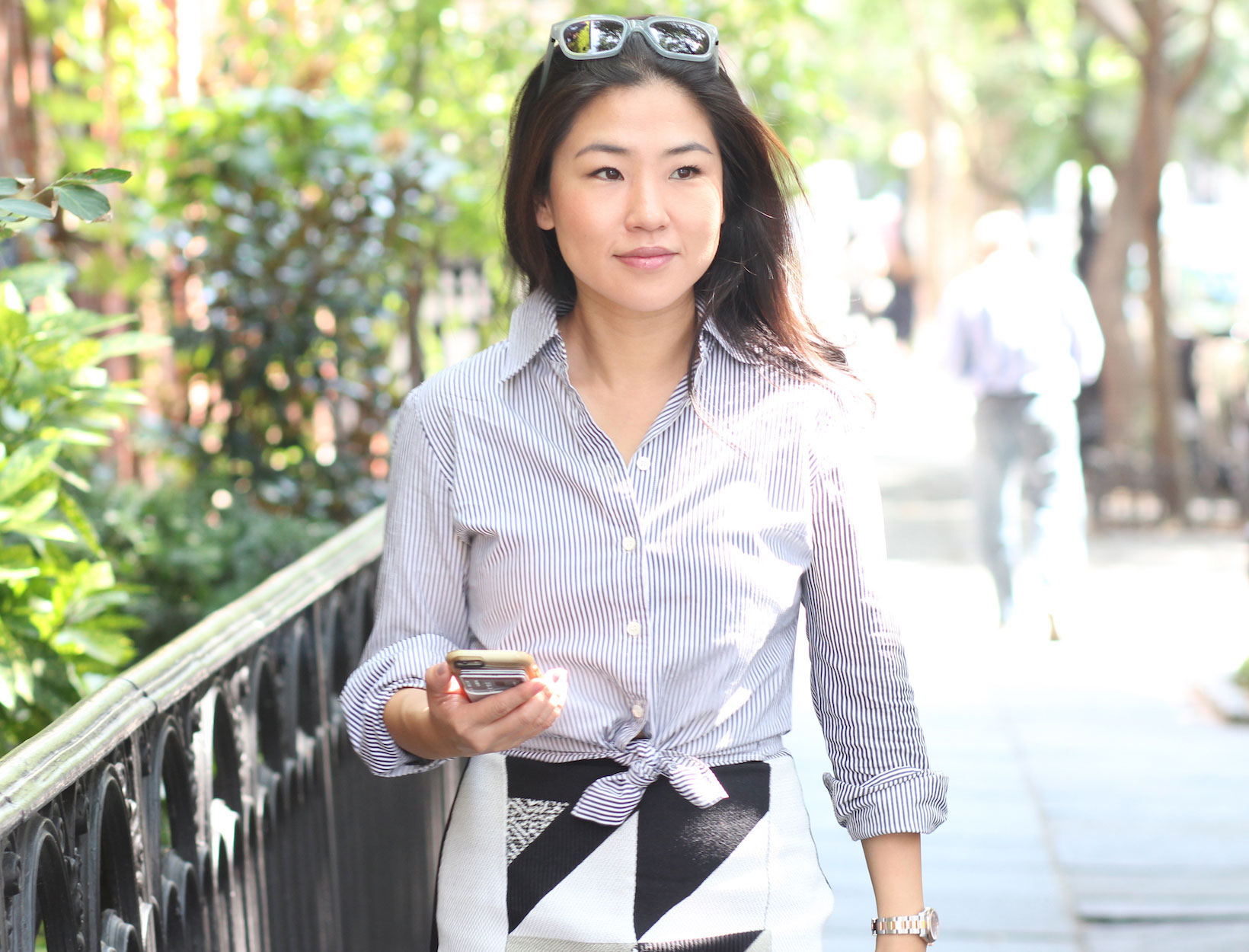 a day in the life
17 Hours with Jennie Baik,
Cofounder of Orchard Mile
In partnership with our friends at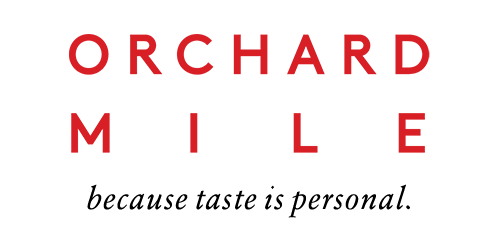 Imagine if you could build your own mall with only the stores you really love. Now imagine that all those stores share a universal checkout, everything is in your size, and your "mall" is constantly being updated with new pieces picked out by mind-reading buyers precisely to your taste. It's a fantasy, yes, but Orchard Mile is, in fact, fantastic.
"The ethos of Orchard Mile is that taste is personal, and we should redefine luxury to mean filling your life with things you love," says Jennie Baik, the CEO of Orchard Mile. She cofounded the company three years ago after leaving her job as head of strategy at Burberry—but not before spending more than a year interviewing people on their ideal online shopping experience. Orchard Mile answers the question of what it's like to shop 250 websites at once (without opening 250 tabs). And the true magic isn't just having full, unedited access to the designers' collections; it's the algorithm that makes it genuinely useful. Baik and her team developed something called My Mile. The algorithm allows shoppers to curate their own Fifth Avenue based on their personal profile (the filters don't get erased like traditional websites) and shopping habits. The more you use it, the more the system understands your preferences. Smart, right? We caught up with Baik for a day of hopscotching across New York City and a few moments of downtime.
7am

I will generally set my alarm for an early time when I think I'm going to work out (half the time I hit snooze). Sometimes I get up with a good stretch, put on my sneakers, sunscreen, and baseball cap (Korean skin needs shade!) and take a leisurely hour-long walk around downtown NYC.

7:30am

I start out in Chelsea where I live and then usually make my way to the Highline hotel to have a black coffee at Intelligentsia in the lobby. Then I walk to the West Village and beyond looking for new places to discover, like the Three Lives bookstore. It has great book covers in the windows, and I'll always make a mental note of what I want to read next.

8:30am

People often assume that since I cofounded Orchard Mile, a fashion-tech company, I would have an insane closet, but I really love simplicity (with just a little flair). Brands like ba&sh or Khaite for clothes and Soko and Saint Laurent for modern yet classic accessories. Timeless, chic pieces, like a great watch or a great trench, make me feel comfortable yet unique. It all needs to be "on brand" for me personally, but not fussy.

9:30am

I don't have breakfast ever, so I make my way to the Orchard Mile office. Meetings start at 10 a.m., and I refer to my weekly and daily priorities in my concept planner, which I picked up at a store called Luxury Goods for the Study in Greenwich Village. There's something about a handwritten list that seemingly wills things to happen.

11am

I jokingly tell my team, "If you need my brain on something, it's best to get me at 11 a.m.—my personal power hour." I will often schedule more-creative tasks, like writing articles and creating presentations, or tough, more deliberate decisions to this hour so I can be fully present.

12pm

Since I skip breakfast, I am usually first in line at the salad bar at City Bakery. Cauliflower soup and the kale, chicken, and corn salad are my favorites. A hot chocolate shot chaser helps keep the bad mojo away. Sometimes, if I have a bit longer, I will sit at the counter at Ootoya for the lunch special of Japanese baked fish and soft tofu.

1pm

Off to the meatpacking district to meet with one of our European brands. They always offer Nespresso, and I always accept. We spend an hour sharing recent happenings at Orchard Mile and digital growth for the industry, and they take me through the newest collection.

2pm

In the elevator, WhatsApp buzzes with a group chat from my gals from business school. This thread, filled with hilarious new-mom and dating stories, keeps me sane. We make plans to meet up for drinks at the Marlton this weekend; it's our go-to.

2:15pm

I stop at Soho House to meet with one of our investors. In between updates, we trade fun stories about our investment banking "glory" days. Life is so different now, but those shared experiences still color my point of view and work ethic. When I'm leaving, a woman compliments my IRO dress, and of course I am obliged to tell her all
about Orchard Mile.
3pm

I head to a new retail development close by. Everyone is talking about how this could be a great spot for a future physical Orchard Mile guide shop. I take a tour in a hard hat and make mental notes and take some photos.

4pm

I head to east midtown in a Via (answering emails and on a conference call simultaneously, trying to stay on top of it) for a meeting with my cofounder. Sometimes we disagree on direction, but we always listen to each other. The best thing about my day is always the people.

4:30pm

I'm on a podcast today focused around female entrepreneurs. I am amazed at how deftly the host is able to work the A/V and soothe my worries by saying that we will edit out any background noise and weird pauses. Whew. Despite my initial nerves about wanting to contribute something of value, we end up laughing and having a great time.

6pm

I make it a point to do one act of kindness a day. Maybe it's facilitating an introduction, or writing a thank-you note to a customer, or even jumping on the phone with a recent college grad who's looking for career advice. Sometimes I feel overwhelmed by the amount of asks, but just getting to a little bit of it every day helps me keep good
karma in check.

6:30pm

I love trying new recipes. Tonight, it's GP's Thai chicken burgers from It's All Good, which has been a standby for years. I get home, crank up some cello masterpieces on my Spotify, and break out my Shun knives. I'm really proud of my onion-dicing technique: I can do it quickly without making myself cry.

7:30pm

Boyfriend comes over to Netflix. He's into the gory shows, so now my algorithm goes rom-com, rom-com, rom-com, Viking documentary, rom-com. I have a rule about eating in front of the TV, so we laugh over crazy stories of his work-travel exploits instead.

8:30pm

I've lost the Netflix battle. I disappear to check my Instagram, skim the NYT on my phone, and flip through a design magazine. I see my friend Christina Bryant, founder of St. Frank, in Domino! I never thought as a young shy Korean girl growing up in Texas that I would see the day when people I knew personally would be featured in magazines.

9pm

Back on email, checking site stats, and getting on a call with an investor who just landed in the Middle East. The downside of running a business with global partners is that it's always power hour for someone somewhere. I get cc'd on all emails that come into Orchard Mile—it helps me stay on top of what the consumer is seeing and responding to.

10pm

Pachinko by min jin lee Amazon, $8.79

Time to open a book. Pachinko by Min Lee. Supporting Korean authors. Woo!

11:30pm

After finishing fewer chapters than I'd like, I put down my blackout shade and wash my face using a combo of drugstore and luxury skin care. I put all the products back in a drawer. I'm no Marie Kondo, but clutter in an NYC one-bedroom is the devil.

11:45pm

I set the alarm clock, leave it outside my bedroom, and say a short prayer of thanks for everything that has been and everything that will be. I travel so much for work lately that I think the greatest luxury is sleeping in my own bed, so when I get into mine, I'm always asleep in five minutes flat.
Jennie's Picks