4 Bucket-List Glamping Experiences—and What to Pack
Created with Eddie Bauer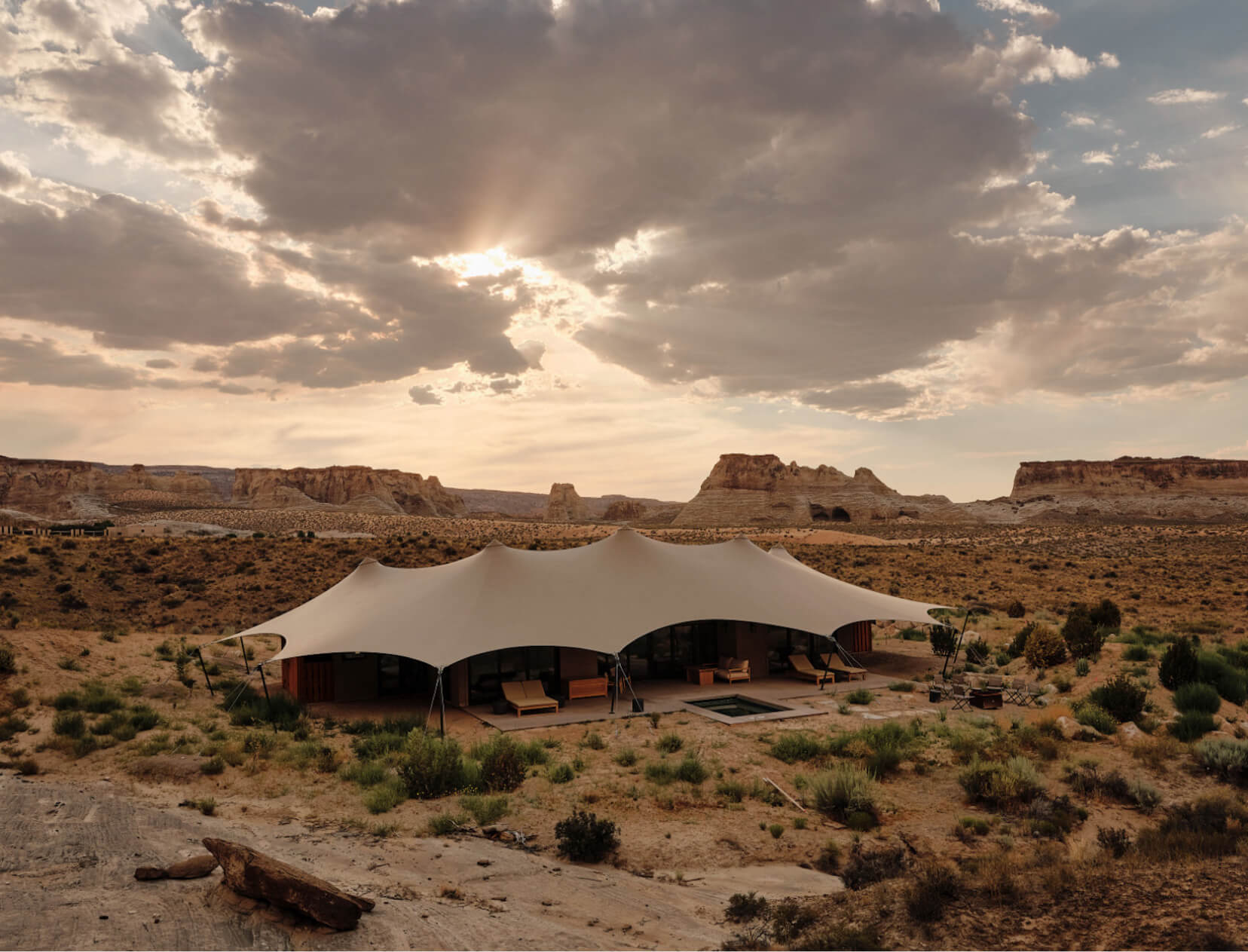 Photo courtesy of Aman
Whether you're a seasoned backpacker or prefer the mere suggestion of camping, the best of both worlds is a luxe tent with excellent food, access to untouched wilderness, and big, starry skies.
The four glamping sites below are the kind of once-in-a-lifetime properties that top our bucket list. And while we're dreaming/planning: We've rounded up the essentials (sturdy hiking boots, breezy shorts, a day pack that fits everything) to load into your duffel, wherever you're headed.
Mara River Tented Camp by Singita
Serengeti National Park, Tanzania
In the grasslands of the northern Serengeti, in the heart of Great Migration land, an intimate collection of tents makes up Singita's Mara River Tented Camp. Expect best-in-class safari charm, fantastic food (Singita trains local chefs at its own culinary school), and wine pairings plucked from the camp's vast, award-winning collection.
But those are just perks. You're here to see the Serengeti's wildlife. Emerge onto your porch early in the morning and you'll boost your chances of seeing wildebeest, zebras, and gazelles making a river crossing. In the afternoon, an expert field guide will drive you out into the grasslands to watch giraffes, elephants, and cheetahs go about their business. And while you're out there, keep an eye on the rocky outcrops—you might catch a lion on the lookout for lunch.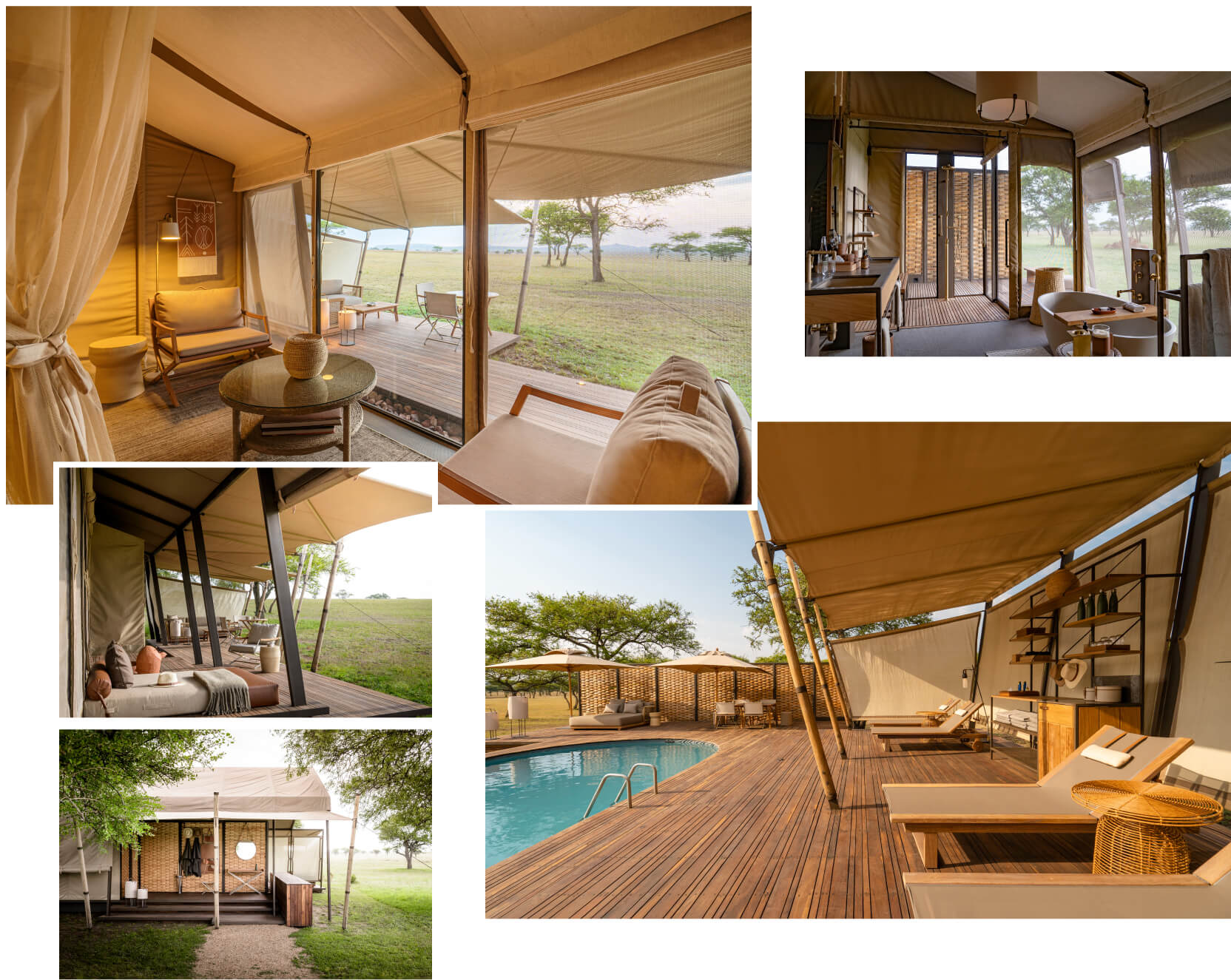 Camp Sarika at Amangiri
Canyon Point, Utah
Just five tented pavilions make up this camp, which is right across a stretch of desert from Amangiri. They feel completely private; your neighbors are mesas and canyons, sherbet-hued sunsets, and the clicks and chirps of desert birds and insects.
Do next to nothing, if you like, and spend the day looking out over the desert from your private plunge pool. Or explore the nooks and crannies of Lake Powell and ooh and aah at the wavy rock formations of Vermilion Cliffs. Camp Sarika is a couple hours from Bryce Canyon, the Grand Canyon, and Monument Valley if you're up for a day trip deep into the desert (or if you're planning a longer trip with stops along the way).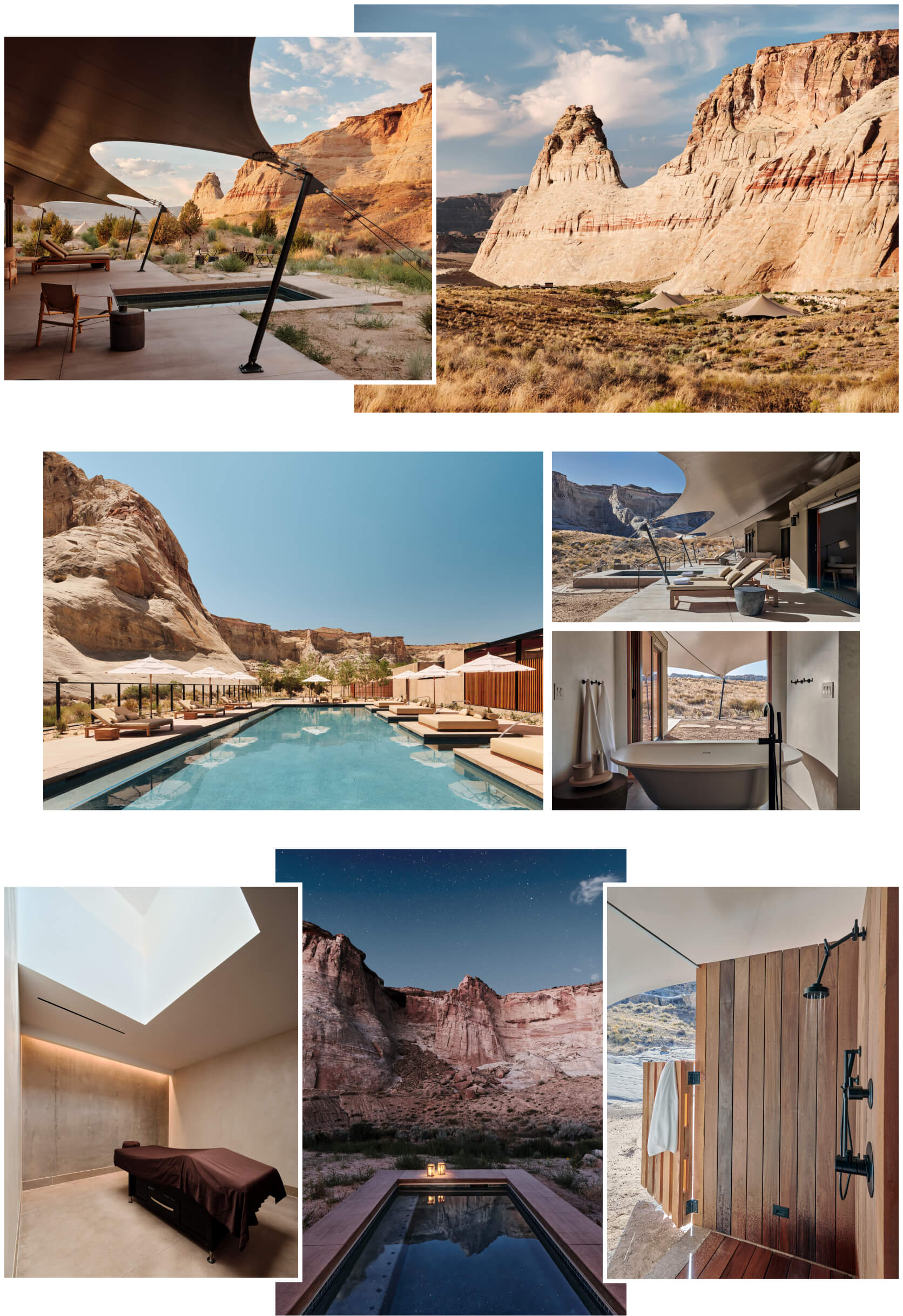 Sápmi Nature Camp
Gällivare, Laponia, Sweden
Sápmi Nature Camp sits in the region of Laponia in northern Sweden, nearly 40 miles above the Arctic Circle. Yes, you can see the Northern Lights in the winter and the midnight sun in the summer. But coming here is also a master class in the culture of the Sámi people, who have been stewards of the local land and reindeer for millennia.
You'll stay in one of the five raised lavvu (tents) on the property. They're pared-back but cozy. You'll be well fed: Gather for meals based in traditional Sámi cuisine—there might be cheese quiche, suovas (smoked raindeer meat), gurpi (raindeer sausage), pancakes with cloudberry jam—at founder Lennart Pittja's cabin. Most of the meat and fish is provided by Pittja's family, who herd reindeer in the region.
A visit to Sápmi Nature is intentionally unscheduled. So take it slow: Meander into the forest to forage for native berries and mushrooms. Strap on a pair of cross-country skis and glide across the frozen lake. Or have Pittja guide you through the summits and glaciers of Stora Sjöfallet National Park, where he'll point out moose, eagles, and other wildlife as they pass by.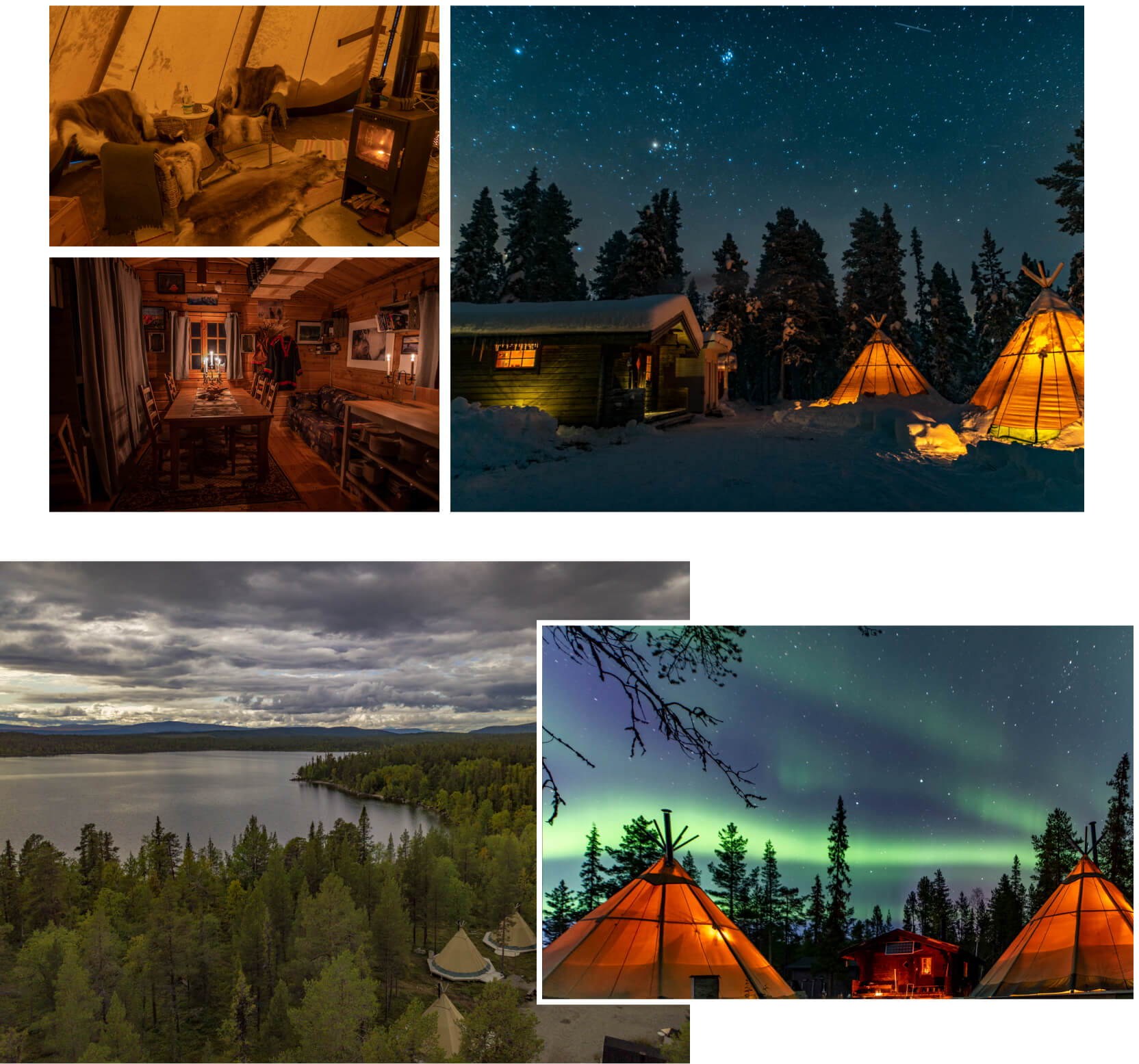 Clayoquot Wilderness Lodge
Vancouver Island, British Columbia, Canada
Tucked into lush, old-growth rain forest on Clayoquot Sound, the Clayoquot Wilderness Lodge is so remote that getting there is your first adventure. Board the lodge's private boat, the Norwester, in the town of Tofino—it'll take you through the fjord and drop you off at camp—or catch a single-engine seaplane from Vancouver to the edge of the property and be carried the rest of the way by horse and carriage. You'll settle into one of 25 luxury tents nestled into the woods or perched on the edge of a verdant estuary.
You can spend each day hiking, horseback riding, fishing, foraging, kayaking, or canyoning; pay a visit to the wood-fired sauna and in-ground hot tubs at the spa; enjoy a cocktail alfresco; and settle in to eat something fantastic—like ultrafresh ceviche, perfectly pickled veggies, and house-made ice cream—at the central lodge.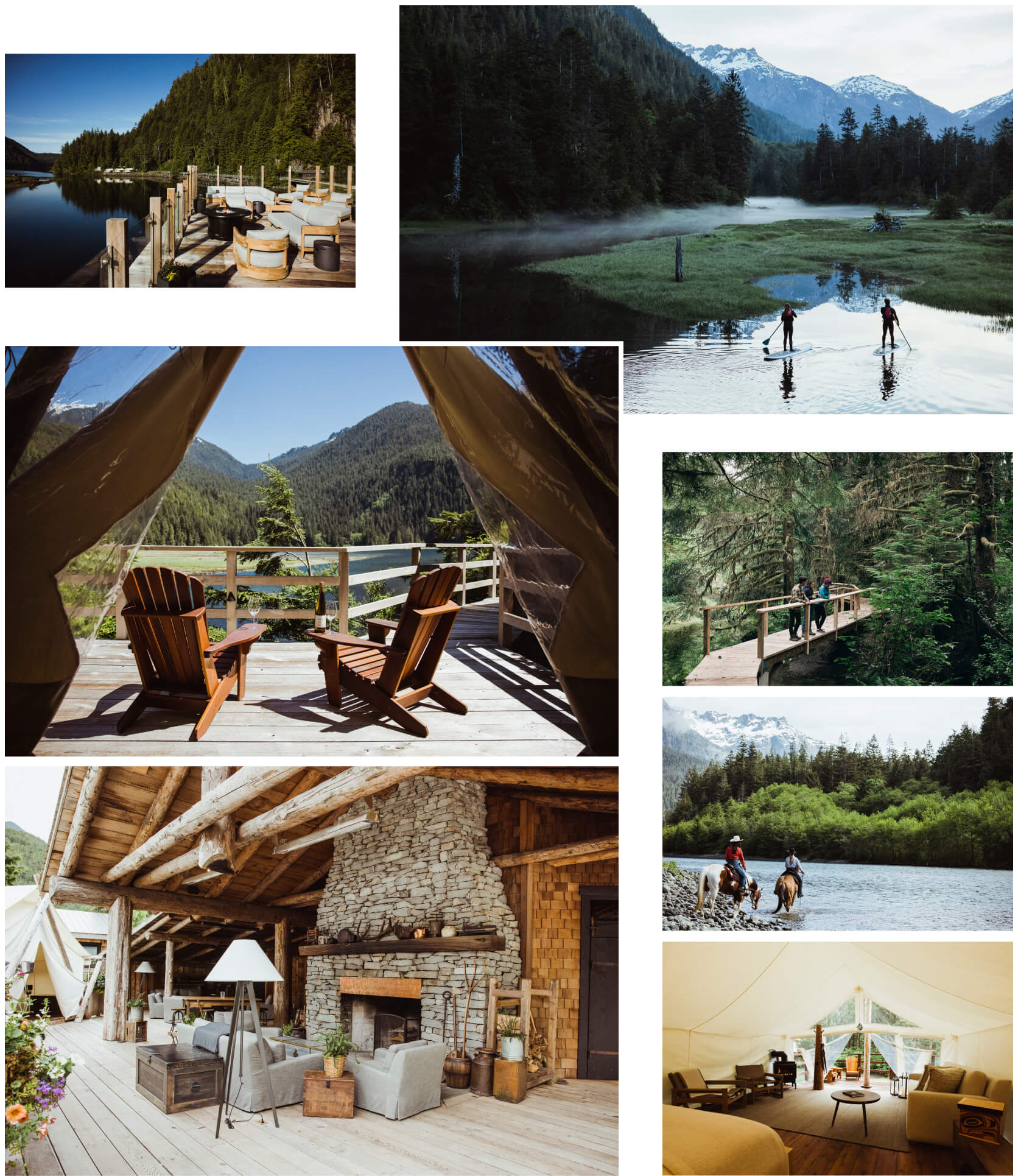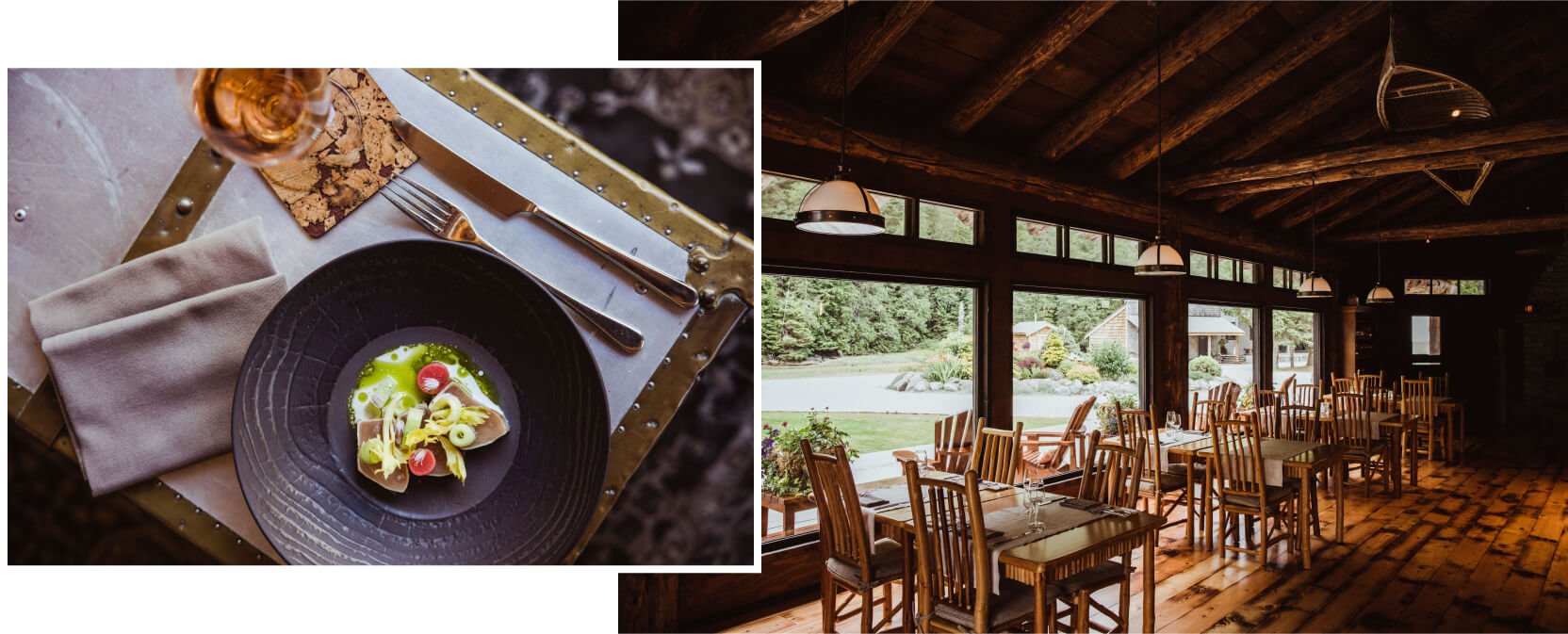 What's on Your Packing List