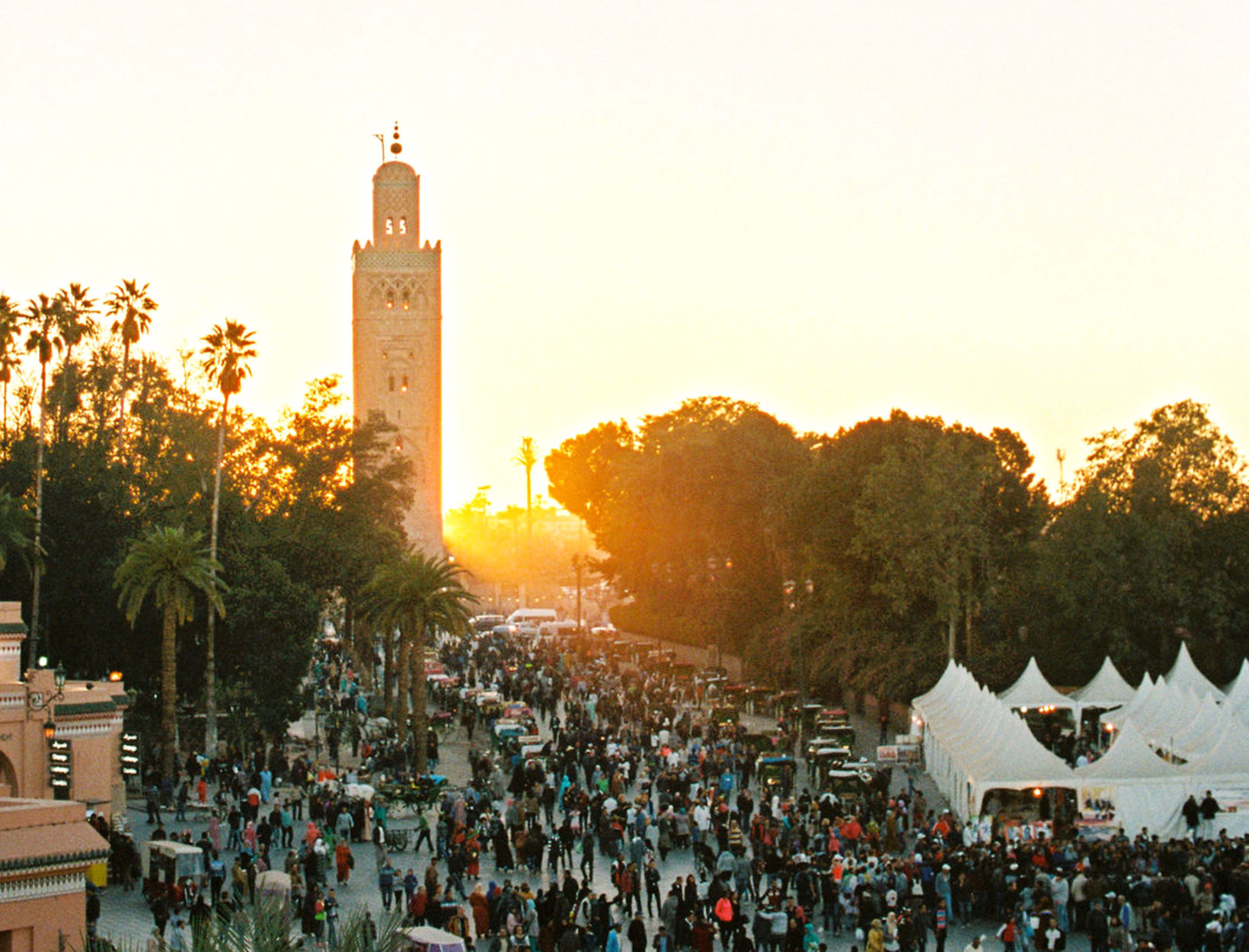 Where to Go—and What to Wear—for an Urban Escape
In partnership with our friends at

MARRAKECH
Labyrinthine streets, arching courtyards, tiered gardens, and complex mosaics (plus winter temperatures in the seventies) are just part of what makes Marrakech so attractive. It's a city steeped in history and architecture, but it doesn't turn its back on the new, either (head to the recently unveiled Yves Saint Laurent museum for proof). The palace-like hotels allow you to pretend—even if just for a few days—that you're living in another era, while the restaurants (including a couple of our favorites, listed here) and markets show off North Africa at its finest. It's also surprisingly close: From New York, it's a six-and-a-half-hour flight to Casablanca, and then an hour-long hop to Marrakech. There are few places that are so accessible yet feel so far from our day-to-day.

Hong Kong
The British left Hong Kong over twenty years ago but their influence is still felt in much of the architecture and customs (afternoon tea is still popular—especially at the city's legendary Peninsula Hotel). Combined with China's relentlessly modern energy and the towering bands of skyscrapers—not to mention the exquisite dim sum and surprisingly gorgeous outdoor spaces—it's a place that's unlike anywhere else in Asia. And packing is painless, given the average temperatures are in the high sixties this time of year.

Buenos Aires
Buenos Aires is a buzzing South American metropolis with hints of Paris and New York, but mainly Paris. Over the last two centuries, waves of immigrants have shaped the city's cultural landscape into a modern melting pot: You'll find people passionate about everything they do, whether it's gathering at a family asado, attending a polo match, or drinking coffee at one of the countless European-style cafés spilling out onto every sidewalk. Walking down the dozens of leafy avenues, it's easy to see why Buenos Aires has been referred to as the continent's most beautiful city—the neoclassical architecture, the monuments, and the public spaces are all about charm and grandeur. It's a vibrant, electric, buzzing city, and however long you stay, you'll want to stay longer. Plus, this is the southern hemisphere, which means temperatures right now are warm enough for dresses and short sleeves.