Where to Go and Eat in Paris
Inspired by Couture Week, which just ended, and all the very au courant and spontaneous things to see in Paris these days, we decided to explore everything temporary, finite and in motion right now in The City of Light.
The Pop-Up Scene in Paris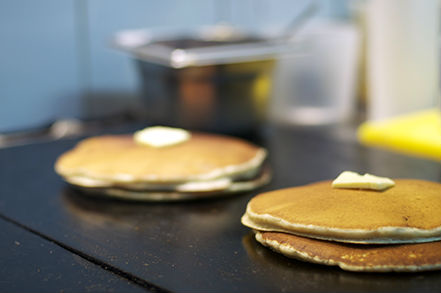 The creative enterprise of Jenny Capano and Tara Gilson, who met working at 3.1 Phillip Lim, these pop-up dinners happen every few months, transplanting NYC restaurants to Bob's Kitchen in Paris. First, they took on Fat Radish and then, last week, Hudson Clearwater. Check in, as there are more restaurant throw downs to come from this pair. Also, Bob's Kitchen, a popular organic lunch canteen, is a worthwhile visit anyday. Here's a delicious cocktail we tried.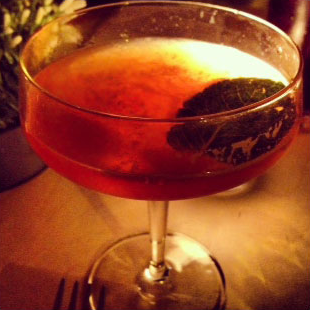 The Mutiny
---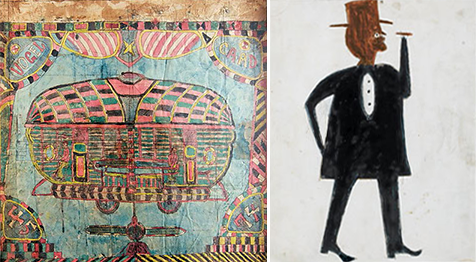 (through February 24th, if not longer)
This is The Museum of Everything's first foray into Paris at the new space run by Chalet Society (founded by the famed Palais de Tokyo's former director, Marc Olivier Wahler). The Museum of Everything is known for bringing international awareness to non-traditional, self-taught, and so-called outsider artists, people who produce mainly for themselves and not for an audience. As founder James Brett puts it, these artists are motivated by a "fundamental need to communicate."
Left: Charles August Albert Dellschau, untitled, 1910/20 © The Museum of Everything
Right: Bill Taylor, untitled, c 1937/42. © The Museum of Everything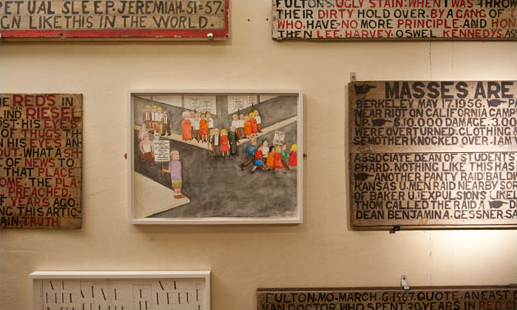 Exhibition #1.1 took about a month to curate, as the team took special care to truly understand the particularities of the space—a former Catholic seminary in the heart of St. Germain.
Photo: Nicolas Krief © The Museum of Everything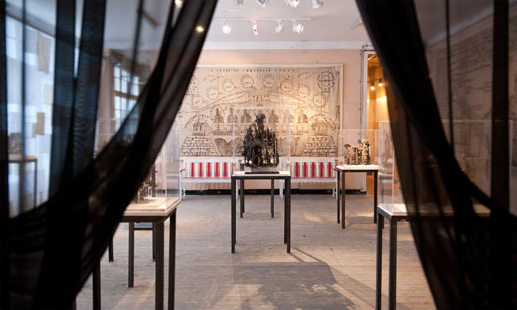 As to whether The Museum of Everything will continue its global activities or find a permanent home, James says, "A full-time space is a bit like marriage. As The Museum of Everything is currently a bachelor, it's still sleeping around…"
Photo: Nicolas Krief © The Museum of Everything
---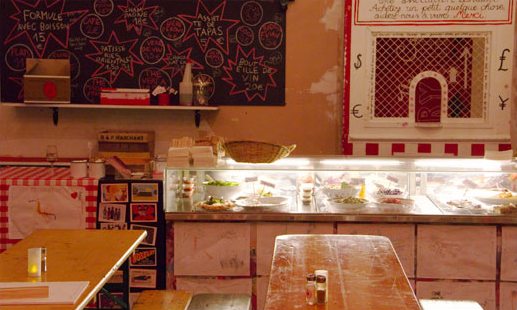 The Café of Everything
Unique to the Paris show, The Café of Everything is a tasty pop-up resto created by the team behind London's Momo and Sketch. Working with their Parisian establishment Derrière, they have adapted their menu for a French audience and are open for late lunches and early dinners.
Courtesy of Derrière, Paris and Momo and Sketch, London. Photo Pavlos Metaxas © The Museum of Everything
---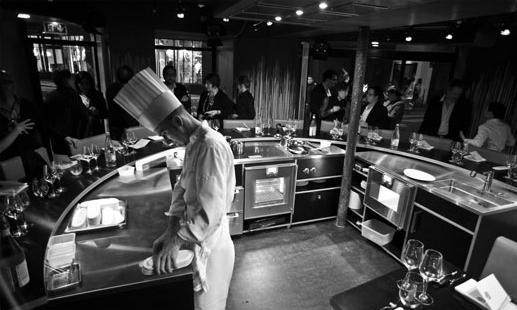 With each month comes a new chef, and with each chef, a different dinner for sixteen. Served up in a sleek space in the Marais, this is one of the more established supper clubs in Paris. Not to mention, the ultra gourmet traveling panini counter, "Pressing," coming to Table on February 14th and 15th. Check their website for updates and to sign up for a meal.
---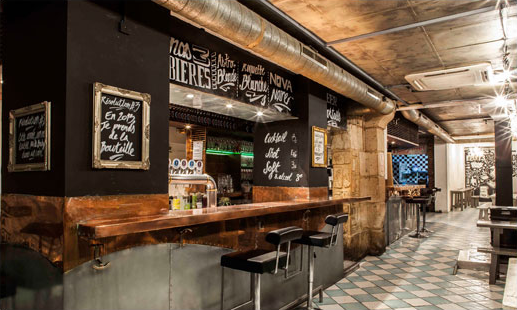 Jonathan Kron and Kai Lorch, the brains behind the brewery Demory, have opened a temporary space near the Pompidou. They're on 62 rue Quincampoix until the 2nd of February and then move across the street to #57. Bringing beer to a wine drinker's city, they cleverly mix beer-based cocktails. Here are two:
Photo: Geoffroy Gomez
---

Le Dauphin, Inaki Aizpitarte's sleek wine bar now hosts the occasional guest mixologist night with dinner by Le Dauphin and drinks c/o the hottest bartenders out there. Their first was with Tony Conigliaro of the new bar Le Coq. Keep an eye out on FB for the next collaboration.
---
The Burgeoning Burger Scene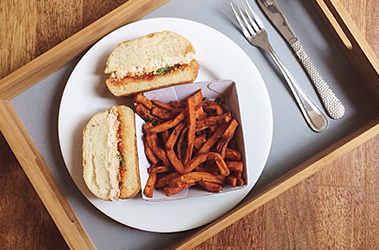 "Blend sticks to its French heritage and is not afraid of showing it—they cook gourmet burgers. The quality of the ingredients is there: homemade buns, fries and ketchup, and the meat is local. If you are looking for an authentic rather than gourmet burger, you're in the wrong place. I must admit, that the burgers are tremendously good."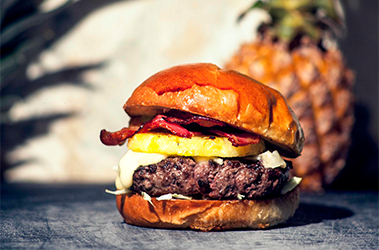 "'It's all in there,' said the main waiter at PNY. 'There's a prostitute next door, the street is dirty, it feels more like New York and less like Paris.' He's right. PNY owners chose the right street for an authentic American burger: a corner of Paris that exudes decadence. The joint has a beat up 70's vibe and makes you feel like you're in for a treat. And indeed, the burgers are great. The cheddar is old, the bread is rustic and the fries are awesome. It's all in there. Good job PNY!"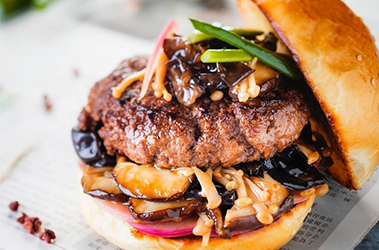 "Am I allowed to say oral orgasm? If not, I would say poetry in the form of buns and meat. Authentic? Yes, it's a burger truck. The ingredients are top-notch and it's a young entrepreneur from California with a substantial culinary education who flips them. However, good things come at a cost. Due to the outstanding popularity that these burgers enjoy, the average queue time is about forty minutes on a cold day. Shake Shack customers in NYC know what I'm talking about."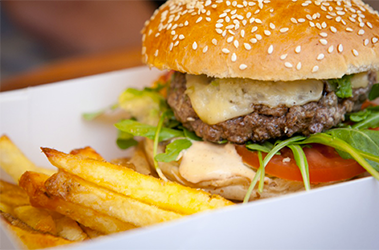 "Cantine California, another food truck is not to be missed. Burgers, again but with a Californian edge, like the "Half Moon Bay" Burger. The thing about these burger trucks is, in a city where most people take the time to sit down to every meal, getting food on the go feels pretty revolutionary."
---
Graffiti Spotting
Between burgers, Luis snaps his favorite Parisian graffiti throughout the city.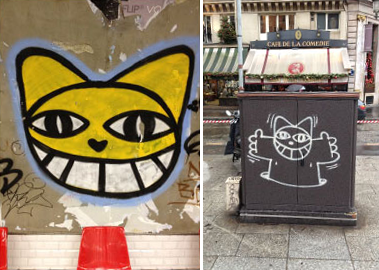 From Mr. Chat:
The half-French/half-Swiss Monsieur Chat is Thomas Vuille by day.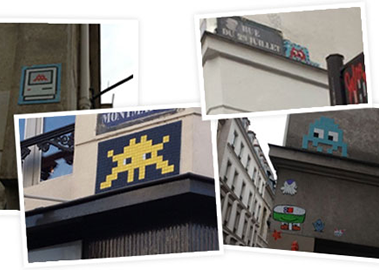 From Space Invader:
If you're looking, you can find Space Invader's work in cities all over the world.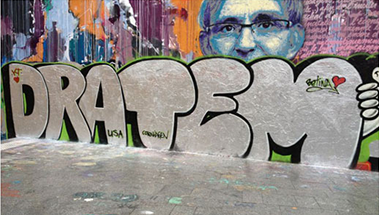 From Atem:
A piece by the famous Atem from Frankfurt.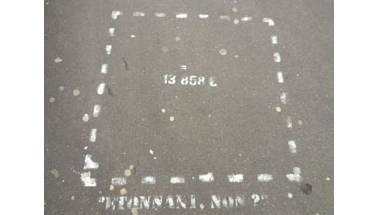 Anonymous:
This unknown artist goes to wealthy neighborhoods, letting people know how much a square meter costs in each place.