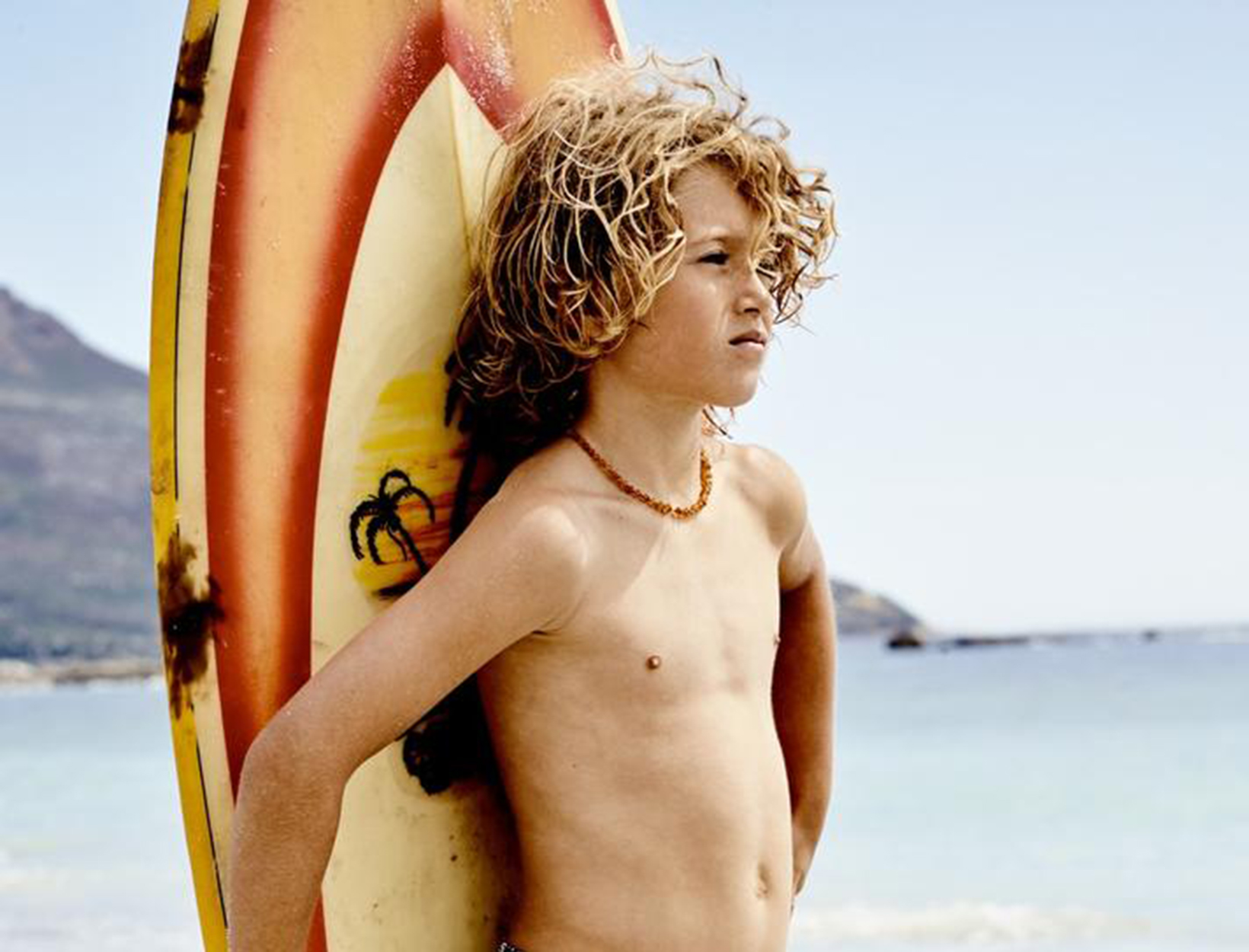 Where to Surf,
Camp, and


Explore
with the Kids
In partnership with our friends at
Rockets of Awesome
Winter is cold, and spring can be hesitant, but summer explodes with all its wonderful summerness. Longer, brighter, ditch-the-jacket, pull-out-the-shorts days and no school mean the kids are ready for action. It's time to plan a vacation. As much as we love a far-off exotic locale, in the interest of ease, travel time, and environmental impact, we love the idea of rolling out the North American map and showing the kids that you really can camp out in a desert surrounded by ancient cacti in the West, surf amazing waves on the East Coast, and hop across the border and bike through parks of evergreens and play who-spotted-the-whale first. We know Montauk, Joshua Tree, and Vancouver well enough to plan for the highs, the higher highs, and the meltdowns. We've got you covered, right down to the packing list.
>SURFING IN MONTAUK
SURFING IN MONTAUK
Montauk is the kind of coastal surf town that's the perfect respite from steamy New York City for a weekend. Or better yet, settle in for a couple weeks of beachy abandon. For the kiddos, this Long Island enclave is a summer wonderland, and for the adults, it's basically the same thing. Gurney's has opened a second Montauk property on Star Island. And between the maritime shiplap walls, the breezy daybeds for sleepy children, a squinting view across the lake to that iconic lighthouse, and servings of retro but awesome shrimp cocktail at Showfish, we're not sure where not to look. By day, pro surfer Austin Avery Eckardt runs a fun, confidence-building surf camp off of Ditch Plains Beach (one-on-one lessons are also available) throughout the summer. Eckardt and his fellow instructors are total pros when it comes to keeping kids entertained, ensuring their safety, and getting from them knees to feet on the board. Paddling out and cresting those waves builds an appetite that only the spicy, oozing-with-cheese, Olé Olé burritos at Joni's can quench. Stopping by the Bhumi Farms stand and having the kids pick their own produce for a picnic on the beach is never a bad backup plan. Bhumi's mounds of artfully arranged vegetables and summer fruits look so appetizingly gorgeous, even the most greens-resistant child will be asking for a basket to fill.
CAMPING IN
JOSHUA TREE
CAMPING IN
JOSHUA TREE
Cruising down the Twentynine Palms Highway and noticing the landscape turn from green to rocky to positively austere is the first sign. The thermometer creeping up is the second. But it takes pulling into the park for the reality to fully sink in: Joshua Tree is one of the few places in America that feels entirely "other." It's Narnia-level realm crossing. The sky is bigger, bluer, and filled with so many glimmering stars at night that it's never truly dark. Many of the cacti—some small, some skinny, many ginormous—are centuries old and contribute their own magic to the landscape of giant boulders and scorched earth. This campground is unparalleled. Then there are the scrumptious, fruity morning smoothies at Natural Sisters Café, the tastiest of salads and sandwiches at La Copine, and the realization that the Wild West—brown swinging doors, dusty porches and all—really does exist at Pioneertown. If the widening eyes of the kids can take any more wonder, stop by Salvation Mountain on the way home for a final, mystical explosion of color.
EXPLORE VANCOUVER
EXPLORE VANCOUVER
With almost no exception, everyone who comes to this city falls in love with it. Seemingly endless parks (in fact there are over 230), clean beaches with driftwood lapping in the surf, world-class cultural institutions, and the possibility of sighting actual whales (and maybe even bears) mean Vancouver is for everyone, especially kids. The Fairmont is right on the water, which—aside from guaranteeing those soul-feeding sea views—means you're ambling distance from city's crown jewel: Stanley Park. Over 1,000 acres of bike trails, immersive playgrounds, lakes, and Canada's largest aquarium guarantee your children's fresh-air-filled heads will hit the pillow before bedtime that night. A day on the water waiting for whales to breach is about as perfect a summer day as can be—and then they breach and you have a memory that will stick with you and the kids forever. The view from the water is every bit as mesmerizing as the whale-spotting. For a day with both feet planted firmly on the ground, the Granville Market neighborhood is an explorable mishmash of shops, food stalls, and entertainment. A pit stop at Lee's Donuts for strawberry-glazed sweet treats and a half dozen fritters boxed up to savor later keeps appetites sated until a final blowout dinner of spaghetti, doorknob-size meatballs, and garlic bread at Savio Volpe. And then: back to that chocolate cake.
What To Pack