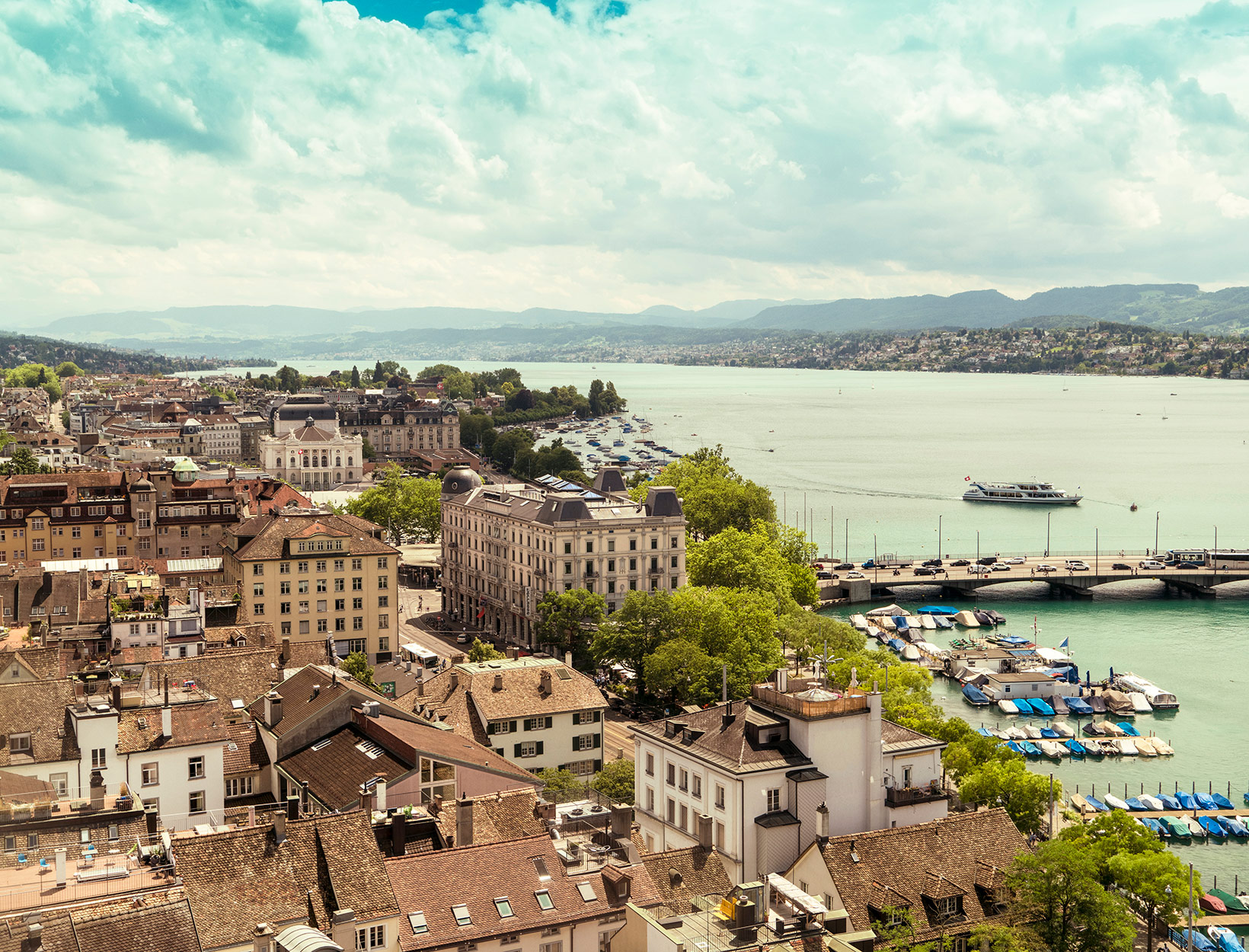 Where to Eat, Sleep, and Get
a Massage in Zurich
Whoever said there's something in the water wasn't talking about Zurich. That's because there's absolutely nothing in the water—this is Switzerland, land of Alpine beauty, rigorous standards, and extreme cleanliness. No one is too loud. Patience is a practiced virtue. The whole place hums with the precision and artistry of a Swiss timepiece.
That's hardly to suggest it's all bankers and bonuses here. In fact, Zurichers are intent on living their best lives, the Swiss way—which translates to calmly, cleanly, and always on time. Sure, there's a little type A in the air. But after several days strolling around the (remarkably clean) streets, drinking the crystalline water, and benefiting from their punctual efficiency and near obsession with quality, we've become believers.
Zurich is a tidy collection of church spires, fragrant bakeries, chocolate shops, and more chocolate shops. And there's water everywhere. The glassy Limmat River breaks the city into the Old and New Towns. Lake Zurich glimmers right over there, a reminder to look toward the spring, when swimmers flock to the lake's edges, powerboats rev up, and any lunch that's not a picnic becomes obsolete. The lakeside elegance, the konditorei (café) culture, and crispy rösti (like hash browns but better) are not dissimilar to what you'd find in other Swiss towns. But the steely little-town-masquerading-as-a-big-city charm? That belongs to Zurich alone.
where to stay
The Dolder Grand
You'll never forget your first peek of the majestic Dolder Grand. The hotel sits high above the city, surrounded by thick forest and stately homes, and has an undeniable Disney castle quality. Inside, the design has an artsy irrationality to it, and the vibe changes drastically depending on whether you're eating at futuristic Saltz, checking in at the front desk in the Belle Epoque lobby, or walking through the glass-walled Norman Foster–designed wing. The Dolder is renowned for its art collection, which is on display everywhere—through the hallways and around the grounds. And quite an impressive collection it is. There are works by Keith Haring, Andy Warhol, and Salvador Dalí. But honestly, we came for the tricked-out spa. A perfect morning might look like this: a few rounds of sauna, steam, and chill in the "snow room" (a chamber filled with actual snow, since you're in the Alps after all), followed by a snooze on a warmed bed of black pebbles. And that would be before we settle in for a superb afternoon facial, which happens in a light-filled room overlooking the forest.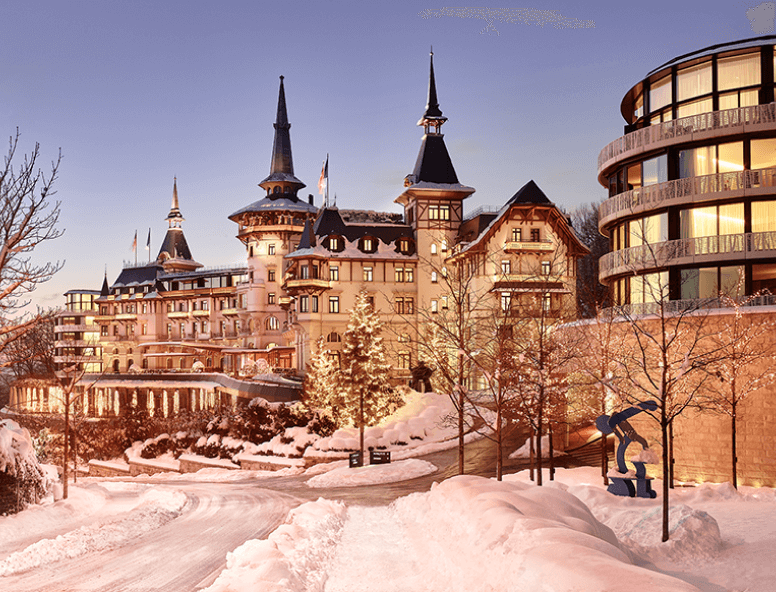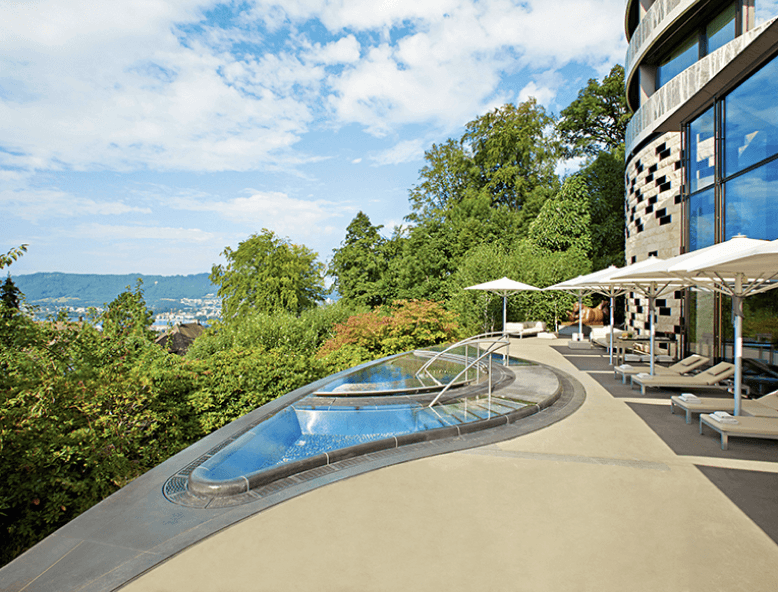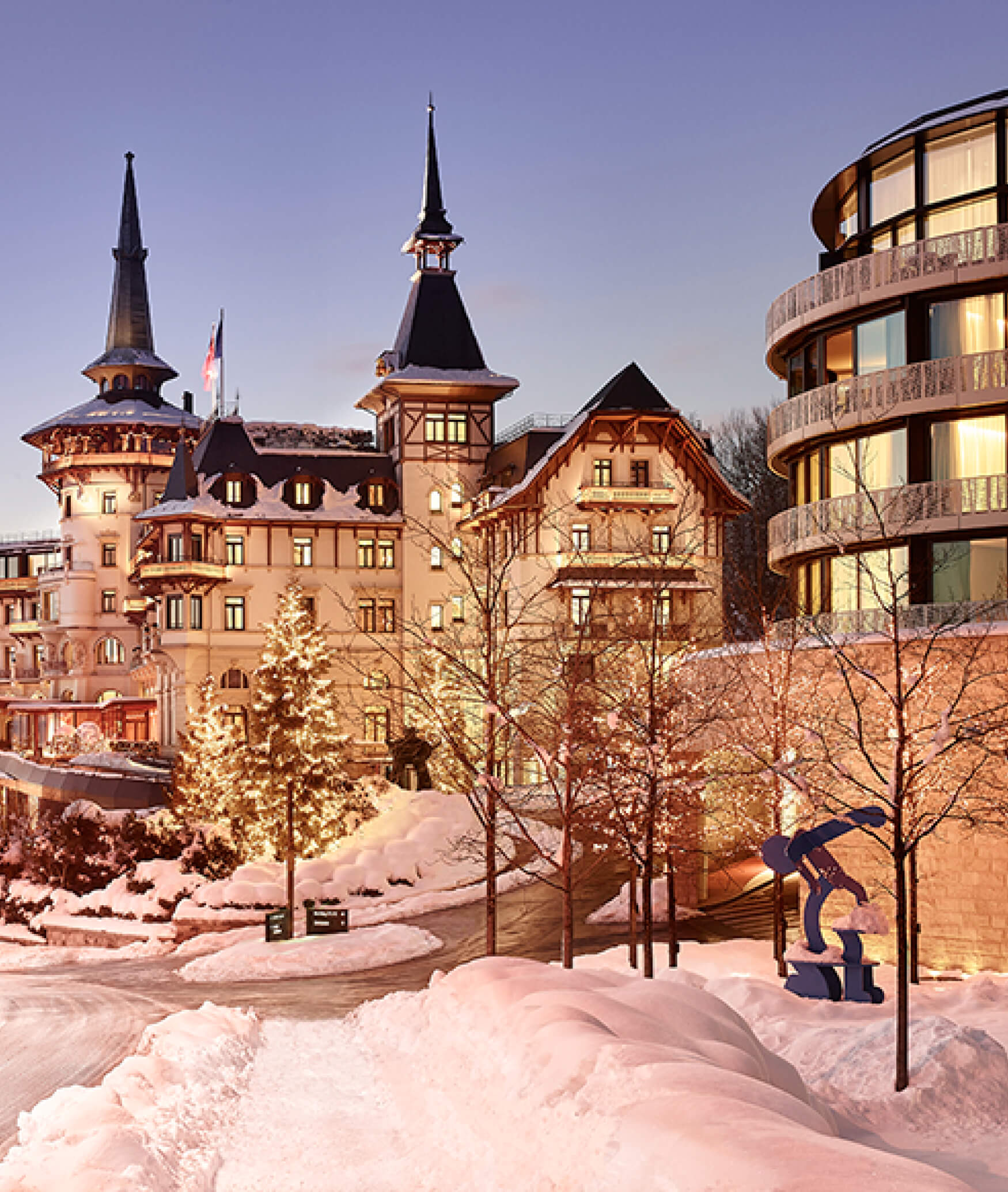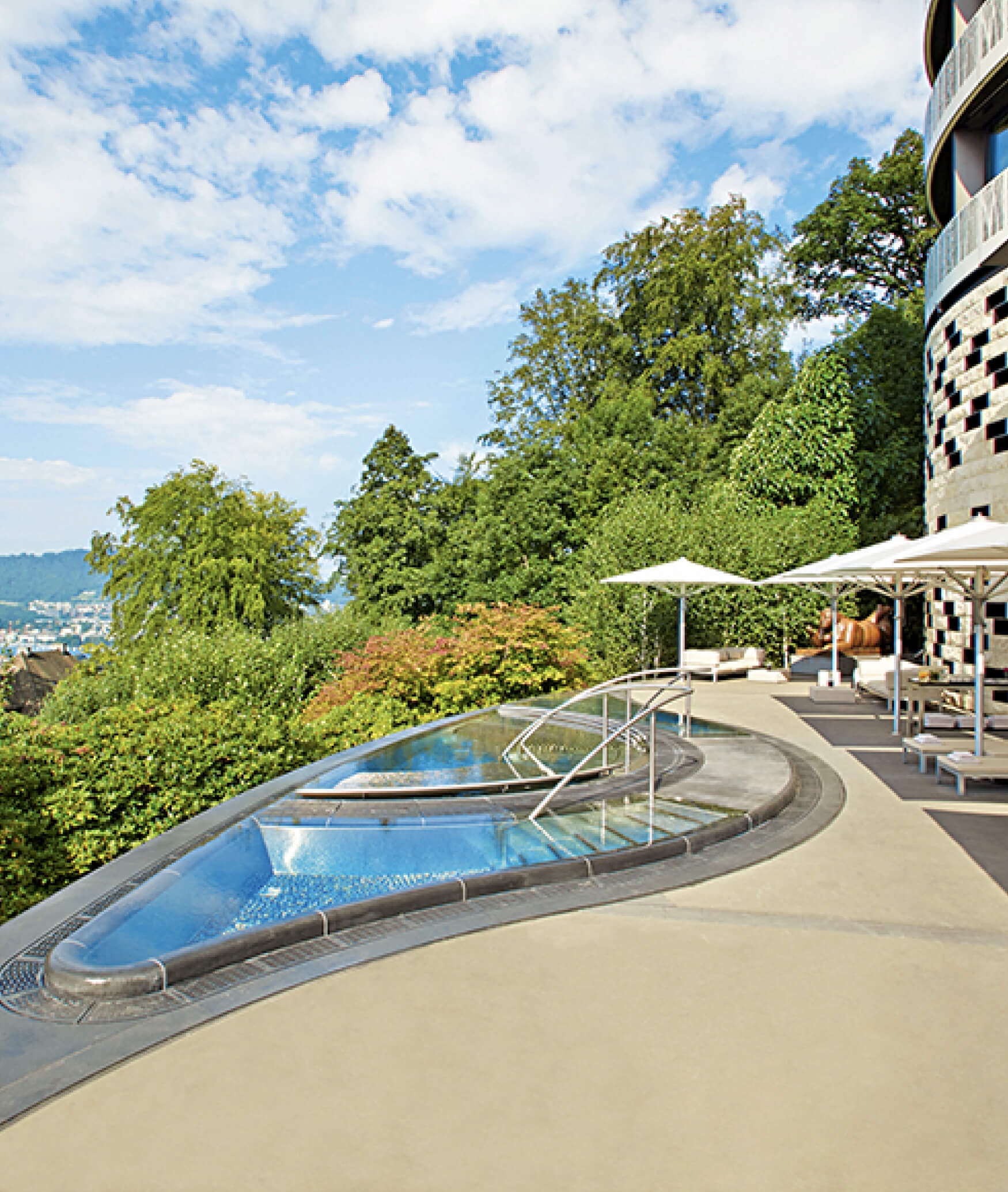 The Dolder's chief appeal is that the whole fairy-tale property is constructed to amplify a Narnia-like landscape. It's romance at its most extreme. For the full effect, book the Maestro suite: The duplex, inspired by classical music and built into one of the palace turrets, has a full kitchen, grand piano, sauna, library, and 360-degree terrace.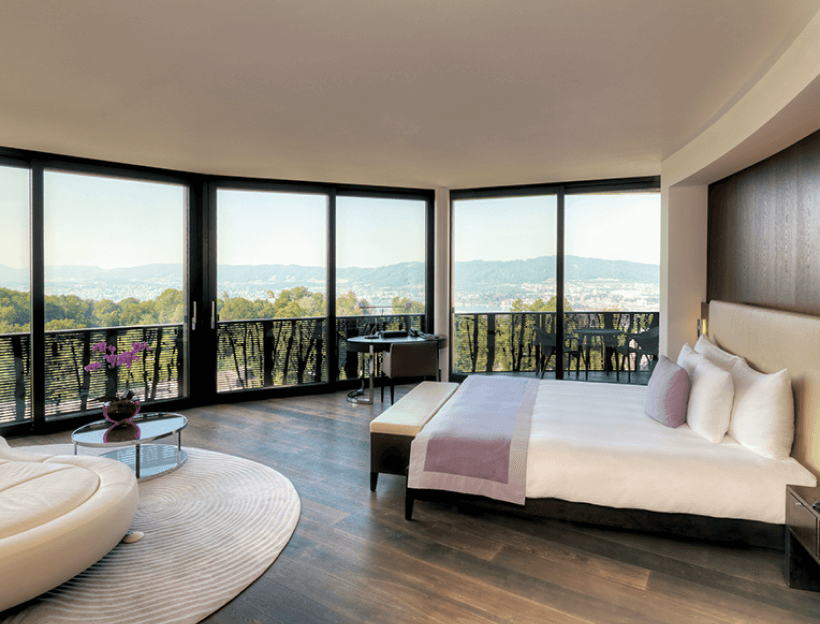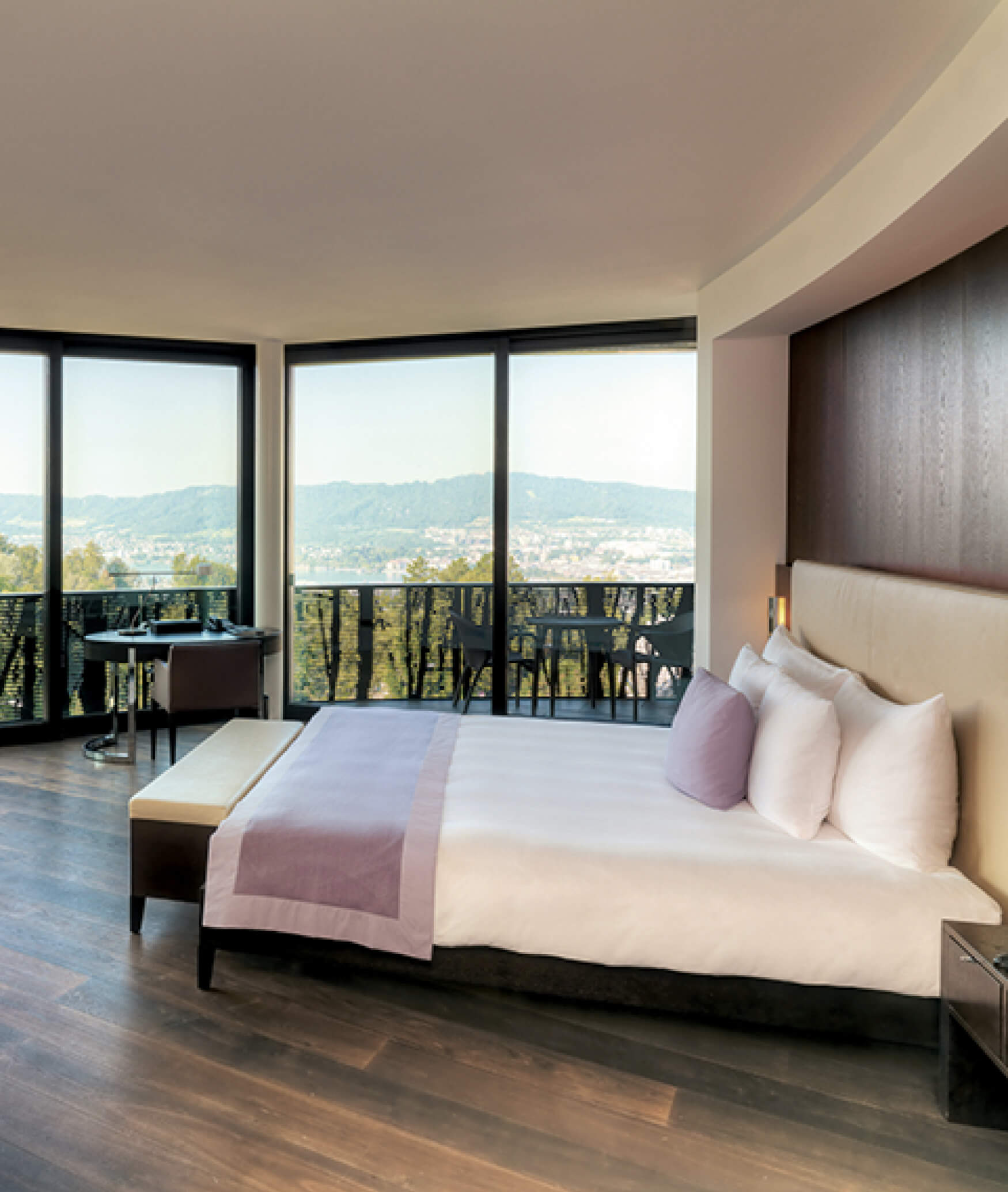 The Widder Hotel
The Widder Hotel in Zurich's Old Town is easily the most thoughtfully quirky-cool townhouse-style hotel we've stayed in all year. Nine medieval homes have been renovated into forty-nine marble-heavy, luxuriously eccentric rooms.
You don't even have to have an eye for design to appreciate it. Eames chairs, Le Corbusier sofas, Baroque frescoes, Bang & Olufsen mod cons, and abundant mahogany are present throughout the Widder. And naturally, no two rooms are the same. When it comes to the communal areas, we fell in love with the flagstone-floored library (perfect for work or reading or just being in a library). Staying at the Widder puts you in the heart of Zurich's (admittedly restrained) action, but its pervasive warmth makes you want to trade going out for settling in. The labyrinthine old-meets-new space creates homey private nooks, and the bar—with its bloodred banquettes, jazz music, and impressive whiskey selection—and restaurant buzz with a mostly local clientele seven nights a week.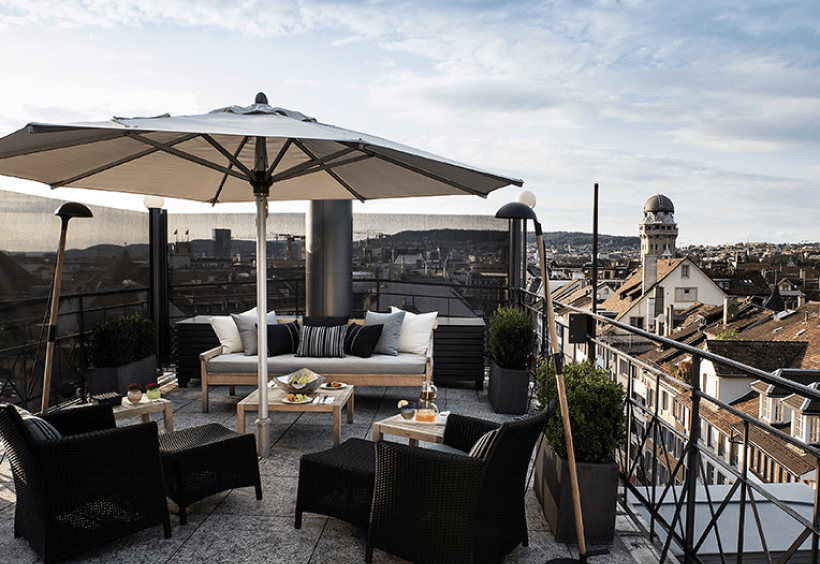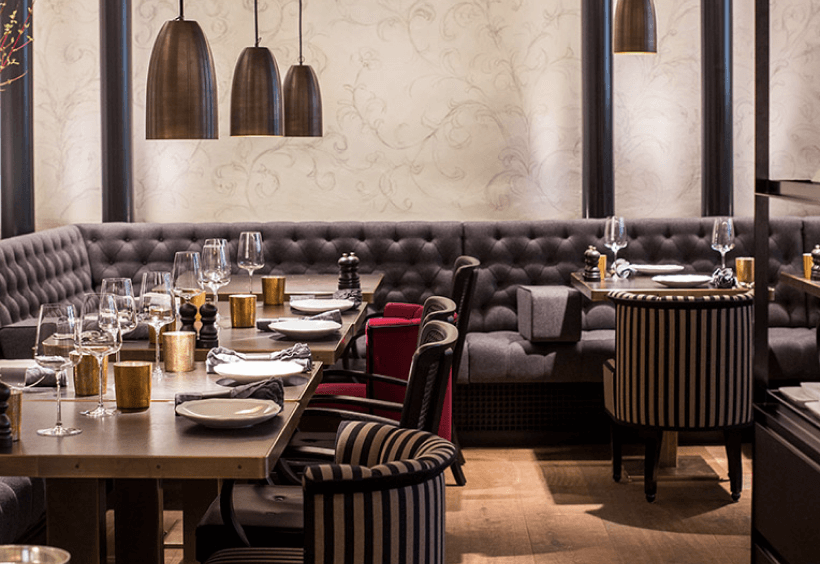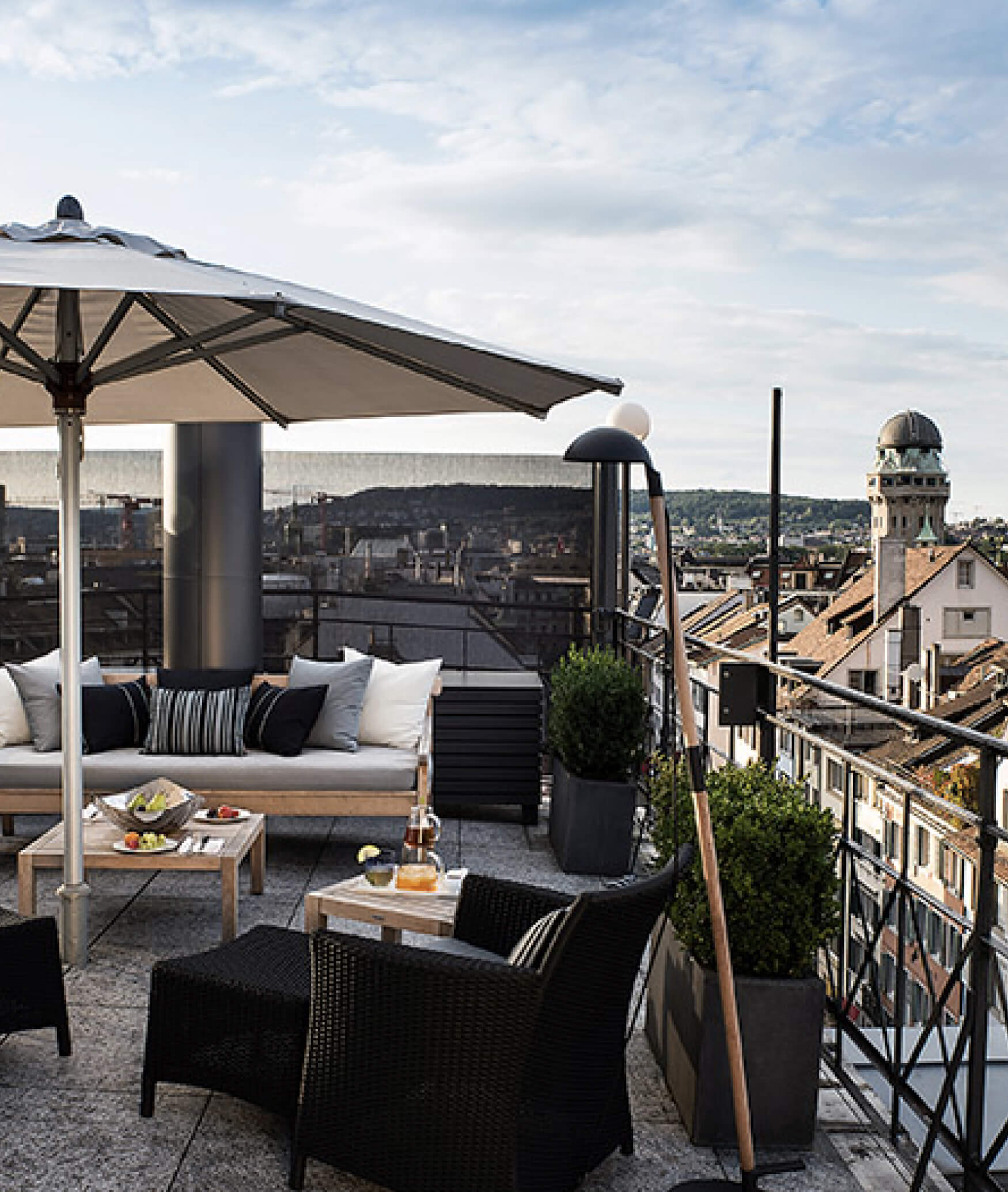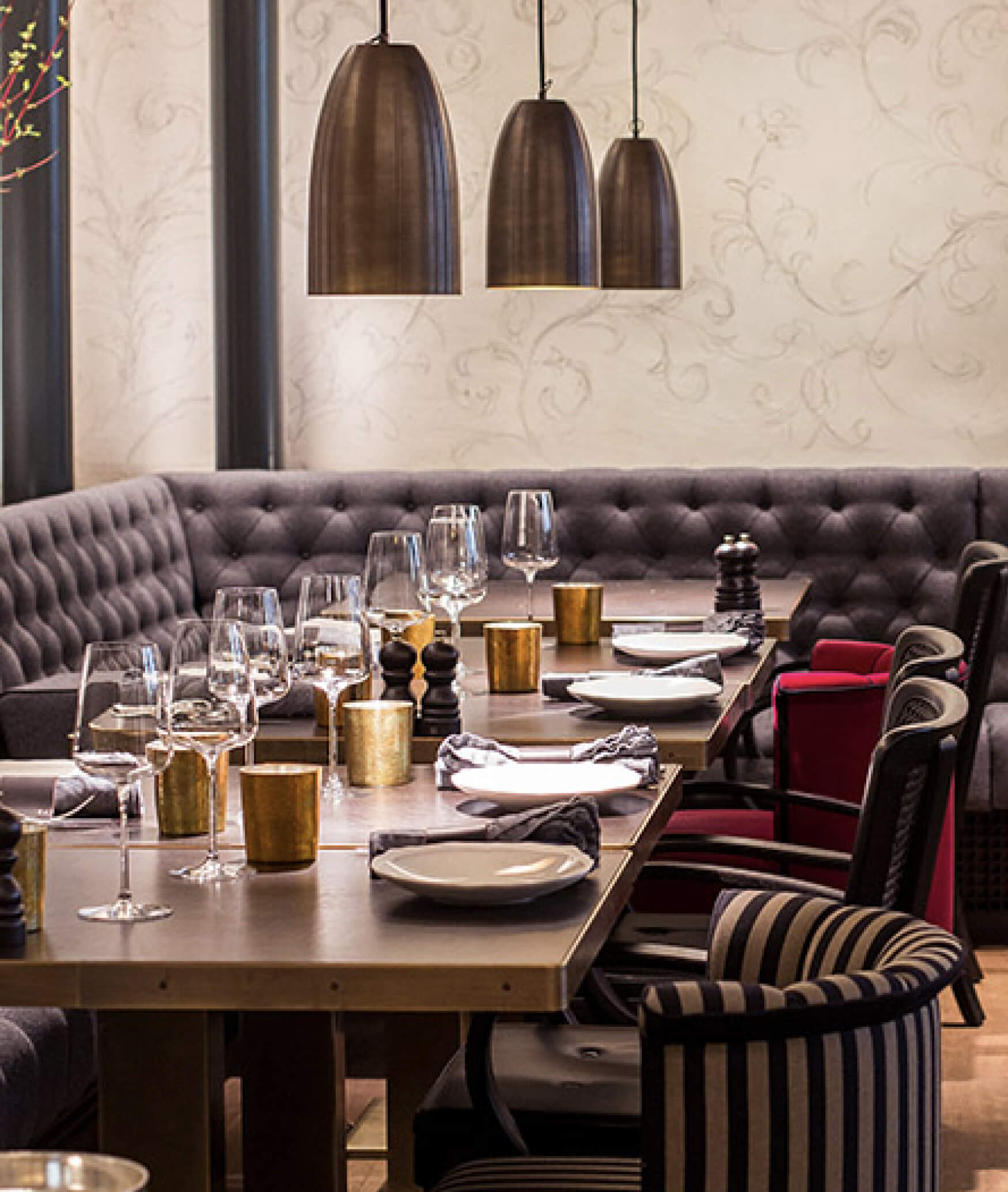 where to eat
La Stanza
Start your day like a local, a Brioni-suit-wearing local, at La Stanza. What feels like half of the residents of this well-heeled city (politely) jostle for espresso at its marble bar—but it's worth it. The espresso is that good. Plus, it's served in seconds by deft white-shirt-and-black-tie-wearing baristas.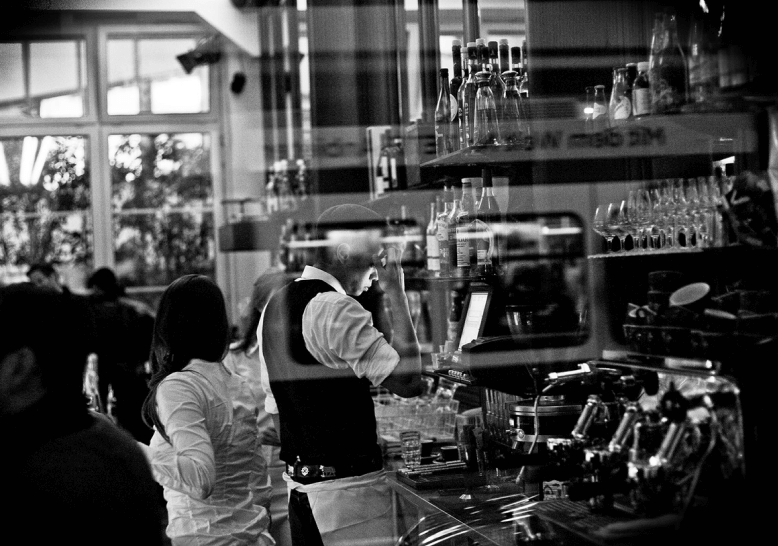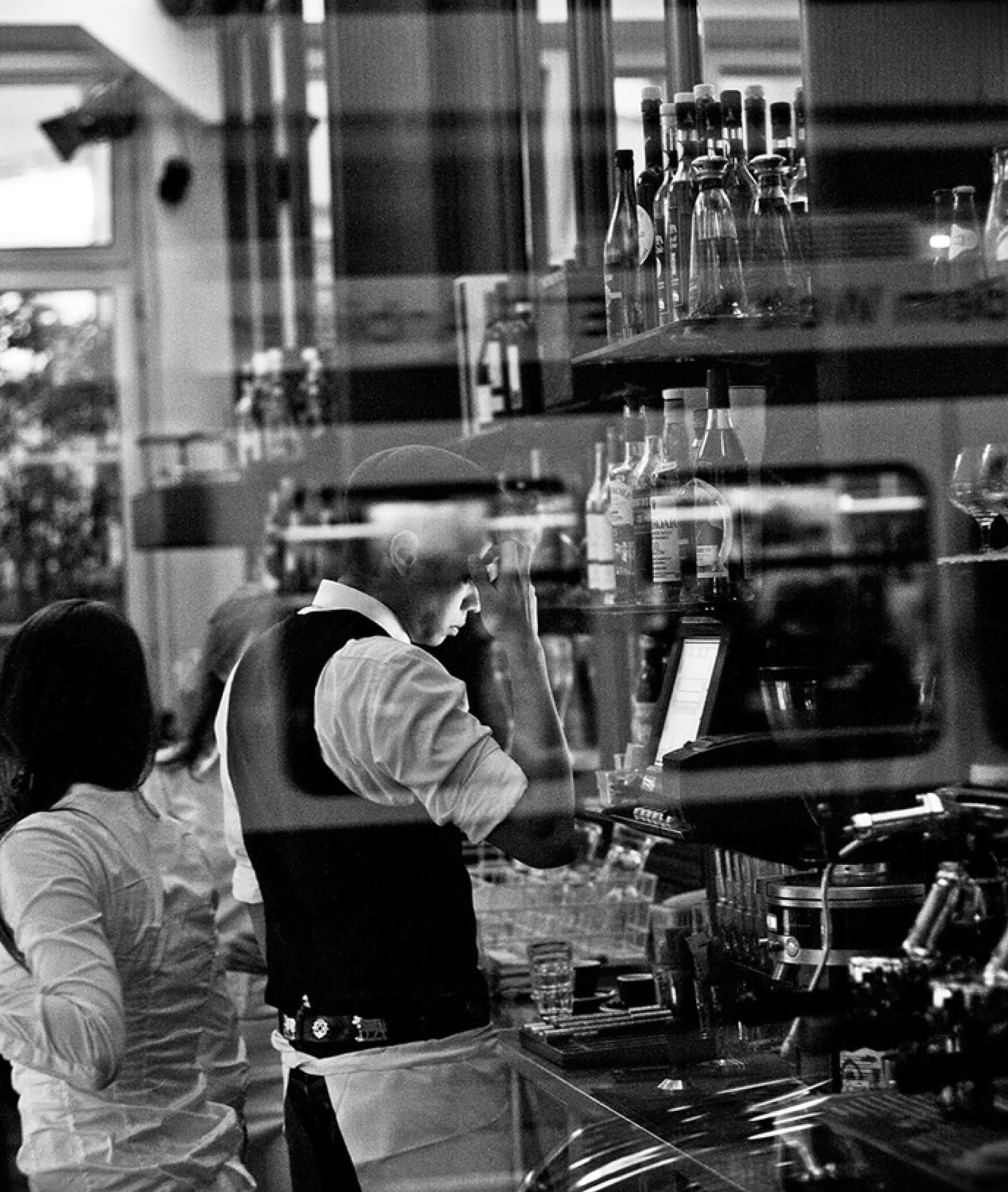 John Baker
Save the pastries for John Baker. The scent of warm, yeasty bread and buttered everything wafts over you as soon as the door clangs shut. Co-owner Jens Jung spent time baking at America's bread temple Tartine, and some of that SF Mission District bohemian sensibility has made its way to moneyed Zurich. Every bite of gluten is an unhurried organic one; the average resting time is a whopping forty-eight hours before baking for an especially sour sourdough. And there's not a smidge of plastic in the place. Sit in for breakfast or bag a few chocolate croissants to munch and walk with.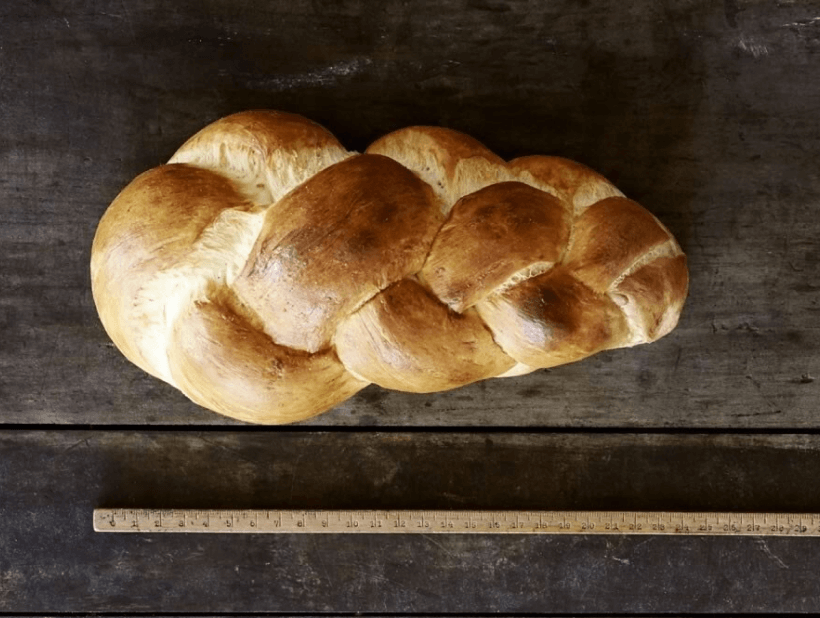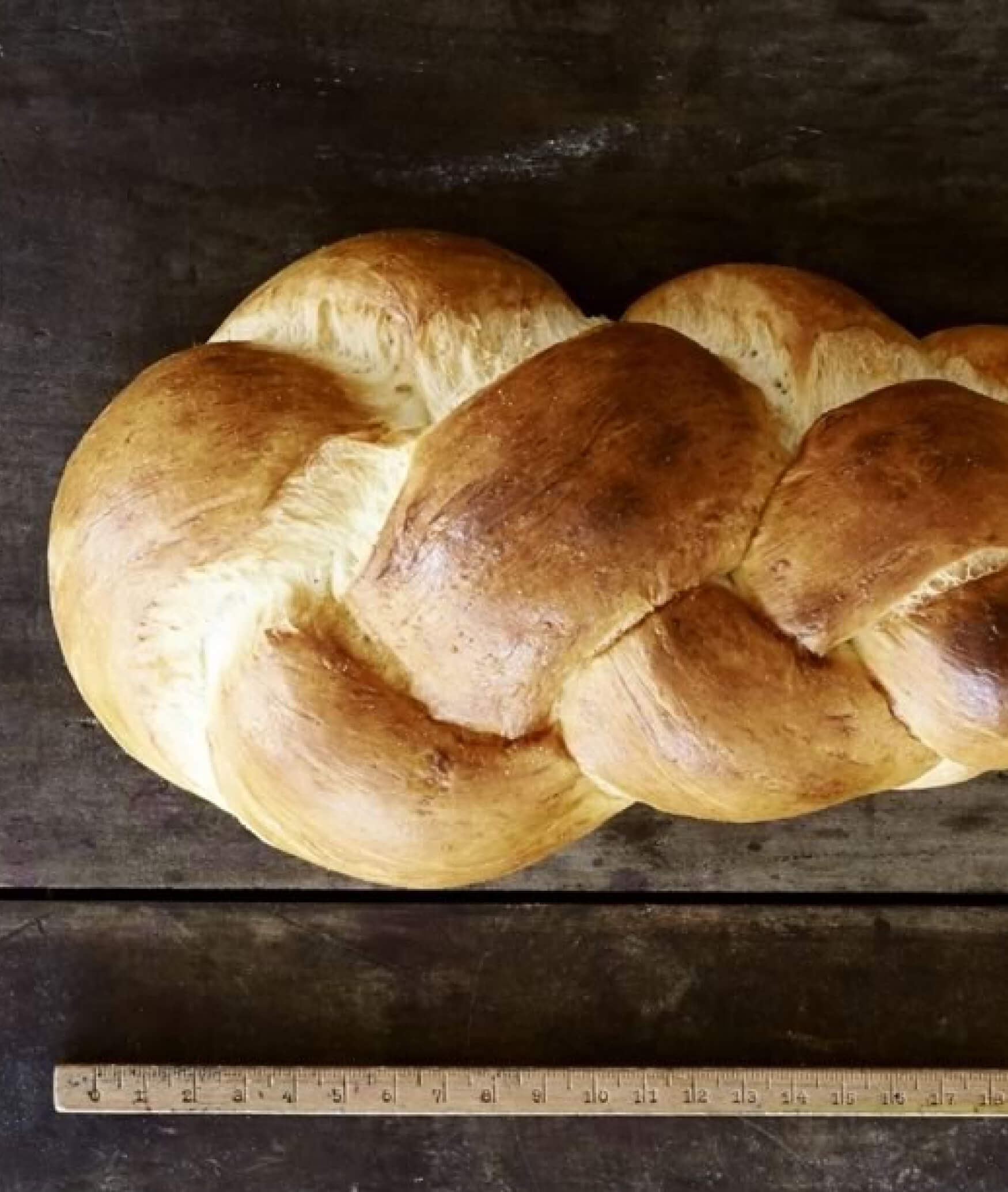 AuGust
The Widder Hotel gets every last eccentric detail right—and its lively brasserie is no exception. The menu is an ode to Zuricher favorites, like an iteration of mac and cheese (macaroni, ground beef, and apple sauce), local sausages, pâtés, and tartares. In other words, this is not the spot for vegetarians. Settle in for a leisurely lunch and prepare to roll out.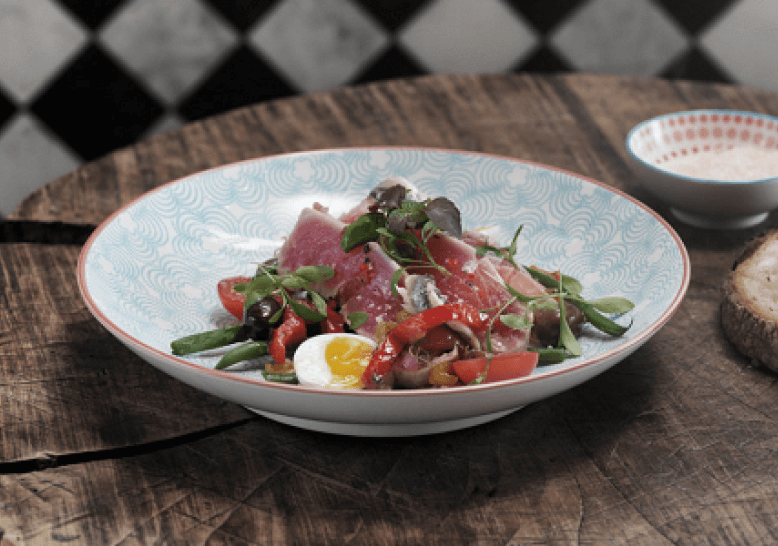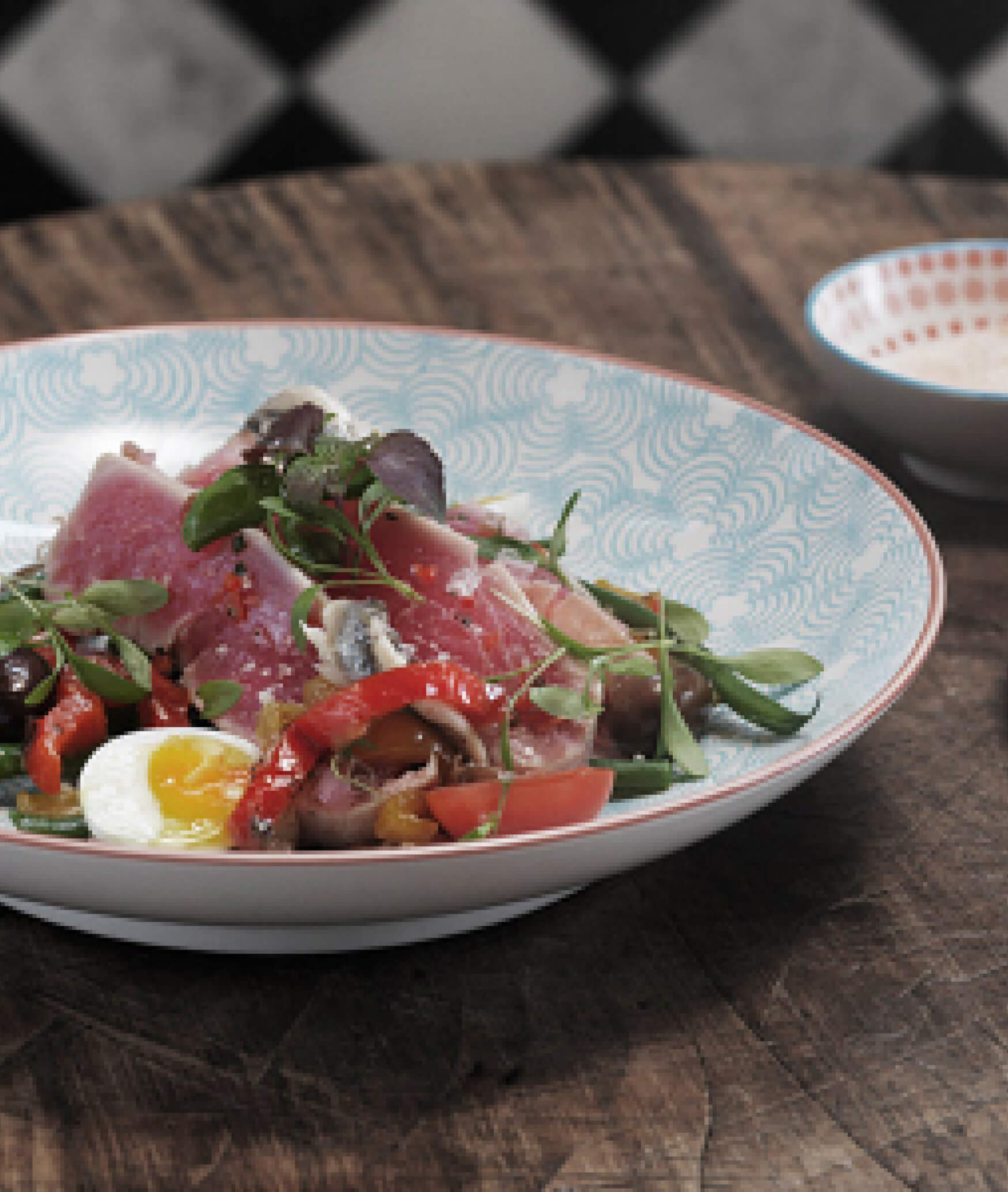 Saltz
Stepping past the wine fridges into Saltz is a real jolt. The Alps-of-the-future-looking restaurant is totally different from the Dolder's fairy-tale exterior and lobby. Its Sunday brunch has become a Zurich institution: an extravagant spread of fresh sushi, smoked fish, platters of the cured meats beloved by the Swiss, pancakes, waffles, and a magnificent dessert display. This bounty is served (weather permitting) on the terrace, high above Lake Zurich. (Saltz's black miso cod and fortifying lemongrass soup were the perfect accompaniments to the snowy winter wonderland outside.) We gravitated toward the restaurant for dinner and an opportunity to sample rare Swiss wines before digestifs in the lobby bar and a slow tumble into bed.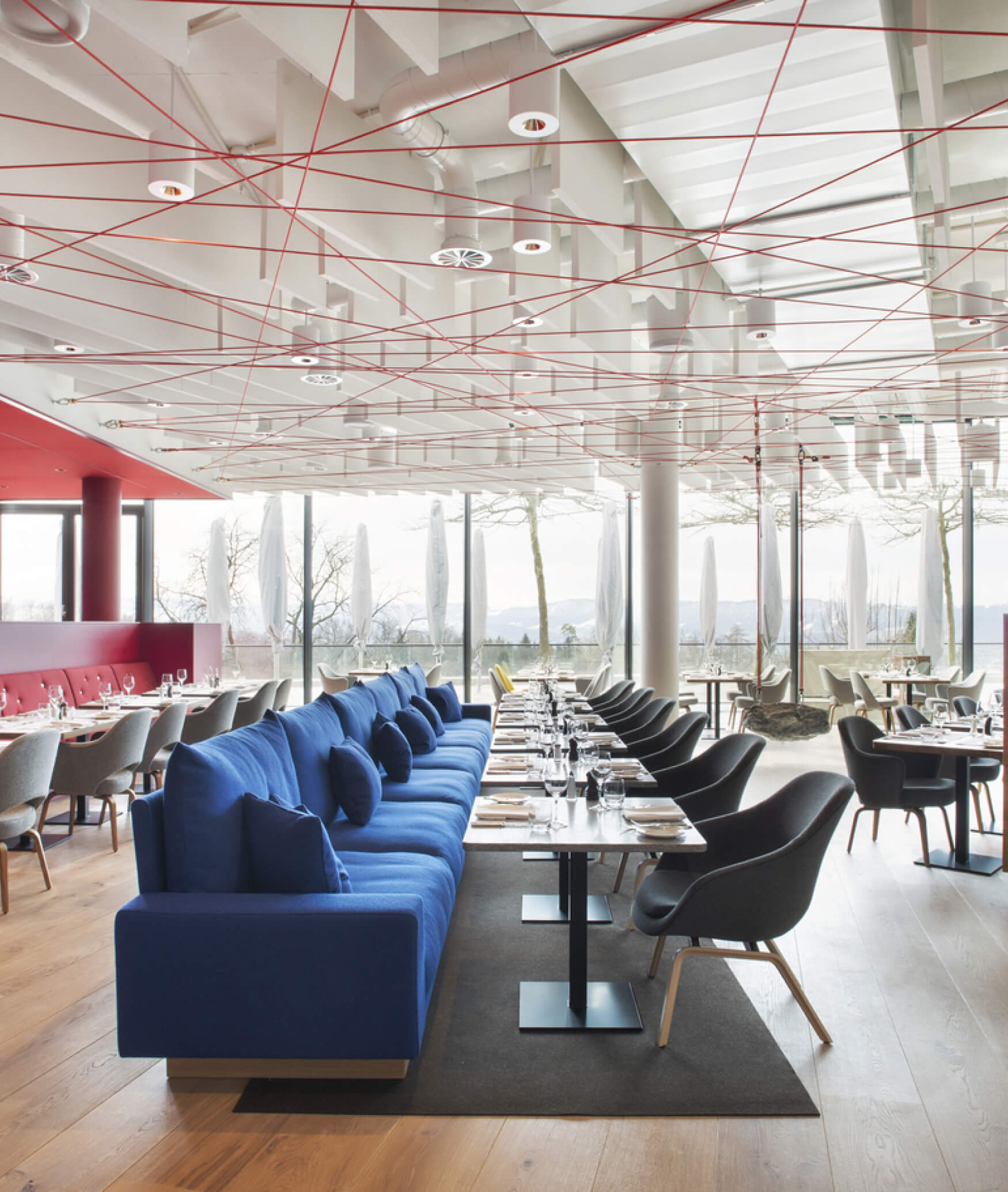 Bauernschänke
The interior of Bauernschänke is, like everyplace else in this town, centuries old, but the food and the crockery are purely 2019. The menu is full of house-made kombuchas and lemonades as well as inventive vegetable dishes, and the served-warm bread is out of this world. Our several-courses-long dinner was easily the favorite meal of the trip.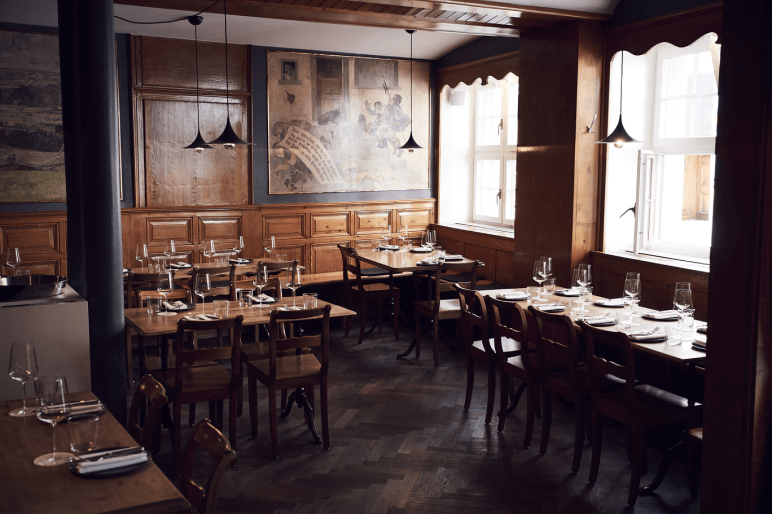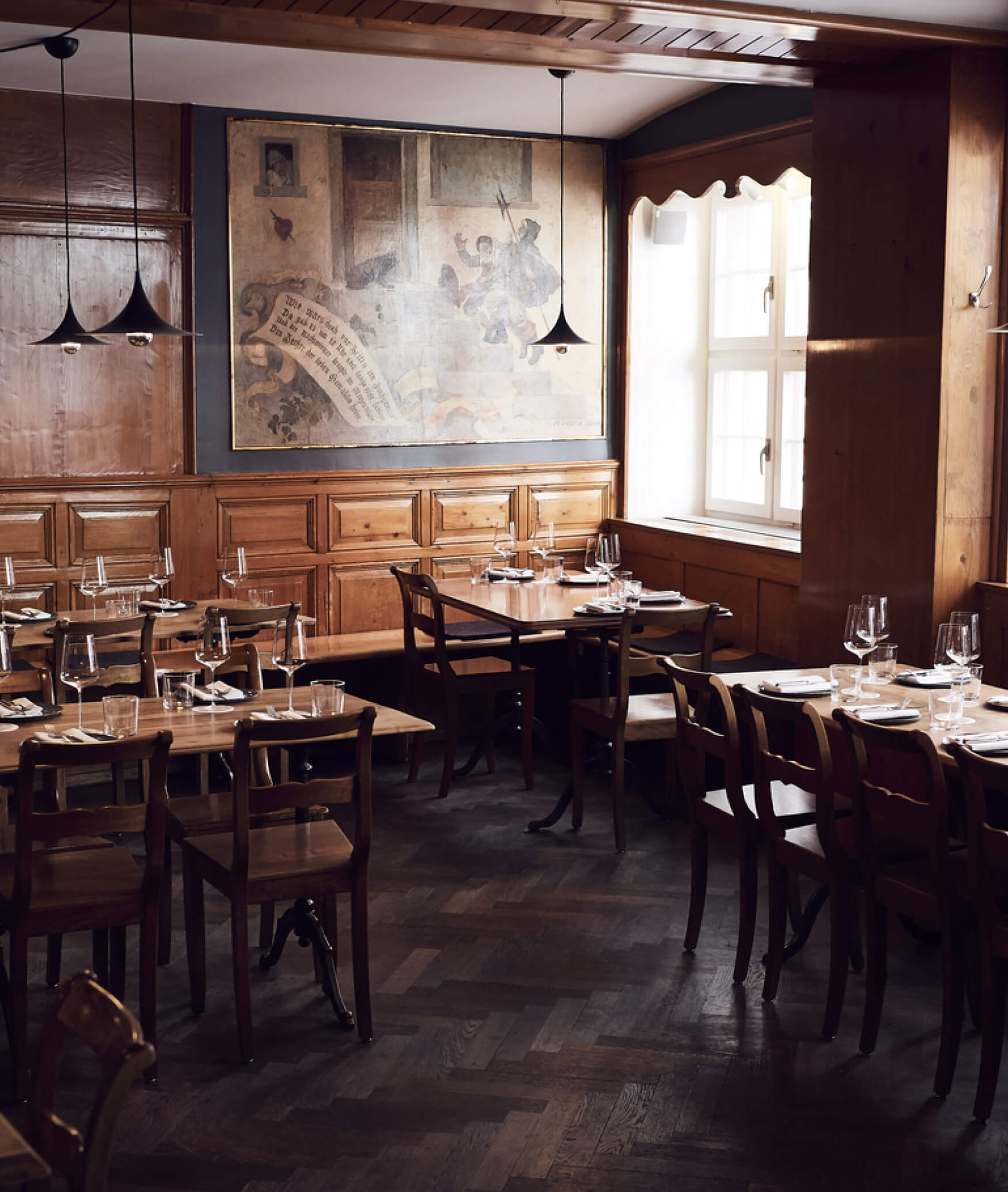 wine and martinis
Kronenhalle
Only in Switzerland is tucking in to a plate of roast chicken while surrounded by Picassos considered normal. Kronenhalle's restaurant is a buzzy, arty, obscenely glamorous bit of old-world Zurich. Which is to say it's the best place to eat classic Swiss fare among the city's politicos and gallerists. The bar—just next door—has a more contemporary vibe, which still oozes that particular brand of Zuricher chic. Bottle-green banquettes, sculptural table lamps designed by Giacometti, and mixologists shaking up martinis are inviting enough. But the wall-to-wall Miró, Rauschenberg, and Chagall paintings that adorn the small bar had our full attention.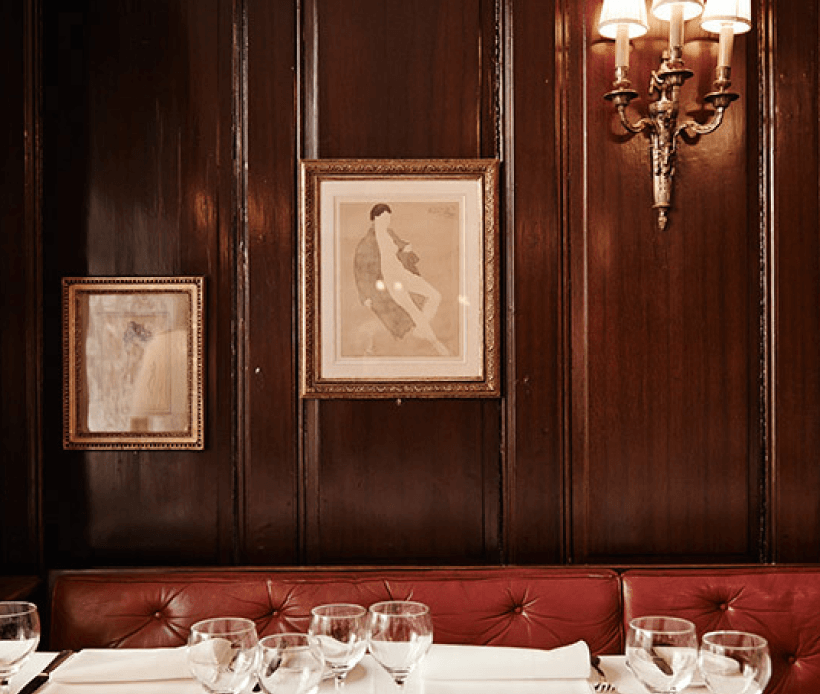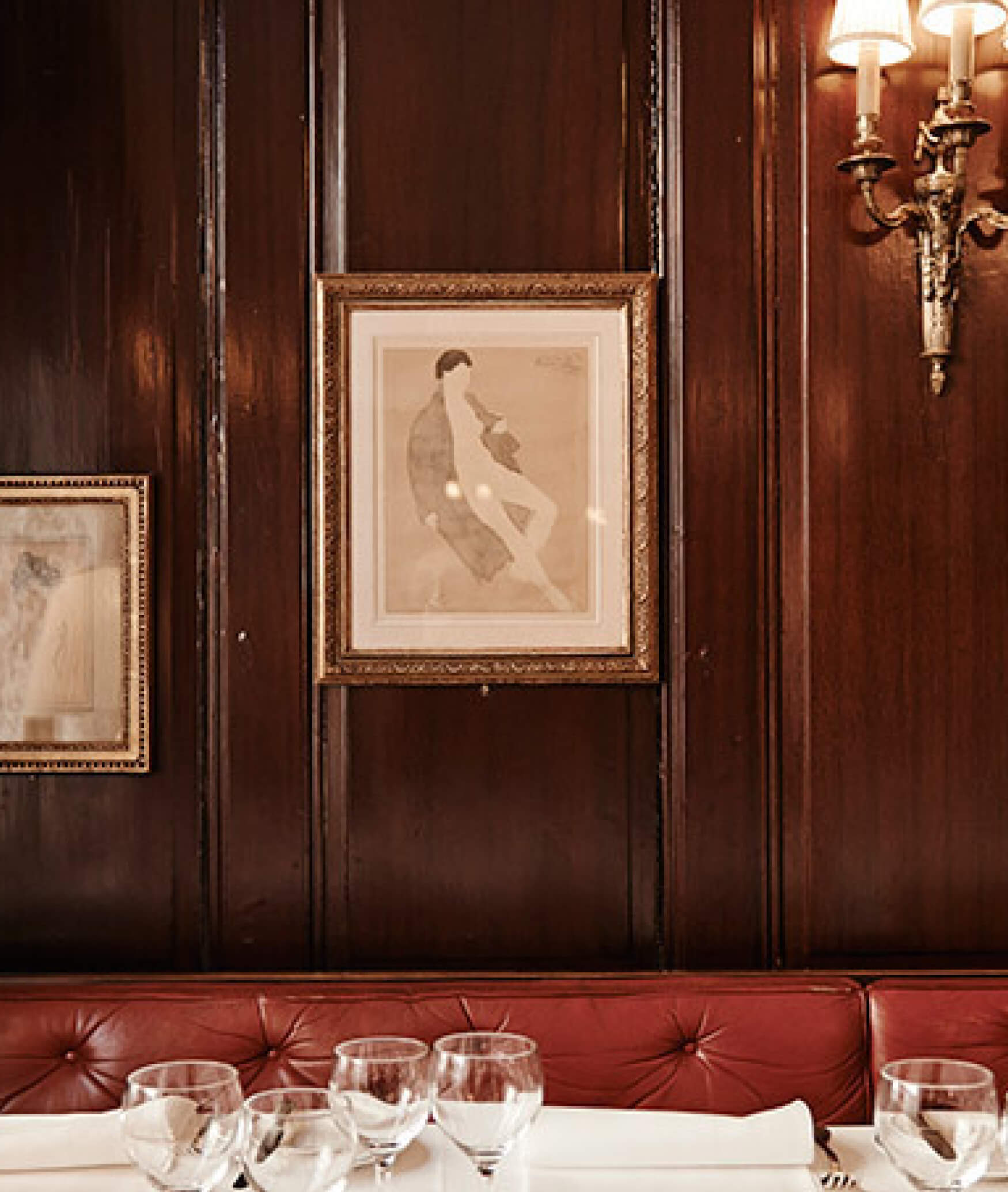 Oepfelchammer
We expected a wine tavern. But one in which revelers who have managed to climb over two ceiling beams and slug a drink upside down get to scratch their initials into the walls? That we didn't expect. Far from the polished mahogany and copper fixture elegance ubiquitous in the city, Oepfelchammer is more like a worn-wood cabin. And there are hundreds of those etchings. Which makes sense given that revelers have been reveling at the tavern since 1802. There's a good restaurant on the ground floor, but an hour or two spent deciphering the writing on the wall over a glass of red is the way to go.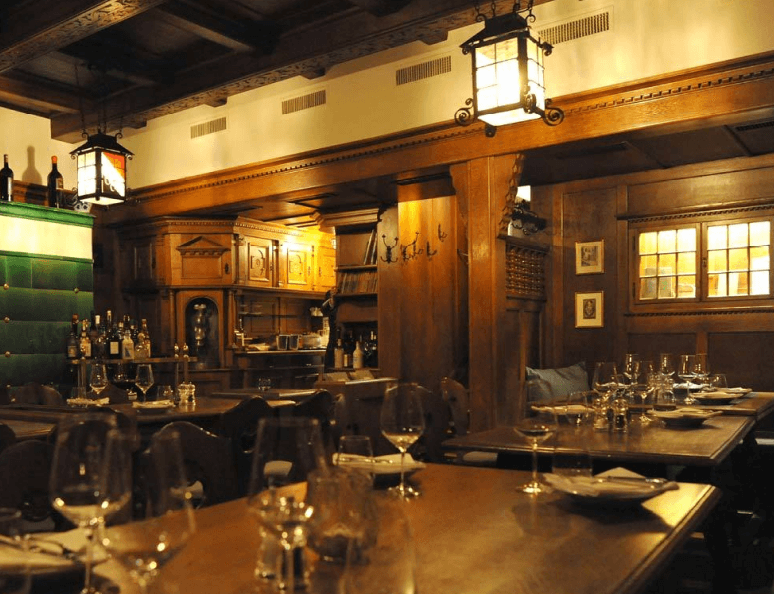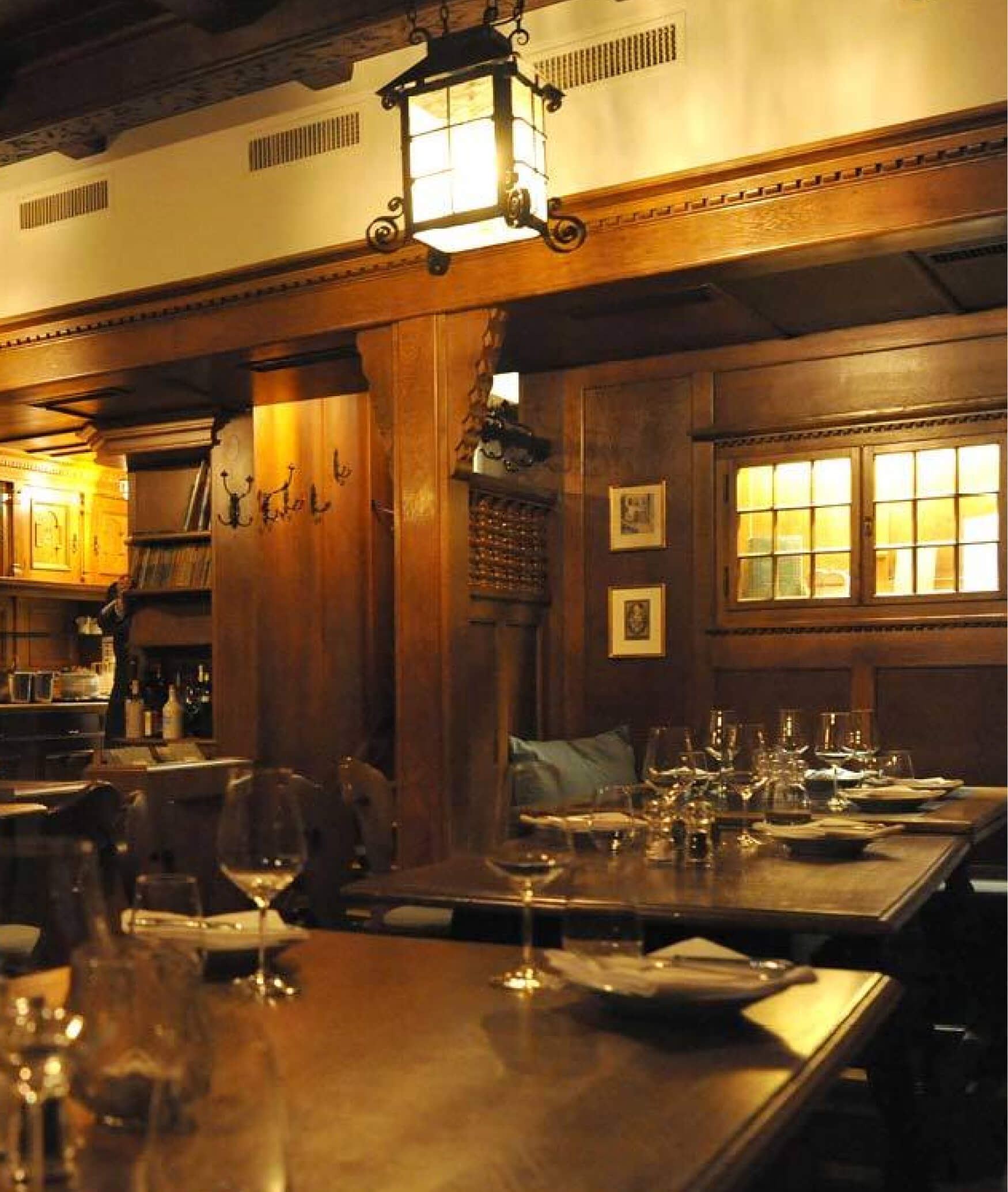 shop
Limited Stock
On a rainy Zurich afternoon, we skidded down the cobblestones past a storefront that stopped us in our wet tracks. We peered through the windows at the showroom and had to go in. Inside, slender Limited Stock cabinets run the length of the narrow space. Japanese knives, John Derian porcelain, Korean ceramic vases, Kashmiri pashminas, and Susanne Kaufmann bath oils are among the tightly curated offering that has no real rhyme or reason to it. Owners Ulrich Zickler (an exhibit designer) and Hubert Spörri (a sculptor) choose items that have an individual, handcrafted feel, and the result is a very Swiss (i.e., spare) medley of precious bits and pieces. It's impossible to leave without a little something. For us, it was one of Derian's decoupage trays.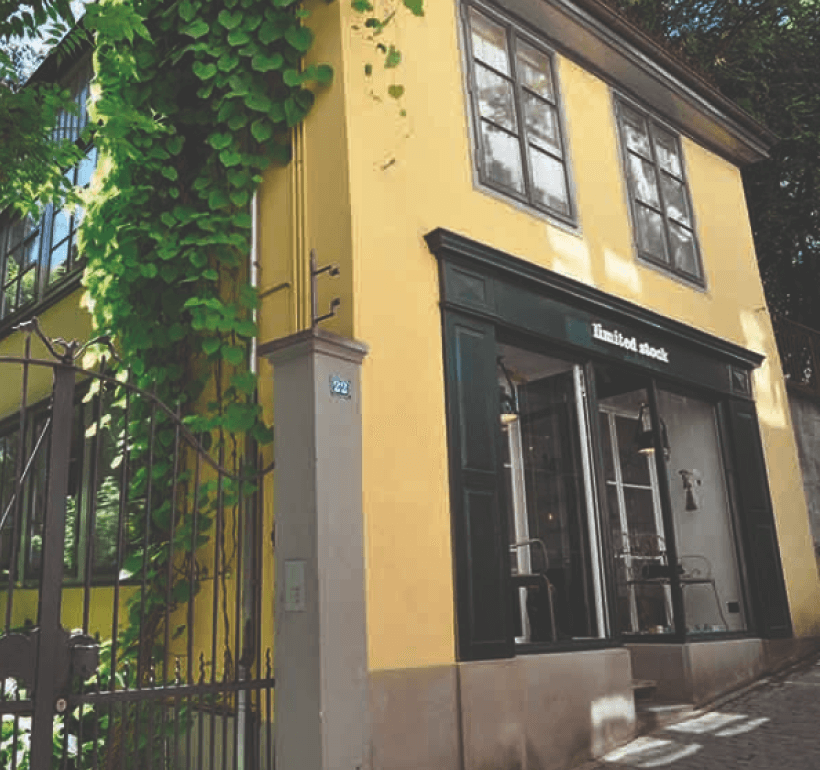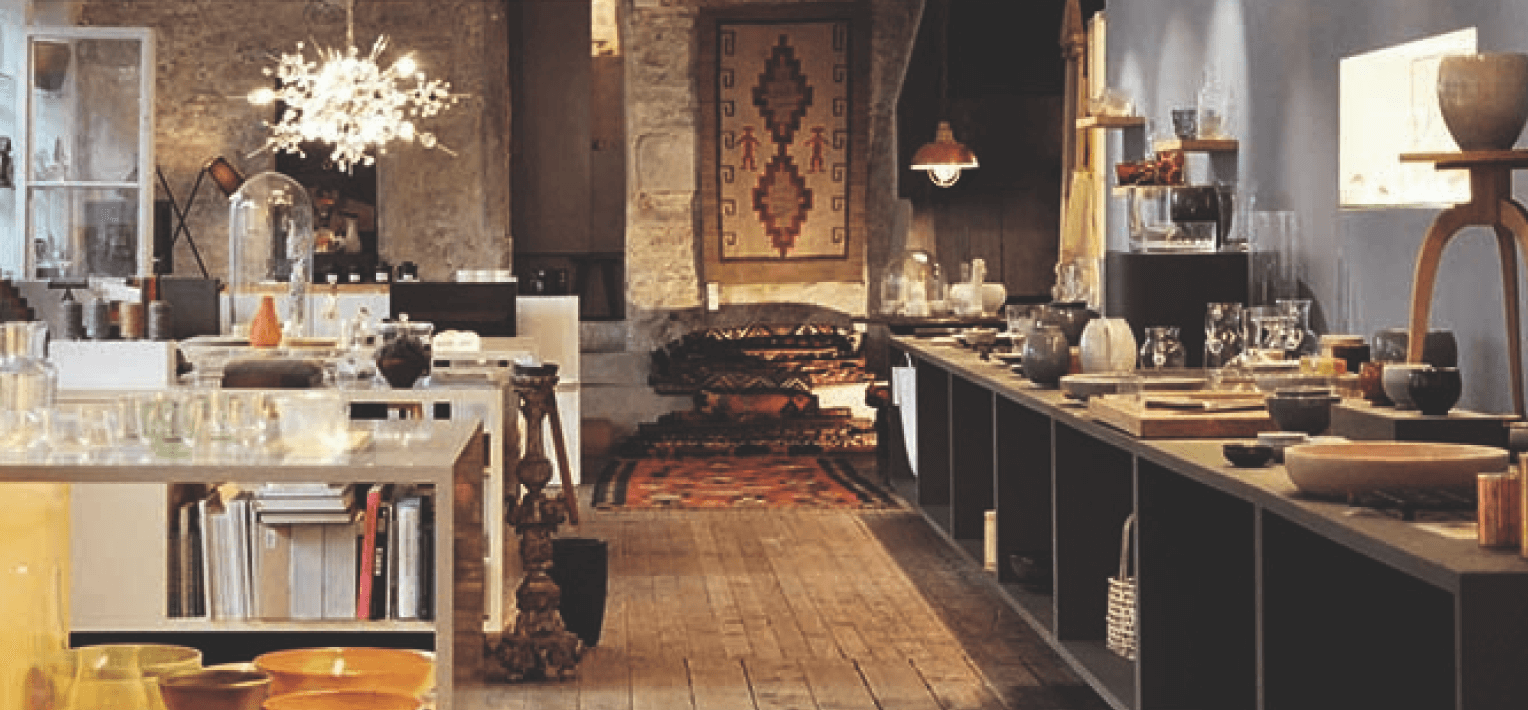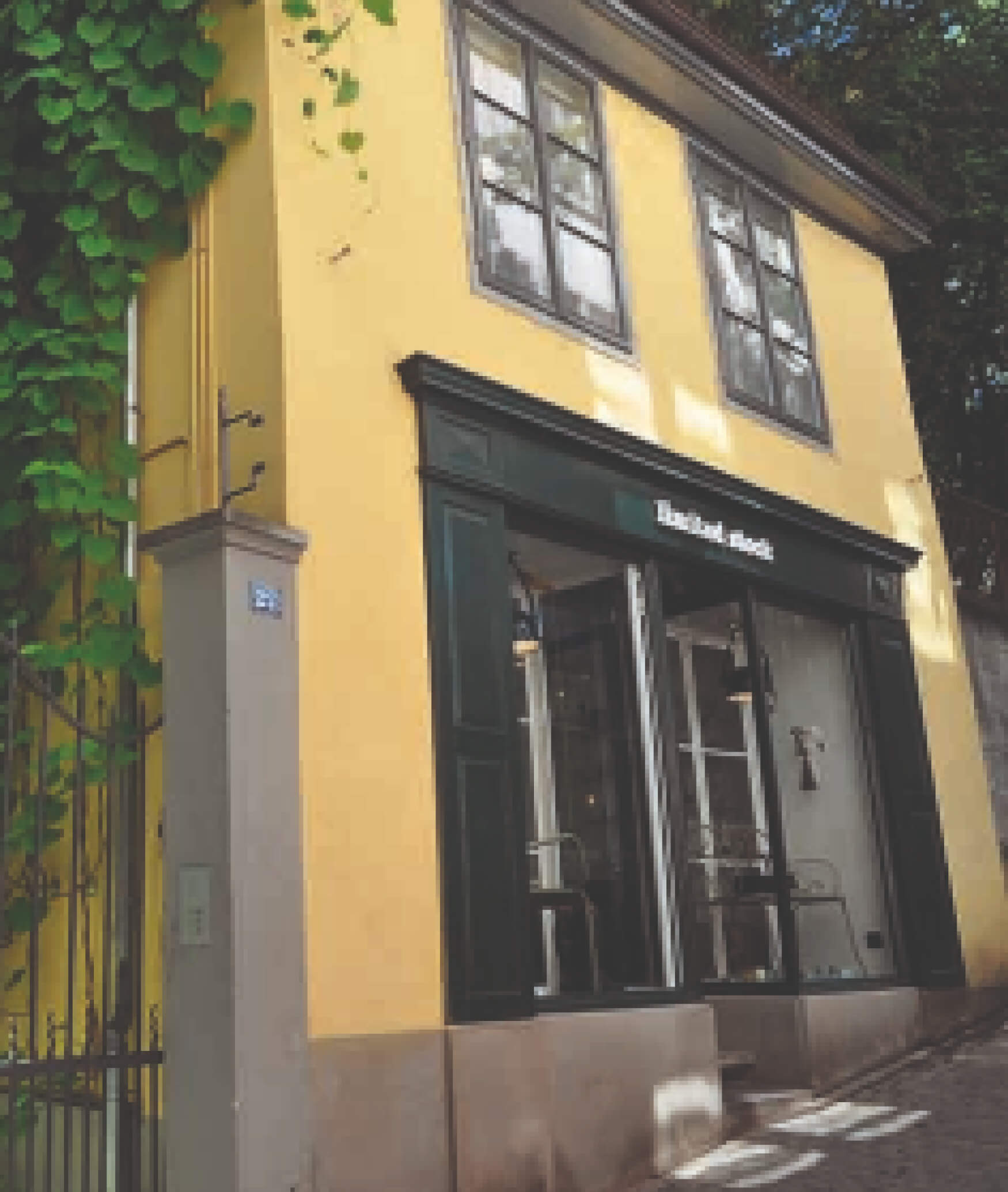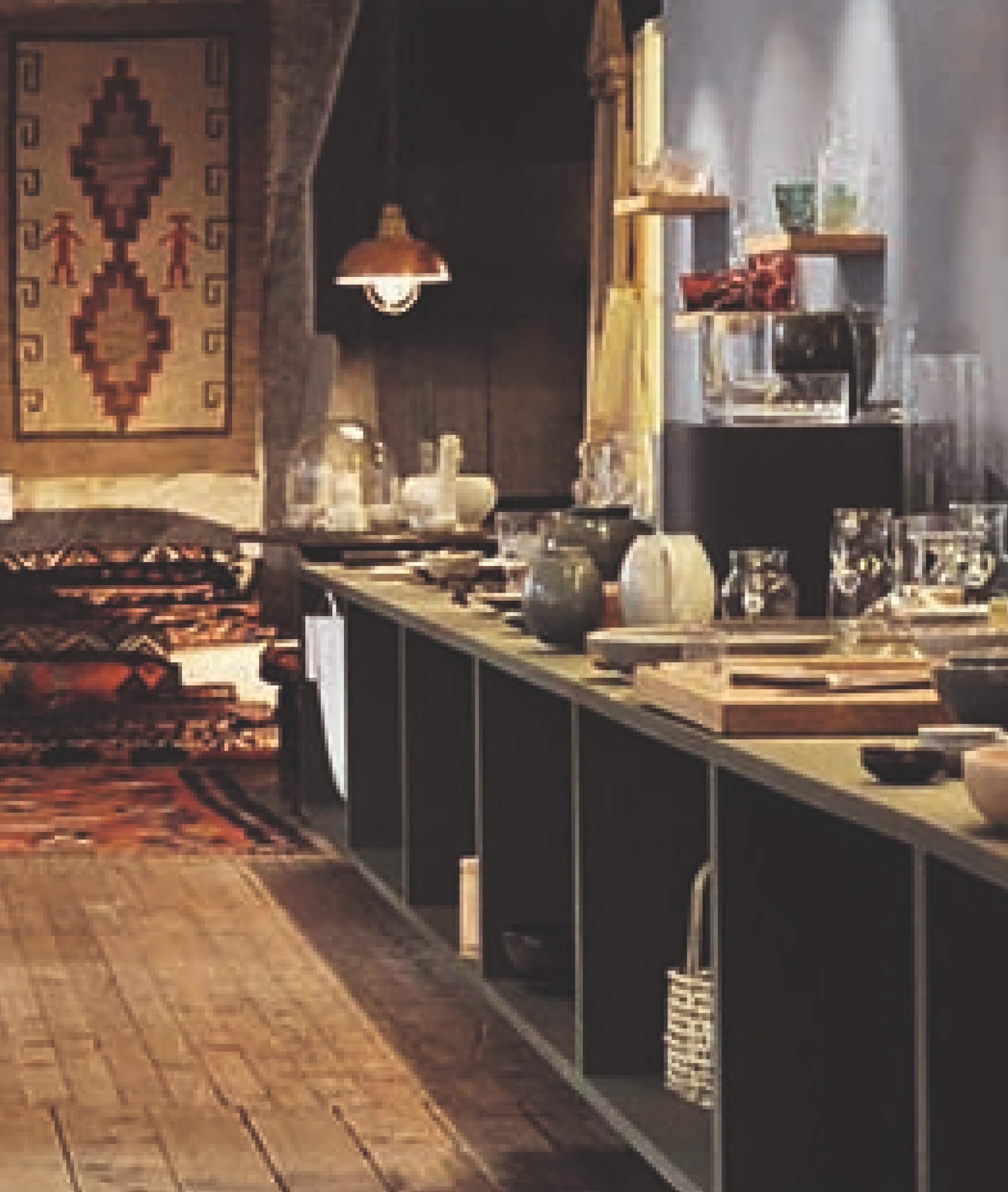 Never Stop Reading
Zurich is rich in independent booksellers, many of which have a distinct theme. Never Stop Reading on storied Spiegelgasse—the home of the Dada movement and, before the Russian Revolution, Lenin—is dedicated to the visual arts. It's the kind of design-forward, prettily tiled place where you want to settle in for an hour of browsing. No one blinks when you sit to flick through a stack of books or become too engrossed in a chapter before buying. It's a relaxed space intended to foster creativity and host regular art exhibits that also just so happens to sell books.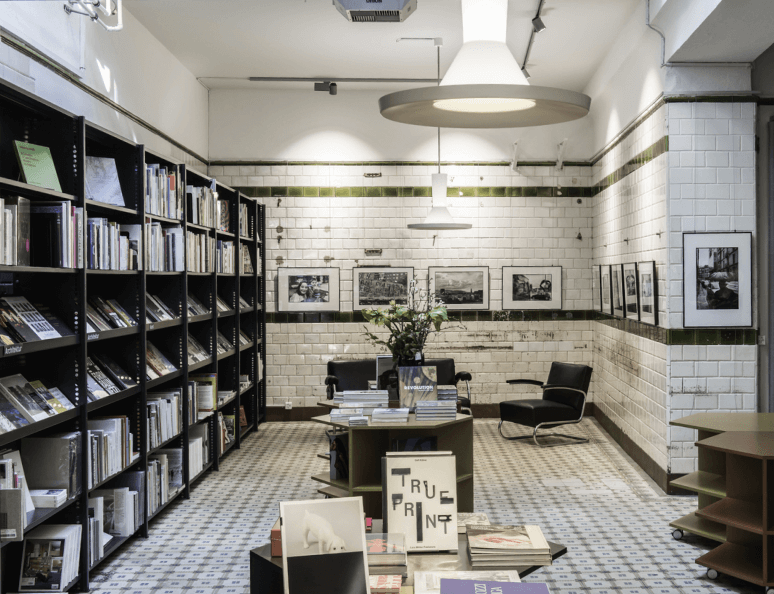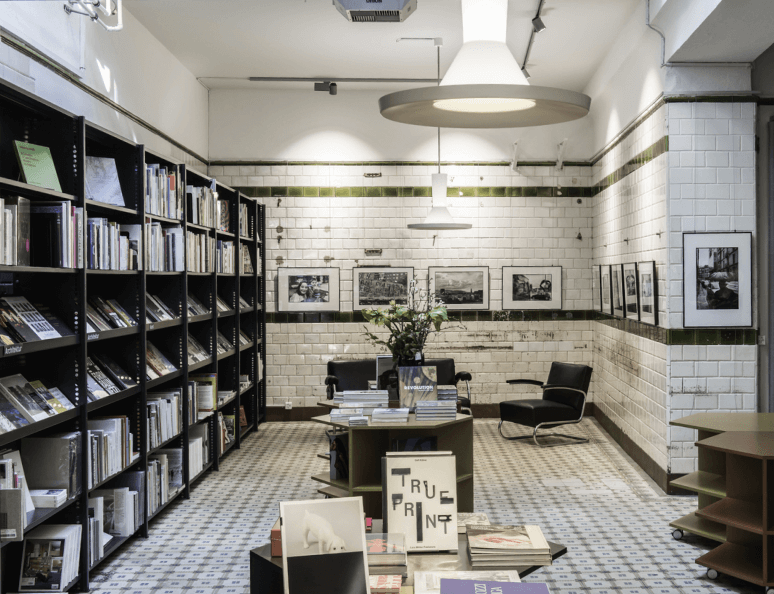 sweet treats
Confiserie Sprüngli
Luxemburgerli. Zurich is famous for these rainbow-hued almond meringue and buttercream concoctions. So called because these chewy treats were introduced to the Swiss by a young chef from Luxembourg in the 1950s. They're a lot like French macarons in miniature. Sprüngli has several candy shops dotted like bread crumbs around the city. Warning: Walking through Sprüngli's doors is a deeply sensory experience that will induce even the most ardent sweet-hater to indulge. The air smells like sugar bombs, melted chocolate, and roasted almonds. And then there's the display. A pastel riot of tied-with-a-ribbon boxes and cases of pralines, cakes, and those irresistible Luxemburgerli.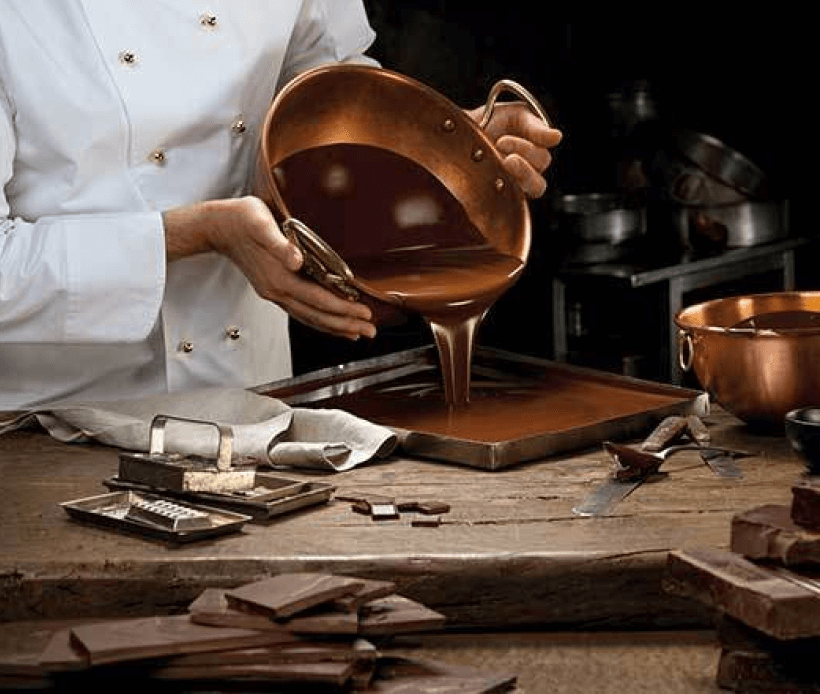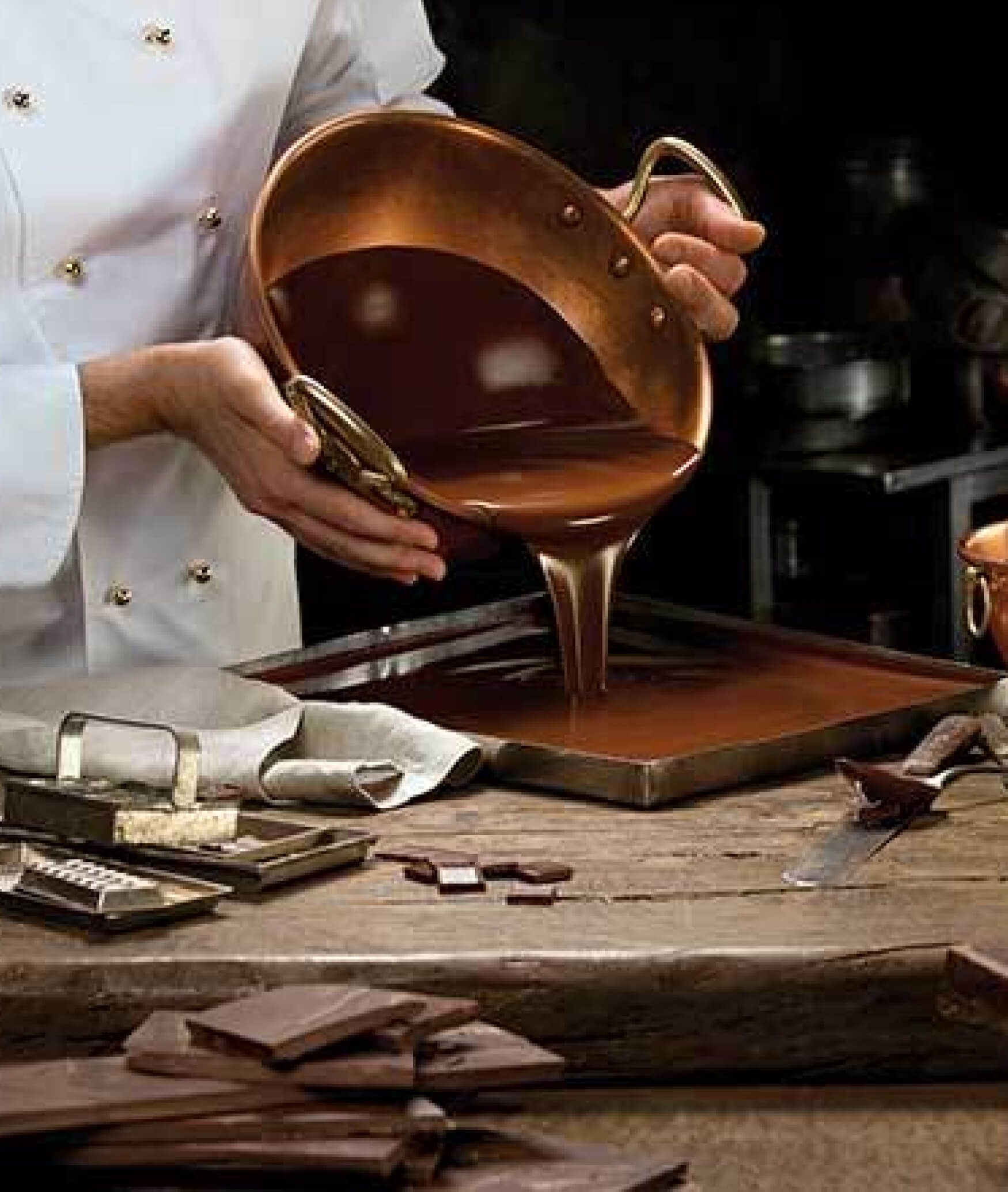 La Flor
Cocoa beans are now (finally) enjoying the same overanalysis as coffee. Bean bars are as popular in Zurich as espresso bars are in Italy, and the Swiss obsession with quality prevails. La Flor is the brainchild of three local food industry veterans. Single-origin, direct-trade cocoa beans are roasted and passed through a stone grinder before being tempered and poured into molds. The result—wrapped in beautifully minimal navy packaging—is a creamy chocolate bar with complex flavors and at least 70 percent cacao.