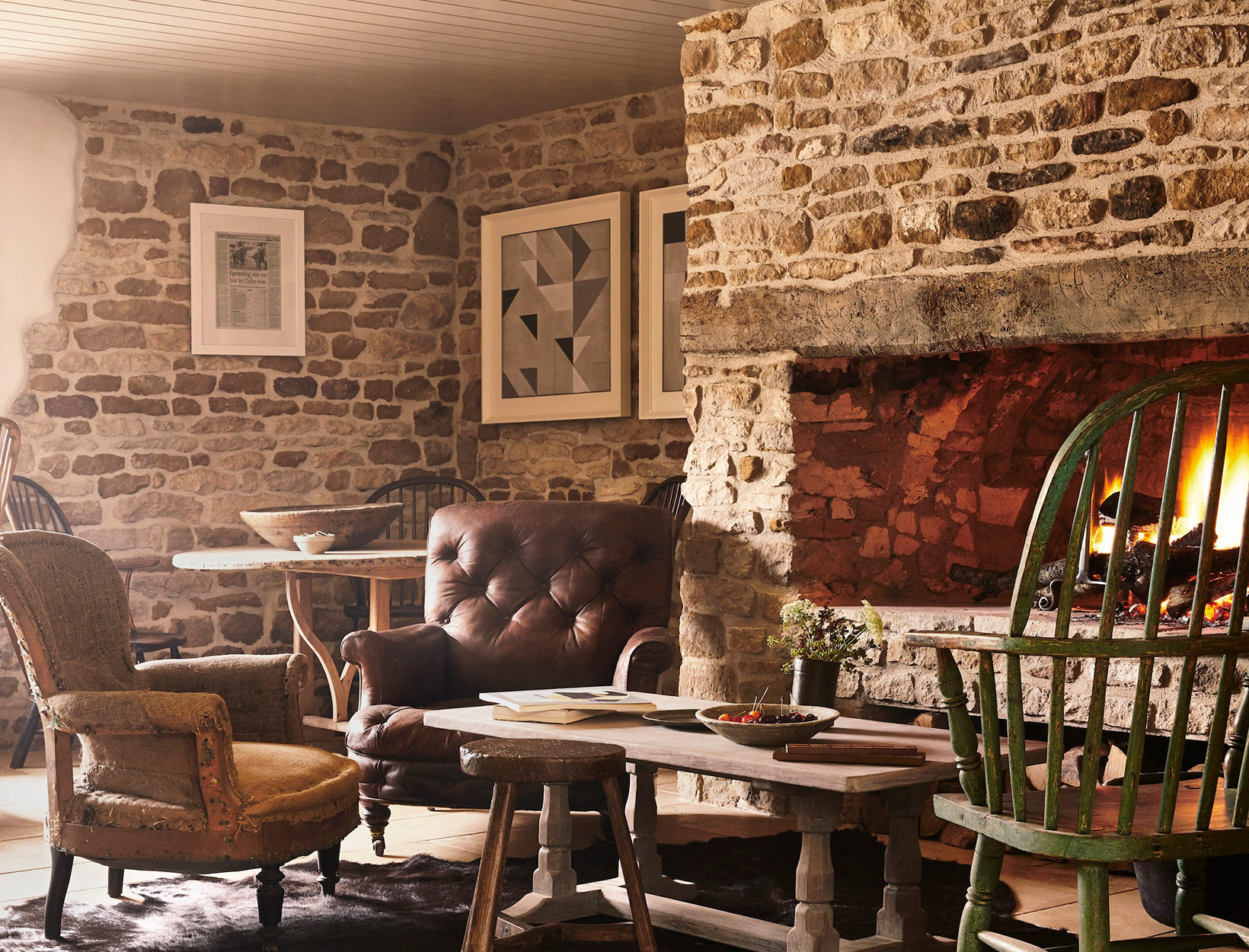 Several (Idyllic)
Days in
the Cotswolds
The Cotswolds—more than any other tangle of British villages—have a Beatrix Potter quality (but no, she wasn't from there). Pastoral places with names like Bibury, Burford, and Broadway dot the storybook region, each one more steeped in charm and dainty teacups than the last. This hilly band of southern England is the land of picnics and fireplaces, Victoria sponge cake and Jane Austen loveliness. And everything is green. Fields, valleys, rain boots, armchairs—they're all green. Except for the villages, which, due to a bedrock of Jurassic limestone, are the color of honey.
Buried among the jumble of hills, meadows, and hamlets that make up this bucolic pocket of the world are quietly outstanding hotels, pubs, and castles. In other words, the time has come to trade in the cosmopolitan clamor of London for wax jackets and undulating hills. Rent a car, stay to the left, and spend a few days in the endless romance of the Cotswolds.
WHERE TO STAY
Thyme

Thyme

Truth be told, Thyme found us. Whenever a prospective jaunt through the English countryside was suggested, someone would mention this idyllic estate buried in the Cotswolds.

A long road populated with Black Welsh Mountain sheep leads up to a sprawling converted farmhouse—complete with an airy barn and all the nooks, crannies, and zigzagging corridors you could hope for. Set around the main house are a series of cottages and larger historic residences (which you can rent) complete with design-forward modern kitchens, antique-filled drawing rooms, and bedrooms so gorgeous, we went to bed early and slept late. Instead of typical minibars, you'll discover a communal honesty bar stocked with botanical gins, whiskeys, and house-made cocktail muddles waiting to be stirred into tonic.

Thyme was conceived as a village-within-a-village by the Hibbert family (who live there). Between the excellent cooking school (run by the Hibberts' chef son Charlie), the earthy spa, the Ox Barn restaurant, the

Swan pub, and the acres of gardens, it's easy to spend a day doing…not that much. On one of our favorite afternoons, we spent a few hours with gardener Stephen Fudge exploring tidy plots dedicated to strawberries, brassicas, and new potatoes. During a leisurely amble through the perfumed wildflower gardens and into the herb sheds, the scent of lemon verbena perked us right up for predinner drinks.

Thyme was conceived as a village-within-a-village by the Hibbert family (who live there). Between the excellent cooking school (run by the Hibberts' chef son Charlie), the earthy spa, the Ox Barn restaurant, the Swan pub, and the acres of gardens, it's easy to spend a day doing…not that much. On one of our favorite afternoons, we spent a few hours with gardener Stephen Fudge exploring tidy plots dedicated to strawberries, brassicas, and new potatoes. During a leisurely amble through the perfumed wildflower gardens and into the herb sheds, the scent of lemon verbena perked us right up for predinner drinks.

About those drinks: We had them while curled up on velvet sofas at the Baa Bar (get it?). The coffee tables are heavy with cookbooks, design tomes, and arthouse magazines to flip through. And the cocktails (try the English Rose) and homemade cordials—served in delicate coupes and tumblers—come garnished with herbs, petals, and dehydrated citrus. They're almost too pretty to drink. Almost.
Daylesford

Daylesford

An hour's scenic drive from Thyme is the seat of Carole Bamford's slow-food empire, Daylesford Farm. And in addition to eating here, you can sleep here. Adorable golden limestone cottages come with kitchenettes equipped with every tool you'll need for supper on the Aga. For the cooking-shy, the welcome pack of daily essentials—organic coffee, Provençal rosé, dairy, and fresh eggs from the coop—is more than enough to keep you sated until it's time for lunch at the Old Spot. Titles on gardening and the great outdoors are tucked into the many shelves, while bathrooms are generously stocked with heavenly Bamford organic products. (The B Silent oil induced a deeper sleep than we'd had in ages and seemed to manufacture good dreams only.)

Expect conveniences like fireplaces laid and ready for the match in every room, washer-dryers in the basement, and bicycles by the front door for when you get the itch to cruise the country lanes. Before taking full advantage of the thoughtfully drawn maps of scenic walks, make a pit stop at the Farmshop. (We bought crumbly oatmeal biscuits, bottles of house-made kombucha, and a basket of local berries because no one wants to hike hungry.) Drizzly afternoons at Daylesford are made for massages at the Bamford Haybarn Spa and cooler evenings for cocktails mixed with just-picked herbs and flowers at the Legbar.
Soho Farmhouse

Soho Farmhouse

The Soho Group's version of country living is a convenient fifteen-minute drive from the nearest train station. And there's no way to describe it except as the camp for grown-ups you wish existed. (Nonmembers are welcome to book in depending on availability). Founder Nick Jones is a genius at figuring out precisely what stressed-out city-dwellers and wanderlust-y millennials want and delivering it, usually on a chic, intentionally rustic platter.

First, we have to talk about the accommodations. On the smaller side, the piglets resemble mini wooden dwellings with gently sloping ceilings, roomy beds, sofas, and bathrooms filled with Cowshed products. The use of space is genius and somehow makes it feel cozy, not cramped. One level up are the studios, which are essentially remodeled barns. We can't decide whether it was the outdoor bathtub, the indoor potbellied stove at the foot of our massive bed, or the kitchenette that had us checking our bank account to see how many more days we could eke out.

Parked outside each residence, you'll find bicycles and rain boots—in your size—inviting you to gallivant around the grounds at your leisure. And we biked everywhere—up to the plush cinema on a rainy afternoon, over to float in the heated outdoor pool, and around the lake to contemplate—and then take—a spin on the rowboats.
The Lygon Arms

The Lygon Arms

History buffs—and everyone else—tend to swoon over the storied Lygon Arms, which has been operating as an inn since the fourteenth century (the current building dates to the early seventeenth century) and has a guest book that includes Oliver Cromwell and Elizabeth Taylor. Architecturally, the sprawling, wood-beams-and-vaulted-ceilings property doesn't stray far from its Jacobean foundations. Rooms can be small, so we suggest going for the more-private cottage deluxe option. The ground floor is a maze of snug corners, stuffed sofas, leather armchairs, and antique memorabilia. The bar serves a gin and tonic that is beyond reproach, and the full English breakfast at the elegant Lygon Bar & Grill is worth the journey.

Lucknam Park

Lucknam Park

Staying at Lucknam Park is a lot like staying at Downton Abbey. The forty-two guest rooms are Georgian marvels, some with frilly canopy beds, all with chintzy wallpaper, silk lampshades, and antique mahogany writing desks—for all the letters you might actually write in a place like this. Evenings kick off with dressy drinks in the library. That's followed by a formal feast—Scottish salmon bathed in butter, Wiltshire beef, that sort of thing—at Michelin-starred restaurant Hywel Jones. Lucknam Park's inviting, relaxed atmosphere is luxurious but never stuffy. Between afternoon canters around the estate on one of Lucknam's horses (there are also well-trained ponies for smaller riders), outdoor soaks in the saltwater pool, and patisserie classes at the superb cooking school, there's little incentive to leave the estate. And it's 500 acres, so why would you? But if you do, head to Castle Combe. The village has barely changed since the 1600s.
Where To Eat & Drink
The Wild Rabbit

With flagstone walls, streams of natural light, and elegance in spades, the eighteenth-century Wild Rabbit is worth every mile it takes to get there. And it takes a lot. The Wild Rabbit is the smaller sister property to nearby Daylesford, and its pub menu—most of it sourced from Carole Bamford's organic farm—is solidly British. By which we mean Cheddar cheese tartlets, venison paired with creamy celeriac and sharp chicory, thick-cut chips, buttery vegetables, and proper puddings. On the somewhat lighter side, we loved the smoked salmon on nutty pumpernickel and balsamic onions. The pub also operates as an inn. Spacious guest rooms are next-level comfortable (and an excellent value at roughly £150 a night) with inviting armchairs, product-laden bathrooms, and cashmere throws strewn across the spacious beds.

Ox Barn Restaurant

If you're not staying at Thyme (though we highly suggest that you do), book in for supper at the cavernous yet cozy Ox Barn Restaurant. It's helmed by the owner's son (and Ballymaloe alum) Charlie Hibbert, and his brand of Cotswold cooking is just as homey, hearty, and farm-to-table as you would expect, but elevated. Hibbert doesn't go for rustic plating and simple preparation. Instead, a leisurely lunch or dinner at the Ox Barn might involve braised beef livened up with pickled walnuts and punchy salsa verde, with a salad of speck, kohlrabi, and local apples on the side. To finish, maybe a small bowl of fig ice cream? All artfully presented, of course. Having lunch there provides an excuse to wander the grounds with daylight on your side, poke around the carefully curated shop (we love the antique champagne coupes, vintage tea sets, and linen tablecloths), and thumb through the design books at the Baa Bar. Maybe with a glass of champagne.

The Village Pub

The Village Pub serves excellent food every night of the week, but the Sunday lunch is otherworldly. A typical plate looks like this: thin slices of tender meat, extra-crispy roasted potatoes, airy Yorkshire puddings, and lashings of buttery vegetables all doused in a rich gravy. It's intended to be a drawn-out, almost ceremonial affair. Everyone eats too much and somehow still finds room for an apple tart, fruit crumble, or sticky toffee pudding. It's all followed by a long ramble through the ridiculously lush Barnsley House grounds afterward. (It's no surprise that the property was at one time owned by a famous gardener, the late Rosemary Verey.) Food aside, the setting—low ceilings, blazing fires, sofas scattered with tartan cushions—invites you to sit, stay, and read the newspapers with a cup of coffee or perhaps a glass of port.

Broadway Deli

Directly across the street from the Lygon Arms, Broadway Deli is the kind of grocery store you always wish would appear before you go on a road trip. Through the heavy door, a rainbow assortment of farm-fresh vegetables and the smell of freshly baked bread—tangy sourdough, rye, ciabatta, crusty baguettes—are nirvana to the ravenous tourist. Meanwhile, rustic wood cabinets heave with locally made jams, chutneys, and crackers calling for cheese. The teeny café at the back prepares generously stuffed sandwiches and extra-frothy cappuccinos to order. Don't forget to slip a few apples and maybe a scone in your bag for the road.

Coach House Coffee

Burford, Bilbury, and Barnsley are not characters in a Tolkien epic; they are in fact villages. In Stow-on-the-Wold—another charmingly named hamlet—the Coach House is our cafeteria for an iced almond-milk latte and a slab of spiced tea cake. Don't come here for sandwiches and salad. This petite café is dedicated entirely to sweets—particularly those that are gluten- and dairy-free.
Where To Shop & What To See
Cutter Books

Cutter Brooks

Cotswold boutique Cutter Brooks is a complete surprise. We expected another adorable but predictable homewares store with painted cups and impractical pot holders, but instead we walked into a delightfully fragrant, impeccably stylish magpie's nest of treasures. Store owner (and former Barneys fashion director) Amanda Brooks has brought a tastemaker's eye to this raincoat-and-Wellies part of the world. Stop in, check out the ikat tablecloths, the scrunchies made from vintage Chanel scarves, the woven straw baskets straight from a Saint-Rémy market, and the classic pieces personally scouted by Brooks. Maybe the best shopping isn't in London—it's in sleepy Stow-on-the-Wold.

Borzoi Bookshop

Rain-splattered windows, blazing fires, plates of shortbread, and steaming cups of tea are all perfect accompaniments to an afternoon spent reading. The Cotswolds is speckled with dozens of excellent bookshops. But independent bookseller Borzoi (named for the original owners' dogs) tops the list. The small space packs a literary punch. Shelves are stacked with hard-to-find titles from smaller publishers, everything Jane Austen ever wrote, a well-curated travel section, and dreamy gardening tomes made for the coffee table. Books aside, Borzoi stocks a selection of handmade greeting cards and artsy wrapping paper we couldn't resist. For rare and used editions, sheet music, and beautiful old maps, head to the nearby Evergreen Livres.

Barnsley Gardens

Barnsley Gardens

Overdoing garden appreciation isn't a thing. And the lawns designed by Rosemary Verey (the late godmother of the gardening world) at seventeenth-century Barnsley House are next-level. A four-acre medley of vegetable gardens, avenues cloaked in Laburnum trees, and wild meadows surrounds the equally lovely Barnsley House. Failing to factor in at least half a day to get intentionally lost in Verey's floral labyrinth is a mistake. Commit. If not for the blooms, go for the out-of-this-world, garden-to-table lunch you can savor afterward at the on-site restaurant, the Potager.

Blenheim Palace

Blenheim Palace

Eighteenth-century Blenheim Palace sits on the eastern edges of the Cotswolds, on the banks of a man-made pond. A Baroque tour de force (translation: mountains of gold), the palace is also the birthplace of Sir Winston Churchill. Take a guided tour through the masterpiece-heavy reception rooms—it's entirely worth it. Blenheim's custodians are keen to keep the property artistically enticing, and their foundation hosts regular exhibits of major artists, like Yves Klein and Ai Weiwei. The palace is surrounded by hundreds of acres of gardens and woodland dotted with sculptures, water terraces, and more fragrant rosebushes than you can count. Bookmark a day to explore Blenheim's old-world opulence with the help of modern conveniences, like lunch at the glass-enclosed Orangery restaurant and excellent flat whites from the Pleasure Gardens Café.