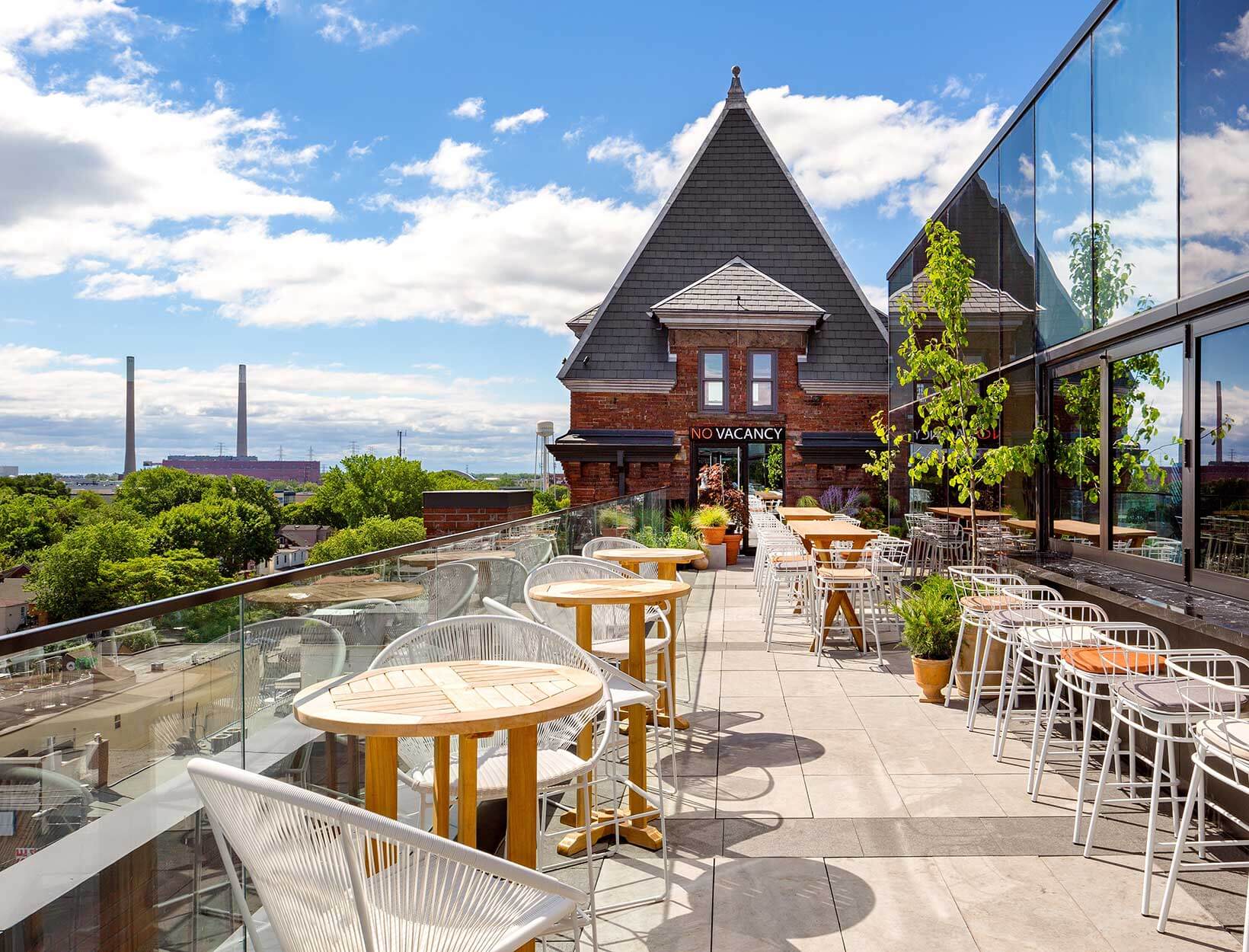 A Perfectly Dreamy

Weekend in Toronto
In partnership with our friends at Smythe
A weekend spent with our northern neighbors can go a few ways. Eager travelers with prebooked museum tours, locked-in-months-ago dinner reservations, and a Notes app full of must-dos will no doubt have a stellar weekend. And they will love every scheduled minute. But Toronto is a city for both the freewheeling wanderer and the tick-the-box itinerary maker. Neighborhoods like Yorkville, Kensington Market, and Dundas West are worthwhile destinations all on their own. Every leafy corner comes with world-class coffee, cute and laid-back wine bars, and food good enough to rival the boldest names in the city. The culture and the shopping aren't too shabby either. Whether you identify as an Old Masters obsessive, a dedicated tapas eater, a craft-beer connoisseur, or none of the above, our city guide of tried-and-tested favorites is a solid place to start. But for an idea of what a whirlwind weekend over the border might look like—and some ideas on what to pack—start here.
Where To Stay

Don't get us wrong—we love a grand marble lobby as much as the next hotel guest. But Toronto has so many cool, more contemporary places to stay in its skyline, it would be a shame to miss them. The Broadview is probably the coolest of them all. A former strip club, it has a decadently louche vibe, underscored by velvet burgundy curtains, thorny floral wallpaper, and gold fixtures. It's dark and moody and sexy, and then there's the rooftop. Saturated in that stark Toronto light by day and exploding with the energy of the locals who treat the place like their own by night, this may be our favorite spot anywhere in town for a martini and a few small bites. For a more relaxed, neighborhood-y night's sleep, check into the Hazelton. Yorkville is the locale we always want to stumble upon in a new city—walkable, pretty, amazing coffee on every corner. Rooms at the Hazelton are huge, done up in shades of stone grey, and beautifully streamlined. The consumer delights of Yorkville—the shopping, the food, the goop MRKT in the lobby—beckon, and a hot-stone massage at the Valmont spa and a few laps in the pool render the weekend an instant success as far as we're concerned.
WHAT TO WEAR
What to Do

After a lunch cobbled together from the stands of St. Lawrence Market (the turkey bacon everything bagel from St. Urbain is legit), spend the afternoon without Google maps. No one ever complained when they got lost in the Frank Gehry–designed, maritime-inspired Art Gallery of Ontario. (The modern exterior looks like the glass bow of ship ploughing through Dundas Street.) Among the thousands of Inuit artworks and Dutch Master paintings is the largest, most exquisite collection of Henry Moore sculptures anywhere in the world. Ogle as many of Moore's undulating bronze creations as time will allow, and refuel at the AGO's café before moving on. The shopping scene in Toronto can vary from very fantastic to very meh. Steer toward the former by starting at Mjölk. Curated by husband and wife John and Juli Baker, the store's edit of handcrafted homeware, furniture, and unusual bits and pieces for the kitchen always has us reaching for our credit card. Meanwhile, Rosedale's the Narwhal stocks our dream lineup of Ulla Johnson, Rachel Comey, and Canadian Jenny Bird's delicate jewelry, and then of course, there's the crown jewel of shopping in Toronto: the goop MRKT in the Hazelton lobby.
WHAT TO WEAR
Where to Eat

The cortados at Fika are an incredibly motivating reason to get out of bed. Tucked up a fleet of steps inside a turquoise Kensington Market townhouse, Fika's interior is all bleached-wood Scandinavian calm. Once you step inside, take a deep breath—that's the smell of cinnamon and cardamom from the warm, buttery Swedish kanelbullar on the counter (more on those in a minute). Sit down to a bowl of Nordic granola heaped with slow-cooked fruit, along with one of those perfect coffees, and brown-bag a kanelbullar for later. For dinner, Bar Raval's Gaudí-esque design is unlike anything else in town, and restaurateurs Grant Van Gameren and Robin Goodfellow know how to craft an ambiance that's elegant without being the least bit stuffy. Somehow picking at countless small pintxos—tomato bread, boquerónes, jamón croquetas—makes for a significantly more satisfying meal than a traditional white-tablecloth three-courser. Alternatively, Jen Agg's latest venture, Le Swan, is filled with oxblood booths made for sliding into and staying put in well past bedtime—it's open until 2 a.m. The menu is a mashup of American diner classics and French bistro mainstays, which means you can have a grilled cheese with your sole meunière when the clock strikes midnight.
WHAT TO WEAR