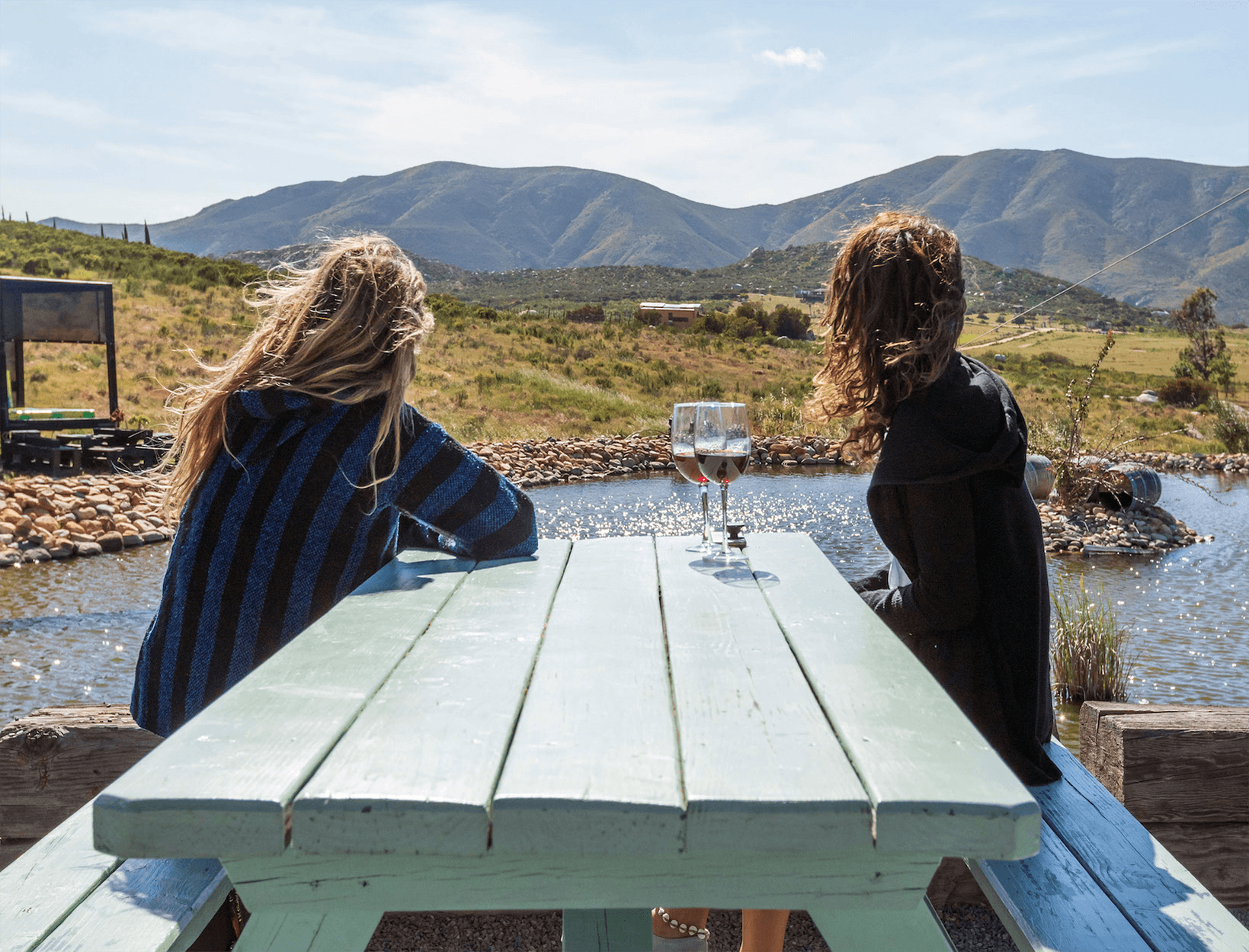 Photo courtesy of Monica Orozco
A Perfect Weekend

in Mexico's
Wine Country
The wine was crisp and bright and felt like wearing a gauzy cotton dress on a hot night: breezy
and perfect.
A wine-tasting trip a stone's throw from Los Angeles isn't all that surprising. It's just that we had driven due south, not north. We were on a design and wine trip in the Valle de Guadalupe, Mexico's wine country. It's much closer to LA than Napa Valley, and how this lovely destination had escaped our radar for so long is inexplicable.
The Guadalupe Valley, about eighty miles southeast of San Diego, has a unique microclimate comparable to California wine country's: granite-rich soil; dry, hot days; and cool nights. The region has been producing wines since the late '80s, when the boutique winery Monte Xanic started creating Mexican wines from imported Colombard and Cabernet Sauvingon grapes. (A group of Russians originally brought the grapes here at the turn of the century.)
The easiest way to get to the Guadalupe Valley is to walk across the border from San Diego, which is surprisingly easy if you go through PedWest, the newer, less congested port of entry. From there, you can hire a local driver or ride service to bring you to the valley. Better yet, hire a guide—a local who knows the fabric of the region and has a sense of where it may not be safe to drive. As we traveled south toward Ensenada, our guide, a woman from Tijuana named Illya Haro, spoke rapidly about the culture of the seaside towns we drove past. Once we headed inland, the landscape turned into a textured quilt of greens and golds and earthy browns. The valley looks like Toro and Napa merged, except with fewer houses—vineyards in geometric rows that run into the mountains and amazing views under an unrelenting sun. Nothing is overrun here. Nothing hints at mass-produced. The roads are bumpy and lined with fruit stands. The air is dry and smells like freshly cut wood. The cell service goes out and comes back and goes out again.
And the Guadalupe Valley gives you something that's increasingly hard to find: the feeling that you're the first to see it. (That is not the case, given how the region has grown in popularity over the past several years: There were six wineries in the mid '90s; there are now more than 130.) We met vintner Hugo d'Acosta and a handful of other locals, sat on Adirondack chairs, sampled a glass of his chilled white, and numbers be damned: It felt as if we were visiting one of the last untouched places on earth.
Where to Stay
Where to Stay
Encuentro Guadalupe

Encuentro Guadalupe looks as if its guest suites—perfect rectangles made of glass, wood, and steel—sprouted from the craggy hillside. Never before have we seen a modernist resort so perfectly complement its surroundings. The suites are dramatic and pristine. Each one has a private deck that overlooks the rocky, mountainous valley. Tijuana architect Jorge Gracia, a creative known for impeccable spaces including LA's Nightshade, created the property, which makes sense given its immaculate details (i.e., the corten steel on the buildings patinaed so perfectly that it blends in with the land).
Bruma

Ten minutes away from Encuentro Guadalupe in the central valley is Bruma, one of the region's more recent additions. It's a winery, spa, restaurant, and boutique hotel that sits on about seventy-five acres of rugged land. Its wooden modular-style architecture makes up the guest suites, which are like mini sustainable houses: Each one has its own organic garden, firepit, and terrace.
Where to Eat
Where to Eat
Fauna

When you walk into Fauna, the restaurant attached to Bruma, you feel as if you've stepped into the world's greatest party. Good times and happy energy radiate here. The room is loud and boisterous, with long swaths of thick wood that span the dining room from front to back. And the crowd comes from everywhere—Mexico City, Los

Angeles, London, Paris, down the street—to eat chef David Castro's fresh abalone with seaweed, cured lemon risotto, and cabbage blackened over the grill. After our meal, we were tempted to camp in the front vegetable garden just to score an early table the next day.
Where to Taste Wine
Where to Taste Wine
Casa de Piedra

It's a setting fit for a Merchant Ivory film: Rows of vineyards crawl up a hill, leading you to a terra-cotta-colored house done up in string lights and wildflowers. There you sit on Adirondack chairs sipping crisp Piedra de Sol, one of the current vintages, and feast on fresh, briny oysters. If you're lucky, you'll meet owner Hugo d'Acosta, an acclaimed winemaker, and his family. The d'Acostas are jovial, humble, and incredibly knowledgeable winemakers. (Hugo's studied and taught winemaking around the world, including in France, Italy, and Northern California.) They'll speak of the history of winemaking in Mexico and the importance of honoring the land around you. Make sure you explore the winery, a majestic stone building down the hill that is punctuated by a colossal metal staircase.
Vena Cava

Given foreigners' love for the Guadalupe Valley, it's no surprise that Vena Cava is owned by a British couple. Phil and Eileen Gregory moved to the valley nearly two decades ago and have since created a winery/restaurant/hangout/oasis that makes you feel you've won the golden ticket when you visit. The small but mighty winery has full views of the valley. You can sip natural rosé on the giant outdoor daybeds or make new friends eating various tostadas at the communal tables. When you need to move around, go for a tour of grounds. The winery is an architectural site made of raw wood with a boat for a ceiling. Further up the hill is the Gregorys' home, which houses a lovely boutique bed and breakfast. The property also has a yoga studio, a farm-to-table restaurant, and an art installation smack in the middle of a giant swath of rocky terrain.
Finca de Carodilla

It's encouraging to see the valley's inclination for sustainable practices and organic agriculture—and Finca de Carodilla is a perfect example. This vineyard and winery, just ten minutes north of Vena Cava, is the first vineyard in the region to obtain an organic certification for its wine. It follows strict biodynamic farming practices—recycling its water, avoiding any additives, and even burying crystals in the soil to generate good fortune and energy for future harvests.
Editor's note: Tijuana is an excellent artistic and affordable basecamp for a trip to the Guadalupe Valley. (It's about from eighty-minute drive to wine country.) Stay at the stylish boutique hotel One Bunk Inn, and start your day a few blocks away at the Cuban-inspired Cafe Central, where they'll serve you thick-cut melon sprinkled with pepitas and yogurt and crispy migas. Then head to the meticulous design store Object to shop for Mexican pottery, woven caftans, and smoky Mexican mezcal. Lunch is Micheladas and tostadas de pozole at La Justina. But don't get too full: A huge dinner at the boisterous Caesars—the restaurant where the namesake salad was created—is an experience to be had, not least for the people-watching and Prohibition-era interior design.