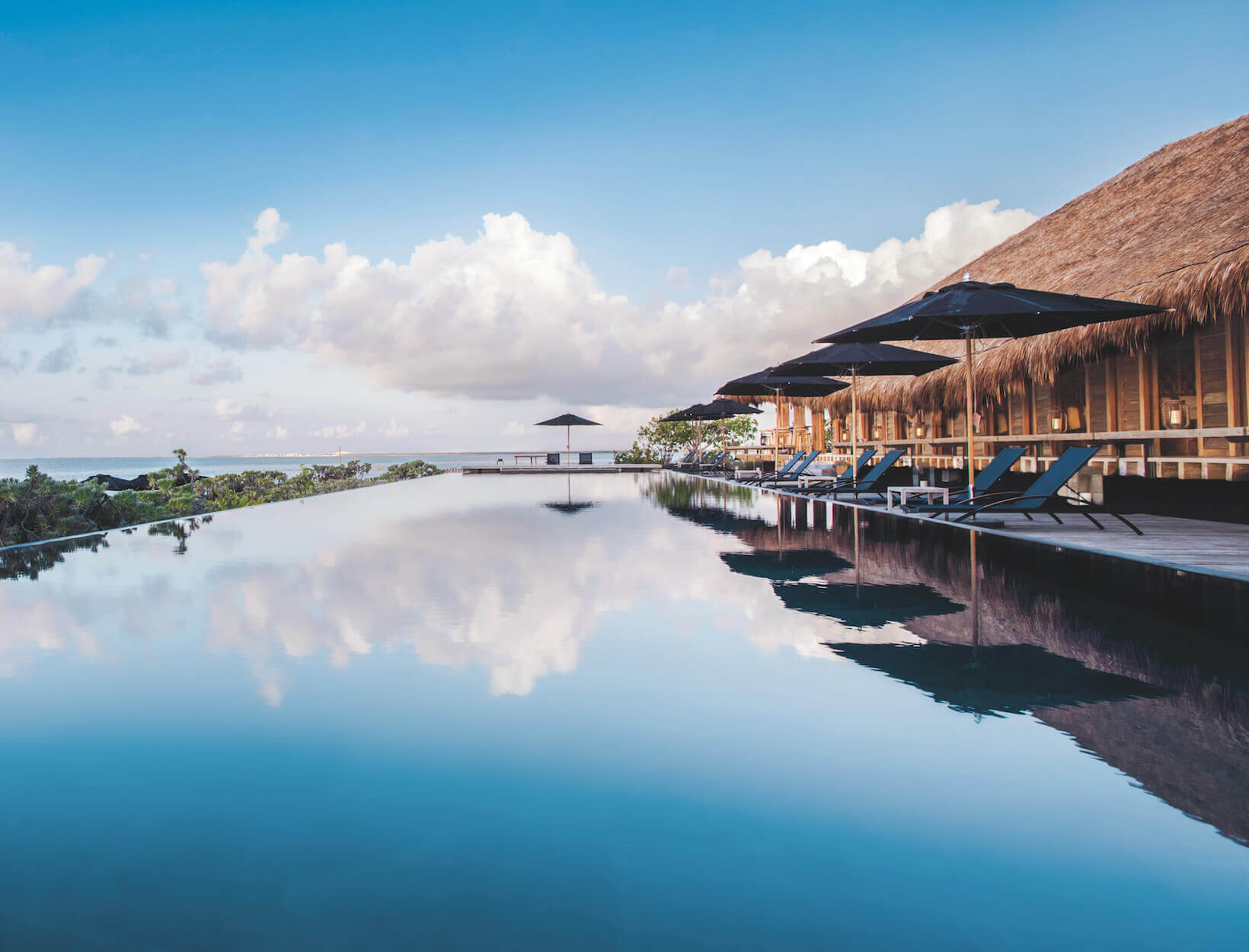 Three Warm Weather Itineraries
to Inspire Your Next Getaway
Winter, in all its sweater-clad holiday glory is pretty great, but when the doldrums (and seasonal affective disorder) set in, it's nice to to have a warm weather getaway on the books. Besides, New Year's on the beach is always a good idea. Below, sunny destinations in every corner of the world, from a secluded escape in Mexico, to a white-sand hideout in St. Lucia, to what we might be declaring the best hotel in Bali.
CANCUN
While it's easy to dismiss Cancun as the land of spring breakers, there's a reason that it became a tourist destination in the first place. In addition to the blessedly short four-hour flight from NYC, the city is situated in a picture-perfect tip of the Yucatán that gives you easy access to the white-sand-clear-ocean beach experience of the Caribbean and the stunning Mayan ruins of the country's interior all in the same sunny-year-around package.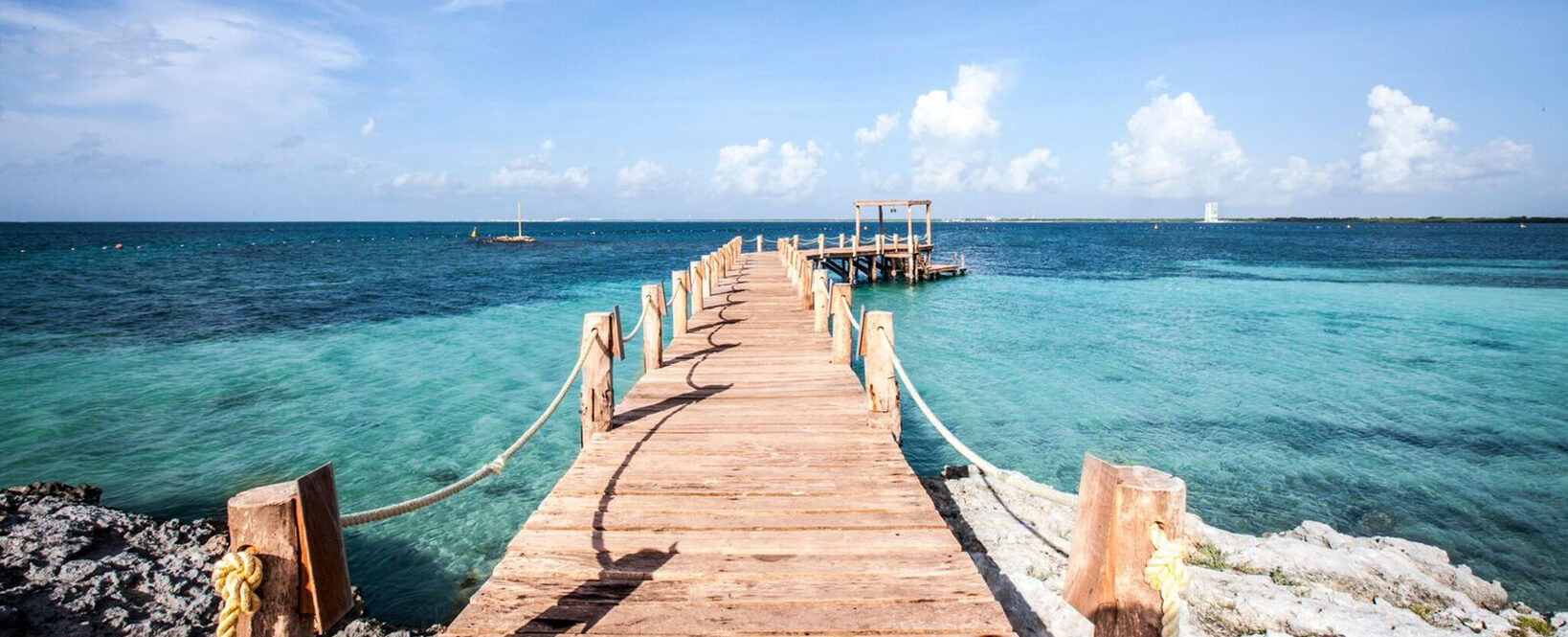 Stay: The concept at Nizuc is simple but brilliant: Completely private and secluded, it gives you all of the benefits of a Cancun vacation (direct flight and 15-minute drive from the airport, gorgeous beaches, warm water), but is completely insulated from the high-volume tourism the city's become known for. Owned by the Mexico-based Brisas group, the aesthetic here is modern and moody—think clean black umbrellas, smooth gray stone, and slick reflecting pools—which makes for refreshing contrast with the bright blue ocean and white sand beaches. At more than 250 rooms strong, it also features an impressive lineup of amenities that make it wholly unnecessary to leave the property; tennis, tons of water sports, live music, and six restaurants are all on-site. Be sure to get a reservation at Bladimir Garcia's Mexican restaurant Ramona, a fine-dining operation that many are calling the city's best restaurant.
Do: Cancun is a short ferry ride from Cozumel (which makes a great day trip), but if you're feeling flush, Nizuc's full-service private boats are a worthy splurge. Catamarans and yachts are available for day trips for snorkeling in nearby reefs, stop-offs at other islands, or just straightforward cruising. Overnight stays, which are a huge hit with the littles, are also available. On a rare rainy day, or when you're simply exhausted from the sun, the hotel can also arrange a cigar rolling workshop with local artisans.
Don't Miss: Chichen Itza, arguably the most famous (and certainly the largest) of the region's Mayan ruins, is just a two-hour drive from Cancun and probably a required visit for first-time travelers. But if you've already been, or are looking for something a bit more low-key, it's an equally brief day trip to Tulum, which is home to an ancient port that's the only ruin that's actually on a beach. To make a day of it, book a massage treatment at newly renovated Yaan Wellness, and make a reservation at Hartwood or Casa Jaguar for an open-air dinner. Another easy day trip is the Coba ruins, a series of pyramids connected by ancient white roads that wind through the jungle. While there, stop at Coqui Coqui, where you can find locally made leather goods, organic chocolate, and their signature perfume.

Excerpted from Hartwood by Eric Werner & Mya Henry (Artisan Books). Copyright © 2015. Photographs by Gentl & Hyers.
UBUD
Bali may have great beaches, but many of the best hotels on the island are in and around the town of Ubud, nestled deep in the lush, hilly jungles more than an hour's drive from any surfing spot. Surrounded by tiny farms and picturesque rice paddies, hotels here are intimate and secluded.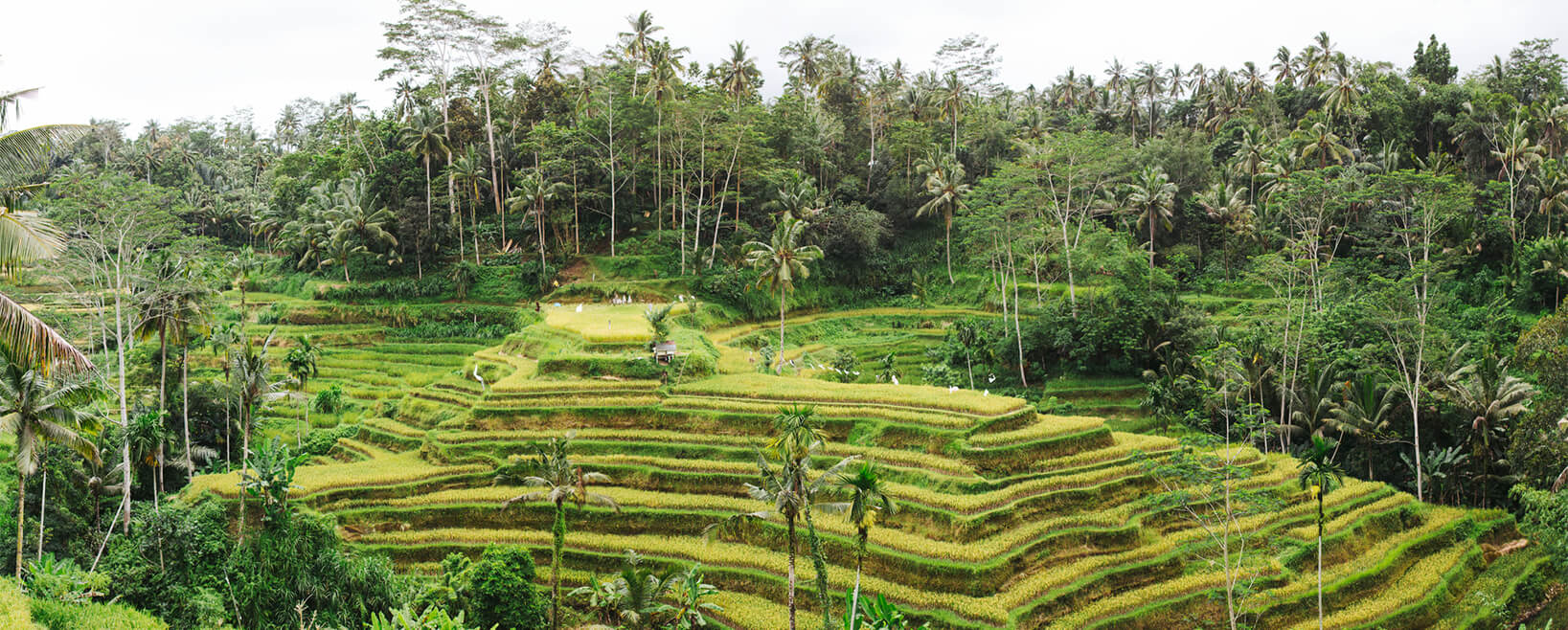 Stay: When Amandari first opened in Ubud in 1989 there were hardly any tourists that made it this far inland. The town has grown a lot since those days, though, with Four Seasons, COMO, and others claiming their own idyllic portions of the jungle. The Ritz Carlton's brand-new Mandapa property is a little bit of a new kid on the block, but it more than lives up to the hype. Part of the brand's reserve line, it's relatively small (less than 60 rooms), and since the property itself is quite large, it often feels as though you have the place to yourself. The best view is from the lobby, a dramatic, moss-covered structure inspired by the architecture of local temples that overlooks a river, several small rice paddies, and the rectangular roofs of the suites. Make your way down the steep driveway (via a buggy manned by Mandapa's attentive staff), and you'll pass the hotel's main restaurant and pool, landing in a cluster of secluded, private suites that each come equipped with outdoor showers and a private infinity pool overlooking the jungle. The spa is adjacent to the river, so you can hear the rushing water in the open-air treatment rooms.
Do: The area surrounding Ubud is a network of small villages and rice paddies that are best explored by bike. Many of the paddies are cut through with dirt or brick paths that provide access to the town's many villages, and Mandapa has a deep Rolodex of qualified, personable local guides. You can cover a surprising amount of ground on two wheels; expect to see local kids flying homemade kites, farm animals, and plenty of traditionally built Balinese towns. If you want to stay on the resort's grounds, book a spa treatment in the on-site temple, which was constructed near the river centuries ago.
Don't Miss: Locavore restaurant, which is tucked into a small space on a nondescript street in otherwise touristy Ubud, has gained a reputation as arguably the island's best meal. Founded by Dutch chef Eelke Plasmeijer and his co-chef and partner Ray Adriansyah, Locavore uses only locally grown, organic ingredients—a challenge that's had far-reaching effects as they supported farmers in switching over to organic and higher quality methods. The best experience here is their prix-fixe menu, but if you can't get a reservation in time, grab a sandwich at their deli or a cocktail at their new bar, The Night Rooster. For a meal (or even just a cocktail) that's all about the ambiance, book a table at Hanging Gardens, alongside their famous tiered pool. In the evenings, you'll access it via an over-the-top, candle-lit staircase that descends to the dining room and overlooks one of Bali's most beautiful temples. The whole experience is pretty breathtaking.

ST. LUCIA
Hurricane season was hard on the Caribbean this year, which is all the more reason to visit, since many of the islands rely on tourism as their main source of business. Thankfully, St. Lucia emerged from the season almost completely unscathed. We're partial to the more isolated Western coast of the island even though it's a bit of a journey to get there; whether you fly in from the north or the south of the island, the road is steep and winding. The drive takes an hour, but some hotels are now offering chartered boats, which take half the time.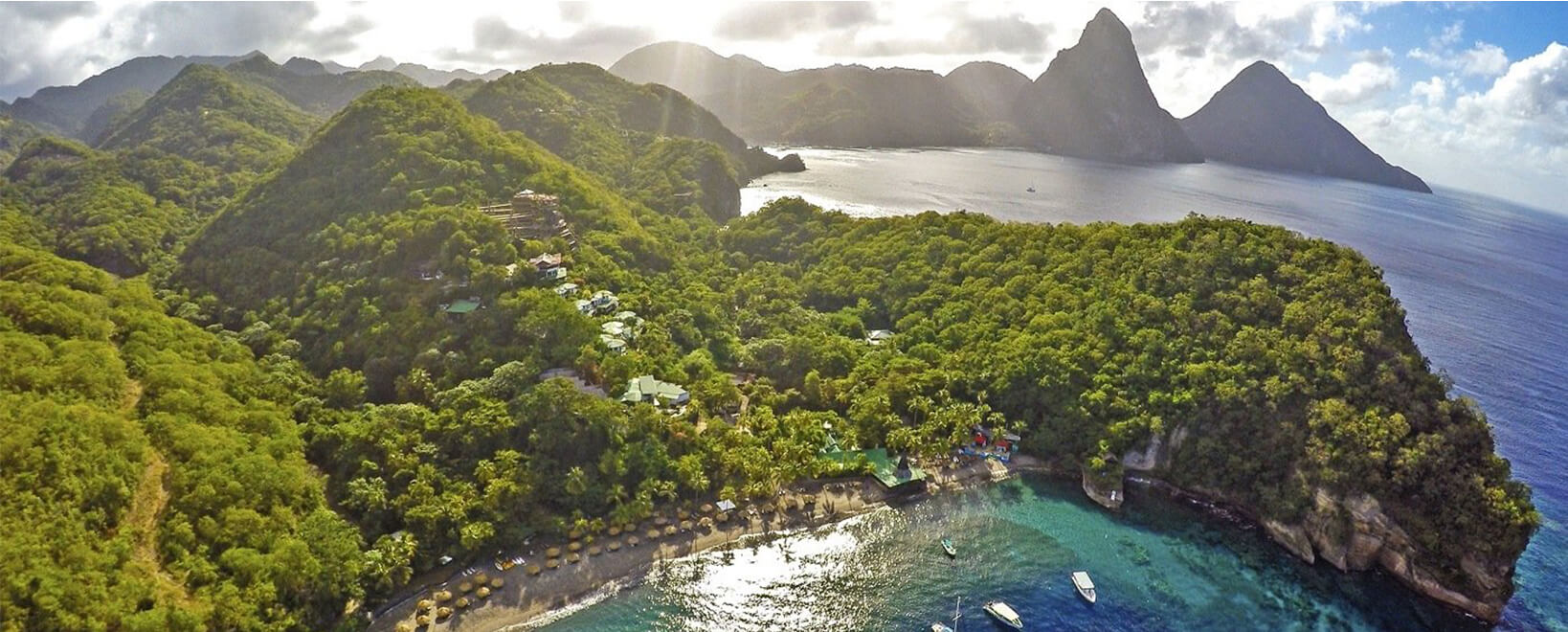 Stay: Flanked by St. Lucia's twin volcanic Pitons and tucked away on the island's west coast, Viceroy's Sugar Beach is set in 100 acres of rainforest (hummingbirds and butterflies abound). The recently renovated colonial-style cottages are the move'they're perched on the hillside and have their own claw-foot tubs, terraces as big as New York apartments, and are swathed in white, from the slip-covered furniture to the four-poster beds. Each room has a private plunge pool, if you're feeling too lazy to wander down to the Caribbean, but should you make the effort, it's one of those resorts where the main activity is ordering piña coladas to your beach chair while taking in the epic view. The spa is a necessary indulgence here, as the seven treatment rooms are tucked into private thatched-roof tree houses, and are the perfect spot for a bamboo massage or hot rock therapy. For another kind of experience, head to Jade Mountain, famous for its three-walled hotel rooms, where guests sleep under (somehow romantic) mosquito nets in rooms that open up onto the ocean, or its sister property, Anse Castanet, which offers three-walled rooms closer to the water's edge.
Do: The Pitons are in the frame of almost every notable vista in St. Lucia, so inevitably, adventurous visitors want to climb them. Petit Piton, the smaller of the two, is a very steep and difficult climb that's not recommended for tourists, but Gros Piton is a manageable four-hour trek with rewards of incredible views of the island and the town below (book a local guide through your hotel's concierge). For a more leisurely outing, book a sunset cruise along the coastline, complete with wine and champagne (or book a day tour for whale watching or deep sea fishing).
Don't Miss: Hotel restaurants in St. Lucia are incredible, so you don't need to arrange for dinner off-site, but if you do want to venture beyond the Sugar Beach compound, we like Ladera, which is just up the hill. Their outdoor terrace has unobstructed views of the Pitons that are particularly beautiful at sunset, and a menu that specializes in dressed-up versions of traditional local dishes. For a daytime outing, book a tour at Hotel Chocolat, a working chocolate plantation that will walk you through the process of making your own, from harvesting the beans to mixing and pouring the cocoa (lots of tasting is involved). Their on-site restaurant is a lovely place for lunch, too, with dishes that lean on locally produced ingredients, like a cacao-marinated chicken and papaya salad, locally caught fish and chips, and roti, a local dish of curried chicken or fish wrapped in a flatbread like a burrito.

Courtesy of Sugar Beach, A Viceroy Resort