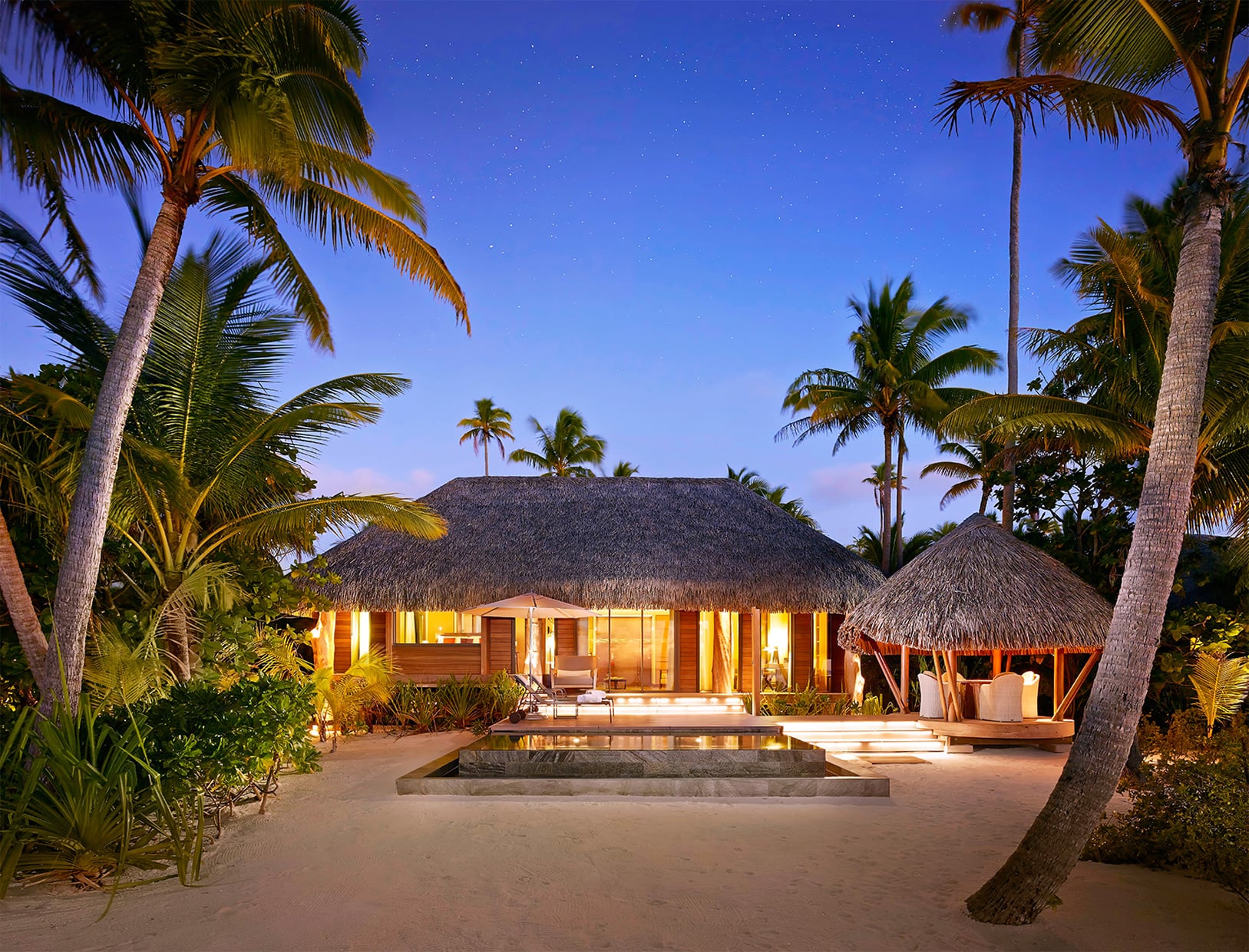 The Ultimate Romantic Getaway: A Trip to The Brando in the South Pacific
Hiding out on a pristine, deserted island is the height of luxury for many people—and it only becomes more so as fewer and fewer such places exist in the world. One of them, an atoll out in the middle of the Pacific Ocean at the outer edge of the group of islands that make up French Polynesia, is where Marlon Brando went to (literally) get away from it all: Tetiaroa. He wasn't the first person to have that idea, either: For centuries, the atoll served as sort of an escape hatch for Tahitian royalty, a retreat where they'd relax and break societal taboos with abandon (what happened in Tetiaroa stayed in Tetiaroa).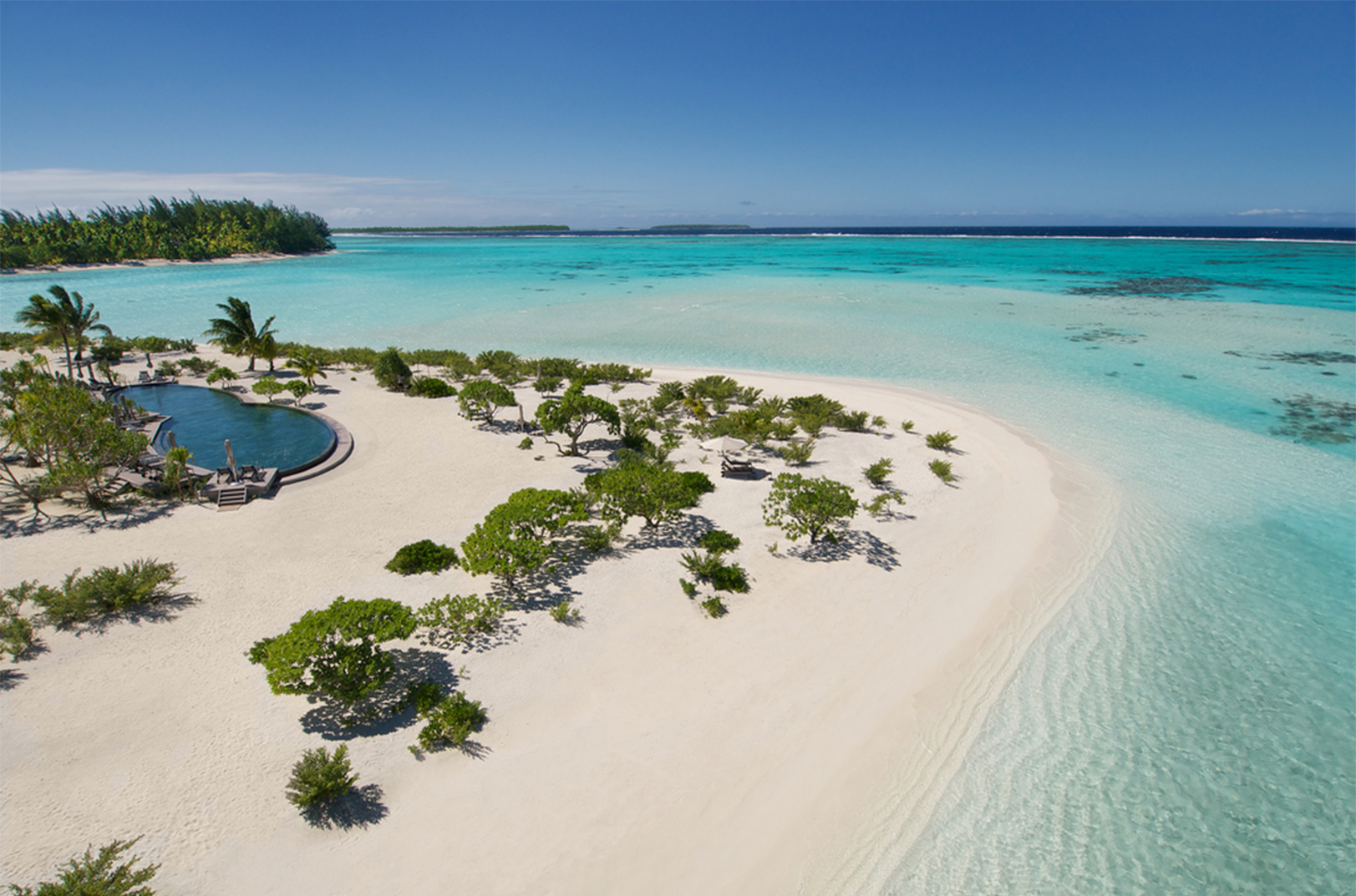 Today The Brando, the wildly luxurious and environmentally conscious hotel that Brando himself had envisioned and started working on before he died, is mind-blowing in its pristine-ness: Only one of the islands had any buildings on it at all; the others are wild sanctuaries full of rare birds, baby sharks, an explosion of trees and flowers, and the occasional artifact from Tahitian revelries in centuries past. The incredible array of coral within the larger reef has not a trace of the bleaching that blights most of the rest of the world, and it's a shallow—and thus particularly amazing for snorkeling—sanctuary for everything from baby sharks to the yellow-banded pipefish to a few large manta rays; scientists from universities all over the world come to the Tetiaroa Institute to study climate change, oceanography, and even a so-far-successful, 100 percent nontoxic but 100 percent effective experimental mosquito-eradication project (truly, there was not one mosquito anywhere) with potentially enormous implications worldwide.
Solar panels are tucked discretely between the swaying palms on the main island; the small amount of energy that the solar can't cover is generated with coconut oil pressed from the Brando's trees. The pièce de résistance is the A/C system, one of two like it on Earth, that dredges up cold water from the bottom of the sea and uses it to cool fresh water that then circulates through the pipes—it works like a dream, and the tour through the underground cooling facility is like walking through a James Bond set (with a touch of The Life Aquatic thrown in).
If any of the extreme eco-measures sounds at all like roughing it, think again: The Brando has to be one of the most all-out-indulgent, romantic experiences on the planet. The rooms are actually beautifully crafted houses, a stunning blend of sleek modern comfort and traditional elements, replete with every thread-count/high-def/blackout curtain requirement you might conceive of. Each one has a generous outdoor private pool in black obsidian, an outdoor bathtub and shower, and its own beautifully-planted, totally secluded grounds, all on carefully-raked white sand, that leads out to what is essentially your private beach—a beach that has to be one of the most beautiful in the world.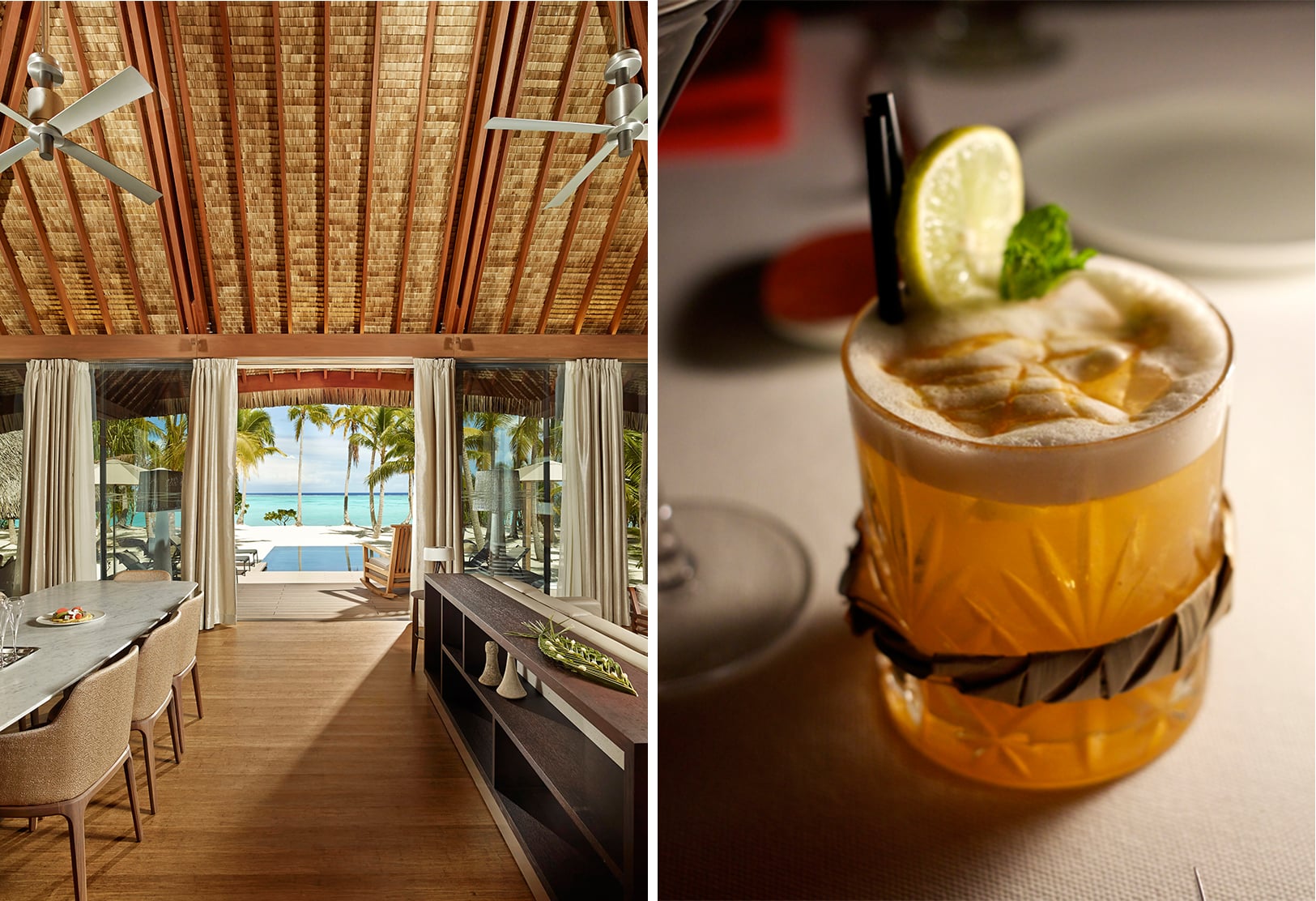 The food is beyond-fresh (the island has its own organic garden, the tour of which is also pretty amazing) and skillfully French-inflected, like most of the food in Tahiti—but The Brando goes a large step further with its Les Mutines, a super-fancy outpost of a Michelin-starred Paris restaurant. We could easily subsist on the local red tuna (not endangered) ceviche made with coconut milk, drinking fresh-pressed ginger, lime, and coconut water from a just-whacked-open coconut at the old-school outdoor bar in the sand.
The spa, more like a collection of human-scale birds' nests, rises out of inland lagoons festooned with lily pads and flowers; architect Pierre-Jean Picart crafted the buildings to look and feel like cocoons made from a thicket of pale bent sticks, and the treatments—from massages with monoi (Tahitian gardenia soaked in coconut oil) spiked with elements like pineapple, or ginger, to fantastical for-two couples extravaganzas—are incredible.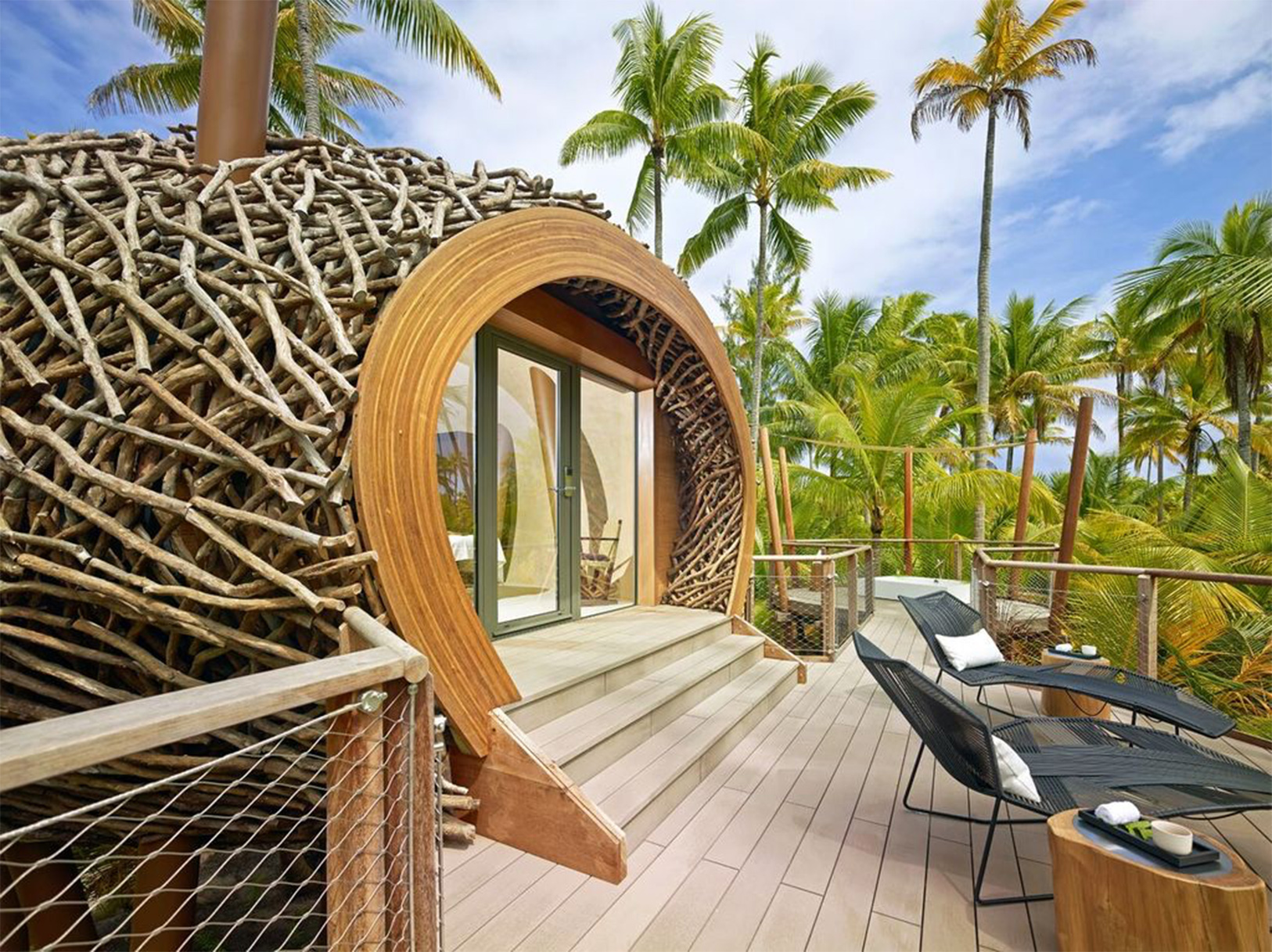 The tours of the surrounding desert islands—you get out and walk through the jungle with a naturalist, who points out all kinds of cool birds, ancient artifacts, and, if you're lucky, brings you to the working beehives; if the beekeeper is there, you can eat a piece of warm honeycomb right there on the beach, a peak experience if there ever was one. Tetiaroa is also home to nesting sea turtles, and the staff will wake you up to see the turtles hatching on the beach if you request it. The snorkeling and diving excursions are (perhaps unsurprisingly) spectacular, and the naturalists are super-well-informed.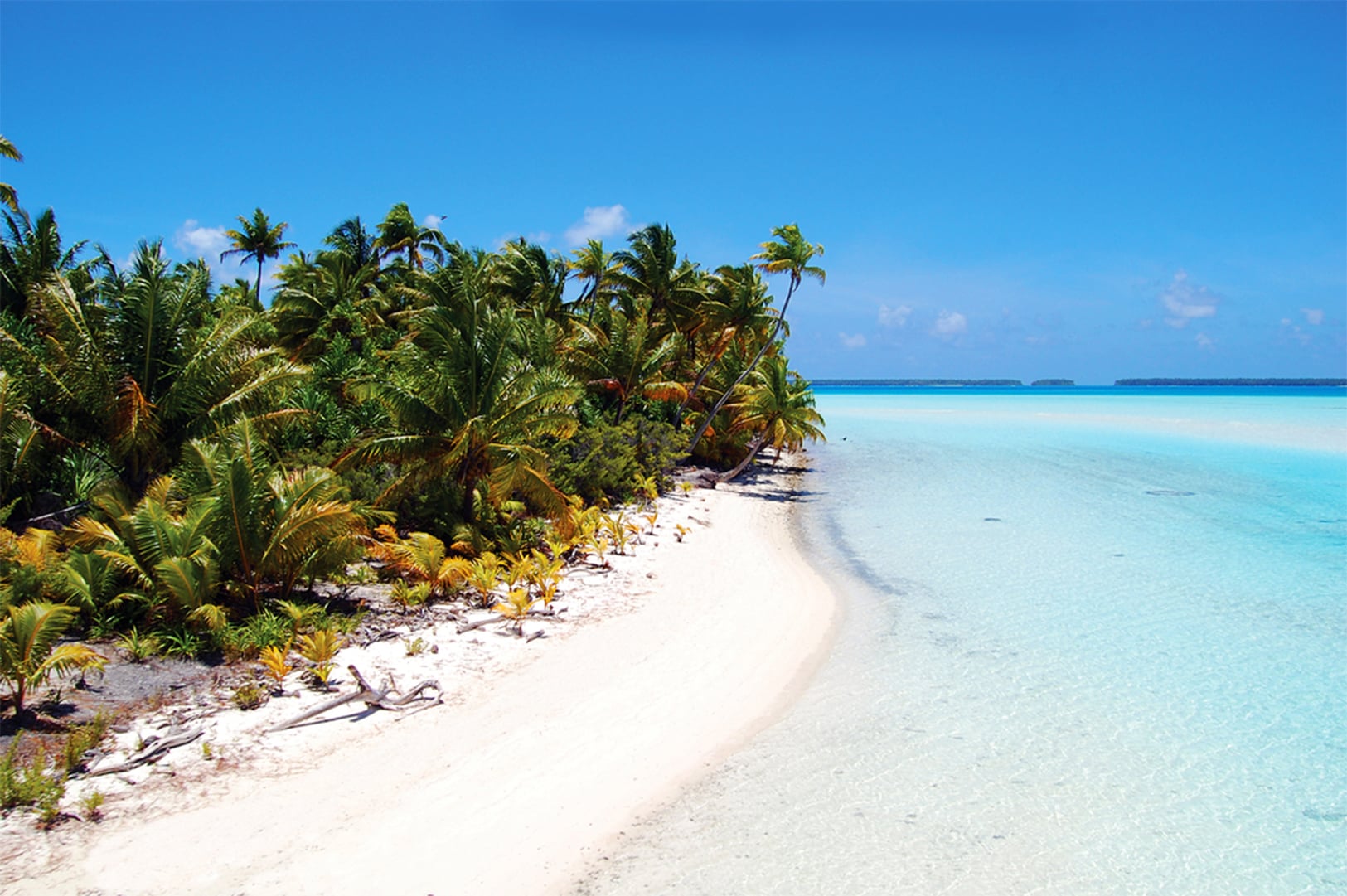 The other, much-less-glamorous-sounding tour highlights many of the eco measures taken by the hotel, including the sea-powered A/C, but what blew our minds was the recycling area, believe it or not: Consider that there isn't a garbage-treatment facility even on the main island of Tahiti, so everything has to be shipped to New Zealand, at obviously enormous cost. So they recycle pretty much all things, with enormous care. There's a compost machine that turns all organic trash—even meat and dairy—into earth in just 24 hours and there are enough neatly separated different recycling categories to put all of Scandinavia to shame.
Unexpectedly, escaping to literally one of the farthest-from-anything places on Earth is—easier than you think. It's an eight-hour direct flight from LA on Air Tahiti Nui, and weirdly, the time zone is only two hours ahead (Tahiti is south of Hawaii, closer to Chile than it is to, say, Bali). After landing in Tahiti, you walk across the tarmac to the chicest pale-yellow private plane, which delivers you to the Brando in about a half hour—the flight over the water from Tahiti and past Moorea is just spectacular.
Beauty Essentials to Make the Trip (Much) Happier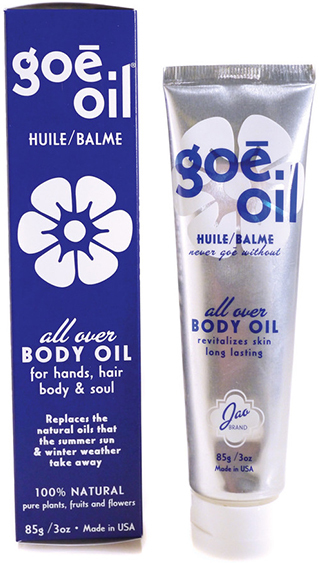 Jao Goe Oil
goop, $48
A combination of 28 plant, fruit, and flower oils and butters, this multipurpose, semi-solid oil smells faintly of Monoi (Tahitian gardenias soaked in coconut oil) and moisturizes skin like nothing else. Lighter than a typical body butter, longer-lasting than a moisturizer, it's made with a high percentage of jojoba oil—not technically an oil, but a polyunsaturated liquid wax similar to human sebum, plus rosehip, hemp, meadowfoam, and rice bran oils, all of which are high in omega and essential fatty acids. Antioxidant avocado, grapeseed, mango, and pumpkin seed butter, plus kukui nut oil protects the skin, while chamomile and calendula calm.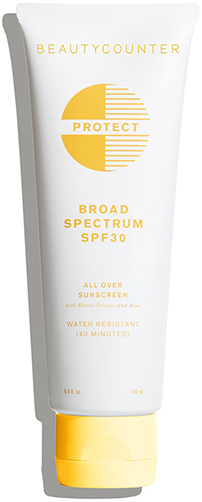 Beautycounter All Over Sunscreen Protect Broad Spectrum SPF 30
goop, $32
A hydrating, lightweight zinc oxide formula that works for everyone, from babies, to sensitive-skin-sufferers, to serious outdoor-sports enthusiasts. Water resistant, broad-spectrum, and packed with antioxidants, aloe, green tea, and blood orange extracts, it sinks beautifully into skin for safe, optimum protection.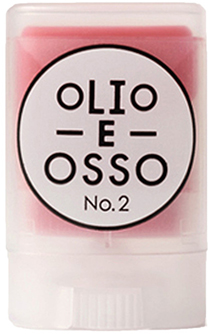 Olio E Osso Balm
goop, $28
This citrusy, super-moisturizing tinted lip/cheek balm delivers all the cushy hydration of the original No. 1 Balm, with the addition of the most flattering-to-all-skin-types sheer pigment out there, period. It's the sort of your-lips-but-better color that brightens up your whole face, yet doesn't read as "lipstick" or even "gloss"—just all-natural prettiness, pure and simple. Bonus: The stick fits the shape of your lips perfectly, so it feels especially fantastic going on.