The Best Way to Do Kauai With Kids
Written by: the Editors of goop
|
Published on: February 4, 2017
|
Updated on: November 14, 2022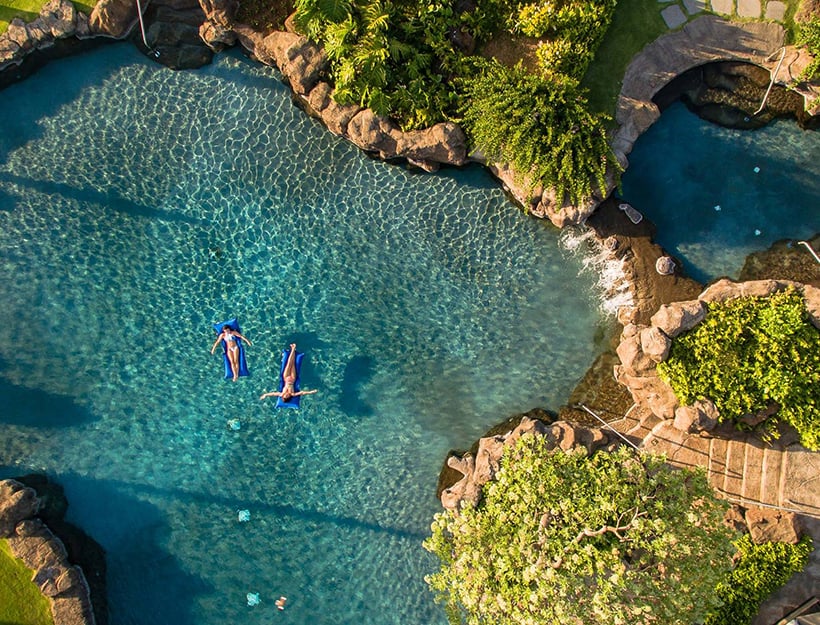 There are a lot of things going for Kauai, from its empty and stunning beaches (Polihale has to be one of the world's most glorious, even though it's rough-going road is outside of the coverage of all the rental companies on the island), to the unparalleled Nāpali Coast, to the fact that it still feels relatively untouched by the big, super-touristy chains. The downside to its pureness is that there aren't a lot of places to stay, particularly in the southern part of the island, far from the more trafficked Hanalei. While the Southern side doesn't have the north's jungle-y, tropical vibe, it does get a lot less rain, and it's also home to Waimea Canyon, Hawaii's version of The Grand Canyon.
One relatively new and excellent antidote to the housing crunch—particularly for families, or anyone traveling with other couples—is the Lodge at Kukui'ula, a private club in Poipu. Stretching across 1,000 acres, they started developing the site exclusively for ownership, before allowing a handful of rentals to open up recently. Comprised of multi-bedroom homes—most with adjacent guest houses—it is really well done, with plenty of high-end touches and amenities. It is so well done in fact, that you might find yourself spending too much time sprawled out on the couch, and not enough time at the beach (one upside of staying at a more bare-bones option like Waimea Plantation, also in the south, is that you will be inspired to get up and go).
While all the homes are equipped with lavish kitchens, the club restaurant is excellent, and serviced by an on-site organic garden. The fact that you open up a club account at check-in makes it a siren song, particularly because it's adjacent to a multi-level pool complete with hot tubs, a water slide, and a beach (the real beach is just across the road). It's kind of kid paradise—compounded by a keiki play room lined with toys, DVDs, and all the things you might not have packed, including bouncy chairs and strollers. Kukui'ula also developed a shopping center down the road, replete with some of the island's best restaurants, an organic market, ice cream and shaved ice spots, and shopping, should you feel compelled to go on an adventure. And speaking of adventures, there's an on-site outfitters staffed by locals who know all the island's secrets—what's better is that they'll take you there, or pack you a cooler and bag of equipment and send you on your way.
There's a gym, yoga studio, tennis courts, and a seemingly empty, gorgeous golf course—designed by Tom Weiskopf—that winds around the property, dotted with views of Sprouting Horn and, if we're honest, snack shakes that justify the trip from the mainland (smoothies, fruit cups, Häagen-Dazs bars, chips, and about a dozen varieties of beer). And finally, there's a spa: It's a full complex, complete with an adults-only pool and a packed menu of services, including modalities that are a bit more far-flung (thrillingly, our massage therapist was trained in gua sha, which you really don't find most places).
In short, Kukui'ula is a total no-brainer, particularly if you like a vacation where you essentially have to plan nothing at all.