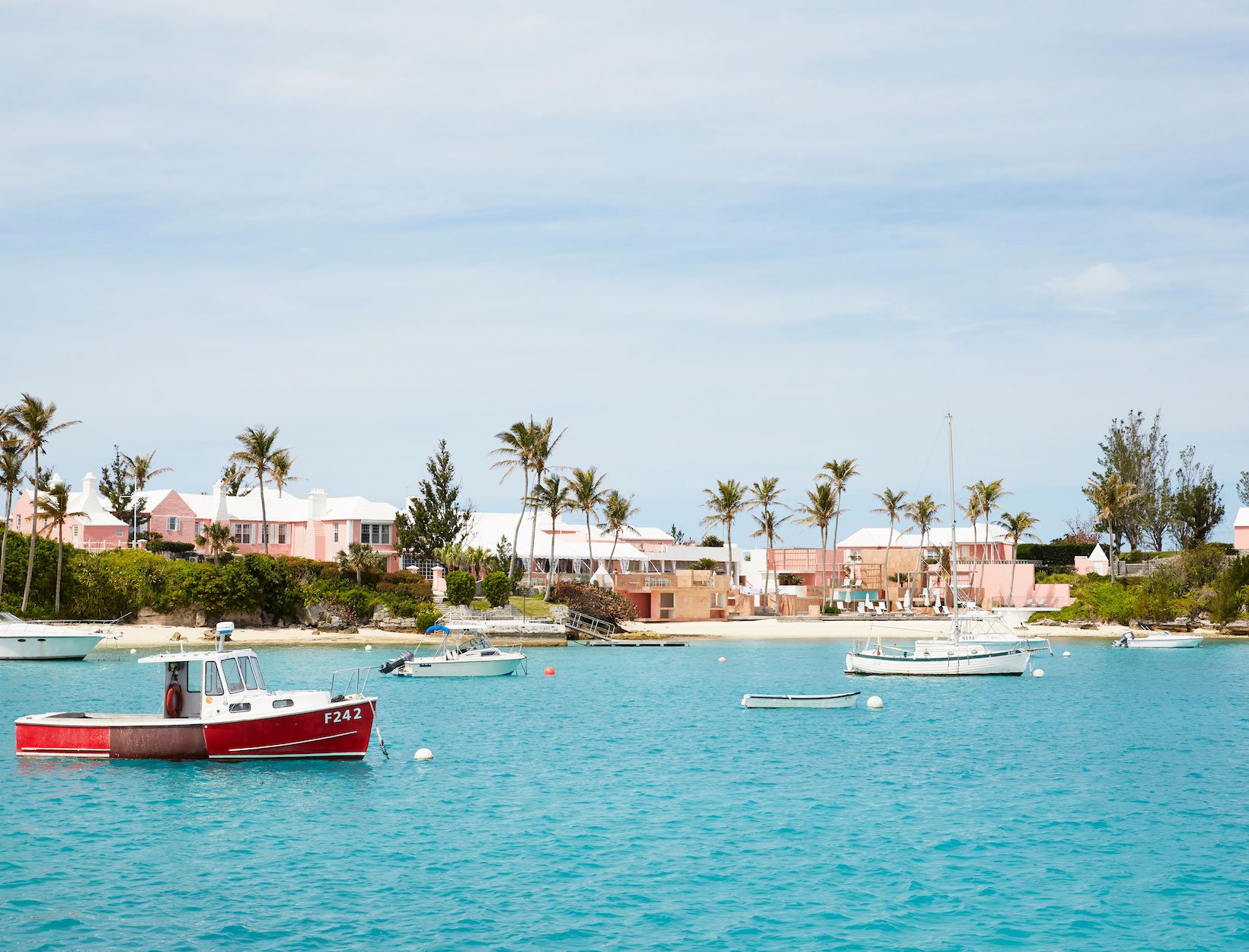 The Bermuda Mini Guide
In partnership with our friends at

Mention Bermuda and some people imagine the perfect place for a golfing weekend. Some imagine a tropical destination of pink sand beaches. Some imagine a mysterious triangle that has a history of disappearing any vessel that gets too close. In fact, a big part of the appeal of the island is that it is many things to many people. (One of the only things Bermuda is not is in the Caribbean, as many believe—it's closer to North Carolina than Florida, and a quick two-hour flight from most East Coast cities.) A British territory since 1612, Bermuda has a culture steeped in tradition and history. Candy-colored eighteenth-century buildings punctuate the tiny capital of Hamilton, cricket is easily the most popular sport, and you'll still see men wearing the blazer, tie, Bermuda shorts, and knee socks combo. That's not to suggest Bermuda is stuck in the past. On the contrary, elegant new hotels have added a shot of glamour, while the often overlooked diving, snorkeling, and hiking here is some of the best you'll find anywhere (and did we mention the famous pink sand beaches?). Add to that the fact that winter temperatures hover around seventy degrees and you have the making of an ideal long—or even longer—weekend away.
STAY

Hamilton Princess & Beach Club

The iconic Hamilton Princess reopened in 2016, known locally as the "pink palace" for obvious reasons. In addition to a top-to-bottom refresh of all 410 guest rooms, a big investment was made in the art collection and the creation of a contemporary gallery within the hotel. You'll find pieces from Jeff Koons, Andy Warhol, Damien Hirst, and Robert Rauschenberg. And even if you aren't staying here, you can sign up for a guided tour to learn about it all.

Rosewood Bermuda

Fresh off a brand-new renovation, Rosewood's pale-pink Bermuda property is small in size (only eighty-eight guest rooms) but has the amenities of a full-scale resort. Spread across 240 acres in Tucker's Point, there are three restaurants, a 12,000-square-foot spa, a private pink sand beach, infinity pools, and a golf and tennis club. We especially love the dive and watersports center, where you can arrange epic shipwreck (the island is famous for them) and reef scuba diving, snorkeling trips, and kayaking along the coastline. Rooms are serene and pristine, outfitted in creams and whites, with views of either the ocean or the harbor.

The Loren at Pink Beach

Twenty minutes' drive East of Hamilton, this newcomer (opened last year) is a departure from Bermuda's more traditional, British-tinged hotels. It's the first property in decades that was built from the ground up—instead of old colonial charm, the look here is all clean, modern lines and neutral earth tones. Its seaside restaurant, the Pink Beach Club, might be buzzier than the hotel itself, though. Even if you're staying elsewhere, the endless ocean views from the patio and the island's best ahi tuna poke bowls, burgers, and crab cakes are reason enough to stop by.

DINNER & DRINKS

Coral Beach & Tennis Club

Access to this twenty-six-acre property is limited to members or friends of members, but it's well worth it for dinner or lunch if you can snag an invitation. The Beach Terrace, with its iconic yellow-and-white-striped umbrellas, is the place to be for cocktail hour, as golden hour approaches over the turquoise water and powder-pink sand. Old-fashioned dress codes still apply—and are politely enforced (gentlemen have to wear a coat and tie with Bermuda shorts and knee socks—yes, really—if they want to eat in the Coral Room).

Devil's Isle

For a caffeine break in the city of Hamilton, the newish Devil's Isle offers organic, fair-trade, and Rainforest Alliance–certified coffee. Roasted and blended in Bermuda, the iced almond milk lattes are a refreshing pick-me-up on warm days, but the food is great, too. Try the Nourish Bowl, packed with tons of unusual veggies, including fermented fennel, roasted celery root, and coconut-oil-roasted golden beets.

The Waterlot Inn

Perched dockside at the Fairmont Southampton, the Waterlot Inn occupies a coral-pink seventeenth-century former sailor's cottage. This is one of Bermuda's most formal restaurants (though men will be glad to know that jackets are no longer required), and you come here for the wonderfully retro menu items like lobster bisque, wedge salad with blue cheese, and oysters Rockefeller. Arrive early and grab a table on the patio for sunset views and sangria.

Village Pantry

This casual café occupies a charming whitewashed, blue-shuttered building in Flatts Village. Weekend brunch is the best time to go, and we're big fans of the paleo breakfast, a big bowl filled with sweet potatoes, kale, carrots, fresh herbs, pancetta, and organic eggs. Otherwise, the pumpkin-and-chia-seed pancakes with rhubarb compote are the way to go.

Wahoo's Bistro

A casual seafood spot along historic Water Street and overlooking St. George's Harbour, Wahoo's is a good option for a lazy lunch before or after exploring the eighteenth-century colonial buildings and shops nearby. It's known for its simply (but perfectly) grilled lobster, served with a side of fries. Also worth noting: the excellent fish tacos, chowder, or even the Wiener schnitzel, a specialty of Austrian-born chef Alfred Konrad.

Yours Truly

Finding great nightlife in Bermuda is easy—just head straight to Yours Truly, in downtown Hamilton. You'll understand what we mean after the first sip of the Polynesian Bride, made with white rum, sake, fresh lemongrass, coconut, and lime (not to mention the hand-carved ice cubes).

THINGS TO DO

Cooper's Island Nature Reserve

Land reclamation in the 1940s attached the formerly separate Cooper's Island back to Bermuda—but the name stuck. It's a testament to Bermuda's commitment to preservation, and this expanse of sandy beaches, trails, and forest feels completely unspoiled and untouched. You'll hear little other than the sounds of the birds—the area is teeming with wildlife. Trek to Clearwater Beach to see some sea turtles, or just get lost wandering the trails and admiring the ancient trees and semitropical plants.

Crystal Caves

Mark Twain was the first tourist to descend into these caves in 1908. In the years since, they've become one of Bermuda's most popular natural wonders, thanks to the eerily beautiful, ancient stalactites (the massive, hanging calcium deposits that look like icy chandeliers) reaching down to the crystal-clear water. Wooden walkways make navigation easy, and there are guided tours multiple times a day throughout the week.

The Town of St. George's

The story goes that a collective of shipwrecked Brits built this enclave of cottages in 1609. While most of the men later moved on, a few stayed, and as the years passed, a small village sprang up around the dwellings. The town is the oldest continuously inhabited English community in the New World, and the local church dates back to 1612. (Bermuda is still a self-governing British Overseas Territory.) Walk the narrow lanes of this UNESCO World Heritage site and observe the meticulously preserved buildings, the Victorian-style street lamps, and the Old Rectory, an example of traditional Bermudian architecture dating back to 1699.

Tobacco Bay

A ridge of dark, volcanic rock shelters this body of water, keeping it unusually calm. It's also largely shallow and full of coral reef, which makes it a prime snorkeling spot. Expect to cross paths with parrotfish, grouper, and angelfish darting beneath the surface. The beach itself is tiny, so come early to claim your spot before ordering some just-caught seafood at the little beachside cabana for lunch.

Tom Moore's Jungle

Thomas Moore was an Irish poet who came to spend a few months on Bermuda as Admiralty Registrar. It's rumored that he wrote several poems on a plot of land beneath the calabash trees. Eventually, the whole area was named after him. The lush vegetation gives this nature reserve a wild, remote, jungle feel. Wear comfortable shoes, bring a flashlight to walk the trails, swim in the lagoons, and explore the caves as you come upon them.

SHOP

Bermuda Bookstore

The specialties at this quaint little downtown Hamilton shop—which opened almost a hundred years ago—are tales of shipwrecks, Bermuda's history, island-themed children's books, and novels from local authors. Plus, there's a big selection of mainstream bestsellers and biographies if you need to grab a good beach read on the fly.

Della Valle Sandals

At his studio in Hamilton, Italian-born shoemaker Vincenzo Della Valle creates the island's best custom sandals, made from soft Tuscan leather. Typically, the period between your first meeting (when measurements are taken) and pickup is only a couple days—more than enough time to break them in on your flight home, and a wearable memento from your trip.

The Bermuda Perfumery

Scent is often the most powerful trigger for memory, so perhaps the most unforgettable thing you can bring back from a trip to Bermuda is a customized fragrance from this St. George's perfumery. Take note: this isn't not a typical shop, as all fragrances are made on-site, and it's not a grab-and-go operation. It's been around since the 1920s, and current owner Isabelle Ramsay-Brackstone makes her own cologne and perfumes using botanicals and flowers grown locally, including freesia, rose, ginger, and clementine. Ramsay-Brackstone recently opened a second location in Hamilton, on the other end of the island.

The English Sports Shop

Currently celebrating its one hundredth anniversary, this is where the island's traditional sartorial roots come to life—a legendary apparel store on Hamilton's Front Street. If you're ready to pull the trigger on a pair of classic linen Bermuda shorts, there is no other place for you. A big range of pastel colors and madras prints are available, and check out the other items for sale, including colorful knee socks, ties, linen jackets, polo and rugby shirts, and cashmere sweaters.

The Island Shop

Owner and artist Barbara Finsness has created what is considered the island's best home store. It's stocked with her bright, colorful handmade products—ceramics, linens, embroidered pillows, hand towels, tableware—featuring Bermuda-inspired designs, like painted sea turtles, reef fish, and sailboats. The original location is in Hamilton, and there's a second outpost in St. George's.

Urban Cottage

On the commercial section of Hamilton's Front Street, Urban Cottage sells a mix of items expertly curated by owner Nicole Golden. There are home items (lighting, textiles, cushions), apparel (dresses, bow ties, and jewelry from local designers), and curiosities like reclaimed road signs and vintage inkwells found from old shipwrecks.