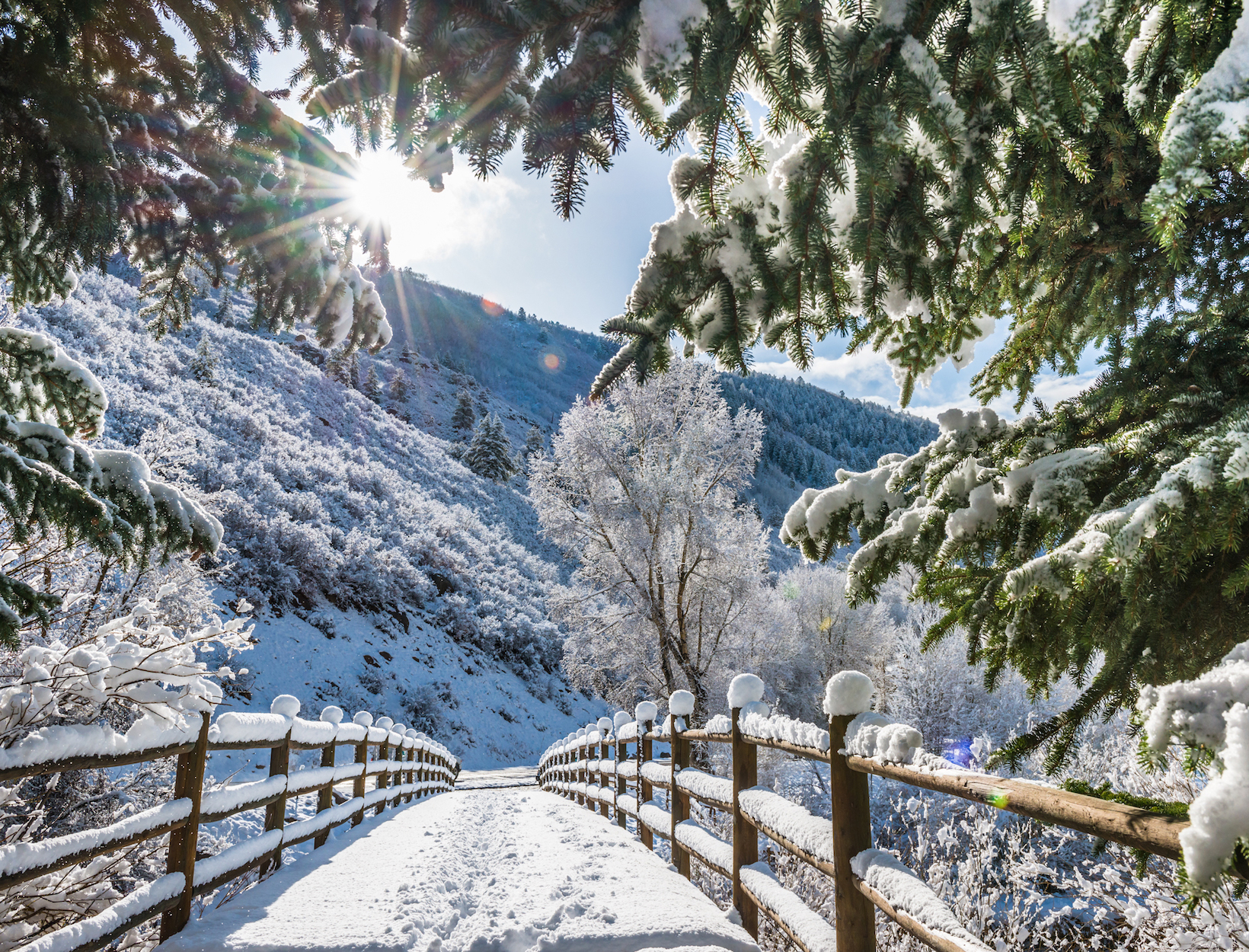 Photo Courtesy of C2 Photography
The Aspen Update:
Where to Go and What to Pack
Aspen is the kind of place that regulars revisit season after season. As much as we love hunting for new spots, there's something comforting about knowing you can rely on old favorites to persist (and stay great) year after year. Even if you're not an every-year diehard, the relatively small and walkable size of Aspen proper makes it pretty easy for first-timers to navigate, with a little context. The first thing to know is that Aspen Snowmass is actually made up of four separate ski mountains, each with their own personality: Snowmass is great for long runs and a mix of terrain styles, low-vertical Buttermilk was made for families and beginners, Highlands is good for advanced terrain, and Aspen Mountain is the classic resort that empties out at the base of The Little Nell and offers by far the best après scene. Snowmass has its own little base village, where the slopeside Viceroy is the main attraction (it's a great home base for families), but the real center of activity centers at the base of Aspen Mountain. Here, an intimate little downtown surrounded by sweet Victorian homes built in the 1890s, when the boomtown was making its first permanent roots, is a brisk walk from at least three stunning luxury hotels, plus art and restaurants worthy of a major city. Below, the spots we dream about coming back to as soon as the snow starts to come down—and a few cold-weather dressing ideas (think: lots of cashmere, a sleek puffer, and faux-fur trimmed boots) to help you as you put together your next packing list.
ON AND OFF THE MOUNTAIN

Historically, the base of Aspen Mountain has been dominated by three major hotels: The Jerome, the St. Regis, The Little Nell. The town's oldest hotel, the Jerome is set in a historic brick building and is now operated by Auberge—we love it for the moody interior design, the cozy lobby, and the infamous J-Bar where Hunter S. Thompson used to hold campaign meetings when he ran for mayor. The St. Regis, which is set at the base of the mountain (and also housed in grand brick architecture), is famous for it's heated pool with crazy views of the mountain and great programming for families. Meanwhile, the Little Nell, which first became famous for its over-the-top food and wine program and continues to host one of the best wine lists in the country, remains the spot to see-and-be-seen, in the best possible way. For those who prefer some distance from from the hustle and bustle, there's also the Limelight, with a great bar and more low-key vibe.

No matter where you stay, the après timeline in Aspen has been the same for years. Festivities start at Cloud 9 on Aspen Highlands, where everyone congregates in their ski boots at the end of the day, and where ski instructors are notorious for spraying bottles of champagne out onto crowds of merrymakers. Over on Aspen Mountain, Chair Nine at The Little Nell continues to be a lively spot for spiked hot chocolate as the sun goes down.

Though Aspen is definitely a town that knows how to party, there also plenty of options should you need a quick wellness fix, starting with 02 Aspen, a pilates and yoga studio that's perfect for days when it's too cold to ski. And though locals have unofficially been doing it for years, the mountain is finally embracing uphilling, or trekking up the mountain on specially outfitted hiking skis that can be converted to regular downhill skis once you make it to the top. Each of the four hills now has specially designed trails that take you up safely—it's a great way to get outside at a more peaceful, meditative pace, and it's a killer workout, too.
AROUND TOWN

In between carving turns, it's worth checking out some of the galleries and the oft-debated Shigeru Ban-designed Aspen Art Museum, which is ushering in shows from both Nate Lowman and Ugo Rondinone just in time for the holiday crush. Nearby, New York gallerist Marianne Boesky has teamed up with architect Annabelle Selldorf to transform a historic cabin space into Boesky West, where the works of Frank Stella, Larry Bell, and most recently, John Houck have rotated through. (The gallery plans to host a residency program for curators, historians, and writers during the off-season.) From December 21 through the new year, locals look forward to the Aspen Film's Academy Screenings, where you'll have a chance to catch shortlisted contenders on the big screen at both the Wheeler Opera House and over at the Aspen Institute. Meanwhile, over on East Cooper Avenue, Maker + Place, a hybrid workshop and gallery space, will be spotlighting the works artisans like Aspen-born Clarity Fornell, who studied at Savannah College of Art and Design and now churns out beautiful hand-woven textiles.
A NIGHT OUT

From the outside, Casa Tua resembles a charming ski lodge or mountain home, particularly when it's lit up at night—it also continues to hold strong as one of the hottest tables in town, even a couple years after opening. The menu is chock full of satisfying Northern Italian fare—think burrata with organic tomatoes, tuna tartare, specialty risottos, grilled branzino, biscotti, and gelato. The communal vibe translates to a number of great group tables, including the 24-seat "Friends' Table." And since Casa Tua's private club sits atop the restaurant—members have access to the lounge space as well as a number of other perks. More recently, we've also heard good things about Bosq, helmed by Chef Barclay Dodge, who has brought his love of travel back to Aspen. A decidedly globally influenced menu features everything from sweet and sour crispy eggplant and gremolata string fries to creamless cream corn and peking duck. For a nightcap, it's pretty hard to resist the enduring appeal of J-Bar at the Hotel Jerome, a spot where Hunter S. Thompson, John Wayne, and Gary Cooper would trade stories with locals—and now, particularly after a slick renovation and the addition of a new lounge, is even more of a hangout than before.