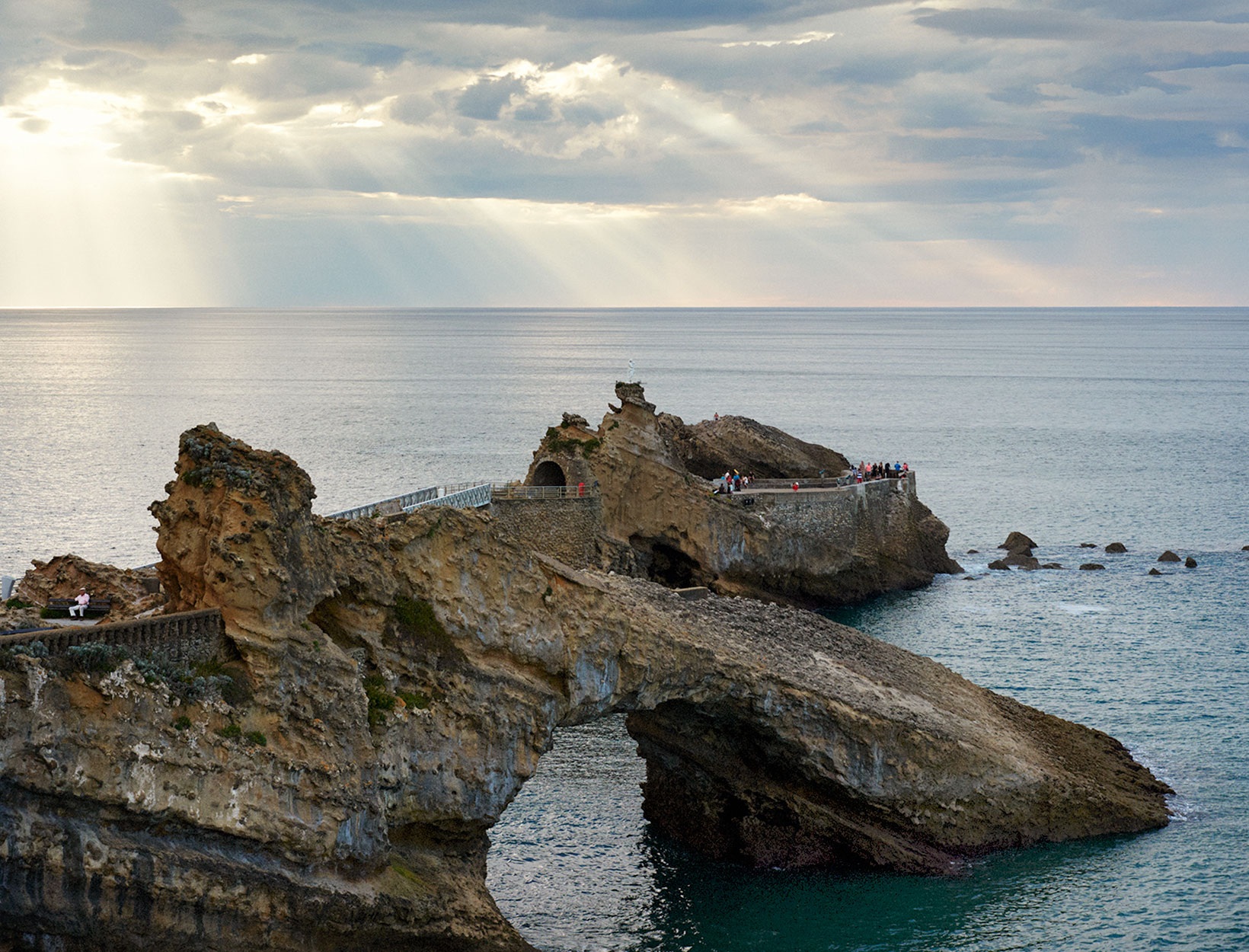 Photo Credit: Felix Odell
Taking the Kids to Basque Country
This little sliver of lush, hilly land—in a permanent group hug with the Bay of Biscay, southern France, and northern Spain—is the capital of slow pace. Which is exactly why Say Bonjour to the Lady: Parenting from Paris to New York author, Florence Mars, makes a pilgrimage here whenever possible, with her three children in tow. (If you're visiting Paris, her hometown, don't miss her tips for tweaking your itinerary to be as kid-friendly as possible.) "If you're looking for a vacation that requires packing a makeup bag and high heels, you're in the wrong place," says Mars. "Turn around and head to Saint-Tropez or Monaco."
According to Mars, there are two ways to enjoy the Basque country: Rent a house in one of the small towns, like Guéthary or Bidart. Or you can do a road trip—say, Biarritz to Guéthary to Saint-Jean-de-Luz to Bidarray. In general, the under-eighteen set is universally welcome; step into any one of the cool little bars at sunset you will see a bunch of local kids running around. And while vegetarians might have a hard time, the food—a mix of local fish, meats, cheeses, the famous piquillo peppers, and so much wine—is reason enough to make the trip.
A brief aside on the weather and the locals: It rains a lot here. Not as much in July and August, but about 50 percent of the time the rest of the year. But don't worry—there are plenty of rainy-day options, and the drizzly days are just as fun as the sunny ones. Much like the weather, the residents may not be the most approachable at first. Don't take it personally. If you're sticking around, get over the coldness; you will not be disappointed by the congeniality and conviviality that come after.
Ongi etorri!
Bayonne
If you've timed your visit around the end of July, take the kids to the Fêtes de Bayonne, France's biggest festival (this year, it's the 25th through the 29th). It's five days of music and dancing—plus a bull run. Everyone is expected to come dressed in white and red (ideally, all white accented with a red scarf or belt). Make sure you find out which day is devoted to children's activities (it's usually a Thursday)—things tend to get a little wild the rest of the time.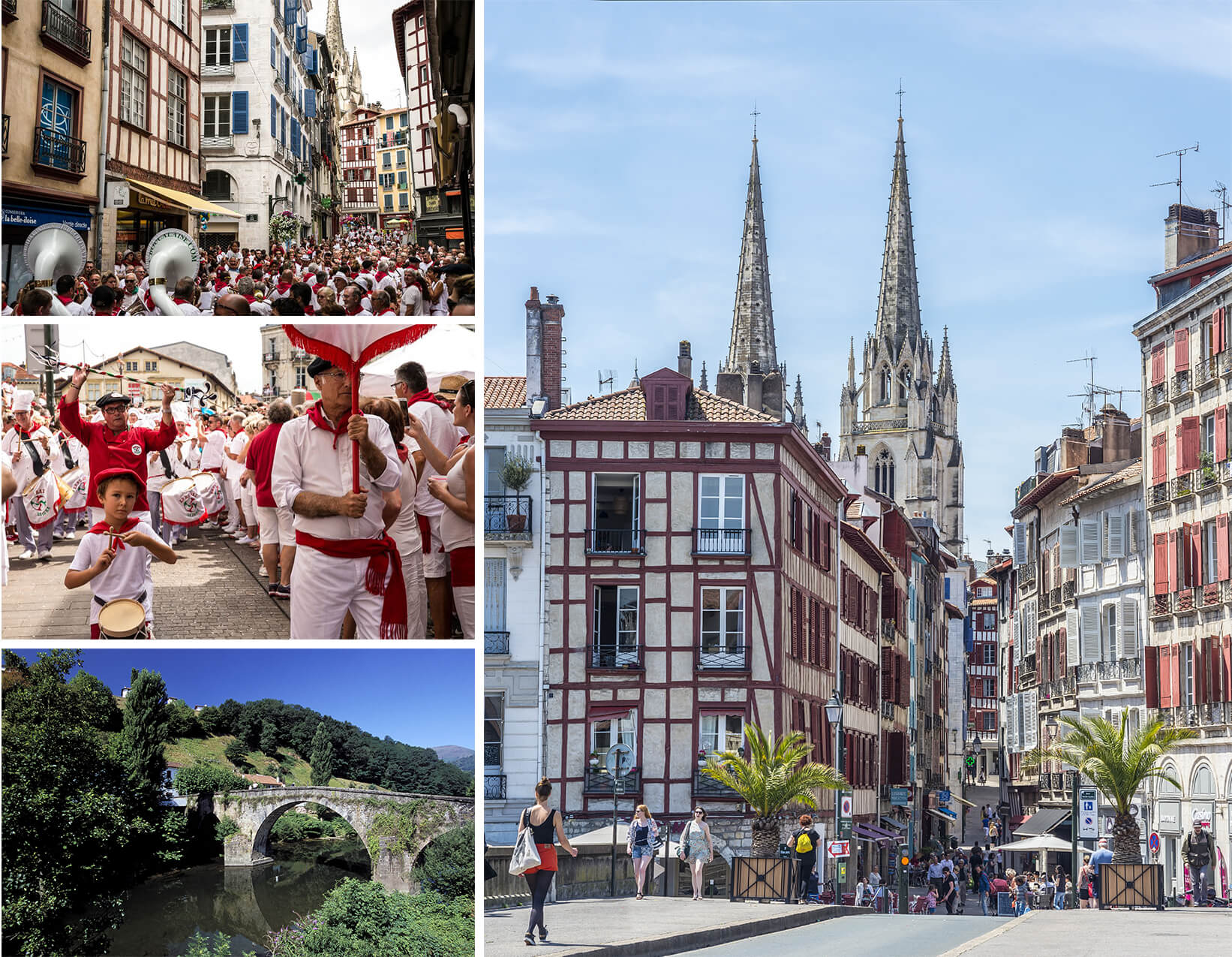 See: This town is known for its stunning medieval streets, which are lined with colorful little shops. Make a stop at Pariès, in operation since 1895, for some irresistible mouchou (ancestor to the macaron we know and love) and share a box with the kids while strolling along the quays to admire the architecture. The pretty houses with colorful wooden beams and shutters are delightful. To me, the most picturesque area is along the river Nive. Since you came all this way, make a quick stop to admire St. Mary's Cathedral. It dates back to the thirteenth century, and the cloister is particularly graceful.
Biarritz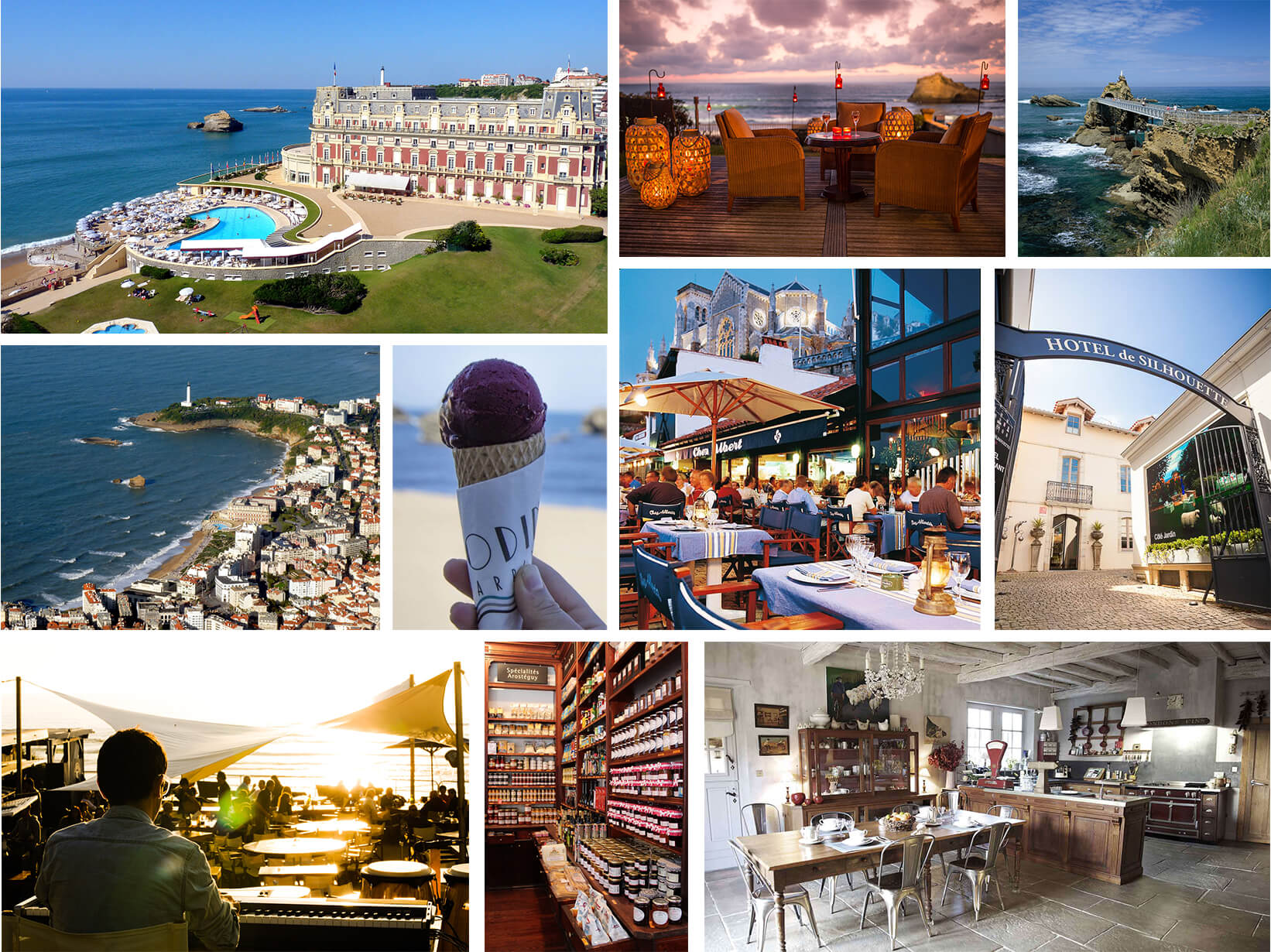 Stay: Biarritz is not exactly an undiscovered gem. In 1830, enchanted by the atmosphere of the town, Victor Hugo wrote, "I only have one fear: that it will become fashionable." Well, Mr. Hugo, you'd be thoroughly disappointed with the way things turned out. In fact, Biarritz is probably the chicest surfing town in France, and its aristocratic spirit combined with a nonconformist vibe is guaranteed to charm you.
The iconic Hôtel du Palais on La Grande Plage, originally built by Napoleon III for Empress Eugénie around 1855 as a summer villa, has seen everyone from Sarah Bernhardt and Igor Stravinsky to Charlie Chaplin and Jean Cocteau, Frank Sinatra, Jayne Mansfield, Gary Cooper, Ernest Hemingway, Coco Chanel…the list goes on.
With or without children, planning a visit to the Hôtel du Palais should be at the top of the list. If you are not into la vie de château, at least stop in for tea time at the delightfully outdated Le Salon Eugénie. Ask for hot chocolate and, if you've already had your fill of the traditional gâteau Basque, a mille-feuille. Speaking of gâteau Basque: This signature dessert comes is usually filled with almond cream but can also be made with black cherry jam. Try both.
If you're staying at the Palais for a few days, the beach and the kids' club (free for children between five and ten years old) make it a solid option. There are also crab fishing contests, arts-and-crafts, and swimming competitions. For older kids, the hotel can arrange surfing lessons, horseback riding, golf lessons, and all manner of activities. Otherwise, I recommend the Hôtel de Silhouette, right in the heart of Biarritz on a quiet block. There's no pool, but the garden and perfect location more than make up for it. You can also try Les Volets Bleus, a lovely bed-and-breakfast about thirty minutes outside the city in Arcangues. It's a peaceful place with beautiful rooms and a pool.
Eat: If you're hanging out in Biarritz for a while and have already had tea at the Palais, then get to the Miremont. Order a lemon meringue or a raspberry tart and ask for a table in the back (the best ocean views are here) for a truly old-world experience. On Le Grande Plage, take a seat at Dodin. With a croissant and a café in hand, you can keep an eye on the kids while they frolic on the beach. Henriet on Place Georges Clemenceau offers incredible éclairs au chocolat; then cross the street to Adam for the macarons. Two blocks away, Loubère has the best bread in all of Biarritz, not to mention those thin little apple tarts and Basque cakes (of course). This is where you go to pick up a picnic before heading to the beach.
Arostéguy is my favorite spot in town for fine food: Espelette pepper, Christine Ferber jams, tea, and delicious cookies. Try the black cherry jam with the local sheep's milk cheese. For the little ones: old-timey candies, lollipops, and rose biscuits from Reims (not a Basque specialty, obviously, but always a hit with my children).
Do: Explore the Rocher de la Vierge. This statue of the Virgin Mary was built in 1865 onto a rock specifically for the fisherman, with its own little bridge attaching it to the mainland. (Little-known fact: Basques were among the earliest whalers.) Keep a close eye on your toddlers, as climbing the rock itself is not the safest activity.
From here you have two options:
If you're hungry, take a ten-minute walk along the Allée Port des Pêcheurs to the old harbor. This port isn't at all overwhelming—it's quiet, and well hidden. There are several restaurants that serve delicious seafood and tapas. My favorite is Chez Albert, famous for its wild fish.
If you're not hungry and the sun is shining, head to the other side of the coast and take a dip at the Plage du Port Vieux. A favorite of the locals, it's the most charming beach in town, ideal for families with children. There are lifeguards from June to the end of September, but even so, be extra careful as the rising swell can be a handful even for experienced swimmers. Older kids will have a blast jumping off the wall on the left side of the beach.
Blue Cargo is where the teens want to go at night to dance on tables (some parents get to go, too, if their kids let them). It's also a lovely beach during the day. Note that there's a pretty decent playground, a rarity in France, at the Milady beach entrance.
Guéthary
This village is my absolute favorite place on earth and probably the best spot to unplug completely from life. You will not run into a lot of tourists from abroad, but rather a ton of regulars, mostly Parisians, here for the summer. In Guéthary you'll find one of the most famous surf spots in all of Europe, with waves that can exceed sixteen feet: Plage de Parlementia.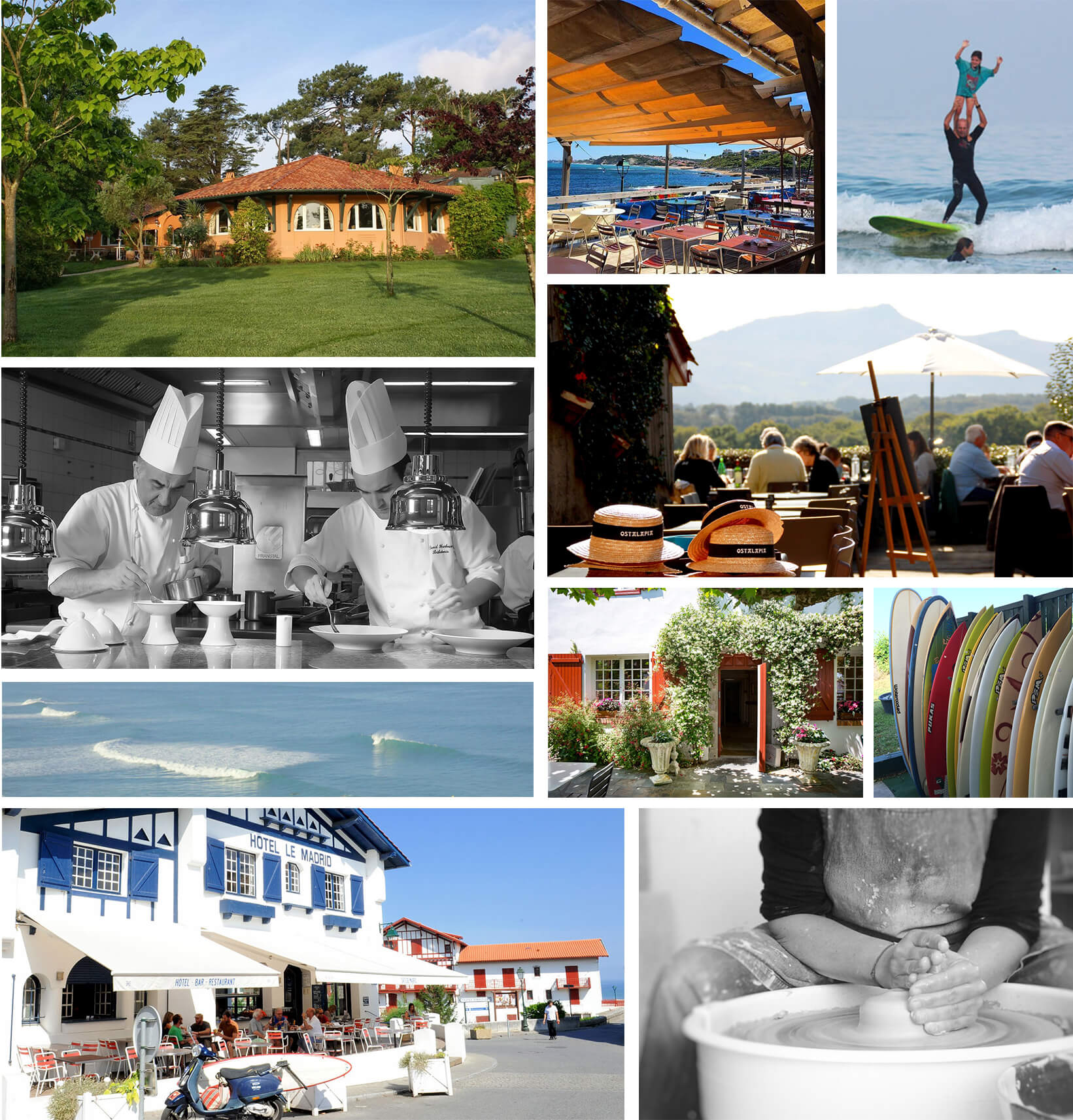 Stay: My best advice for a family is to rent a house in the village. If you're not staying for a full week (rentals are typically Saturday to Saturday) the lovely Villa Catarie is across the main square, which comes with some occasional noise. The famous Frères Ibarboure Hotel is a little ways outside the village, so you'll need a car, but it's worth it for the Michelin-starred restaurant alone. Briketenia, with its own Michelin-starred restaurant, is a ten-minute walk from the beach.
Eat: Le Madrid is my spot. I start every day with tea and a croissant on the front terrace and end most summer days at the very same spot with a glass of wine. It's the center of the village. From here you can send your kids to the beach or to the fronton (more on this later) to play ball. You can meet your friends, check out the waves, and read the paper. For lunch and dinner, Le Madrid does excellent local dishes—just be sure to make a reservation. Right across the street, the Bar Basque is a perfect spot for a drink at sunset. Providence, is a dream come true for my American friends: avocado toast, banana bread, acai bowls, healthy salads—I've never asked, but if anyone has gluten-free bread in this village, it has to be this place.
Les Alcyons is my all-time favorite lunch spot in Guéthary. Right by the harbor, it's a pretty shack with the best view, simply delicious food, and the friendliest staff (ask for my friend Alexandre). Nice for dinner, too, and very kid-friendly.
Le Baya is my children's favorite. It's another shack, but this one is on Parlementia beach, very close to the lifeguard station. It's a favorite around here, and you'll need reservations. Alain, the owner, might make you feel like you're bothering him a little, but he's actually a nice guy, and his food is amazing. For added value, you can look at the surfers while you eat, and the kids can play on the beach while they wait for their fried calamari.
Ostalapia (technically in the village of Ahetze) is my favorite restaurant for dinner—it's on a fully functioning farm, and the food is exceptional. The owner is a former rugby player and a figure of the Basque country. They also have a few bed-and-breakfast rooms, all of which come with beautiful views of the hills. There's even a playground for the kids to play on while they wait for your scallop risotto and their French fries.
The Restaurant on Cenitz beach is great for watching the sunset with a glass of wine while the kids roam around. Close by, there's a cute mini adventure and zipline park for the young ones. The coach, Marco, is great with kids, though I've been told he's not a morning person, so come after 11 a.m.
Do: Be aware that the Parlementia beach tides are pretty dramatic. At low tide, the entire beach becomes a fishing field of rocks and natural pools. Kids have the time of their life looking for crabs and shrimps (buy a fishing net and a bucket at the Casino market across the square). At high tide, you might not be able to get to the beach at all—the waves break right up against the wall. Important: The green flag in the middle of the beach (in front of the lifeguard shack) means it's safe to go in the water, yellow means it's okay but be careful, and red means it's too dangerous to go in. If the lifeguards are not on duty (early morning or late in the day) and there is no flag, keep a close eye on the little ones—this beach can be unpredictable.
If you have older kids who want to surf, make sure it's not a big swell day. Mid-August, the waves can be gigantic, which I've learned the hard way. Teenagers might think it's cool to join the crowd in the water, but unless they're pros, it's not a good idea. That said, 90 percent of the summer it's a perfectly nice spot for kids to surf. For lessons, try Christophe Reinhardt. If your child is a beginner, I would suggest they learn in Bidart, where the waves are closer to the shore and a little less intense than in Guéthary.
If you have a prodigy on your hands, rent a board at the Surf Shop. Surfboard, wet suit, SUP, and skateboard rentals range from half day to a full week. My friend Romuald Jonqua, French pro surfer and Oxbow coach, and his partner Esteban, will help you pick the best options for your child's (or your) skill level. In Guéthary, you will find two other beaches, Alcyons right by Guéthary harbor and Cenitz, that are mellower but minus the lifeguard supervision; both are great spots for picnics.
This is where I explain the "fronton" concept: In the heart of the village, right by the most adorable red-and-white town hall, there's this single-walled court, used as a playing area for the Basque pelota—the closest comparison I can think of is squash. When there are no tournaments, the children use the court to play soccer or tennis.
Once a month, or sometimes twice a month in the summer, the town throws a dance on the fronton. With a live DJ, lights, and the toro de fuego (fireworks on top of a wooden bull…a very Basque concept), it's a dream for kids. Every Saturday morning in July and August, the fronton turns into a charming flea market; on Sunday mornings, it becomes a food market. Try the to-go chicken à la amatxi at the grill. The public garden across from the post office has a few swings and playground activities with a smaller fronton where little kids can play. You can also book tennis courts and lessons at the Guéthary tennis club.
Shop: The Perles de Guethary bead store is a magical spot for kids and their parents. Fatima and Jean-Paul are the most talented artisans, and you will want to buy half of the store. Be prepared that your kids will ask to go every day during your stay. Parlementia, right over the train tracks when you head to the beach, is in the business of the coolest sweatshirts, T-shirts, and caps for the kids (and yourself). The interior design store right next to Le Madrid Hotel is a gem. Everything is divine. So while the children choose their bead necklaces with Fatima and Jean Paul, you know where to wait. In the same spirit, visit the Poterie de Guéthary for the most delicate kitchen goodies.
Bidart
Bidart is a postcard of a town—a sixteenth-century church, a pretty fronton, and a town hall right next to one other. Have a glass of Txakoli (slightly sparkling, very dry white wine) at the Hotel du Fronton while your children play.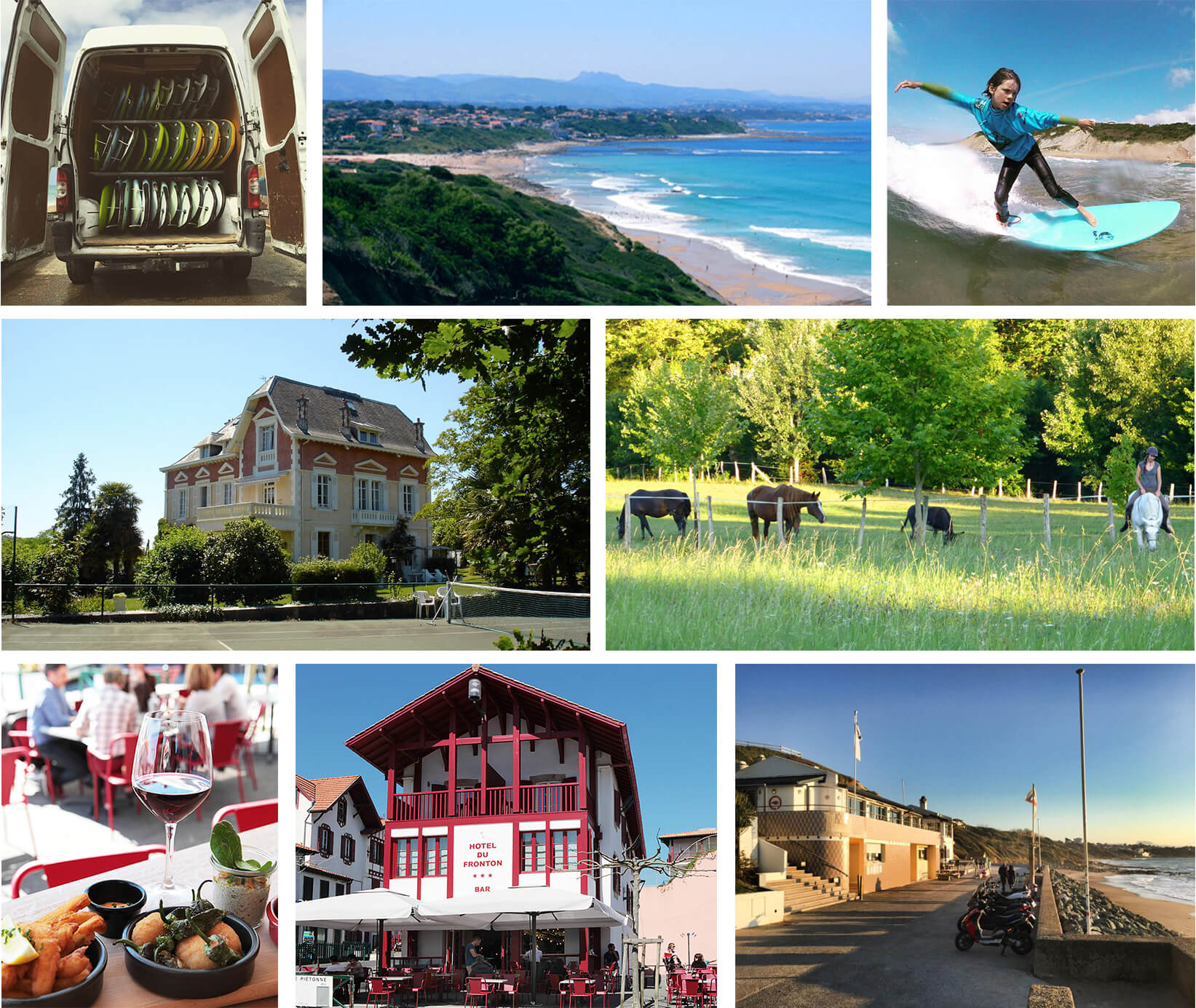 Stay: Domaine de Bassilour is a kid-friendly bed-and-breakfast not far from the famous mill (we'll come back to the mill later). They have a big garden and a trampoline for kids to burn off some energy before settling in for a meal or a cooking class. Bidart beach is not very far, but you'll definitely need a car.
Eat: On Bidart beach (Plage du Centre) you can have an excellent seafood and wine lunch at La Tantina de la Playa. But the most important thing to see in Bidart is the Moulin de Bassilour. This amazing bakery is the real deal, as in: It's an actual mill. Your children will be mesmerized by the flour magically coming out of the depths of the mill. The cookies are the best I've ever eaten, and they're sold in sealed plastic bags so you can bring them home as a present. The Basque cake is also a dream. The ladies who work in the bakery speak little English, so just ask for "un gâteau Basque et une boîte de sables."
Do: Bidart beach is the ideal spot to sign up for surf camp. The École des Vagues, with its exceptionally friendly staff, is my favorite (I think I've tried them all). A little amusement park is open all summer across the beach from Uhabia. While it's not my favorite activity, my kids were completely crazy about it when they were younger.
Shop: If you need anything for the beach—straw hats, fishing nets, beach towels, and whatnot—Bidart's little bric-a-brac store is called Bidartarak; the store down the road (just go down the stairs) has very decent beach goodies, too, maybe a little more sophisticated.
Saint-Jean-de-Luz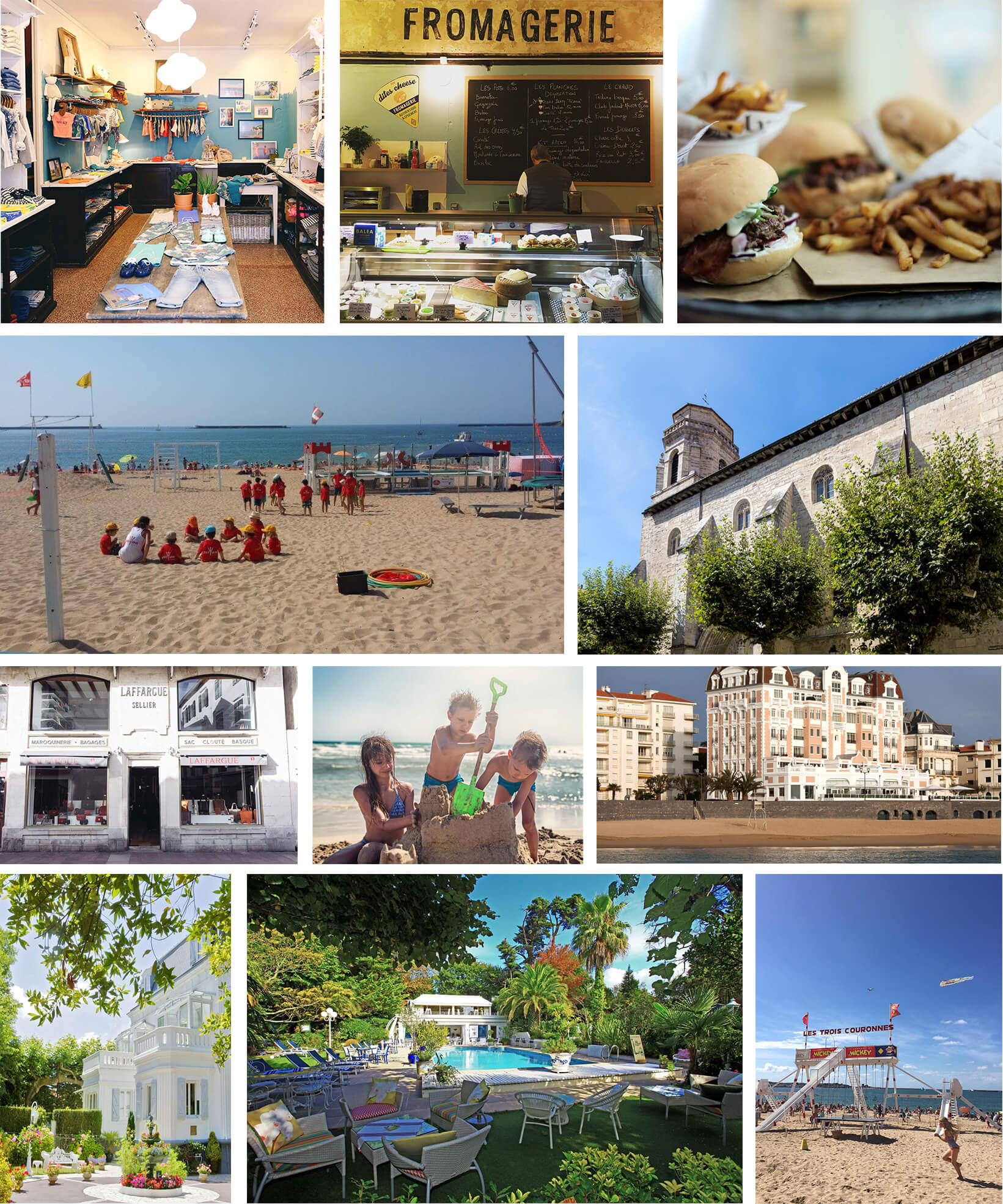 Stay: The staple, the Grand Hôtel, is right on the beach and is luckily super accommodating to families with kids. The thalasso, which uses seawater for all sorts of therapeutic treatments, is famous in France, so take full advantage of the (free) babysitting services. Or sign them up for one of the kids' clubs (Le Petit Chipi Club belongs to the hotel). But more on that later. Also note that the food is divine and the views unmatched. The Parc Victoria is a Relais & Châteaux property—it's on the pricey side. But its close proximity to the beach, gorgeous pool, and shack full of toys to keep the little ones busy while you nap may be worth the splurge.
Eat: After a day at the beach hit up the Glaces Lopez truck for the best ice cream in town. Can't subsist on frozen desserts alone? A proper seated dinner can be had at Chez Kako. Call ahead to reserve a table and order the côte de boeuf with fries to share.
In most reasonably sized towns in France, you will find a traditional food hall. This one is fabulous on two counts: the stunning architecture of the building and its assortment of local and regional producers. You'll find excellent cheese, ham, seafood, spices, fruits, and vegetables. Visit on Tuesdays or Fridays.
Do: Activity-wise, Saint-Jean is a kids' paradise. Multiple clubs (or camps) are open on the beach from the beginning of July through August every day except Sundays. If you're three years old or older, you're welcome to join. Mickey, Neptune, Petit Chipi…they're all great for games, contests, volleyball, swimming, trampoline, and the like. Only problem is the kids never want to go home.
If it's raining and the older kids are getting restless, the trampoline park on Avenue de Jalday is open until 10 p.m. For youngsters, Luzi Parc has everything a little ball of energy might want—including a maze—and charges by the hour.
Cyrille and Martine, the genius couple behind the Chez Renauld, transformed an old garage into this rather unique place. The idea is to allow families and friends of all ages to gather in one place and have a good time. There is a disco for kids until 10 p.m., babyfoot (table football), a gigantic screen with surf sessions, live music, and food trucks with lots of tapas-style options. I've never found another place quiet like it—it's the coolest.
Take five minutes to visit the Saint-Jean-Baptiste de Saint-Jean-de-Luz church. Not only is it a traditional Basque church with beautiful wooden galleries on either side of the nave; it's also where King Louis XIV married Maria Theresa of Spain in 1660. The door that they crossed to get out of the church has been walled over, but you can see it from the Rue Gambetta.
Shop: On the Rue Gambetta you will find everything from traditional espadrilles in a rainbow of colors at Espadrille Basque Bayona to the most beautiful leather bags at Maison Laffargue. Just off Rue Gambetta, Le Zébre à Paillettes (sparkly Zebra, I guess?), which belongs to my old friend Benedicte Ardilouze, is the most charming toy store. My favorite is the Happy Families card game designed by French illustrator Soledad with caricatures of seven different tribes found on the Basque coast: the super bourgeois in Saint-Jean, the locals in Ainhoa, the hipsters in Biarritz, etc. Hilarious. For adorable children's clothes, go to Arsène et les Pipelettes.
THE BACKCOUNTRY
Surfing is usually what comes to mind when you think of traveling along the Basque coast, but hiking the backcountry is equally fun—and not nearly as overcrowded.
Sare Village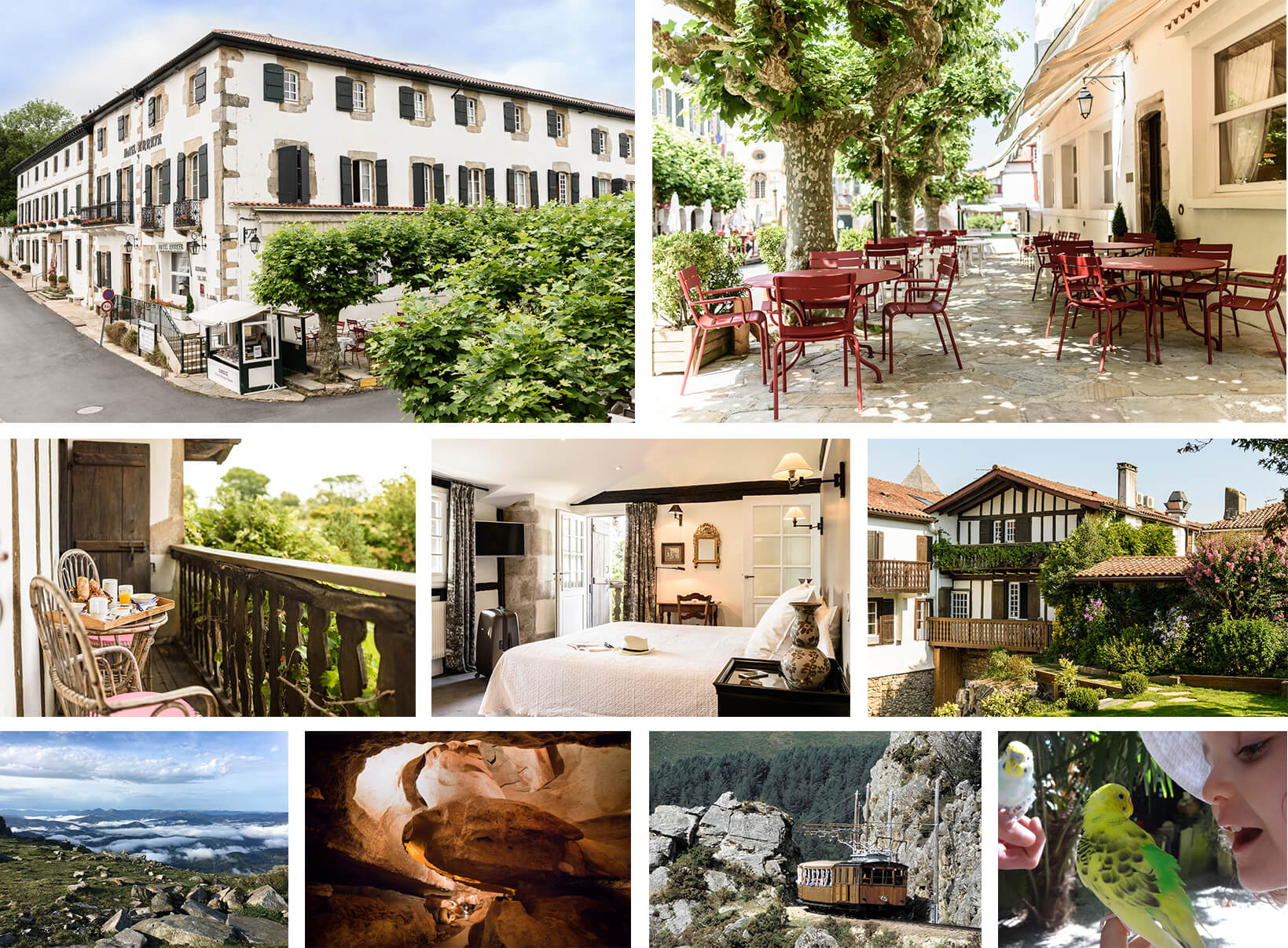 Stay: Hôtel Arraya in Sare is a beautiful sixteenth-century home that's been converted into a comfortable sixteen-room hotel. There's no pool, but you didn't come here to splash around—the garden and the surrounding area are everything you imagine Basque country would be.
Eat: In true Basque fashion, we like to join our friends for lunch in a traditional venta. You drive to Sare—or wherever someone recommended an awesome secret venta—and park the car. Then you go for a hike, typically thirty to sixty minutes up the hill (follow the arrows), and arrive in Spain, or right on the border of Spain and France. It's stunning—straight out of a fairy tale, and perfect for lunch. (The way down is always interesting—most adults are a little tipsy, and the kids have the time of their life watching us stumble.) Plan to have a few designated drivers. My favorites are the venta Loretxea and the venta Antton on the Spanish side. Make a reservation ahead of time, park at the grottoes in Sare, then follow the arrows.
Do: The Train de la Rhune will take you up the almost 3,000-foot Rhune hill in thirty minutes. The views of the ocean and the surrounding mountains are magnificent. On the way up, you'll see sheep, plus indigenous miniature horses. As adorable as they are, they're still wild animals—don't let the kids get too close. You can take the train down or hike if you want a cardio fix; all it takes is ninety minutes and a good pair of sneakers.
The Etxola animal park—and its resident ducks, dwarf chickens, dwarf goats, bison, lamas, and so much more—will make your little ones very happy. The theme here is backyard animals from all over the world, which kids are welcome to feed and interact with in a safe, controlled environment.
The prehistoric Lezea caves have not changed in 2 million years. They're very impressive and a bit dark; I would advise my claustrophobic friends to stay the hell out and maybe attend a workshop to learn the secrets of chef Jean Louis at Le Musée du Gâteau Basque instead.
Saint-Jean-Pied-De-Port
The villages of Ainhoa, Zugarramurdi, and Espelette are perfect spots for a breather on your way to Saint-Jean-Pied-de-Port. Don't plan to stay for a full day, but don't ignore them either.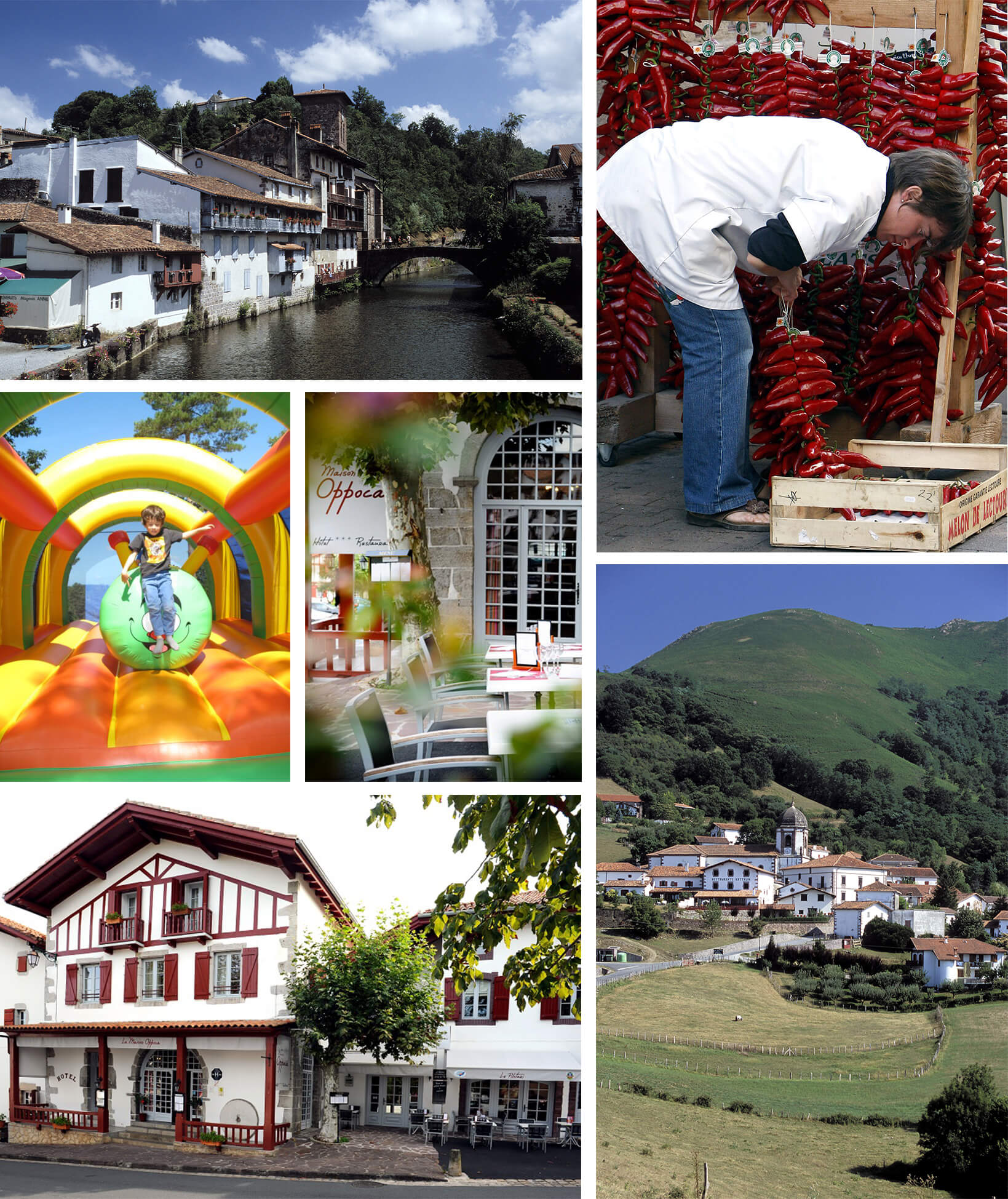 Ainhoa: Ainhoa is a small village, like 664-inhabitants small, located twenty-five miles from Biarritz and close to the Spanish border. It's hands down one of the most beautiful villages in France.
For lunch, book a table at Michelin-starred restaurant La Maison Oppoca. Afterward, take a minute to stop by the church—it's one of the prettiest in the country. If you're lucky, you might catch a Basque choir rehearsing.
Espelette: For such a tiny village, Espelette's reputation, or rather, its namesake pepper's reputation, is major. Understandably, gastronomic tradition is a big deal. At the museum of pepper you can taste all sorts of pepper-centric recipes. Then wander around the streets—they're lined with cute homes covered in red peppers.
On the way to Espelette, surprise the kids with a pit stop at Ttiki Leku, a massive amusement park in the middle of a forest. Bring swimsuits.
Zugarramurdi: The village itself is perfectly lovely, but the grottoes are the big draw. Legend has it Zugarramurdi was home to a robust witch community in the 1600s and the grottoes served as the epicenter of its witchy activity. Visiting the grottoes, which are not underground per se but are more of a massive cave, takes about an hour. There's a witch museum, too, but I don't recommend it for children.
Saint-Jean-Pied-de-Port: If you have time for only one trip in the backcountry, make it this one. The village of Saint-Jean-Pied-de-Port is an extremely well-preserved medieval city steeped in history (pilgrims crossed it on their way to Santiago de Compostela). The cobblestone streets run downhill and over the river from the Saint-Jacques gate to the gate of Spain. Climb to the top of the citadel for the view, then reward yourself with the most delicious gâteau Basque at Barbier-Millox. The old city is mostly pedestrian, so it's a fairly stress-free adventure.
Bidarray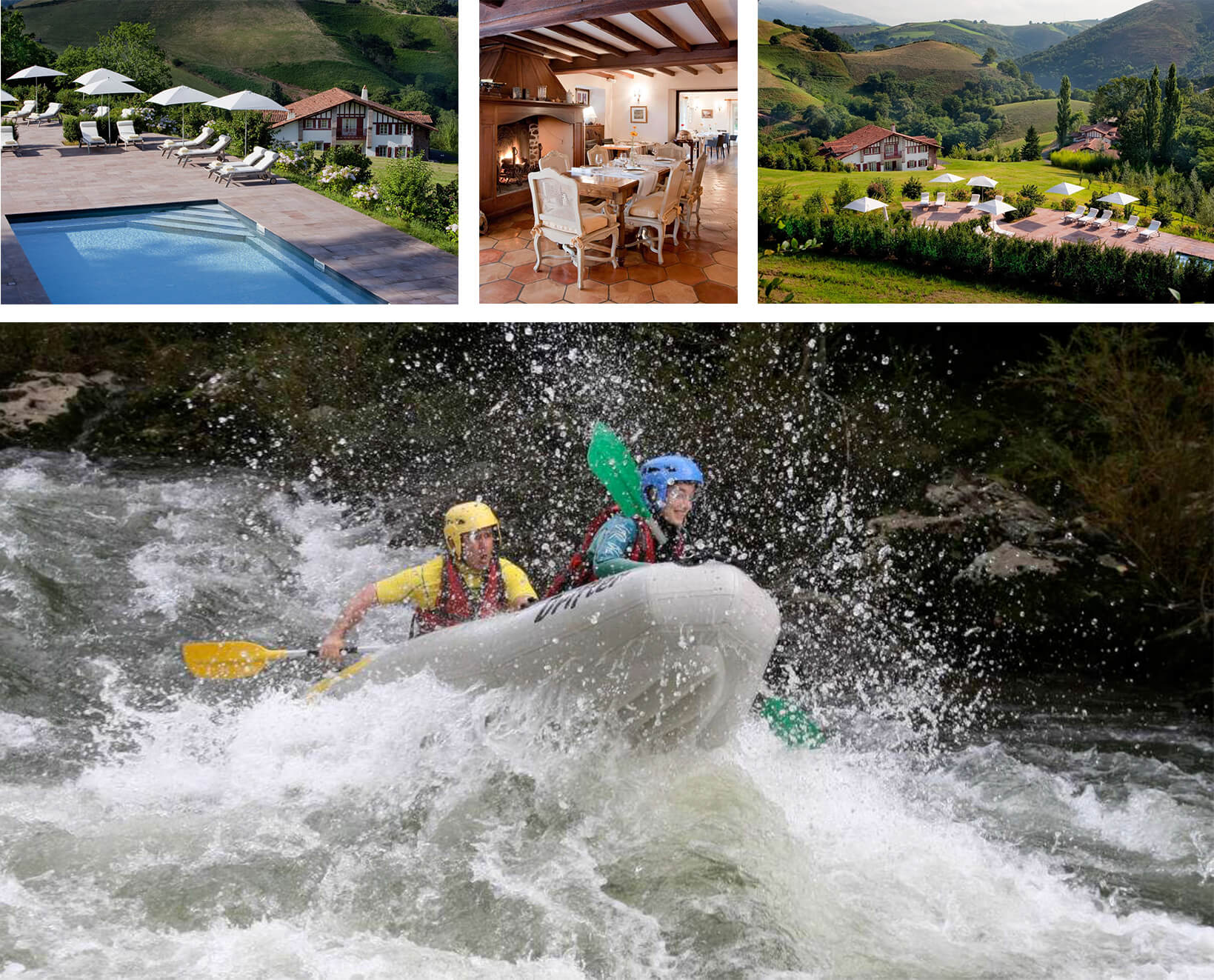 If you decide to devote a few extra days to the backcountry, Bidarray is an excellent option because it's right in the middle of it. If you're looking for a peaceful Basque landscape, I know just the place: Ostape is one hour by car from Biarritz or Saint-Jean-de-Luz. There are family suites available and a kids' menu at the surprisingly chic restaurant. If it's adventure you're after, go for a rafting trip with Ur Bizia. There's also an elaborate adventure park for kids in Bidarray.