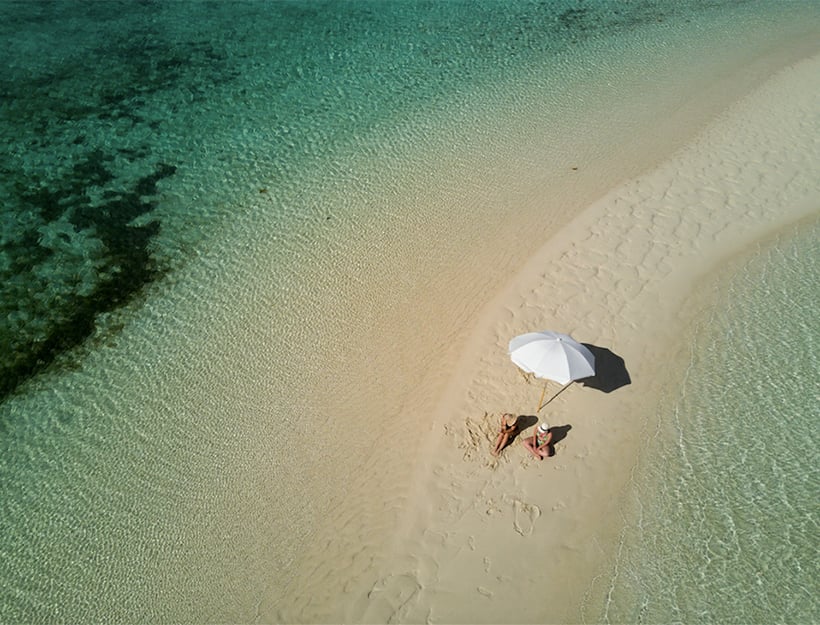 Somewhere Warmer: Beach Escapes to Get You Ready for Spring
With cold temperatures lingering back East, it's only natural that planning a beach getaway would quickly make its way to the top of any to-do list. For East Coasters, the stylish-yet-understated Harbour Island in the Bahamas is a relatively quick flight (usually through Miami) and offers plenty of hours for sunning on its Pink Sand Beach, leisurely dinners featuring freshly-caught seafood, and a lively music scene come sundown. (Karaoke, anyone?) Meanwhile, on the Yucatan Peninsula, while Tulum has certainly changed over the last few years, this boho stretch of shoreline remains an easy drive from Cancun and guarantees beached-out bliss in the form of white sand beaches, secret taco stands, and crystal-clear waters for a long weekend. Here, our guide for exactly how to warm up, what to pack, and how to unwind once you get there.
Harbour Island
This three-mile-long cay off Eleuthera is packed with old-fashioned Caribbean charm and incredibly friendly and chatty Bahamians, who are more than happy to share the secrets for the best conch salad, where catch the sunset, and even, if you ask nicely, the most serene swimming holes. Most guests access the network of 18th-century frangipani lined streets via golf cart or bike, adding to the island's easygoing vibe. The island is bustling from November through July, and is mostly closed from August through October when everything shuts down.
STAY

Dunmore Street, Dunmore Town | 970.349.7761

The result of a masterful renovation and takeover by the luxury adventure collective, Eleven Experience, the Bahama House is tucked into a restored 1800s pale-pink painted stone building in the heart of Dunmore Town. Guests are swept from the main airport in Eleuthera over to Harbour Island (about five minutes by water taxi). The eleven-room property, which includes two cottages, typically requires a full buy-out to stay here, making it a solid option for families traveling together or those craving a bit more privacy. Each room is unique, reminiscent of 1930s Palm Beach design (think vintage lamps, found antiques, bold Ikats and seagrass rugs, four-poster rattan beds, and a cacophony of block-printed textiles). The generously-sized bathrooms are a beauty lover's dream, flooded with light, and feature hand-stamped Costa Rican tile floors. Many of the rooms offer views of the harbor and the freshwater swimming pool, and there are so many wraparound verandas and delightful little nooks and crannies for lounging you'd be hard pressed to take advantage of every single one during your visit. At night, don't miss a nightcap in the jewelbox-sized Rum Bar, where you can sample spirits from all over the Caribbean. An on-site staff will do everything from cook your meals to arrange excursions to the Pink Sand Beach, snorkeling, deep-sea fishing, and horseback riding. Bonus: a stay at the property includes round-the-clock access to the Scorpion, a 38-foot Rib boat for island tours.

Photo: Alex Fenlon/Eleven Experience

Dunmore Town | 242.333.2276

Lovingly referred to as Pip's Place by locals, the Ocean View Club has the intimacy of a B&B and the understated luxury of a boutique hotel, but is nothing like the over-the-top Caribbean resorts you might find on other islands. Ben Simmons and Charlie Phelan took over Ocean View Club from Ben's mother, Pip, who'd been running the hotel since the 70s, back in 2013. (Fact: Ben's parents were married in Room Nine some 35-plus years ago.) The young couple has added a few modern trappings, Wi-Fi in the rooms among them, plus given the 14-room hideaway a tasteful refresh. Rooms are still as regulars will remember them: light and airy, with white painted floors, some with balconies that open up to the Pink Sand Beach down below. (For those who love a clawfoot tub, book the Kitchen Cottage, which has a highly Instagrammable canary yellow one.) Guests can indulge in the local drink of choice, a Goombay Smash at the hotel bar, which still runs on the honor system to this day. Also on our radar: The Other Side, an intimate, luxuriously nomadic, and blessedly unplugged seven-room property that Charlie and Ben just opened up across the way in Eleuthera. The design, which centers around communal and private sleeping tents, hardwood floors, and four-poster beds, is reminiscent of a scene from Out of Africa.

DO

Cistern Rock, which hugs the southern end of the island, is a good spot for beginners and families, while the snorkeling off Man Island and Devil's Backbone, a three-mile-stretch on the north end, are best suited for the slightly more adventurous. Valentine's Dive Center, situated at the marina, offers daily afternoon trips as well as morning lessons and partners with Bahama House for undersea excursions.

Photo: Alex Fenlon/Eleven Experience

Harbour Island is known for its powdery Pink Sand Beach, and while there are many ways to enjoy it, horseback riding is perhaps one of the most special. Ask your guide for a detour to see the "Lone Tree" on Girls Bank on the harbor side of the island. Rumor has it the tree washed up on shore upright some 20 years ago after Hurricane Andrew. It has remained intact, drifting ever-so-slightly with the tide and has served as the backdrop for countless photo shoots ever since. Properties on the island like Bahama House will arrange an hour-long excursion for guests through local outfit BB Horseback Riding, which has four Bahamian horses for use. Our suggestion? Go at sunset when the sand has a pearly iridescent quality and have a glass of rosé on the beach before heading back to town for dinner.

Photo: Alex Fenlon/Eleven Experience

EATSHOPPacking List Tulum
It's been a few years since Tulum was the official "undiscovered" beach town on everyone's minds, and in the time since then, the town's developed a bit, with several new hotels and restaurants to round out the sleepy beach town's offerings. In short, it's made the transition from a brand-new to a classic destination, and for good reason—the hotels are luxurious without feeling pretentious, the food is caught-it-this-morning fresh, and the pristine beaches (with that spectacular Caribbean sand) stretch for miles in both directions. And that's before you even think about planning a trip to Chichén Itzá.
STAY

Km 4.5 Carretera Tulum-Boca Paila | +52.984.871.1160

Descriptions of Papaya Playa sometimes read more like a utopic community than a luxurious resort—and somehow, the owners (the hotel is a collaboration between Design Hotels and a long-time Tulum hotelier) have accomplished a bit of both. The hotel has an aggressive environmental agenda, reaching for zero emissions and "zero contamination" by 2018, an initiative that's brought an innovative solar-powered energy setup and wastewater treatment as well as an organic garden with banana, coconut, and cashew trees, and gorgeous decór pieces sourced from Mexican craftsmen. The rooms themselves are minimalist (think neutral color schemes, save for pops of woven color in handmade pillows, with simple wooden furnishings), which lets the focus remain on the stunning ocean and impeccably kept grounds, visible from every patio and multiple outdoor jacuzzis. The hotel also understands itself as a gathering place for creatives, so it's not unusual to stumble upon a reading or musical performance in the beachside amphitheater, or a name-brand DJ from the states at the beach club. Neither takes away from the serene vibe of their famous spa, which is complete with a juice bar, vegan taco stand, yoga classes, and traditional Temazcal ceremonies.

Carretera Tulum Ruinas Km 5, Zona Hotelera | +52.984.145.7598

This adults-only resort was designed to blend into the jungle, and that's exactly what the architecture does—it's not unusual to climb windy wooden ladders or over suspended netting to get to your room (or, in the case of the latter, to your dinner table at the wood and macrame-covered restaurant, KinToh). The whole operation is very of-the-earth, in the best possible way: Walkways are suspended on stilts "so the trees can grow freely," the entire place is lit by candlelight to keep from disturbing sea turtles nesting on the beach, and each room is outfitted with a stunning mosaic tub since, as the website proclaims, "the shower is the invention of the rushed man." They even have a private cenote you can explore on the property. In the total, the effect is exceedingly romantic, particularly as each villa looks out over the ocean via suspended swings and tubs built into the patio.

DO

Go Snorkeling in a Cenote

The Yucatan is famous for gorgeous watering holes called cenotes—a geographic specificity here, where limestone rock collapses into cavernous sinkholes, creating access to fresh groundwater underneath. Sacred to the Mayans, they vary greatly in size, some open to the air, and others more enclosed like water-filled caves. Many are filled with colorful fish and other marine life, so they make for great snorkeling, and a few of the darker, more complex caves are actually diving destinations. That said, it's also easy to find cenotes that are best suited to floating around and jumping off ledges. There are thousands in the region and they're easy to access, so ask your concierge for a recommendation. A note—be sure to wear biodegradable sunscreen when you're swimming, as toxic products can disturb the delicate marine life.

Photo: Pavel Kirillov

Visit the Tulum Ruins

In pre-Columbian times, Tulum was a major port city, and the Mayan ruins here represent one of relatively few sites that are actually on the water. Visiting them is a requirement, even on a short trip, since it takes practically no effort—they're easily accessed by bike, compact enough to explore in an hour or so, and perched above one of the most perfect swimming beaches in the area. If you have even one extra day, though, it's more than worth taking the two-hour trek to Chichén Itzá to the north.

Photo: Mark Bonica

Boca Paila Km. 7.5, +52.984.141.8116

Yoga Shala runs incredible yoga retreats year-round, but one of the best things about their classes is that they're open to the public, so you can stop by for a few downward dogs (and to sweat out the tequila) no matter where you're staying. Check the calendar in advance for their teacher exchange—they routinely bring some of the best teachers from around the world to teach special classes.

Carretera Tulum-Boca Paila Km.10, Zona Hotelera | +52.984.803.2243

This hotel, on the southern edge of the beach (not far from the UNESCO-protected Sian Ka'an biosphere), earned a reputation for their amazing wellness program, which includes yoga and meditation classes in their treetop yoga studio and a spa that grows sacred herbs and medicinal plants for use in treatments right on the rooftop. They also do incredible temazcal ceremonies—traditional pre-Hispanic Mexican sweat lodge sessions led by Mayan healers. There are open ceremonies during every full moon, but you can also arrange a private ceremony with your own group.

EATSHOPPacking List