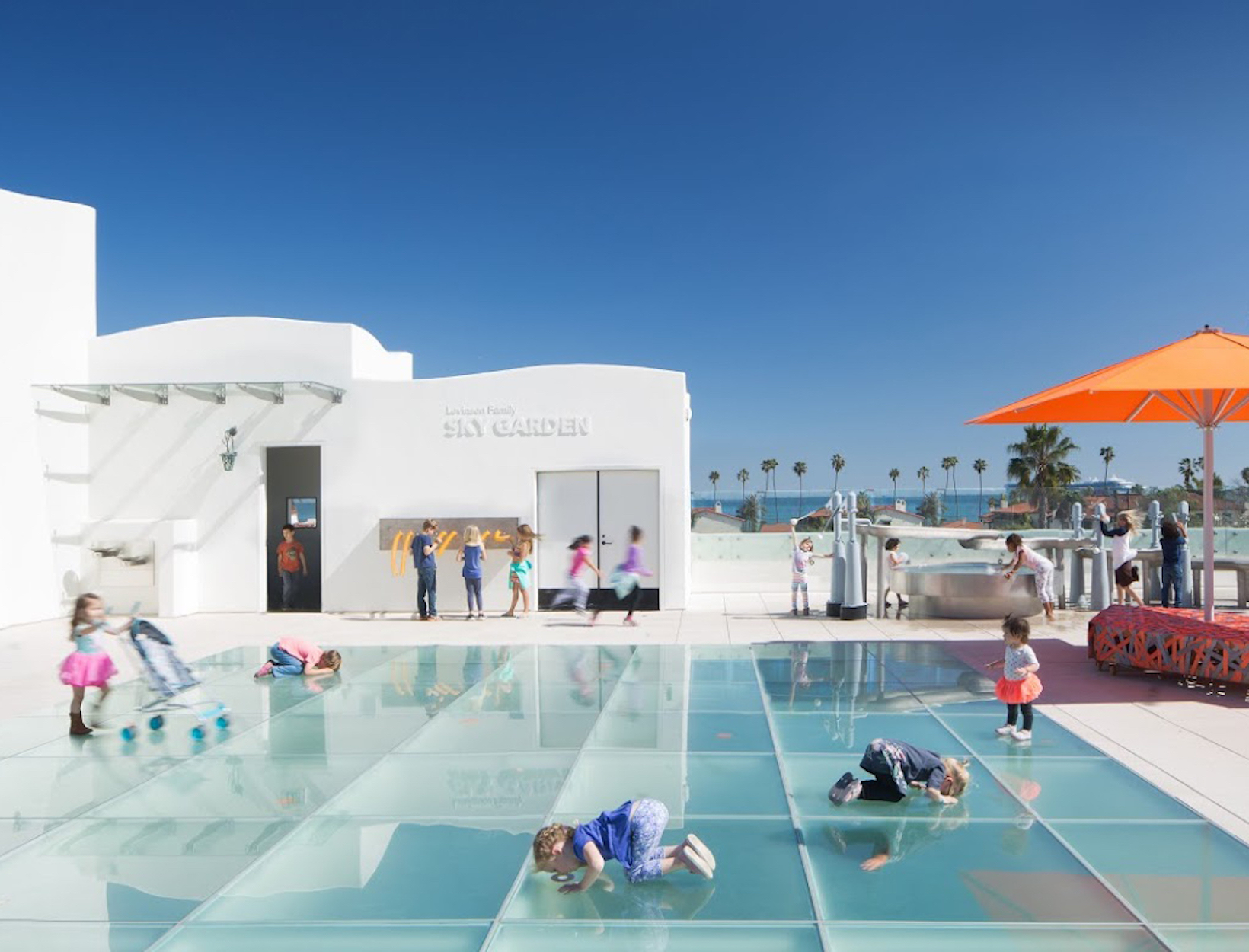 Photo courtesy of MOXI, The Wolf Museum of Exploration + Innovation
A Santa Barbara Weekend with
the Kids
Santa Barbara took a beating last year. The county suffered catastrophic mudslides after one of California's worst wildfires burned protective brush and vegetation from its hillsides. Houses were destroyed, bridges collapsed, and entire communities were brought to their knees.
But in the past year, Santa Barbara, a community known for its preternatural beauty, has shown that it is also a beacon of resilience. New hotels are springing up, and old ones are being renovated. Our favorite taco joints are as popular as ever. And the stretch of sand that runs from Carpinteria to Goleta is thriving—with surfers and seals alike. In other words, for anyone within striking distance—and especially anyone with kids—Santa Barbara is the perfect weekend escape.

Check In
ROSEWOOD MIRAMAR BEACH

There's no way to sound cool about it: The opening of the Rosewood Miramar Beach has made us giddy. And it's not just because we have a new store in the hotel—although to be honest, that's a pretty big part of it. The new goop Sundries shop offers clean, nontoxic beauty products (the Ursa Major sunscreen and goop Himalayan Salt Scalp Scrub shampoo are staff favorites) as well as towels, candles, swimsuits, cover-ups, beach bags, workout clothes, sunglasses, all-stars like GOOPGLOW, goop chews, and really anything you need to make a trip to the beach extra special, like crystal sprays or sex toys (depending on where the weekend takes you).

The hotel itself is stunning—a bright, airy refresh of a property that dates back to 1876. There's history here (it was formerly the storied Miramar by the Sea), and so much beauty and comfort you won't want to leave the property. Guest rooms are done up in easy-on-the-eyes shades of cream and blue, and each has a private terrace with comfy deck chairs made for lounging and ocean-gazing. If you're coming with kids, go for a bungalow suite—the sunny-striped interiors are warm and inviting. Two pools and a beach concierge make staying put with a book and a cocktail all too easy. Once you've had your fun at the goop Sundries shop, there's a thorough roster of activities, like whale watching, and a secret local surf spot to make use of the hotel's second greatest asset: the ocean.
FOUR SEASONS RESORT
THE BILTMORE SANTA BARBARA

As soon as you set foot in the lobby and look at the ceiling, it's obvious: No one makes hotels like this anymore. The property was built in 1927—and with its Spanish-tiled everything, vaulted ceilings, and massive windows that look out on to the lapping waves of the Pacific, this is a resort that feels more like a historic palace in Mexico. It's one of the few hotels we know of that's as attractive to families as it is to couples as it is to old Hollywood stalwarts. And here's a theory why: It may be big, there may be hundreds of people here at any given time, but it's incredibly private. There grounds are vast and jungly and dotted with private villas and the pool and hot tubs (plural) do not in any way disappoint, especially when you order a glass of wine, freshly squeezed OJ for the kids, and poolside snacks. But what will really win over the children: pint-size bathrobes and pool robes in the room.
Eat
LA SUPERICA TAQUERIA

It's a rare restaurant that can bring its A game reliably—for decades. But La Superica Taqueria is exactly that place. It's as low-key as it gets—it's an order-at-the-window, paper plates kind of place. But no one comes here to stand on ceremony. They come for the tacos. And the homemade corn tortillas, tamales, salsas—everything on the menu is fantastic and fresh. La Superica Taqueria is easily one of the best taquerias north of the border. Just arrive as early as possible and don't be in a rush: Lines can get long.

Do
Carpinteria STATE BEACH

Before you head to the beach, drop by a nondescript bodega on Linden Avenue, a few blocks down from Carpinteria Avenue, called Beach Liquor. You'll know you're in the right place when you think you're in the wrong place. Walk straight to the back—this is where you'll see a few chefs chopping, dicing, mixing, and depending on how many jalapeños are in today's order, your eyes may or may not start to tear up. Order a breakfast burrito—however they recommend—and be patient. You can't rush culinary arts like this, no matter how impatient the kids are. When it's ready, take your breakfast to go and head the few blocks over to the beach. Your burrito will be so perfectly salty and spicy and delicious, you may briefly consider grabbing another before you decide instead to return tomorrow.

Meanwhile, Carpinteria State Beach is called the country's safest beach for a couple of reasons: It's wide, the waves are adorable, and the riptide is almost nonexistent. You could stay all day and still the kids would want to stay longer. Rest assured, you're leaving the beach, but you're heading to another one.
Eat
TYDES AT CORAL CASINO

Much has been made about the indoor-outdoor lifestyle enjoyed by Californians, but truly, eating a superb meal on a beachy, ocean-view deck is one of life's great pleasures. Tydes is a part of the private Coral Casino Beach and Cabana Club, a property built in 1937. (Guests of the Biltmore have access to the property, pool, and restaurant.) Start with a platter of briny Pacific oysters and stick with a pescatarian theme. The Chilean sea bass served with leeks, clams, and pearls of salmon roe is just so good, helped only by heaping sides of za'atar-spiced carrots and buttery squash. Don't rush through dinner and don't leave without a bracing digestif—you want to soak up the cool night air drifting over the Pacific as long as possible.

Do
MOXI, THE WOLF MUSEUM OF
EXPLORATION + INNOVATION

Block a few hours. Or a day. The kids will ask you to stay longer no matter how much longer you stay here. This museum, located on State Street in downtown Santa Barbara, is less a museum and more like a multifloor, hands-on, interactive kids' museum in which everything spins or beeps or lights up. It's like the world's coolest science class. Our advice: Start on the roof, where the kids can learn how solar power works by testing it on musical instruments. As you make your way down, floor by floor, there are games of velocity, speed, abstract thinking, math, perspective, and way too many more to list. Most parents, even the ones who start off sitting on a bench looking at their phones, join their kids by the end.
THE Ritz-Carlton BACARA

The drive north to Goleta is gorgeous—green Santa Barbara hills on one side, rolling blue Pacific on the other. This is the site of the Ritz-Carlton Bacara, arguably the most beautiful stretch of real estate in Southern California. Sign the kids up for a program called Jean-Michel Cousteau's Ambassadors of the Environment. For a solid afternoon, they will be utterly captivated by what is essentially a marine biology day camp: They'll hike along the coast, learn how to test ocean water, study the differences between seals and sea lions, and very likely see both. It may be chilly, they may get cold and sandy, and without fail, when it's time to go home, they'll beg to stay longer.
Eat
CAVA

Whenever we make it up to Montecito, we make a point of stopping by Cava. Within minutes of our sitting down, the friendly staff has brought over the spectacular homemade chips and salsa. The kids will be thrilled with the Mexican-leaning menu (may we suggest the tacos? And a lot of them?), and their parents will be thrilled with the fresh margaritas. Last time we were there, we had the blood orange version. And we would like to tell you we had only one.