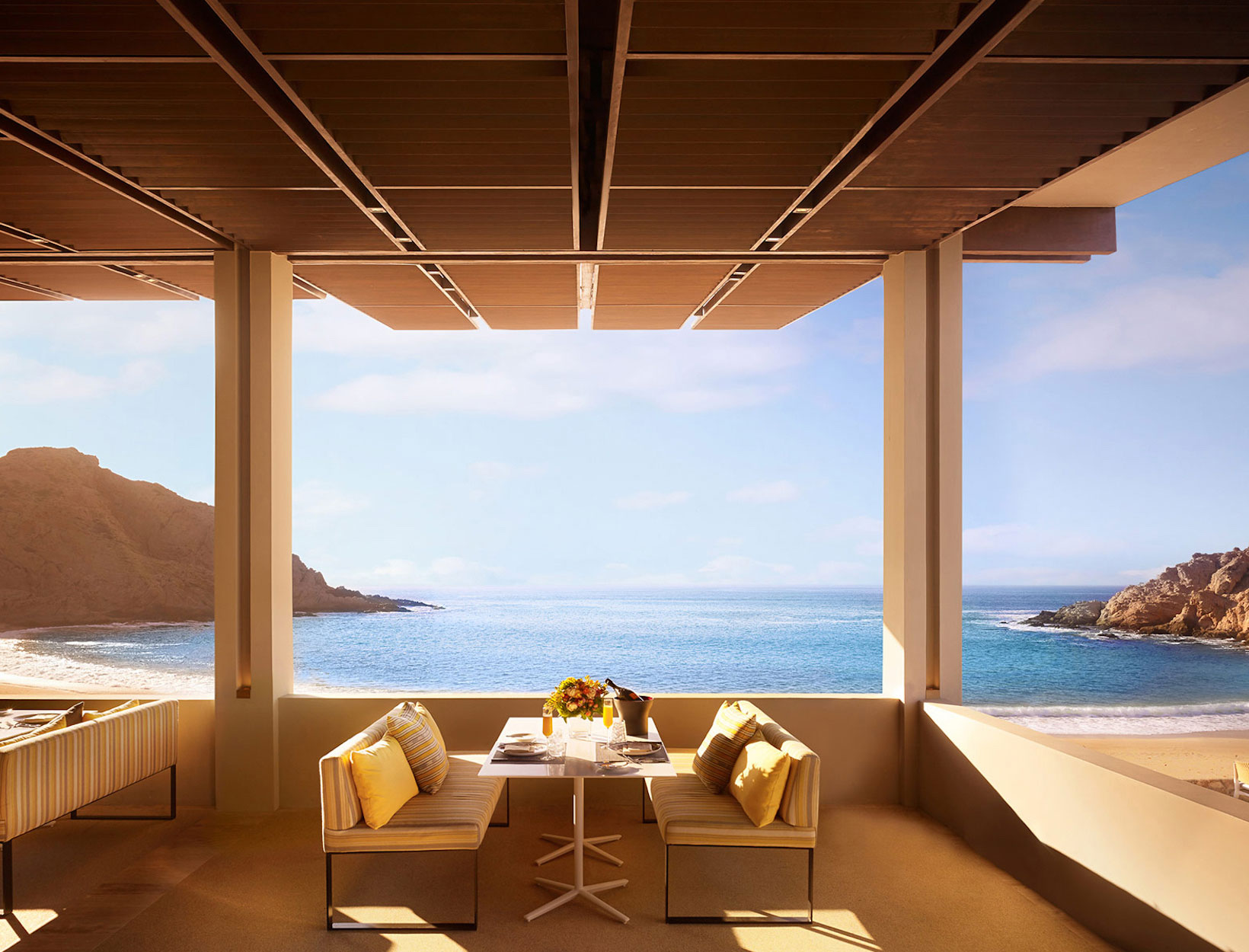 Style Agenda:
Romantic Valentine's
Day Getaways
In partnership with our friends at

Valentine's Day can be a little paralyzing. What seems romantic and fun in the planning stage all too often turns into fears of a clichéd, forced, heart-shaped box of awkwardness. So we came up with a foolproof formula for a dud-free V-Day: Take one fantastic hotel, add an amazing tasting menu, multiply it by a water view, subtract stress, and voilà—a getaway for the ages. Here, our short list of dreamy Valentine's Day getaways, plus the packing list to go with each.
CABO SAN LUCAS

Beaches like you dream about, authentic Mexican food, and proximity to LA (and relative proximity to NYC—a two- or six-hour flight, respectively) mean that Cabo deserves its reputation as a reliably warm, relaxing, romantic getaway. And 2019 is Cabo's year with a slew of new, very well-done resorts. Montage Los Cabos is the best of them—a thirty-nine-acre resort on Santa Maria Bay, where you can actually get in the water and swim (most of the beaches in the area are off-limits due to riptides). The vibe is sleek, modern, and discreet, and it seamlessly blends into the landscape in shades of cream and sandy browns. And all 122 guest rooms have ocean views. Eventually, though, it'll be time for dinner. Head over to Flora Farms—a gorgeous bohemian compound lined with vegetable and flower beds and rolling green lawns. Its restaurant, Flora's Field Kitchen, is a modern farmhouse that looks like it was lifted straight out of East Hampton. You can't go wrong with the winter risotto with sweet corn and chicken broth or the toasted quinoa with pickled papayas, herbs, and poached local shrimp. There's also an old-timey ice cream cart and a small grocery store on the property, stocked with just-plucked produce, sweets, and jars of homemade granola. For a day trip, visit the end of the peninsula where the Sea of Cortez and the Pacific Ocean meet. Yes, the El Arco rock formation (locals say it looks like a dragon taking a drink of water) is touristy, but it's also breathtaking.
WHAT TO WEAR
SAG HARBOR, NY

This stretch of Long Island is always associated with summer—and like so many summer destinations, it's quaint and beautiful and romantic as hell in the winter. Especially Sag Harbor. This is when the town is quiet and peaceful, its cottages often dusted with snow. Luckily, a few great businesses are open year-round, with the added bonus of being a lot less crowded and—at least at the hotels—more reasonable than in the summer. Baron's Cove is the old stomping grounds of Truman Capote, Jackson Pollock, and Kurt Vonnegut, and after a two-year renovation (completed in 2015), it's returned to its former glory. This historic, sprawling property has sixty-seven plush rooms (there's a subtly nautical theme throughout), and an excellent seafood-centric restaurant. For an intimate, romantic dinner, we like Dopo La Spiaggia: This little gem faces the water and serves food that we dream about long after the meal is over. The pasta dishes—like the squid ink tagliolini with bay scallops, shrimp, calamari, chili, and tomatoes and the ravioli with wild mushrooms and ricotta—are without equal on the East End. For a nightcap, try Wölffer Kitchen—order a glass of cabernet or Pinot Noir, from the lovely Wölffer Estate Vineyard just down the road.
WHAT TO WEAR
SAN FRANCISCO

With hills draped in mist, sweeping views of the bay, and the iconic Golden Gate Bridge, San Francisco may just be the most romantic city anywhere. Start at the Fairmont San Francisco. It's not the newest or the fanciest hotel in the city, but it's quite possibly the most special, and it definitely has the best views. The property sits at the top of Nob Hill and is home to a wonderful restaurant, a great afternoon tea service, and if you're not convinced yet: honeybee hives in the herb garden. There are also the gloriously kitschy Tonga Room and Hurricane Bar, which include a lagoon and not-spontaneous spontaneous indoor thunderstorms. For a romantic dinner, book a table at Michael Tusk's Quince, which is the city's standard for fine dining. The tasting menus change with the seasons but might feature a few of our favorites, like the agnolotti with black trumpet mushrooms and the cod with Monterey Bay squid and saffron. Afterward, stroll over to Leo's Oyster Bar, which has a gorgeous interior (created by local design star Ken Fulk), with marble tabletops, botanical wallpaper, checkered floors, and wicker stools. It's a fun setting in which to sip your Smoke & Mirrors (mezcal, vermouth, chartreuse, and cardamom).
WHAT TO WEAR