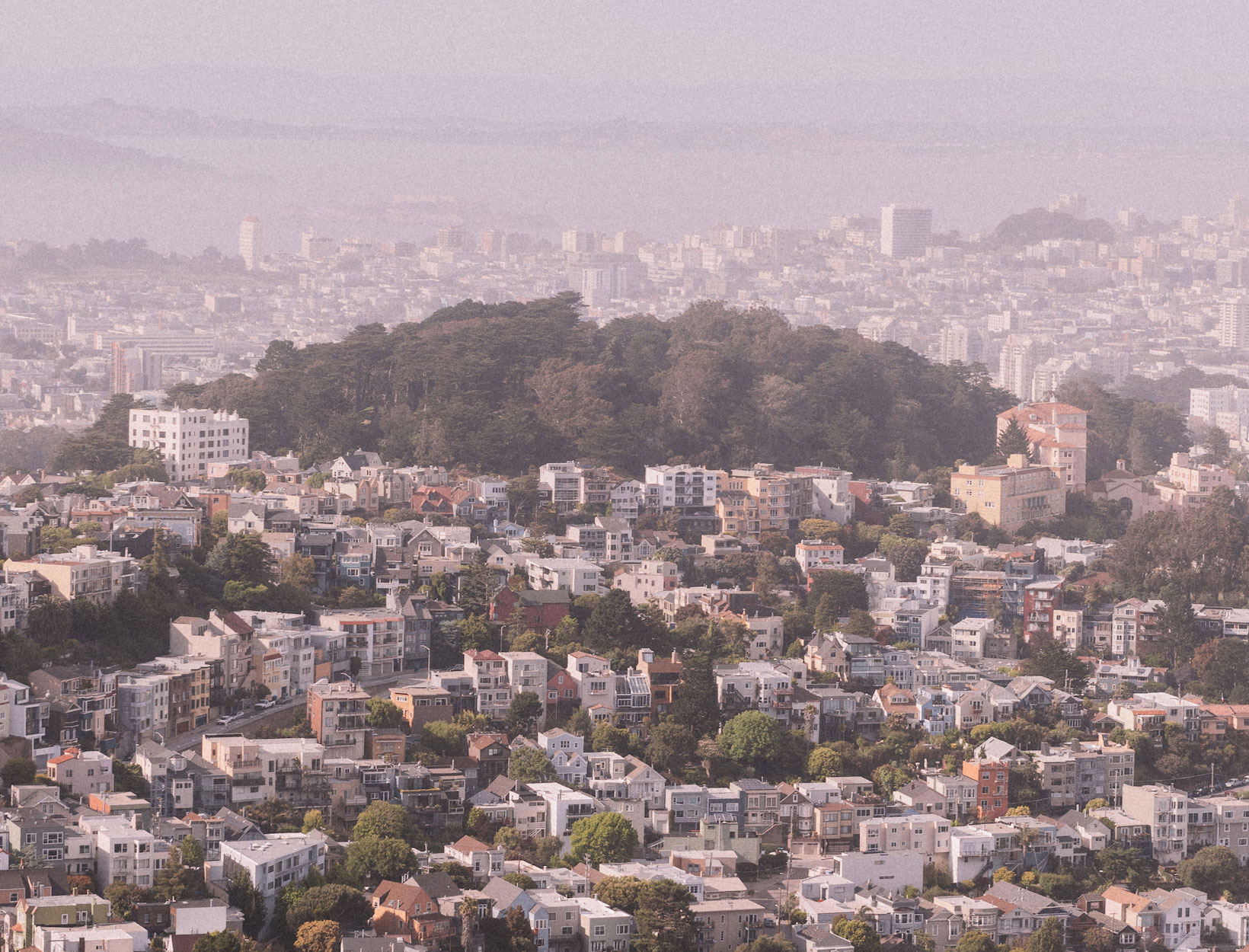 Photo courtesy of Evan Tetreault
10 Places to Visit in

San Francisco…and Beyond
In partnership with our friends at United Airlines
To go to Black Bird Bookstore in San Francisco is to love it. Ditto Tartine. And so many other places. goop HQ is in Los Angeles, of course, but we'll reach for any reason to fly to the city up the coast as often as possible. Which is how we came to fall in love with the copper spoons at MARCH and the espressos at Sightglass. These are places and meals and sights that make it on to our very discerning short list over and over again. So we decided to go a step further. We wanted to sleuth out places in some of our other favorite cities around the world that call to mind the best of San Francisco. And when you set out to find the places that can stand up to your short list, a funny thing happens: Your short list grows longer. To make that travel as painless as possible, we factored in the cities that United Airlines flies to. Add to that the airline's new Polaris Lounge—with its daybeds, showers, and well-trained bartenders—and suddenly getting somewhere is as fun as landing somewhere.
01 02

01 – 02

For Books
01 – 02

For Books
Black Bird Books

San Francisco

Outer Sunset is many things: a beachy neighborhood in San Francisco, home to many excellent surf shops (looking at you, Mollusk and Woodshop), and the place to come for Black Bird. The independent bookstore, curated by local owner (and voracious reader) Kathryn Grantham, is equal parts community hangout and retailer. Black Bird is unlike so many bookstores—and we love that about it. In lieu of traditional spine-out shelving, for example, books are displayed with the covers facing forward—like artwork. Because under Grantham's pioneering eye, there are no bad choices. Each title is selected to propel new voices forward and to commemorate the fascinating history of San Francisco. Make it a first stop in the city—and bring nothing but time.

John Sandoe Books

London

Every bibliophile who lives anywhere near SW3 has a deeply personal relationship with John Sandoe Books. Wedged down a narrow alley off the storied King's Road, the shop is fronted by an eighteenth-century facade, offering the first hint that there's something very special inside. In this case, it's more than 30,000 limited editions, new fiction, old classics, and other literary treasures. Despite the sizable inventory, when it comes to square footage, the bookseller doesn't have much to work with. And that somehow adds to the charm of the place. A huge part of the allure is rummaging through all the hardcovers stacked on every step. And that's before you even contemplate the shelves.
03 04

03 – 04

For Coffee
03 – 04

For Coffee
Sightglass

San Francisco

Entering Sightglass's flagship is like taking an intensive course in direct-trade coffee. Fragrant burlap sacks of beans are heaped in every nook, the roaster hums in the background, and the whoosh of the steamer pulls all the attention to the espresso counter. If it's morning, order a frothy cappuccino or one of the rocket-fuel cold brews, but if you go in the afternoon, investigate the affogato bar (yes, really), where Sightglass baristas drizzle hot (usually single-origin) espresso onto outrageously creamy Salt & Straw ice cream for something entirely sublime. The locals are starting to catch on, so go before the rest of the city beats you to it.

Single O

Sydney

There is no shortage of excellent coffee in Surry Hills. Actually, the neighborhood is famous for it. But Single O is more than excellent coffee. The solar-powered roastery cranks away, ensuring that batches of single-origin beans are toasted for balanced complexity and impossible-to-describe deliciousness. The specialty-brew bar right next door uses a milk-on-tap system to reduce waste, which is a genius move, and we highly recommend trying whatever espresso of the week the baristas have brewing when you stop by. Then head outside and drink your espresso curbside with the rest of Surry Hills' bright young early-risers.
05 06

05 – 06

For History
05 – 06

For History
Alcatraz

San Francisco

Alcatraz is the stuff of nightmares and legend, thanks to the stretch of foggy sea that sequesters the island from the city, and of course, the historic prison itself. But it's the menacing nature of the place that also makes it so fascinating. The tales of attempted escapes and the island's continued resonance as a piece of history—it's all catnip for history buffs. Wrap up for the boat trip (that wind is usually pretty fierce) and commit to an audio tour of the former prison. It's very worthwhile.

Humayun's Tomb

Delhi

Outrageously good (and often vegetarian) food, world-class antiques, and a bustling hum in the city make up half the fun of a trip to Delhi. The other half: a lesson in history. That's where a visit to Humayun's Tomb comes in. Completed in 1572, the extravagant mausoleum was the first garden tomb on the subcontinent, and it set off an architectural trend that would lead, six decades later, to the creation of the ultimate architectural symbol of grief: the Taj Mahal (in Agra). Take a tour and spend an hour or so wandering the manicured grounds, soaking up all the sculptural intricacies and the hidden magic of this serene patch of New Delhi.
07 08

07 – 08

For Dessert
07 – 08

For Dessert
Tartine

San Francisco

Going to San Francisco and not getting a buttery, cinnamon-scented morning bun at Tartine is like going to Venice and not seeing a canal. The lines at the original flagship are legendary, but thankfully a new SF location has just opened in the Inner Sunset neighborhood. Liz Prueitt and Chad Robertson's bread is iconic—and yes, we realize we just called bread iconic, but we stand by it. (The secret sauce is in the heritage grains and fermentation…we think.) And so breakfast of smoked salmon, pickled onions, and cream cheese smeared on a slice of crisp toast is only logical. Fill a paper bag with Tartine's outrageously chewy chocolate cookies, flaky croissants, and light-as-air muffins for later. You won't be sorry.

Mokonuts

Paris

Husband and wife Omar Koreitem and Moko Hirayama are redefining the simple cookie. Chocolate chips take a back seat to fennel, pickled lemons, miso, and other scrumptious ingredients that our taste buds can't quite figure out. Every bite is chewy, salty, and explosively flavorful. You don't want it to end. And then we come to the cakes: apple pies infused with cardamom, labneh cheesecakes, dark-around-the-edges-but-syrupy-in-the-middle tartes Tatin. Mokonuts' savory breakfast and lunch menu draws hungry—and not even that hungry—crowds to the 11th arrondissement daily, and rightfully so.
09 10

09 – 10

For Design
09 – 10

For Design
March

San Francisco

Hand-thrown stoneware bowls, copper spoons, Ilse Crawford glass vases—MARCH is a store meets showroom, and it stuns every time. The edit of housewares, decorative accents (woven baskets, candles), and furniture is pitch-perfect. And then there's the quality of each piece. Generally, we find an excuse—thank yous/weddings/housewarmings—to stop by and browse the beautifully displayed wares. More often than not, new purchases weasel their way into our own kitchen and onto our coffee table. Stunning design offerings aside, the picturesque Pacific Heights neighborhood has a lure of its own, especially if a cortado at Jane on Fillmore is on the agenda.

Moooi

Amsterdam

A Saturday in the de Jordaan neighborhood could involve munching on truffled cheese at Lindengracht Market, rooting through Comme des Garçons' cute pocket store, and stocking up on chic little notebooks at LikeStationery. For the design lover, this canal-side neighborhood is manna. Dutch design master Marcel Wanders has gathered a bunch of his favorite creatives—plus a smattering of his own pieces—under one, stylish roof and called it Moooi. The space is vast and set out like a shoppable showroom. Even twenty minutes wandering around is enough to get you rethinking all your decorating decisions.