A Guide to the Iconic Paris Flea Market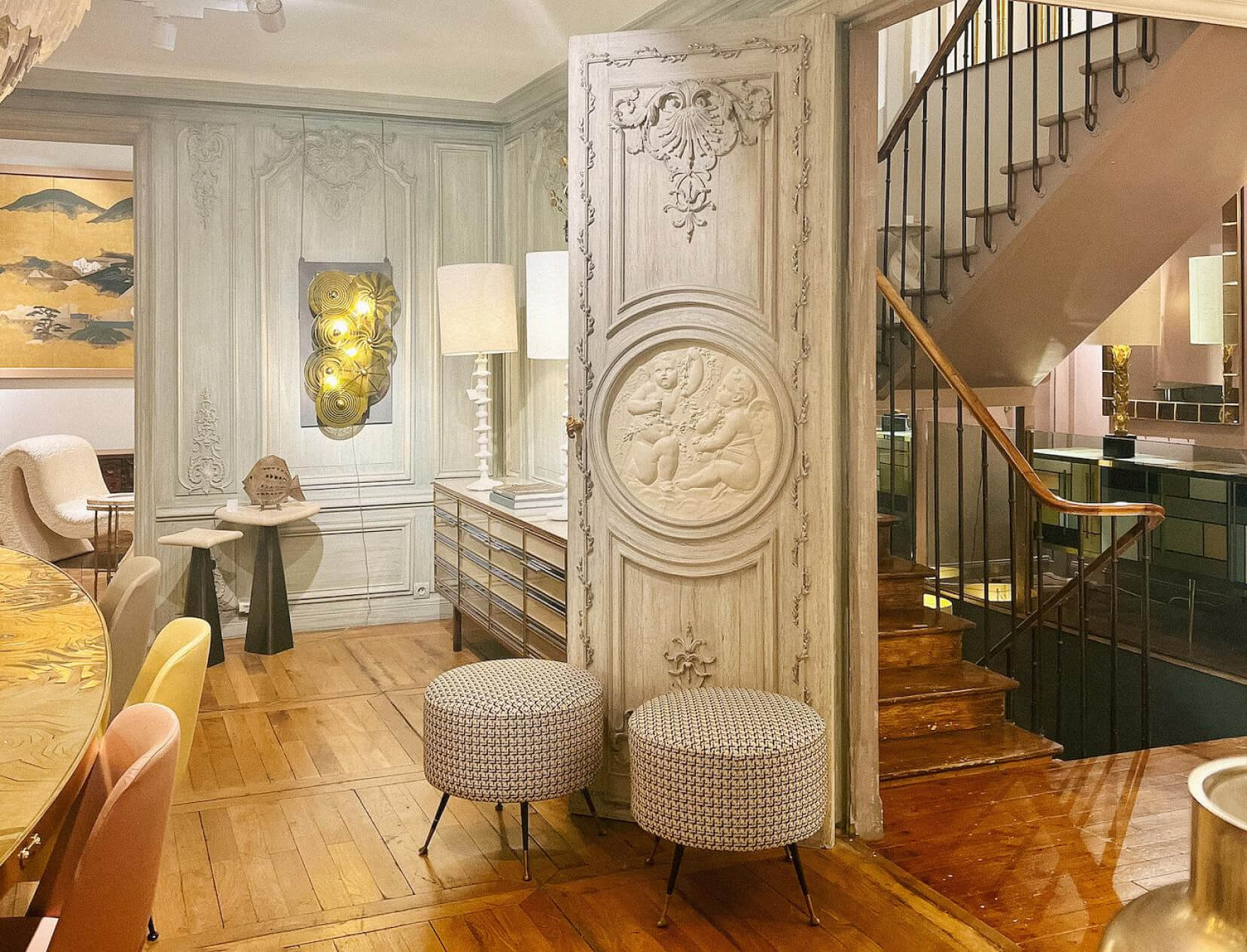 We all have at least one great adventure on our bucket list. For some, it's skydiving over the Dolomites. For me, and perhaps other less physically inclined travelers, it was spending a weekend scouring Paris's iconic flea market Le Marché aux Puces de Saint-Ouen for one-of-a-kind treasures that would give me bragging rights for years. (Is there anything better than responding to a compliment with "Thanks, I got it in Paris"?) Many internationally renowned designers source from the Paris flea, including Martyn Lawrence Bullard, Timothy Whealon, Frank de Biasi, and Chahan Minassian.
Given the size and scale of the most famous flea in the world—it spans more than 17 acres—I decided to enlist an expert to navigate its treasures. A few calls to French friends led me to David Thomas, an interior designer who has lived and worked in Paris for over 25 years and has designed stores for Goyard and Manolo Blahnik.
We started at Galerie Glustin, a gorgeous showroom on the outskirts of the flea stewarded by third-generation furniture dealers. It carries both vintage and contemporary pieces in a historic home. Everything is merchandised into little rooms and vignettes and accented by the home's stunning centuries-old decorative molding. It's the perfect amuse-bouche.
"There are 12 official markets and 5 streets with stalls at Saint-Ouen. It is a unique experience and one of France's great treasures," Thomas says. "And each market has its own characteristics. Marchés Paul Bert, Serpette, and Biron are the markets I use the most and have the higher-end pieces and more serious furniture and objects. Vernaison and Malassis are more funky, but you can find wonderful treasures."
You can access all the markets from rue des Rosiers, the main drag of the flea. If you're looking for an easy place to get dropped off, have a taxi take you to Le Paul Bert (address: 20 rue Paul Bert, found at the side entry to Marché Paul Bert—not to be confused with Bistrot Paul Bert in the 11th arrondissement). There, you can fuel up on French omelets and coffee before you begin a day of market-scouring.
If you're planning on serious furniture shopping, Thomas recommends getting your home's floor plans done first, then making a list of the items you want for each room, with dimensions, to narrow down what you need. I packed my purse with an iPad (there's usually strong Wi-Fi), goop lip balm (Paris can get quite dry, depending on the season), and a tape measure (though if you don't have one, the dealers can always measure for you).
"From the list, I can then specify which pieces should be 'wow' items that I can source at the market. But I always keep an open mind. Sometimes the unplanned 'wow' piece comes to you while shopping, and the room layout and furniture list can then be adjusted as needed," Thomas says.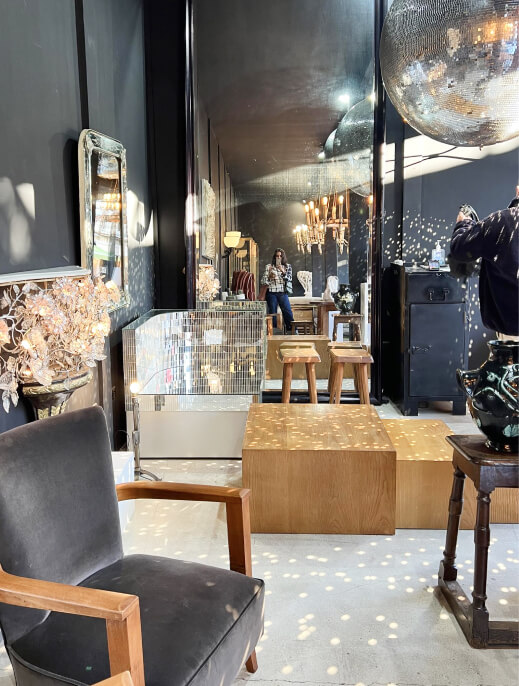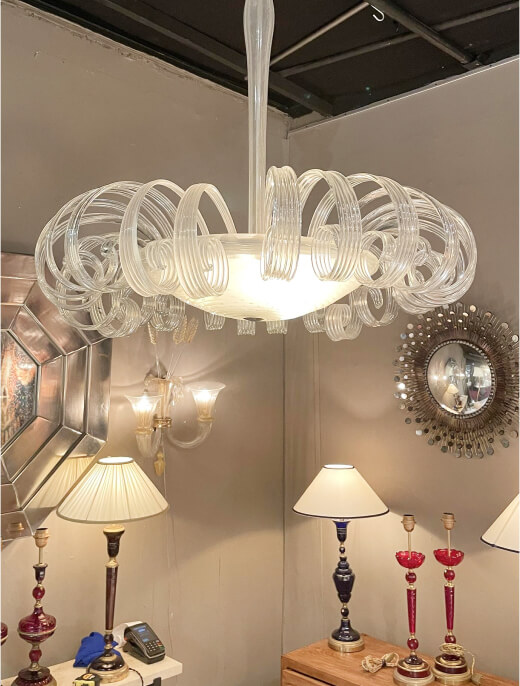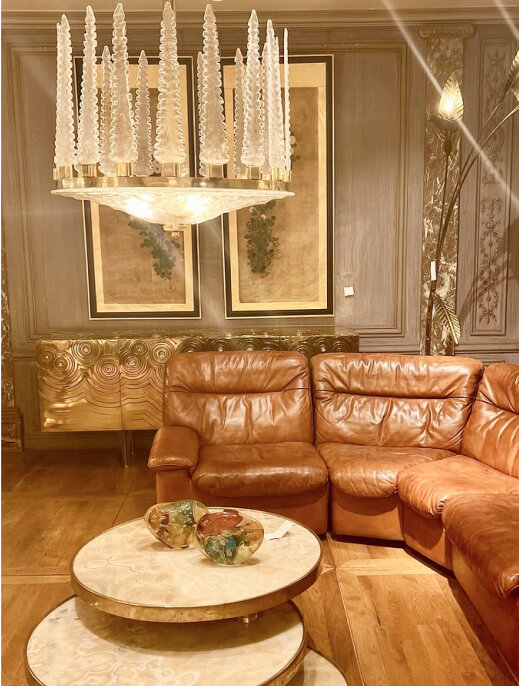 If you have the luxury of a few days, Estee Stanley, interior designer and founder of The Eye Agency, advises doing multiple runs: "Do a first pass and put items on hold that you love. Then take the time to check measurements and thoughtfully make your selections. But remember, because so many items are one of a kind, they go quickly."
When you like a piece but need more time, ask the dealer to write down the item, dimensions, and provenance on their card, which has their exact allée (street within the flea) and stand location so you can easily find the stall later.
For furniture, Thomas suggests starting with Paul Bert and Serpette, the covered market inside Paul Bert, for an overview of the variety of pieces on offer. If you are looking more for unique objets d'art or memorabilia, he recommends Vernaison for its "mix of treasures and trash" and Biron for great silver pieces or decorative objects.
At Serpette, one of my first stops was a stall run by Thomas Bonzom (Marché Serpette, allée 4, stands 14 and 16). I nearly cleaned out his assortment, buying a gorgeous vintage couch from the 1970s, an impeccably restored Carlo Scarpa chandelier, and a travertine coffee table.
Most dealers are on the online antique market 1stDibs, but prices tend to be more affordable at the flea; you bypass the 1stDibs commission and dealers are more willing to negotiate in person. If you hit it off with a dealer or have a mutual friend, they may even open up their warehouse for you, as Joseph from Pheromones (allée 1, stands 116, 118, 120, and 122) kindly did for me. Joseph sells to Raf Simons and other major fashion names, and he has the kind of timeless pieces I envision living in an eccentric designer's Antwerp apartment. I left with two vintage benches—one by Charlotte Perriand, whom I'd always dreamed of owning a piece by.
While some stalls may seem intimidating, especially if your French is limited, Thomas advises going in and exploring. A smile and simple "bonjour" will usually do, and many of the stalls have hidden nooks or upper floors that you can't see from the outside. "It's often where you find the pieces with character that make a home feel collected," Stanley says.
Stop for lunch at Chez Arnaud on rue des Rosiers at the entry to Marché Biron, where you can also sneak in a glass of wine if you need to work up the courage for some of the bigger purchases you're contemplating (or at least that was my strategy). You're in France; it's part of the joie de vivre.
Though the flea is best known for vintage, you'll also find contemporary pieces from French designers and artists, many of which aren't available internationally.
Thomas's best piece of advice? "Trust your gut. If you love it—and it will fit in the room, of course, both literally and figuratively—it will work," he says. "The first piece I ever bought was a 1920s club chair with the original leather and velvet seat upholstery. I was very young, had little money, but loved the chair. It's still in my bedroom. I don't remember who I bought it from, but I cherish it."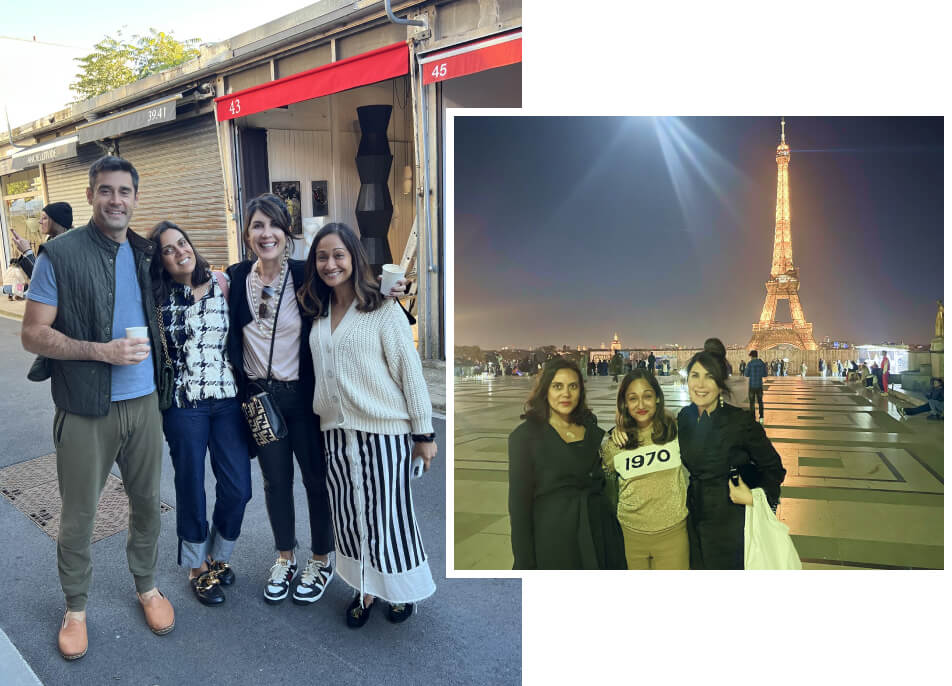 Thomas's Favorite Stalls to Visit
Marché Serpette, allée 4, stands 14 and 16
"I've worked with Thomas for many years. He has an extraordinary eye; he sources the most beautiful antiques and now has his own workshop creating unique furniture, lighting, and mirrors."
Marché Paul Bert, allée 1, stands 142 and 144
"Vincent and Remy make stunning plaster lamps, sconces, and mirrors, which I've included in many projects, shown with a wonderful mix of 20th-century European antiques."
Marché Biron, allée 1, stand 16
"Silver specialist Laure has stunning 20th-century French bar accessories (shakers, ice buckets, bowls) and curiosities."
How to Ship Your Purchases Home
Most individual dealers can ship items directly for you, but keep in mind that this tends to be the most expensive option.
If you're buying a lot or bigger items, it's usually cheaper to ship the items through a professional shipper. Most shippers will do the heavy lifting for you. You give them a list of your items and they'll visit each stall—even arranging for individual payments and sending a consolidated invoice if you choose.
Hedley's is Thomas's shipper of choice. He's worked with them for over 20 years. "They have shipped all over the world for me," he says. "They have a great team—are very organized and professional and always happy to help. They will collect all items and pack and ship to your home—door-to-door service, including customs duties—from the smallest purchase to an entire household. They have offices at the flea market that are open Saturday and Sunday, just next to the parking lot in Marché Paul Bert."
Euroline is another solid choice. There are also shipping vendors at the flea, such as EDET, and the individual dealers will generally have someone to recommend.
---
Where to Stay for Your Paris Flea Trip
Prints abound at this stunning château hotel, designed by Laura Gonzalez. Each room is unique, complete with an array of Pierre Frey fabrics, and the Guerlain spa and basement pool is the perfect place to unwind after a long day of walking the stalls. In spring and summer, visit the pergola bar in the backyard for cocktails.
Given its location in Pigalle, the hotel is about 15 minutes closer to the flea than the storied hotels in the 1st. The up-and-coming neighborhood is also a great location to see a trendier, less touristy side of the city.
The new Cheval Blanc, designed by Peter Marino, is a departure from the more historic grand hotels that Paris is famous for. It's sleek and modern, with one of the most expansive rooftop views in Paris, and its location in the 1st makes it convenient for walking to dinners and shopping.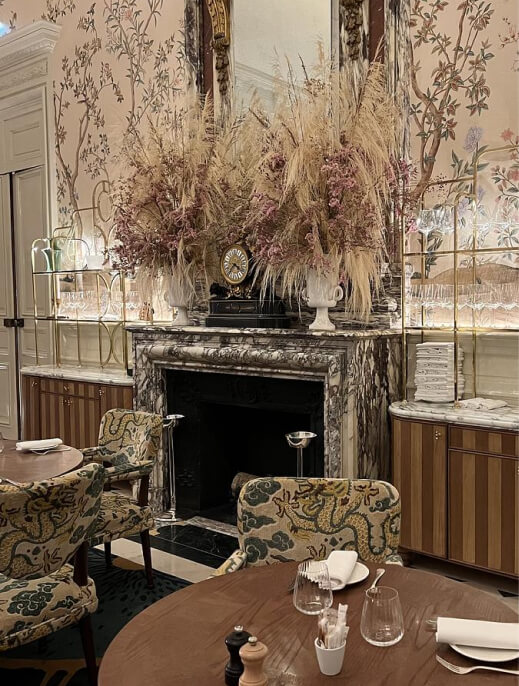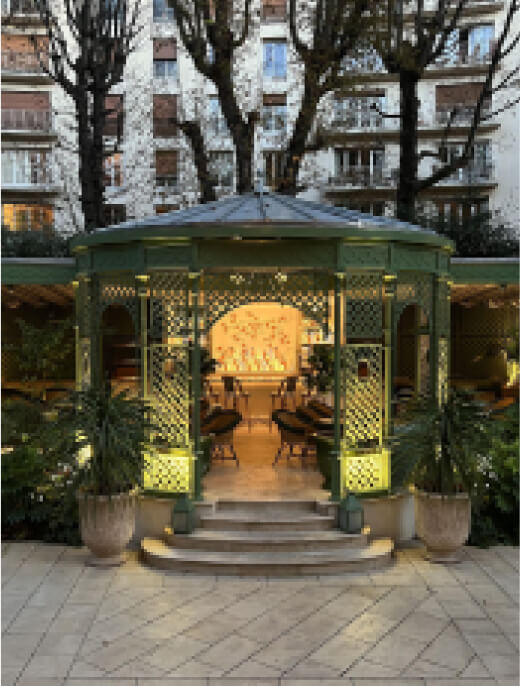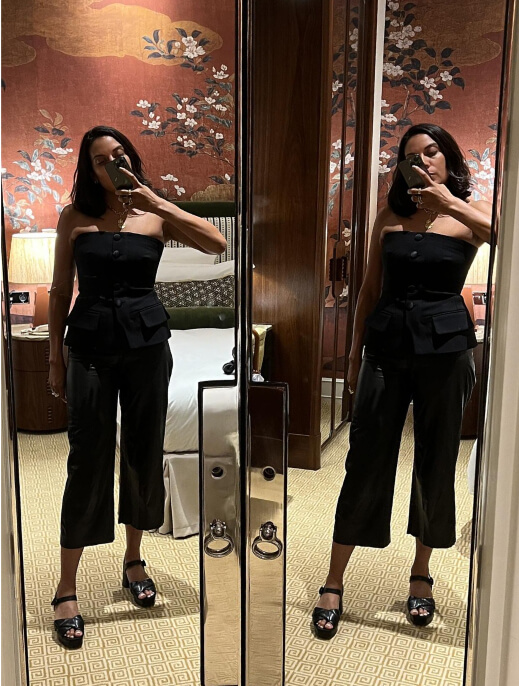 ---
What to Wear
Flat, comfortable shoes are key. I opted for these JW Anderson chain loafers, which give any outfit a good dose of chic while still being comfortable enough to walk around in all day. A cute sneaker is also a great option.

You may end up on the floor of a stall measuring an item, so I'd recommend denim (I wore my trusty G. Label jeans) or something flowy. Athleisure isn't really a thing in France, so skip the workout clothes.

Keep your jewelry simple and carry a bag that zips shut.