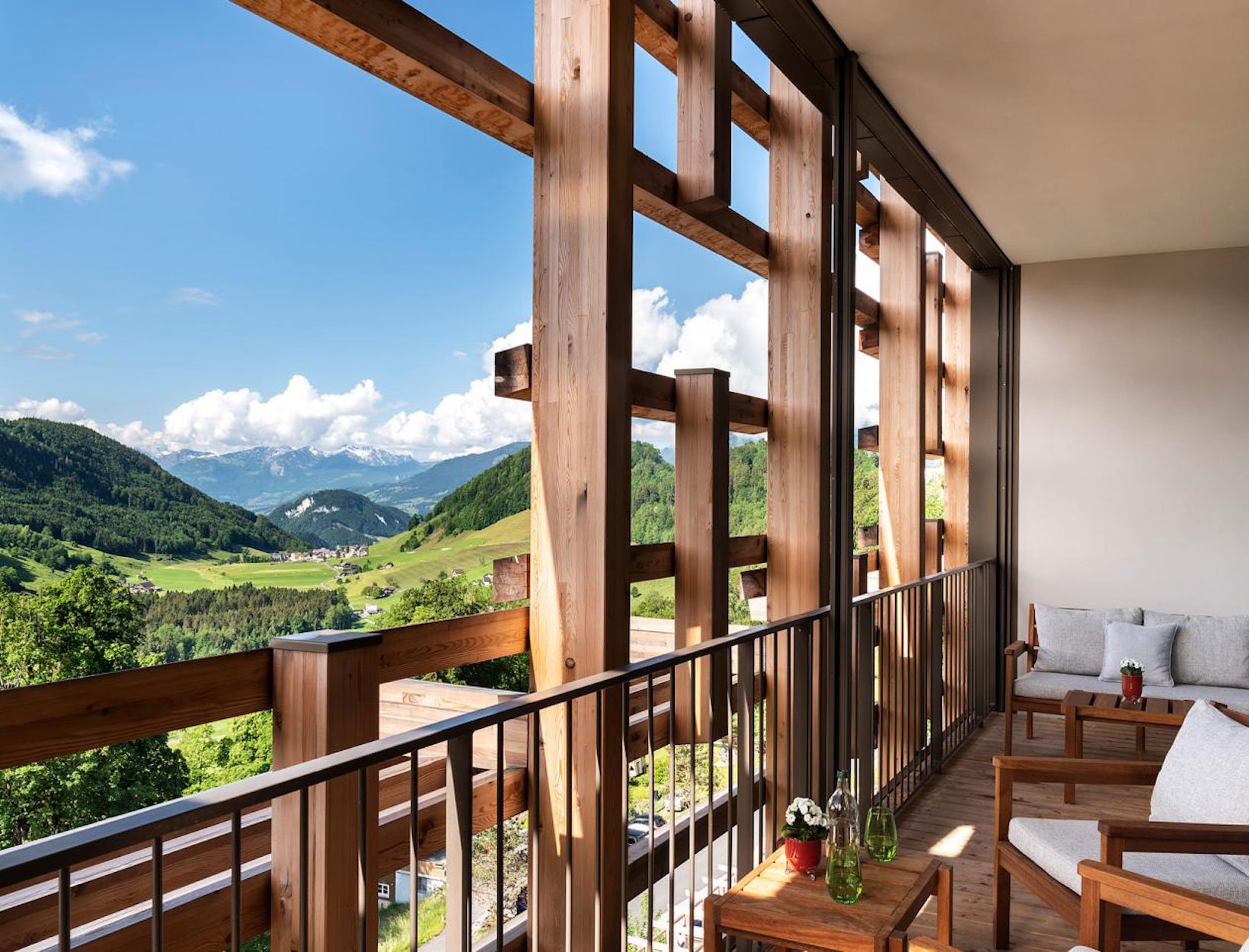 Our Ten Favorite New European Hotels
Okay, here's something you probably didn't need: another reason to jump on a flight to Europe. Nevertheless, now you have ten. Europe comes up with great new hotels faster than you can say "Cap d'Antibes"—and keeping track of the best of them is a formidable undertaking. We scoured the continent to find the most beautiful, inspiring, romantic hotels that have recently opened—or reopened—and what we found was a renovated eighteenth-century manor in the English countryside, a world-class ski chalet in the Swiss Alps, an Art Deco masterpiece in the heart of Paris, and a handful of other, very compelling reasons to book a flight.
Adare Manor
County Limerick, Ireland

Having recently undergone extensive renovation, this 1840s neo-Gothic hideaway—just thirty minutes from Shannon airport—sits on 842 acres of manicured gardens, lush rolling fields, and medieval ruins; it's reason alone to travel to Ireland's verdant southwest (although the dozens of nearby historical sites, lively pubs, and quaint villages don't hurt, either). Each individually designed room is palatial in size, decked out with authentic mahogany Georgian-era furniture, sumptuous fabrics, nineteenth-century artwork, and a roaring open fireplace to ward off the inevitable Irish chill. The generously sized marble bathrooms are finished in vintage wallpaper and include deep stand-alone tubs, many of which overlook the grounds. As far as dining goes, there are two solid options on the property: the elegantly appointed Drawing Room is the perfect spot for morning coffee or a predinner aperitif by the fire, while the subterranean David Collins–designed, vault-ceilinged Tack Room is the spot for wine and whiskey connoisseurs (Guinness lovers, too) to retreat for a few drinks. Activity-wise, choose from golfing, fishing, archery, and horseback riding, alongside dozens of country hikes and cycle trails. The La Mer spa is a tranquil space to indulge and unwind after a long day, accompanied by the comforting scent of autumnal fig that pervades the entire property.

Edition Hotel
Barcelona, Spain

We're always excited to stay in an Edition hotel—they're sleek and modern without feeling cold, and luxurious without being over-the-top. The Barcelona outpost, opened in September, is no exception. All one hundred guest rooms are enveloped in warm walnut wood walls, with oak herringbone parquet floors, beds with Spanish embossed leather headboards, and pristine white marble bathrooms. The location is pretty perfect, too: It's directly across the Santa Caterina food market, on the border of El Born and the Gothic Quarter, which puts some of the city's best restaurants and bars within walking distance. Don't feel like going out? The hotel's own supper club, Cabaret, is a subterranean lounge that serves excellent cocktails and live music. It's a very fun time—not surprising, considering the brand was cofounded by nightlife and hospitality legend Ian Schrager.

Experimental Chalet
Verbier, Switzerland

Although Verbier is undoubtedly a high-end ski town, it's not as flashy as its neighbors, St. Moritz and Courchevel. The vibe here is more low-key and laid-back (there are no Louis Vuitton or Dior boutiques), so it follows the hotel scene runs toward the casual and independent. And that's what you'll get at Verbier's newest hotel, Experimental Chalet. It looks like something out of a Wes Anderson movie, where room keys come with tasseled keychains; vintage, whimsical landscape paintings hang on the walls; and velvet sofas sit next to big, cozy fireplaces. There are only thirty-nine guest rooms (each with views of the mountains), which means it never feels busy or crowded, and the restaurant is helmed by Gregory Marchand, of the Parisian bistro Frenchie.

Gleneagles
Perthshire, Scotland

Built in 1920 and recently renovated, Gleneagles feels like the world's most sprawling manor house. The surrounding countryside, meanwhile, is 850 acres of pure rural bliss. There are pristine rivers teeming with trout, bridle paths, and long, meandering trails through untouched meadows for walking and biking (plus four golf courses that regularly host championship tournaments). But maybe the best thing to do (indoors or out) is to claim a cozy corner of the hotel's Century Bar, a grand dining room with velvet banquettes and club chairs. It's here you'll find guests leafing through newspapers with a Scotch whisky in hand. Have at least one meal at Andrew Fairlie—the only restaurant in Scotland with two Michelin stars—known for its smoked lobster, an aromatic dish that incorporates a five-hour infusion over whisky barrel chips. Your other option is the Strathearn, a cavernous, chandelier-studded venue for old-school dinners (beef Wellington sliced tableside, flambéed crepes). Grab a nightcap afterward (or a predinner cocktail) at the elegant, David Collins–designed American Bar. It has glamour in spades: Walls are clad in lavender cashmere, and the menu is given mostly to champagne and caviar. Need we say more?

Heckfield Place
Hampshire, England

While stunning country house hotels abound in rural Hampshire (about an hour and a half south of London), there's something extra special about this Grade II–listed Georgian pile. Heckfield Place's renovation took the best part of a decade, and the result is a balance of eighteenth century charm and contemporary chic. Stucco cornices, sweeping staircases, and antique, mid-century, and modern furnishings are swathed in an English-garden palette of green, grey, and rose. Skye Gyngell, of London's famed Spring restaurant and Petersham Nurseries, champions a farm-to-table approach at the restaurant and stocks the kitchen with local ingredients produced in partnership with biodynamic farmer Jane Scotter. The gym is steered by West London wellness favorite Bodyism and features a roster of cheerful instructors on site. Time is easily spent slouching from the plush screening room to the Little Bothy spa, but really, Heckfield's idyllic, lake- and garden-dotted four hundred acres are the real playground.

Hôtel de Berri
Paris, France

The 8th arrondissement's Hôtel de Berri is traditionally palatial yet somehow, completely charming. And while the mix of aesthetics (each room is totally different) is eclectic, it's done in the most refined way: decadent shower oils, chocolates on the pillow, generous closet space, and the kind of sprawling, perfectly lit bathrooms that make you late for wherever you're going—plus, Apple TV. The prime location makes for easy sightseeing—the Champs-Élysées, Avenue Montaigne, the Seine, the Eiffel Tower, and the Arc de Triomphe are minutes away—but one of the best views is arguably of the hotel's lush garden, best enjoyed over breakfast.

Hotel Lutetia
Paris, France

Nestled in the heart of Paris's très chic (and occasionally, très touristy) Saint-Germain neighborhood, Hotel Lutetia is an Art Deco masterpiece and a cherished retreat for a wellness-savvy traveler. After a $200 million dollar renovation, the elegant interior is replete with oak floors, Murano glass light fixtures, and a soothing navy palette. Most guest rooms have large bay windows and balconies from which you can take in the domes and spires of this well-heeled part of the city. And while the marble swimming pool and gym are worthy rivals to the other five-star Paris establishments, it's the on-staff nutritionist and hairdresser who take the Akasha Holistic Spa to the next level. As tempting as the local brasseries are, the glamorous hotel bar—named for French Resistance heroine and historical hotel regular Josephine Baker—serves excellent sushi as well as lunches you would indulge in only in Paris, like the toasted caviar with a few coupes de champagne.

Hotel St. George
Helsinki, Finland

Copenhagen and Stockholm tend to get all the ink when people write about Scandinavia. But Hotel St. George in Helsinki is enough to point us in another direction. It occupies a renovated former newspaper printing house from the 1840s, but its offerings are delightfully modern. In the lobby, you'll find a contemporary gallery with pieces from artists like Chinese superstar Ai Weiwei and Finnish sculptor Pekka Jylhä. The hotel gift shop is by Monocle. And the 153 guest rooms are bright and welcoming, with big windows that let in the sunlight and are painted in soothing shades of mint and creamy grey that manage to make everything feel cheerful, even during Finland's dark winter months. There's also a killer sauna in the spa and a sleek, indoor infinity pool.

Waldhotel Bürgenstock Resort
Bürgenstock, Switzerland

The "resort" part of the name is a bit misleading. It's more of a medical wellness retreat, with a staff of physicians and facilities that include an entire wing for full physical exams, skin cancer screenings, cryotherapy, and body-composition and lung-capacity tests. There's also a more traditional spa for excellent massages and facials. The setting is anything but clinical, though. It's located above the banks of Lake Lucerne, with views of Switzerland's famous Alps (in winter, you can ski at nearby Engelberg, about a twenty-five-minute drive away), and meadows to hike through in the summer. Rooms are modern but warm, outfitted in light oak with floor-to-ceiling windows to let in plenty of natural light—and show off those incredible mountain views.

White City House
London, England

West London is surprisingly short on hotels that are equipped to deal with the demands of the modern traveler. White City House, a new addition to the Soho House empire, is the exception. (Yes, we can hear your question, and no, you don't have to be a member to stay here.) Each of the forty-five guest rooms is stocked with Soho House signatures, like Cowshed bathroom products, vintage-inspired Roberts radios, and shabby-chic furnishings that create that lived-in, home-away-from-home feeling Soho House does so well. The real draw, however, is the amenities. There's an outdoor rooftop pool—an absolute rarity in London (though swims on colder mornings take place at the indoor pool)—and a hammam-style spa.