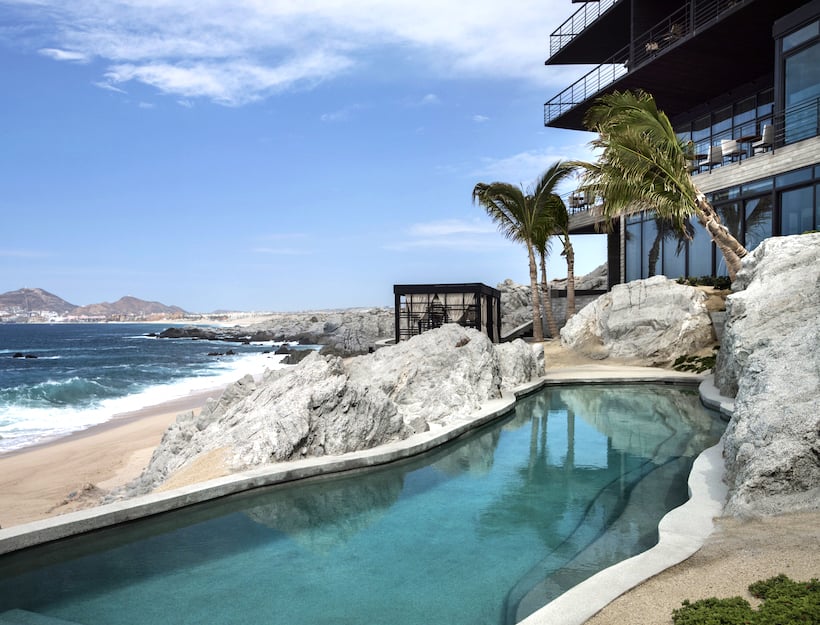 New in Cabo: The Cape Hotel (and the Area's Best Bartender)
Thompson Hotels really hit the jackpot with their first Mexican property, The Cape, which sits on a sliver of San Lucas coastline that also happens to be one of the area's best surf breaks. Architect Javier Sanchez designed the hotel so that El Arco—a crazy-looking rock formation at the very tip of the Baja Peninsula—and the Sea of Cortez are visible from every part of the property, be it one of the 161 guest rooms, the Enrique Olvera-helmed Manta restaurant, or the cliff-hugging infinity pool. The hotel itself is eco-conscious and hyper-modern, nothing like the over-the-top folksy places native to these parts. The spa, for example, is set up like a makeshift cave on its own little cliff and has private plunge pools and beachside massage cabanas.
During our stay, we spent a fair amount of our time under the watchful eye of The Cape's head bartender, Osvaldo Vazquez, who pretty much has the run of both the Lobby Bar and the Glass Box lounge's cocktail programs. He has won awards for his mad-scientist-like mixology skills, so we asked him to share a bit of his magic below.
We were pretty flattered when Osvaldo Vazquez made a cocktail exclusively for us—while we never would have thought to pair smoky mezcal with tonic water, it's a pretty great combo.

Ditch the vodka for a refreshing virgin version.