Most Memorable Meals Out
This week I get the answer to a question that I often ponder: In our world of incredible chefs and restaurants, where have those that are most impressive been the most impressed?
Love, gp
---
Nora Ephron
Choosing three favorite restaurant meals is an agony. I could do three that are just in Barcelona. I could do downscale, like the pastrami sandwich at Langer's in downtown Los Angeles, or insanely upscale, like the truffle sandwich at La Petite Maison in Nice. The clam pizza at Pepe's in New Haven. Grilled cheese night at Campanile in Los Angeles. And steak—at Peter Luger's, at Minetta Tavern, at Gene & Georgetti's. A spaghetti dish with ground nuts, arugula and ricotta cheese that would definitely make my top three list if only I could remember the name of the restaurant in Panaria where we had it.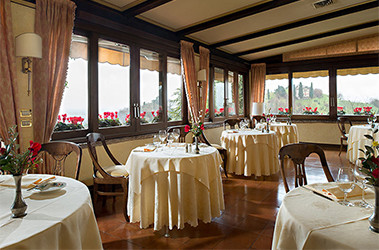 The Cipriani Hotel
Via Canova 298, Asolo, Italy 31011 | +39.423.523.411
---
A dinner at the Cipriani Hotel in Asalo, Italy. A grilled chicken. The greatest grilled chicken ever. I went back a few years later, prepared to be disappointed, and it was just as good. Insanely crispy, but with the heavenly layer of fat that all free-range chickens possess.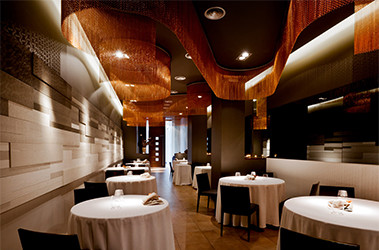 Cinc Sentits
Carrer d'Aribau 58, Barcelona, Spain 08011 | +34.933.239.490
---
A lunch at Cinc Sentits in Barcelona. A tasting menu. In principle I hate tasting menus. But this was an astonishment. What I remember best: a foie gras brulée, tomato bread with tomato sorbet, a glazed scallop, oxtail. A divine restaurant.
Tétou
Av. des Frères-Roustand, Golfe-Juan, France | +33.4.93.63.71.16
---
A lunch at Tétou, in Golfe Juan in the south of France. Tétou is famous for its bouillabaisse, and rightly so. But they also have a tomato and rice thing that's incredible. I spent weeks perfecting it when I got back. It's Japanese rice, brushed with butter and crisped on top, along with a dish of cooked sliced tomatoes, garlic, and bread crumbs. It sounds like nothing, but it's the most incredible combination of crunchy and mushy ever.
---
Ferran Adrià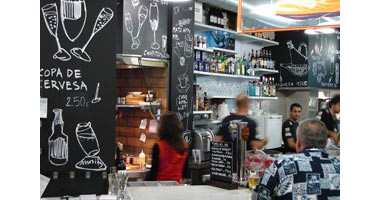 Inopia
C/Tamarit 104, Eixample Esquerra. | Barcelona, Spain | 08015 | +34.934.24.52.31
---
My brother Albert's bar in Barcelona. An updated yet classic tapas bar, with an incredibly varied offering… The space is very comfortable and informal, where the quality of the tapas is paramount. It's one of those places that cheers my day up, takes me back to my childhood, to my first neighborhood's streets.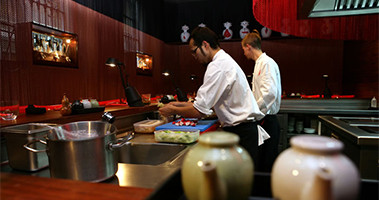 Dos Palillos
Carrer d'Elisabets, Barcelona, Spain 08001 | +34.933.04.05.13
---
Recently opened in Casa Camper in Barcelona by Albert Raurich, previously a chef at elBulli. A tapas bar with a Japanese twist; because Asian cuisine is on the top of my list, I feel like I'm right at home.
Rafa's
Sant Sebastia, 56, | Roses, Spain 17480 | +34.972.25.40.03
---
A bar you can go home to, where the seafood is at its purest. Every time we visit, it's a lesson in humility, for their way of being and doing. Rafa's is our first stop when we're talking seafood.
---
Melia Marden
La Cigale Récamier
4 Rue Recamier, Paris, France | +33.1.45.48.87.87
---
On our honeymoon in Paris my husband and I went to La Cigale for lunch on a Parisian friends recommendation. They specialize in delicious, fluffy, seasonal, savory and sweet soufflé. We had the mushroom soufflé, followed by the caramel and sea salt soufflé for desert. The meal was so perfect and unlike anything else that I walked around craving it all day and ended up going back and having the exact same thing for dinner.
Tapae Square Market
Chaing Mai, Thailand
---
Some of the most memorable food I've had in my life has been in the market stalls in Thailand. On a trip to Chaing Mai I went to this great Sunday market. There were stalls selling quail eggs fried with shredded coconut and palm sugar, fresh pad thai, and my favorite delicious grilled sausages. They had a distinctive spicy citrus flavor I couldn't quite place. Finally after asking around I figured out it was kefir lime leaf, which quickly became my new secret ingredient.

Agnanti
19-06 Ditmars Blvd., Astoria, NY | 11105 | 718.545.4554
---
I discovered this Greek restaurant when my husband was showing me around his old neighborhood in Queens. I was starving and had no idea where I was when we wandered into a classic taverna overlooking Astoria Park. A Greek movie from the 70s was being projected on the back wall. We ordered a bunch of mezzes and salads and a whole grilled red snapper. It was like being transported to a Greek island, everything was simple but perfectly delicious. It was the best fish I've had outside of Greece. Since then I go back at least once a month.
---
Mario Batali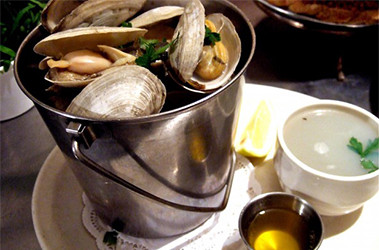 Pearl Oyster Bar
18 Cornelia St., New York, NY | 212.691.8211
---
I love the pared down aesthetic in the look and feel of the place but it is the purity of the food that rocks me time after time. My faves are the fried oysters or the green salad with Fourme d'Ambert, followed by either a lobster roll or the cod sandwich all washed down with a glass of cold Muscadet.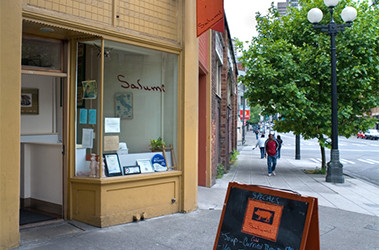 Salumi
309 Third Ave. S., Seattle, WA | 206.621.8772
---
A porchetta sandwich at my sister's place in Seattle. A little soup and a glass of Morellino and Seattle has sunshine. Keep in mind the place is only open for lunch from 11:30 to 3pm, Tuesday through Friday and has 14 seats. Get there early and be nice.
Ristorante Diana
Via Independenza 24, Bologna, Italy | +39.51.23.13.02
---
The quintessential Bolognese trattoria has perhaps my fave first course on the planet: A simple salad of sliced ovoli mushrooms, shaved celery, and Parmigiano Reggiano dressed with lemon and olive oil, showered with a liberal grating of white truffles. This is available only in November when both ovoli and truffles are in season together. This is followed by a small portion of lasagna and an espresso and you dance down to the Piazza Nettuno, 3 feet off the ground.
Sidenote: In the park across the street from the Banyan Tree Hotel in Bangkok, I had the most memorable meal from a makeshift kitchen. A man built a fire right there on the street and I had fabulous skewers in the middle of the park.
---
Amanda Hesser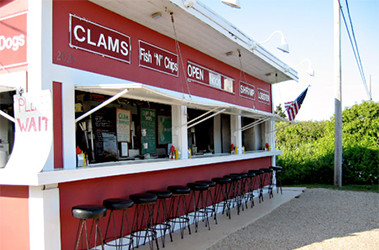 The Clam Bar
2025 Montauk Hwy, (Route 27) | Amagansett, NY | 631.267.6348
---
On our honeymoon, my husband Tad and I stopped at this roadside seafood shack after a round of golf in Montauk. The Clam Bar faces the dunes by the Atlantic on the eastern end of Long Island. It was a gorgeous September day, the sky a cornflower blue, the sea calm. As we ate lobster rolls we were mesmerized by the contrails of airplanes en route from New York to Europe. Here we were, sitting on bar stools, beginning a journey of our own, while watching others so far up in the sky head out on journeys around the world.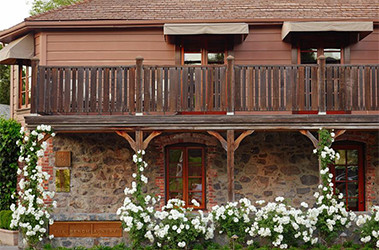 The French Laundry
6640 Washington St., Yountville, CA
---
It's probably a cliche to say that one of the best meals of your life was at the French Laundry—no duh! But one of the times I dined there, I was with my husband, Tad, and we were bowled over by the theater of the dining experience. It was like being at an 18th century ball, where every mannerism is practiced and parsed. Silverware appeared and disappeared as if by magic. As if on cue, a full moon rose over the hills surrounding Yountville and a waiter opened the doors of the dining room so everyone could take in its full beauty. The staff are like mind readers—they overhear you talking about thyme and before the meal is over, a special thyme-infused tisane is delivered to your table. I just loved the feeling of being in their hands and getting to experience Keller's vision for what dining should be.
elBulli
Cala Montjoi, Roses, Spain | +34.972.15.04.57
---
I went to elBulli after it had achieved its 3-star status but before it became world famous. A group of friends and I had lunch there on a warm day, and I remember being struck by how low-key it all was. Course after course of wildly inventive, pristine food came out of the kitchen, and yet the windows were flung open and the banquette at our table was filled with loose pillows. There were none of the hushed tones of a French 3-star restaurant. Ferran Adrià has created a place where you were welcome to enjoy yourself. We laughed, we talked, we oohed and ahhed over the food. And then after lunch, we walked down to the beach below the restaurant and went swimming.
---
Merrill Stubbs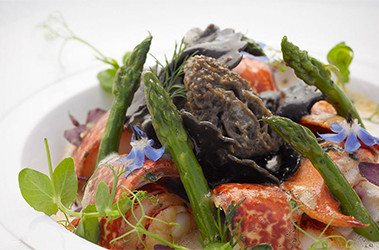 L'Oustau de Baumanière
13520 Les Baux de Provence | +33.4.90.54.33.07
---
My best friend and I were driving (and eating) our way around the South of France right after I graduated from cooking school. We stopped for lunch one day at l'Oustau de Baumanière, a two-Michelin star restaurant in a lovely hotel nestled among the towering chalk cliffs of Les Baux de Provence. Our plan for later that afternoon was to push on to Toulouse, where we had reserved a room at a lovely old chateau. However, after luxuriating in a three-hour, seven-course meal that began with gougères and champagne cocktails by the pool, continued with tiny, crisp-tender rouget (red mullet) and a perfectly pink loin of lamb with creamy pommes dauphinoise, and culminated with two desserts (creme brulée with a crust that shattered perfectly under my spoon and a trio of homemade ice creams), followed by coffee and petits fours back out by the pool, we could barely drag ourselves from our chairs—let alone get behind the wheel of our rental car. Happily, the hotel had some empty rooms, and we were able to spend the night, canceling our room in Toulouse with false tales of car troubles. We felt guilty for about five minutes—and then we decided to go for a dip in the pool. The memory of that meal, and of our time spent in that gorgeous place, will never fade.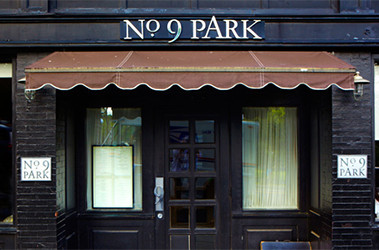 No. 9 Park
9 Park St., Boston, MA | 617.742.9991
---
My father and I once had dinner together at No. 9 Park when I was living in Boston. Not only was the food sublime (we ordered the 5-course tasting menu), but the meal marked a turning point of sorts in our relationship. My father had always been supportive of my decision to pursue cooking professionally, but we had never really bonded over food the way we did that evening. At the time, we agreed that each course was more perfect (and memorable) than the one before it; despite this, I would be hard pressed to recall one specific dish we ate that night. It was our shared enthusiasm for discovering new tastes and textures, and the conversation provoked by excellent food and wine and a warm, friendly setting, that really left the lasting impression.
Tuscany
Another favorite meal took place in Italy, where I shared a villa in Tuscany for a week with eight relative strangers (I knew one person beforehand). Everyone on the trip was either a chef or an enthusiastic foodie, and we spent our days foraging for edible treasures in nearby hilltop towns, carting them home and cooking up wonderful, big meals together at night. One night, we made a pasta e fagioli with kale (I still make my own version, which I've adapted over the years) and roasted a rooster (surprisingly tender) on a bed of fennel and cipollini onions tossed with olive oil and a splash of balsamic vinegar. I think we had biscotti with fresh figs and mascarpone for dessert, but the end of the evening was a bit hazy, thanks to the many bottles of excellent Tuscan red we drank with dinner.
---
A.A. Gill
The best meals are always about the people you eat them with. I remember one brilliant lunch at the Oak Room cooked by Marco that I had with Nicola when we first met: sexy, delicious, provocative. A dinner on the roof of a house in Peshawa at the beginning of the Shock and Awe war with Imran Kahn. The food of the northwest frontier is amazing. It was such a dramatic and poignant moment breaking Ramadan fast in the empty quarter of Oman with Bedouins and my kids eating dates and milk. Drinking blood with the Masai in Tanzania. Eating whale and puffin sushi and black guillemot in my favorite restaurant in Iceland, 3 Frakkar. Coming home from Madagascar where the food is hideous and having dinner at Riva with Nicola.
A.A. Gill is a food critic for the 'London Sunday Times'.
---
Suzanne Goin

Camino
3917 Grand Ave., Oakland, CA | 510.547.5035
---
This magical spot is run by an old friend with whom I used to cook on the line at Chez Panisse back in "the day." His name is Russell Moore and he is the chef, and his wife Allison Hopelain, is the front-of-house genius. I love Camino because it's so personal and comes from such a singular vision. The whole restaurant is based around a huge hearth where Russ cooks a different very small menu every night. This place is not for everyone; the menu is small and everything is hand chosen for a reason. For me that's what makes Camino so magical; it's like being in Russ and Allison's home or in someone's grandmother's kitchen in some unknown country.
Most recently I started with the aperitif of the night—a gin, spatlese Riesling, and peach & hibiscus bitters cocktail. (Kind of like a martini with the Riesling acting as vermouth.) Then the rich cheese was perfectly set off by a big pile of herbs-chervil, anise hyssop, sorrel—each roughly cut so you taste each one. Next came lamb leg a la ficelle with grilled lamb chop and braised lamb shoulder—accompanied by fresh shellbeans, grilled artichokes, pounded mint, and chiles. I love sitting at the beautiful wooden communal tables and looking to the back where the kitchen is and seeing a huge fireplace with the lamb leg twirling over the flames and a bean pot underneath catching the drippings.
I always leave Camino a little envious of what Russ and Allison have created; it's sort of a chef's fantasy, to cook a really small, seasonal, and local menu that changes every night—over live fire—in a gorgeous setting and to lay down and stick by the rules of how you want your restaurant to be. It's pretty amazing!
River Café
Thames Wharf, Rainville Rd., London | +44.20.73.86.42.00
---
For me, memorable meals are those moments when the food, the company, the spirit of the day, and the overall experience just come together all at once. A few years ago, my husband David and I were in London for vacation. I had always wanted to go to River Café because I love their books and felt we had a similar approach to, or sense of, food. I went there practically knowing that, based on my anticipation and the reputation that preceded the place, I was most likely going to be disappointed.
We had nightmare traffic trying to get to River Café and it was raining so we arrived a little late and soaking wet and a little bit grumpy. We were greeted so warmly and whisked away to a table in that transforming way where suddenly your mood turns and you know something magical is about to happen. The next thing we knew we were drinking champagne in that gorgeous glass walled room, looking out over the lawn and onto the river (of course, the clouds had cleared and the sun had begun to shine.) We relaxed into our seats and feasted on the most simple, clear and delicious food—everything was so focused and direct that it popped out at our eyes and into our mouths. It was simplicity on steroids!
We had a big piece of bruschetta with rapini and pecorino, tiny little gnocchi with rabbit ragu, and a grilled fish for two with potatoes and fennel. I don't even remember dessert but it was perfect—it was one of those moments where each individual aspect was right on and together it made a perfect glorious whole.

Pizzeria Bianco
623 E. Adams St., Phoenix, AZ | 602.258.8300
---
My husband David and I have planned more that one trip to Phoenix just to eat at Chris Bianco's pizzeria. Now we have a whole routine based around eating at Chris's place. We stay at the Sanctuary or Royal Palms, stop by Pane Bianco for sandwiches midday and take them back to eat by the pool (I know, two Bianco meals in a day!) Then, around 7pm we head to the pizzeria where there is always a wait (usually at least an hour) so we go to the wine bar right next door—it's a little craftsman house that is pretty much still set up like a house with couches and armchairs in the living room, a dining room table in the dining room, etc. We hang out there drinking wine and nibbling on olives or cheese until our turn comes up at the pizzeria.
My most memorable meal there would have to be our wedding. We set up two long tables for 70 in the garden between the pizzeria and the wine bar. We got married on the steps of the wine bar and then Chris made pizzas as fast as he could while the smart guests realized the best place to stand was right at the oven where you could get the pies just as they came out. Chris also served huge rustic wood bowls of local asparagus and carrots, Neal's Yard cheeses, and bowls of olives. He had stayed up all night cooking—roasting three pigs in Cuban pig "boxes." We ate family style in the garden—escarole salad, coils of lamb sausage over white beans, and that glorious pig. We drank our favorite wines that we had fallen in love over (Tempier Bandol Rosé, Lafond Macon-Milly, Lang and Reed cabernet franc and Billecart-Salmon Rosé). It was like one of those old French movies—is it Claude Lelouch?—I can't remember which one, but we all sat and ate and drank and talked and laughed for hours and hours. (And the next day we got sandwiches from Pane for the drive home!)