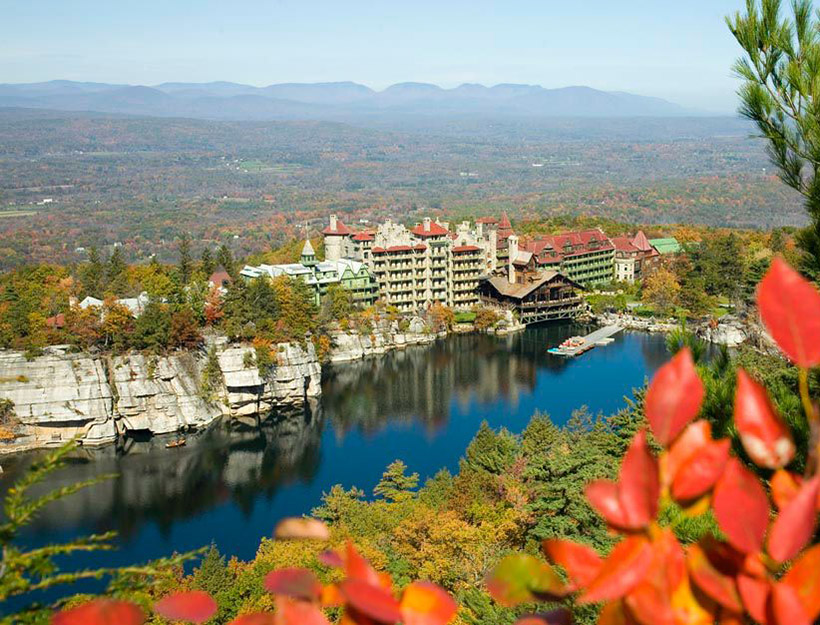 Autumn in New England—With Spa
An hour and a half from New York city, the rock-climbing mecca Shawagunk mountains have some of the most gorgeous leaves on the East Coast. The Moonrise Kingdom-esque Mohonk Mountain House, set on a lake you can swim, paddleboard, or canoe around, surrounded by mountains you can hike, bike, or seriously rock-climb through, is an incredible place any time of year, but truly mind-blowing in the fall. You exhaust yourself with outdoor activity (there are plenty of fitness classes and other things to do, but not being outdoors feels like a sin), then schedule lots of time in the gigantic, eco, $30 million spa. There are treatments based on the famous red witch hazel that grows on the property (the "Mohonk Red Massage" is especially good), along with everything from pedicures and facials to meditation and yoga.
Definitely leave time to simply lounge around—soak in the enormous outdoor hot tub or curl up in a robe by the fire. Because the place is so close to the city, a day trip is absolutely do-able and quite reasonable: You pay for the spa treatments and get a day pass for all the outdoors activities. The overnight experience is charmingly old-timey and includes all meals in a spectacular dining hall overlooking the lake and mountains.
If it's warm or even not-that-warm when you go, definitely swim in the lake. If it's truly freezing, they have one of the most beautiful ice-skating rinks on earth.