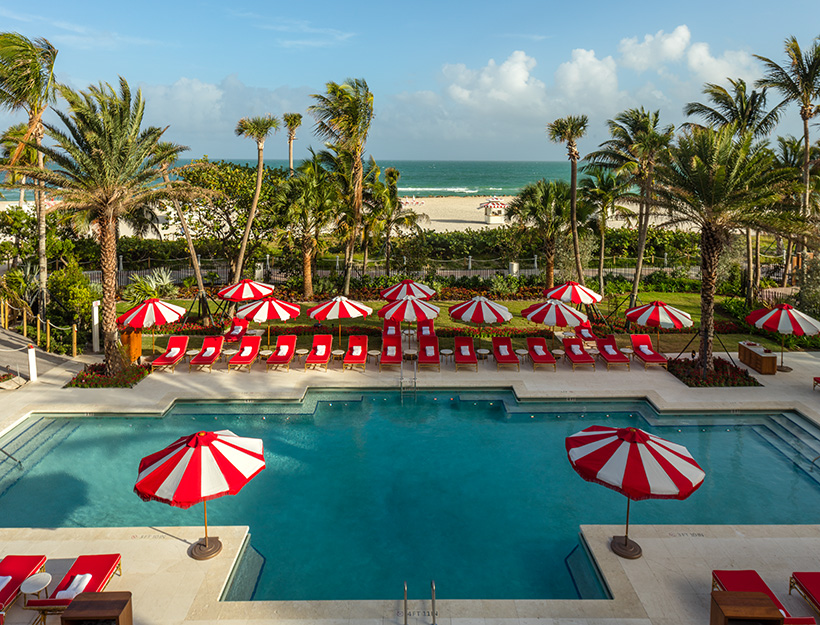 Miami Beach Fantasy: Faena Hits Mid-Beach
Miami doesn't suffer from a shortage of hotels, but it's definitively more fabulous with the addition of Faena Hotel Miami Beach, which opened at the end of last year. You might recognize the name Faena—the Faena hotel in Buenos Aires is known for transforming a largely abandoned stretch of the Puerto Madero docklands into a luxe neighborhood, and for the arts center there. The idea in Miami is similar—to create a "Faena District" in a not particularly happening strip of Mid-Beach.
Alan Faena—the creative mind behind every Faena venture—along with business partner, Len Blavatnik, has already debuted several pieces of this Faena District, with more to come. Faena House, an 18-story condominium building designed by London-based Foster + Partners, and marked by a transparent, colorful Jeff Koons statue outside, overlooks the Atlantic Ocean and is sold out, with residents moving in. (It made waves for setting a Miami record when a residence there went for $60 million.) The adjacent Faena Mar by architect Brandon Haw awaits occupants, expected late next year. A retail shopping space, deemed Faena Bazaar, designed by Rem Koolhaas and his Office of Metropolitan Architecture, will debut in November. As will Faena Forum, also designed by Pritzker Prize-winner Koolhaas, which will host art, culinary, and cultural installations and performances. For now, C'Est Rouge!, an evening cabaret show by Blanca Li is playing in the hotel's theater.
The hotel itself, a reimagining of the 1947 Saxony building, which was an early lavish Miami hotel—Marilyn Monroe, Frank Sinatra, and the like performed there—blends old-school glam with a vibrant South American vibe. For the hotel's design, Alan Faena collaborated with film director/producer Baz Luhrmann and his wife, Academy Award winning costume designer Catherine Martin. If you're sensing a theme…you're right: Faena's collaborator list reads like a who's who of the arts and entertainment world. And the result is visually stunning.
When you arrive at Faena Hotel, you don't walk through a hotel lobby. A doorman kindly introduces himself to you and ushers you into "the cathedral"—an expansive hall lined with gold-leafed columns and floor-to-ceiling murals done by Argentinian artist Juan Gatti. Each of the eight murals depicts a different lush, utopian-esque jungle scene, and is emblazoned with the name of a virtue: revelatio, amor, iluminato, and so on. The glass walls at the end of the hall open into a garden patio area, and a better view of the towering gold woolly mammoth skeleton sculpture by Damien Hurst that lies beyond. It feels as if you've arrived in a kingdom. In the "library room," a designated quiet space, you're shown to a signature red velvet Faena couch, given a tropical cocktail, and checked in via an iPad.
Like the cathedral and the library room, the rest of the hotel is richly decorated in ruby red and cool teal and turquoise blues, with Art Deco touches and serious animal print accents throughout. Cheetah statues and tiger-print chairs may seem over the top—and of course, in a way they're meant to be—but they also are awesome here. Nearly every detail—from the outdoor terrace columns that are covered in ceramic seashells, to the coral-shaped lamps, mini bouquets of red roses, and intricately engraved elevator doors—feels artfully thought out, not unlike a Baz Luhrmann movie set. Faena's living room is outfitted with a grand piano, marble bar, and a giant Alberto Garutti chandelier that is said to flicker every time lightning hits the Pampas in Argentina. This room spills into a separate dining area that looks out onto an outdoor patio. Past the patio are Faena's modestly sized, geometrically shaped pool and hot tub, which are surrounded by red lounge chairs, red and white striped umbrellas, and all the requisite palm trees.
The rooms, which begin in the $700 per night range are generously sized, with the suites bordering on enormous. Rooms with an ocean view—another splurge—do not disappoint. The long, wide balconies are ideal for taking in the sea and the grand stretch of sand leading up to it. Each floor of the hotel is overseen by a dedicated butler.
The hotel has a few dining options. Los Fuegos is an open-fire, glassed-in kitchen—you can see some of the action unfold while enjoying a cocktail at Faena's outdoor bar. This is the only stateside restaurant of famed Argentinian chef, Francis Mallman, who was featured on Netflix's Chef's Table. If you're going to enjoy a steak while in Miami, this would be a place to do it—but don't pass on the wood-oven veggie sides.
Known around the hotel as "the tree of life".

A panoramic view of Miami's coast from a Faena guest room.

Even the book
collections in Faena's
suites are elaborately
arranged.
And if you can, spend a good chunk of your trip on the third floor of the hotel, where Faena's spa, the Tierra Santa Healing House, is located. Unlike most spas, which favor whites and neutrals, Tierra Santa is a burst of color—albeit a contained, pleasing one. A rainbow-striped rug runs through the spa's lobby; above it hangs an eye-catching light fixture decorated with neon tassels. There's more bright artwork from Gauti and floral-printed poofs. And on the spa's oceanside deck sits a ping-pong table. (Because, ya know, Alan Faena likes to play ping-pong.)
Ximena Caminos, a curator and artistic director of Faena—who is also Alan's wife, and referred to as a visionary among Faena staff—played a leading role in the spa's development. As has Vivianne Garcia-Turron, a vivacious presence who was previously at ESPA, and now runs Tierra Santa. Inspired by an array of South American (and some South Asian) healing traditions, many of the treatments at Tierra Santa include ritualistic wellness aspects. The spa has its own dedicated shaman who serves as an advisor and who will be performing quarterly cleansing rituals at Tierra Santa. Two doctors with holistic outlooks are on board, too, and will be part of a few preventive medicine, digestive health, and detox programs being rolled out. (The Tierra Santa Healing House Power of Wellness Series, which will be open to guests, as well as free to the public, is set to begin this August.)
The Hamam Rose Ritual is one treatment that takes place in the wet spa portion of Tierra Santa. This particular body treatment was created for the spa by a therapist there named Marsida Keskin, who spent several years in Turkey, where she learned the art of Turkish baths, or hammams. During the treatment, as you lie on top of a warm marble slab, a therapist will scrub your entire body for what is likely to be the most thorough exfoliation of your life. Following this, you'll be covered in ridiculously soft foam, then a soothing clay, and later treated to a massage.
The Tree of Life Vibrations treatment takes place on a heated sand bed, and incorporates handmade Himalayan singing bowls into a supremely relaxing massage. An aesthetician strikes the different sized bowls and alternates between carrying them around your body and placing them on top of it, using the varied sound vibrations (combined with her human touch) to release tension down your back and throughout your body.
Other massage options are more conventional, as are the facials. Speaking of which, Faena's version of the ultimate facial, called the Triple Lift Advanced Facial, seems to make miracles happen. The Triple Lift concludes with the Remodeling Face Machine from French brand Biologique Recherche, which moves three different electric currents over your skin—the feeling is a warm, tingly one but not actually painful. Your Tierra Santa aesthetician will work the machine's magic first on just one half of your face, and then the other—so you can see the difference: Lifted eyebrow, somehow more sculpted cheekbone, tighter skin, smoothed fine lines. All in, it's an experience that makes it hard to leave the hotel for wider Miami—or to honestly leave at all.