Lisbon Guide
I became friends with Randy Poster when we did The Royal Tenenbaums together—I acted, he did the music supervision. Randy has parlayed his talent for discovering and appreciating music into a real job! (Selecting songs for films.) Many of the films and shows he has worked on have become famous for their soundtracks, like Boardwalk Empire, Velvet Goldmine and The Darjeeling Limited. Randy and I further bonded when we worked on Country Strong together a couple of years ago, not only over music but over food and travel, our favorite hobbies. When he told me he was going to a film festival in Portugal (a country I have always wanted to go to but have not yet been), I asked him to gather his recommendations so that I could plan a trip. And then I thought you might like to see them, too. He brought his old friend and muso George Drakoulias… And by all accounts the adventure was excellent. I can't wait to get there myself.
Love, gp
---
George and Randy's Excellent Adventures in Lisbon
In November, I was invited by my friend Paulo Branco—world champion equestrian, prolific film producer, an eloquent character and the director of the Lisbon Estoril Film Festival—to the Festival.
This year's festival includes a Wes Anderson retrospective as well as a screening of Todd Haynes' Mildred Pierce (all films that I've worked on). Paulo invited me to introduce these films and talk about the music in each one.
I have always wanted to go to Portugal, so I enlisted my dear friend, inveterate traveler, and renowned record producer George Drakoulias, to be my consort. These are the details of our excellent adventure.
---
Friday
We arrive safely in Lisbon after a nerve-wracking flight on a twenty-seat prop plane from Porto. The great Paul Giammati was on the same flight, headed to the festival. In Lisbon, we're greeted by film festival delegation and whisked away. Our driver, Artur (no 'h'), asks if we want the fast or scenic route to our hotel. We opt for scenic.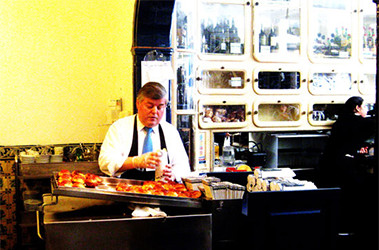 Pastéis de Belém
Rua de Belem, 84 1300-085, Lisbon | +351 213 637 423
---
Stop at Pastéis de Belém, which we later learn is the most famous bakery in all of Portugal. It is there that we are treated to our first pastel de nata, an incredibly delicious egg custard pastry that are made and sold at pastelarias throughout Portugal. We have what will be the first of countless bica, which is what you call a shot of espresso here in Portugal.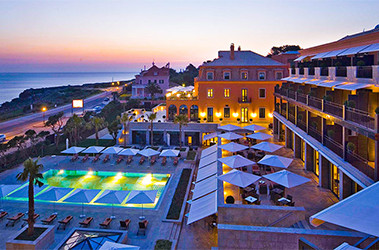 Grande Real Villa Italia
Rua Frei Nicolau de Oliviera, 100 2750 – 319, Cascais | +351 291 724 257
---
Our hotel is beautiful. It's the Grande Real Villa Italia in the town of Cascais. This villa was once the home of Umberto II, the last king of Italy, who was forced into exile after being king for only a month. He then lived in Cascais for 37 years. Set right on the Atlantic Ocean, it's hard to imagine spending our time in dark rooms watching movies, but we will!
Casino Estoril
Praca José Teodoro dos Santos 2765-237, Estoril | +351 214 667 700
---
The opening night at the film festival is a gala event. George and I meet festival jurors Don Dellilo and Luc Dardenne and take in the social sights. There is a dinner at the Estoril Casino, which is reputed to be the inspiration for Ian Fleming's Casino Royale, a gathering spot for espionage agents, dispossessed royals and adventurers. After dinner there is a screening of William Friedkin's Killer Joe. I'm happy to see anything by Friedkin, who is feted here. His The French Connection is one of my favorite movies, and George's, too.
---
Saturday
Mar Do Inferno
Av Rei Humberto II de Italia Boca do Inferno 2750-800 Cascais | +351 214 832 218
---
George and I walk about and go for an early lunch overlooking the ocean at Mar Do Inferno, a seafood restaurant very popular with the locals. We feast on crab and at the waiter's urging start drinking Vinho Verde, the young, 'green', Portuguese wine that people extol. We follow with bicas and move into the day renewed!
We head into Lisbon to show The Life Aquatic with Steve Zissou. I'm excited to watch the movie with an audience that will understand Seu Jorge's Portuguese versions of David Bowie songs!
A copy of The Life Aquatic translated into Portuguese.
A Q&A follows as young Portuguese film lovers grill me on all matters cinematic.
We have dinner in Lisbon with friends we've made the night before. Clams, tiny squid with garlic, and more crustaceans are served among other delicious food.
After dinner we try and find a fado house. Fado is the traditional folk music of Portugal and is the matter of great debate among the Lisboans we meet. We discover a tiny restaurant that shuts its doors surreptitiously and presents the most sad and delirious music I have heard in a long time. Leaving and walking through the cobbled streets of old Lisbon, staring out at the stars above the ocean, the traditional fado (meaning fate) melodies ringing in our heads, we feel transported back in time…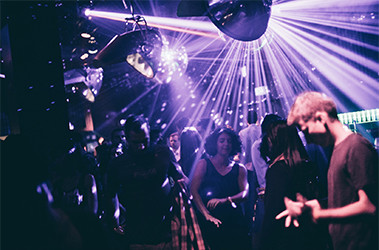 Lux
Av. Infante D. Henrique Armazém A Cais da Pedra a Sta. Apolónia 1950-376, Lisbon | +351 21 882 08 90
---
Except we have been asked to do a late-night DJ set at Lux, what we are told is the most happening night club in Lisbon (owned in part by John Malkovich!?), so George and I make our way to the club armed with some music that we hope will translate on the dance floor.
We hit them with some LCD Soundsystem, some classic disco, a remix by our friend the great Jacques Renault, the Clash, Dr. Dre, Liquid Liquid, and a variety of beats that go bump in the night. Everyone seems to be having fun, including our dear Giammati, who joins us in the DJ booth…and our set draws to an end.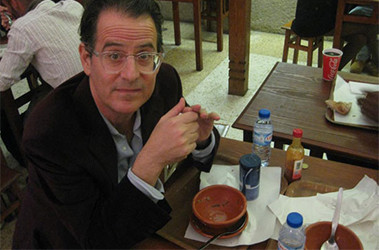 A Merendeira
Avenida 24 de Julho 54G 1200 – 868, Lisbon | +351 213 972 726
---
We leave Lux after 5am, Portuguese kids still lined up at the door to get in! And, in search of late night sustenance, we find Restaurante A Merendeira where the specialties include a green soup (caldo verde) and fresh baked rolls filled with chorizo and cheese. "This Lisbon thing seems to be working," George says.
---
Sunday
Weather is splendid and we connect with James Robb, father of our colleague, Gelya Robb. James is an American expat who has fallen in love with Portugal and he drives us around Sintra and the surrounding towns and villages. We hit all the scenic hot spots Guincho Beach, Cabo da Roca, Convento da Peninha, Adraga Beach, where we have a great lunch at the seaside restaurant.
Colina Flora
Quinta dos Moinhos Velhos Pe Da Serra 2705-255 Colares
+351 219 293 025
---
Finally as the sun begins to set, James takes us to the beautiful inn called Colina Flora that he and his wife founded up in the hills of Colares. A totally scenic and rare spot, founded on eco-friendly principles, the inn is a unique retreat and a perfect destination for those seeking spiritual replenishment. Beautiful flowers and setting with heroic ocean views. We make a plan to come back next year to partake in the yoga classes and convince James and his wife Aasta to let us establish a film club for the inn's guests.
Flores de Cabo
Pé de Serra 2705 – 255, Colares | +351 21 099 7066
---
Nearby, and highly recommended by Aasta and James, is Flores de Cabo, a gallery, vegetarian cooking spot, concert venue, and yoga retreat all in one.
---
Monday
My last day in Portugal. George plans to continue on to Spain in search of the world's greatest beefsteak while I will head home to New York City. I introduce Todd Haynes' Mildred Pierce which they are showing at the festival in tandem with Michael Curtiz's original from 1945 with Joan Crawford. The crowd is somewhat sparse, but sympathetic to the film and we are pleased with the reception.
Olivier Restaurante
Rua do Alecrim, nº 23 1200 – 014, Lisbon | +351 21 342 29 16
---
We spend our last night in Lisbon and we try and make the most of it. Dinner at Olivier, a very chic restaurant we'd been hearing about. George befriends the hostess (Olivier's sister) and we eat and drink our way through the menu with great stealth and enthusiasm.
Café a Brasileira
Rua Garrett 120 1200, Lisbon | +351 213 469 541
---
After dinner we stop and have a bica at Café a Brasileira, one of the oldest and most famous cafes in Lisbon. A bronze statue of the great Portuguese writer Fernando Pessoa sits in front of the café.
Clube de Fado
Rua S. Joao de Praca, 86 – 94 1100 – 521, Lisbon | +351 218 582 704
---
Finally we prowl the hills of Lisbon for one last dose of fado and come upon the likely named Clube de Fado, where we are treated to another gorgeous set of songs. Heartbreaking and inspiring. We vow to let ourselves sink into these mighty and beautiful waves of despair more often. We toast the night with a final glass of brandy and make our way back to the hotel (by taxi).
---
Tuesday
Train strike means leaving very early for the airport. George meets me in the lobby for a tearful farewell. We promise to pursue more adventures together and to detail them for the great readers of goop.
Goop's Lisboan friends recommend a few must-see shops: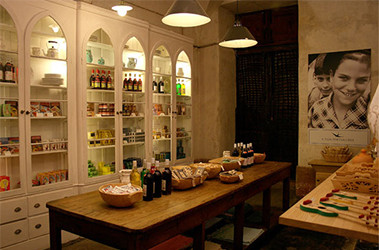 A Vida Portuguesa
Rua Anchieta 11 1200-023 Lisboa | +351 213 465 073
---
This shop sells mostly classic Portuguese products—from kitchenware to toiletries, to stationery, to… detergent and floor wax (in colorful and graphic old-school packaging, of course). It's the perfect spot to find a gift or a souvenir, and their gift boxes (random assortments of perfectly kitsch products) are hard to resist.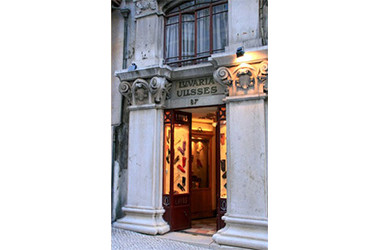 Luvaria Ulisses
Rua do Carmo, 87-A 1200-093, Lisbon | +351 213420 295
---
Founded in 1925, and still open and remarkably unchanged to this day, this charming glove shop is located in a beautiful old building in Chiado. Even if you're not in the market for a lovely pair of leather gloves, the teany shop itself is worth visiting.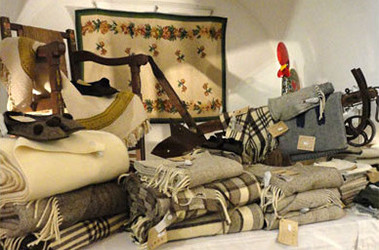 A Arte da Terra
Rua Agusto Rosa, 40 1100-059 | +351 212 745 975
---
Authentic Portuguese crafts from hand-painted tiles to puppets set in a gorgeously renovated former stable that's now a rustic showroom is one of the more unique places to shop for homewares, kids toys, or gifts.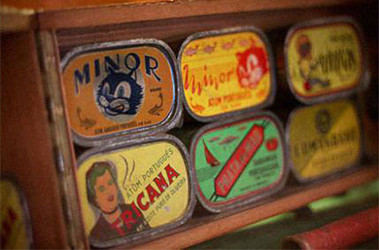 Conserveira de Lisboa
Street of Bacalhoeiros, 34 1100-071 Lisboa | +351 218 864 009
---
Opened in the 1930's and virtually unchanged ever since, Conserveira de Lisboa (Lisbon Cannery), sells mainly brightly-colored vintage tins of fish. Quirky as it is, its charm is undeniable, whatever your culinary proclivities may be.