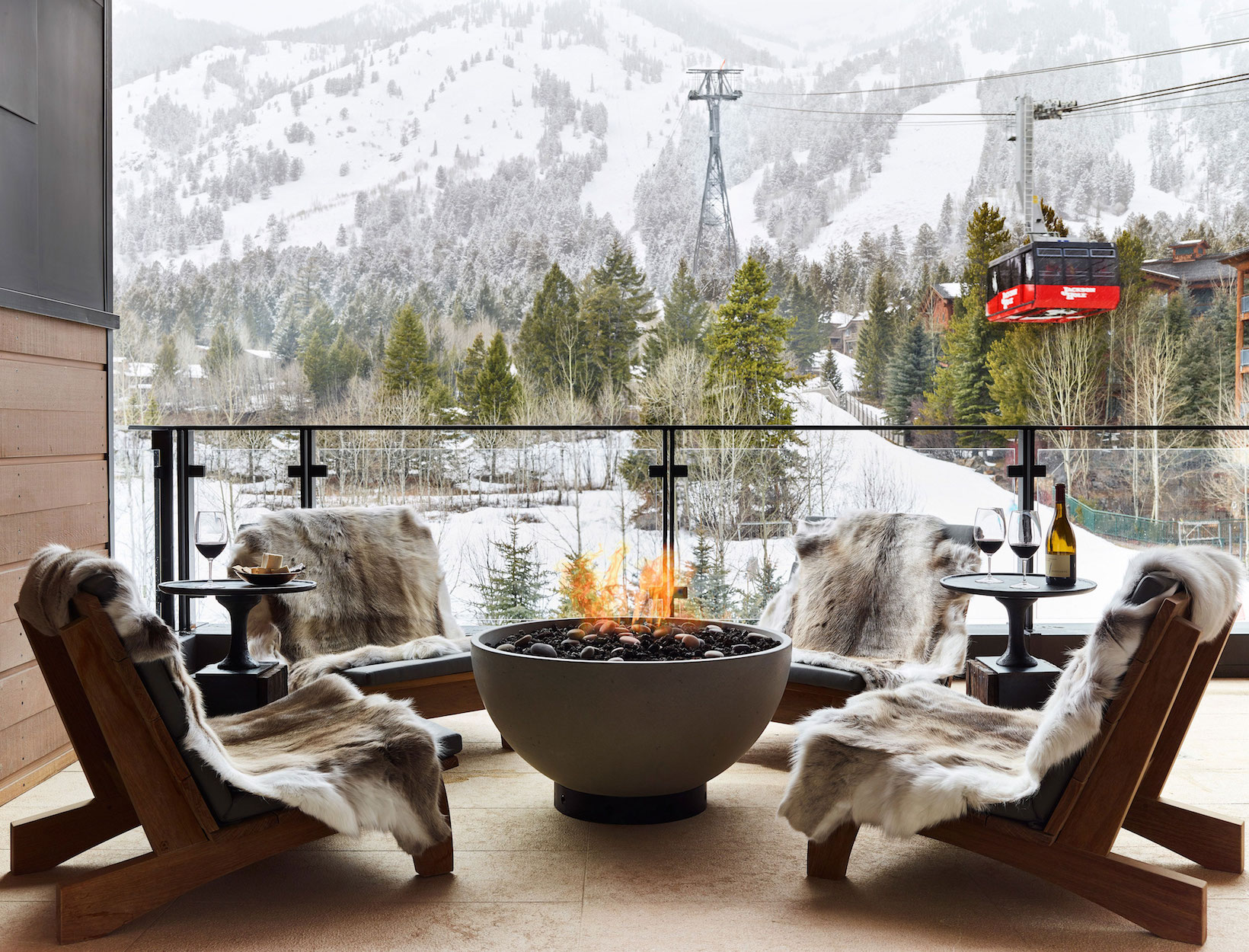 Photo courtesy of Caldera House, Jackson Hole
Last-Minute
Presidents' Day
Getaways
Memorial Day and Labor Day get all the good marketing. How else do you explain the fact that Presidents' Day weekend sneaks up on us every year before we've made solid plans? To break this vicious cycle, we brainstormed a handful of destinations (whether you're coming from the West Coast, the Midwest, or the East Coast) that don't require much in the way of strategy or a long-haul flight to get there. Can we get an amen?
FROM THE
WEST COAST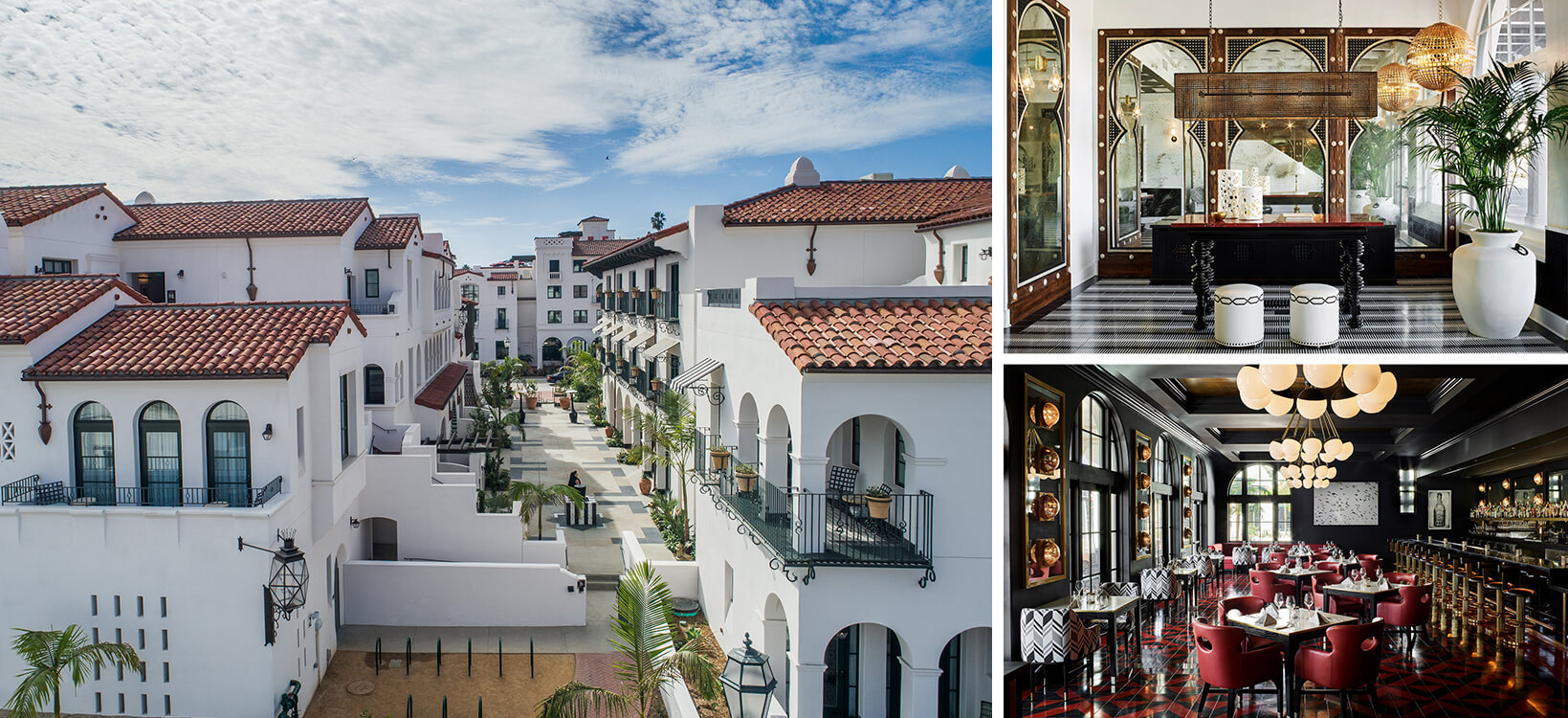 Hotel Californian,
Santa Barbara
TRAVEL TIME:
About a two-hour drive north of Los Angeles or an hour-long flight south from San Francisco.
WHAT TO EXPECT:
The best part of the Hotel Californian isn't its proximity (a thirty-second walk) to the Santa Barbara beach. But that's a good one. Nor is it the Spanish Colonial lobby or the guest rooms covered in twenty-seven different styles of Moroccan tiles. And those are damn nice, too. The best part isn't even its history as a city landmark or its recent expansion to a five-building resort that includes a decadent spa, a café serving fresh granola and French pastries, and a restaurant with squid ink pasta worth driving two hours from LA for. The best part is the Funk Zone. There, in the middle of SB's downtown area, is this "funky" little neighborhood, every inch of it filled with entertainment for days: fifty California-wine-tasting rooms, local breweries, art galleries, quaint cafés serving house-made sandwiches, and charming Craftsman-style homes. And it's one block from the Hotel Californian. The Martyn Lawrence Bullard–designed interior makes it feel more like summer in Tangier than Santa Barbara. But a morning espresso on the balcony watching surfers catch the early waves plants you firmly back in California, in wine country no less.
DON'T MISS:
While the options for wine-tasting are almost endless, we prefer to claim space in one or two spots and sample a few glasses. Les Marchands has long been our go-to in the Funk Zone for the décor and the bites as much as the wine. Built into what was the fish market warehouse in 1920s SB, floor-to-ceiling Douglas fir shelves heave with thousands of old- and new-world labels. The custom chandeliers resemble balls of twinkling lights, and the tables are perpetually full of locals tasting master sommelier Brian McClintic's favorites of the moment.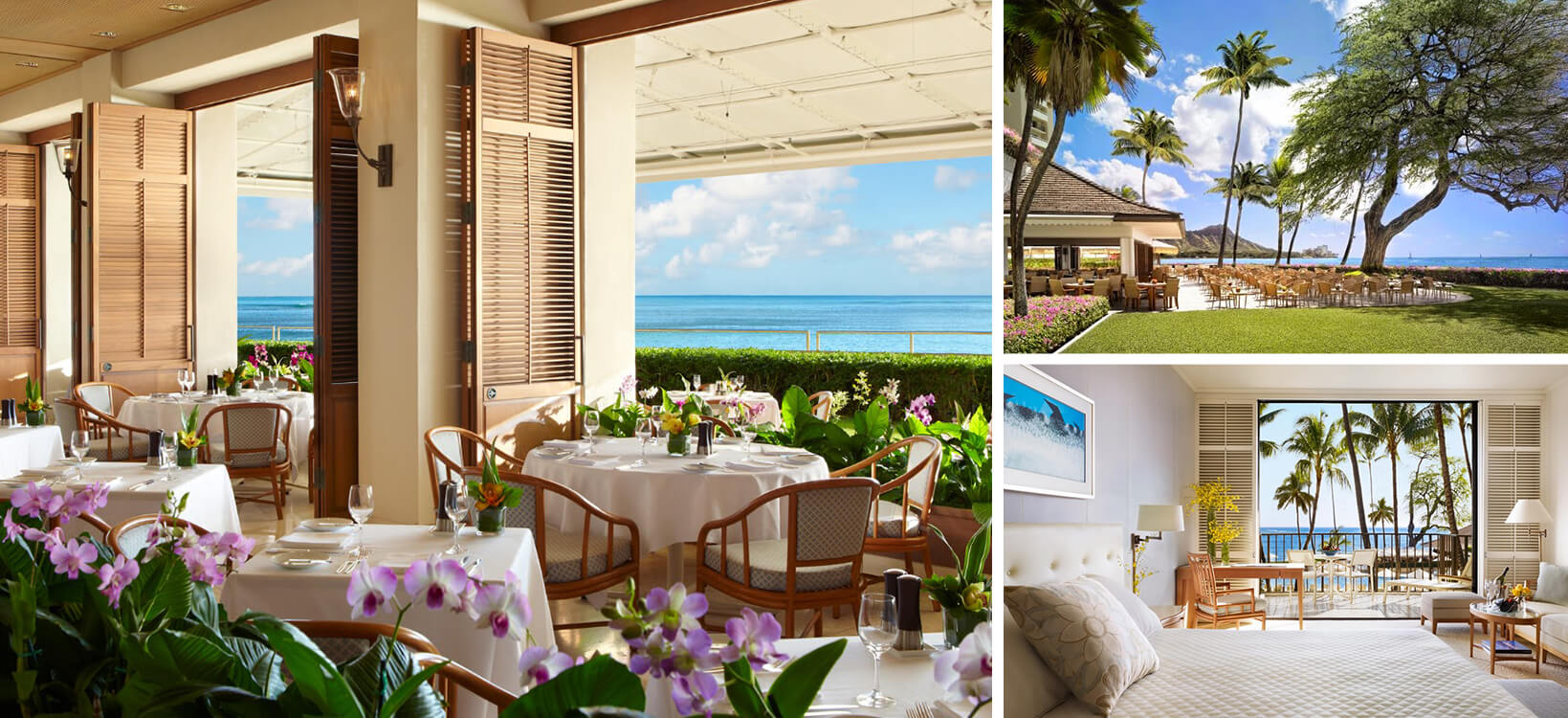 Halekulani, Honolulu
TRAVEL TIME:
A five-hour flight from most West Coast cities, from Seattle to San Diego.
WHAT TO EXPECT:
On an island full of busy, noisy megahotels that seem to promote anything but calm island vibes, Halekulani stands out. Although it's in the heart of crowded Waikiki, the tone here is hushed and somewhat formal (gentlemen are asked to wear pants—not shorts—once the sun goes down). The pristine, minimalist lobby is accented by towering tropical floral arrangements, and guest rooms feel clean and subtly elegant, meaning you'll find plenty of creams, white, and natural wood instead of the bright prints and riffs on "Hawaiian" artwork at some of the other neighboring properties. Halekulani is also home to one of Honolulu's best restaurants, La Mer. The menu is a fusion of French and local cuisine, and known for its spectacular seafood dishes, like the abalone with crispy onions and smoked bacon.
DON'T MISS:
The sheer variety of tropical fruits and vegetables grown in Hawaii makes the farmers' markets incredibly special. Anything can grow here. The Kailua Farmers' Market is always filled with locals buying their produce for the week, picking through mangoes, kiwis, and several varieties of banana (we've heard that the apple bananas and ice cream bananas are particularly great). Make sure to stop by the Nalo Farms table to pick up some "Nalo greens"—a mix of salad and microgreens that is famous in the area—then look out for them as menu items in Honolulu.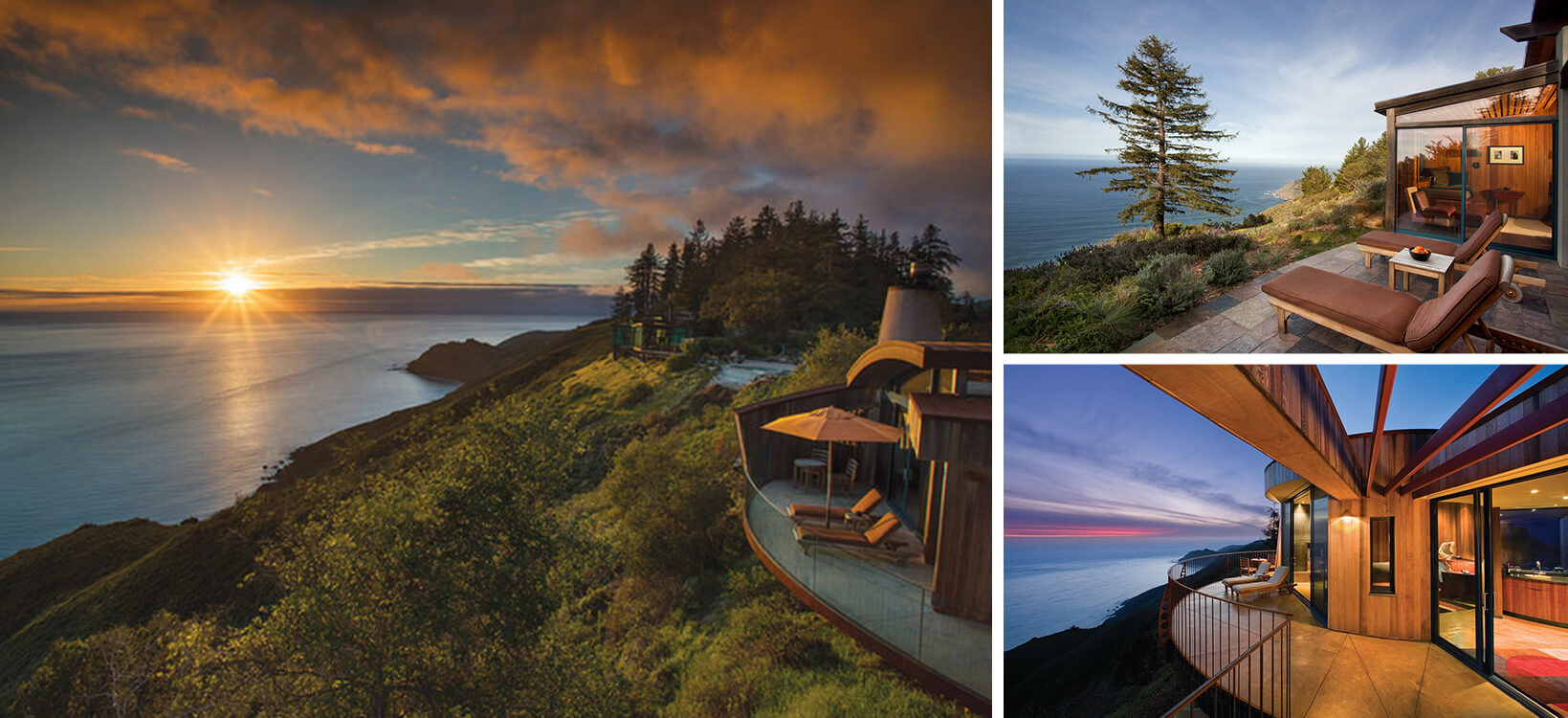 Post Ranch Inn, Big Sur
TRAVEL TIME:
A six-hour drive north from Los Angeles or a four-hour drive south from San Francisco.
WHAT TO EXPECT:
From the 1,200-foot cliff (where the rooms are), there are two things to see—the wild Santa Lucia mountains and the Pacific. In fact, you're pretty much looking at the entire ocean from this vantage point. And while the surrounding natural beauty is a given, Post Ranch also has a lot to offer indoors. The restaurant, Sierra Mar, has a fantastic four-course prix-fixe menu, offering unfussy entrées like duck confit with local huckleberries and parsnips, and house-made pappardelle with pesto and pickled yucca blossoms. The spa, meanwhile, is the reason most people come here in the first place. It offers specialized treatments, like Reiki, vibrational resonance, and too many other transporting services to list here. And while February might seem like a less than ideal time to visit, we love the drama of the season, when the cool, misty fog tumbles down the mountains toward the sea.
DON'T MISS:
First a warning—Julia Pfeiffer Burns State Park can be a bit touristy (it's the place where everyone takes the picture of the turquoise cove). But who cares because it's pretty enough that it won't bother you. Aim to get there by 8 a.m. to guarantee you'll get a spot and not have to park along the highway. And if you're coming during the winter months, the benches at the end of the Overlook trail are a great place to see whales migrating south.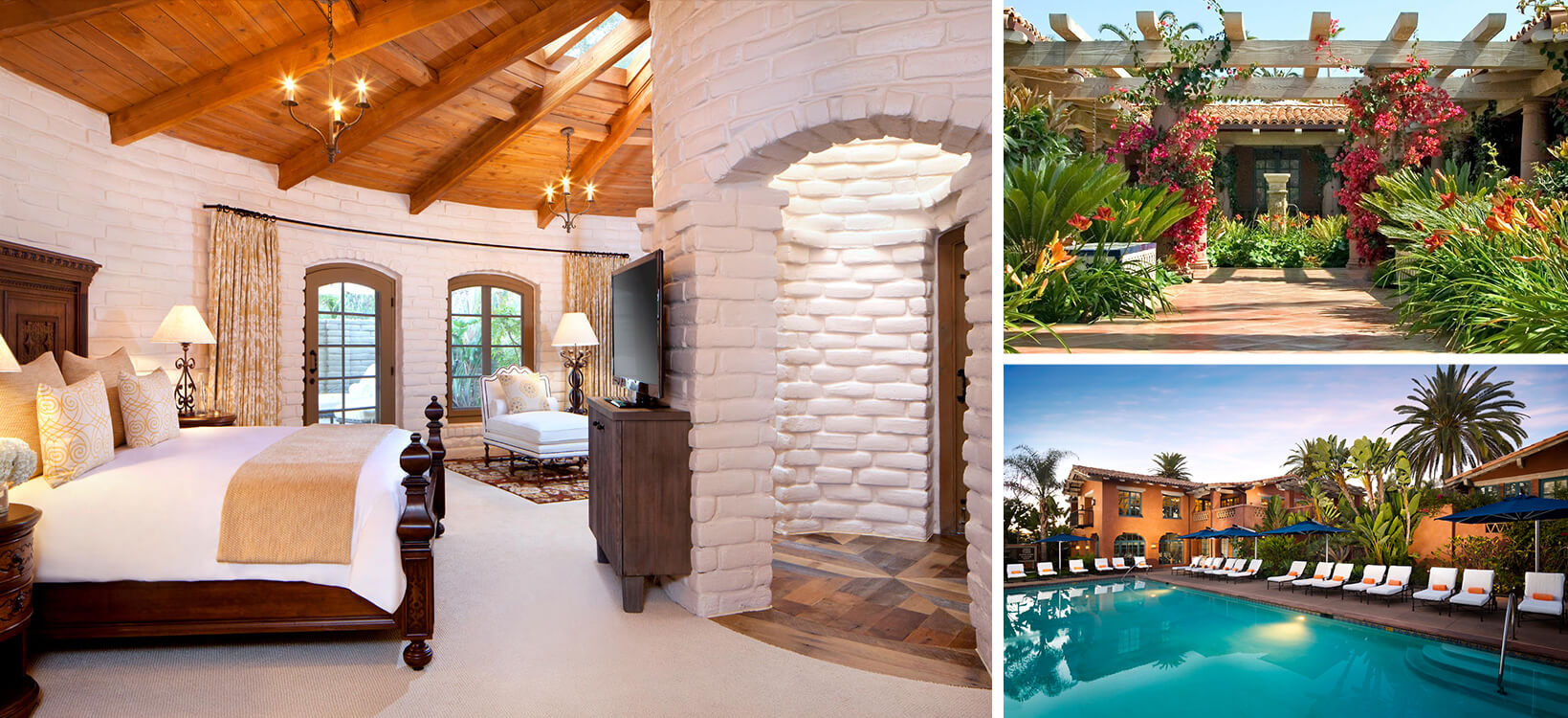 Rancho Valencia,
Rancho Santa Fe
TRAVEL TIME:
A two-hour drive south from Los Angeles or a one-hour flight from San Francisco.
WHAT TO EXPECT:
This is California's only Relais & Châteaux property, and after a recently completed $30 million renovation, it includes an immaculate spa with high-end, organic, wellness-focused treatments (facials with spirulina, sea salt and olive oil scrubs before your massage); forty-five acres of gardens with hiking trails; complimentary Porsches to take for spins around the horse-ranch-dotted San Dieguito Valley; and, of course, the rooms. The forty-nine casitas are stocked with amenities (private outdoor hot tubs, free mini bars) and the kind of small details that elevate any stay. There are lots of activities for children, too, as well as fitness-oriented wellness retreats.
DON'T MISS:
In a place where winter is defined by temperatures in the seventies, there's no excuse not to enjoy all the outdoor pursuits offered in the San Diego area. One of our favorite spots is Torrey Pines State Reserve (about a twenty-minute drive south from Rancho Valencia), a drop-dead gorgeous protected area for beach walks, hikes along the bluffs, and surfing (though you'll want to wear a wetsuit). Otherwise, head to the 1,200-acre Balboa Park, the cultural center of San Diego, to walk through its collection of seventeen gardens (with themes that include Australian and Japanese) and a staggering number of museums, like the Natural History Museum and the Museum of Art.
FROM THE MIDWEST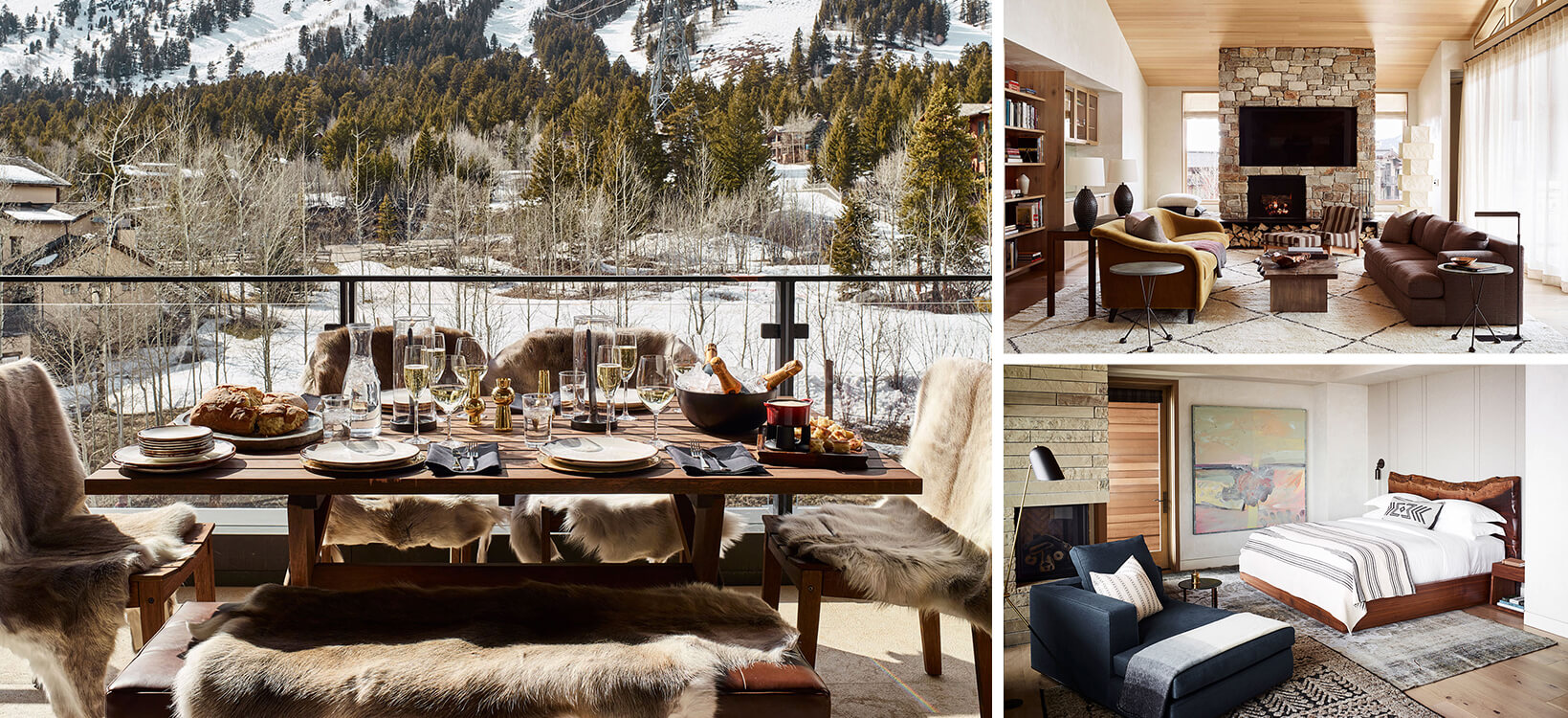 Caldera House,
Jackson Hole
TRAVEL TIME:
A three-hour flight from Chicago or Minneapolis.
WHAT TO EXPECT:
Caldera House is one of the more personal lodgings in Jackson. There are only eight suites, each with two or four bedrooms, and LA-based Commune (the folks behind the Ace DTLA and Tartine in SF) did the design for the lobby and public spaces. The design is pretty spot-on—it doesn't hit you over the head with alpine charm, but instead, there's blonde wood throughout, marble and brass details, worn-in leather chairs, and Moroccan rugs. The team will arrange anything you'd want to try in the area, like forest bathing, fly-fishing, and horseback riding at the nearby Spring Creek Ranch. There's no shortage of stuff to see, starting with Grand Teton National Park, where you'll easily encounter bison, mama and baby moose, packs of pronghorn, and anything else that belongs on a postcard of the great American West. The town square is utterly charming—Persephone Bakery is our favorite spot for coffee, sandwiches, and an important midday cookie break.
DON'T MISS:
Though it certainly gets busy, Grand Teton is still a bit quieter than some of the other National Parks—there are plenty of hikes and places where a visitor can find solitude, and (unlike in Yellowstone) you can often snag a campsite late in the day. In the winter, you can see entire herds of majestic elk, which is worth the visit alone. Luckily Caldera House sits right at the entrance of the park.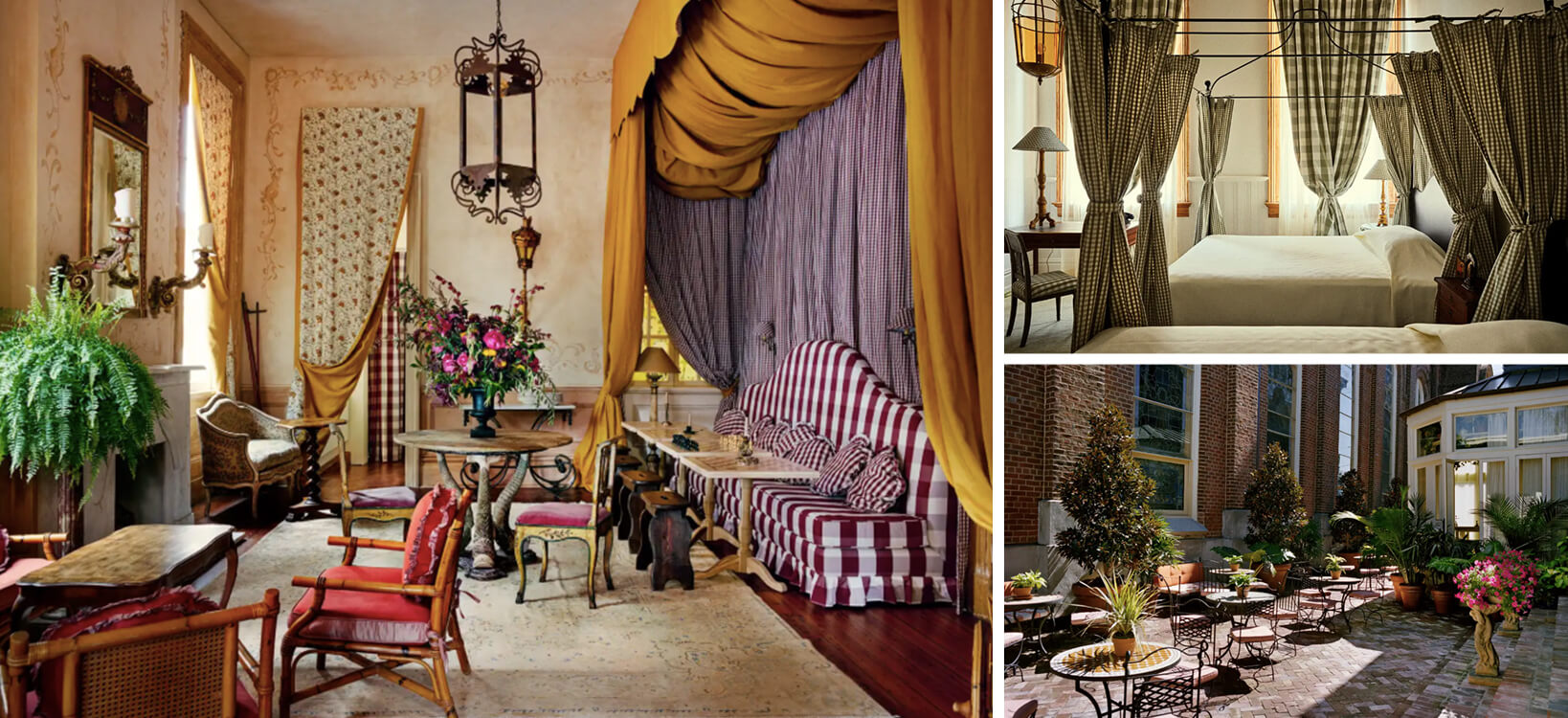 Hotel Peter and Paul,
New Orleans
TRAVEL TIME:
A two-and-a-half-hour flight from Chicago, Minneapolis, or Detroit.
WHAT TO EXPECT:
It's taken four years of meticulous restoration of an 1860s church, schoolhouse, rectory, and convent, but this highly anticipated hotel in the Marigny is finally open. Between them, the four buildings have seventy-one guest rooms, a bookstore, a café, and a bar. It's about as far as you can get from a chain-hotel experience. Each room is individually decorated by New York City–based design firm ASH NYC, which specializes in historic updates. That means a lot of antique furniture and light fixtures, hand-painted tiles in the bathrooms (a few have clawfoot tubs), and canopy beds—a cozy, throwback touch that's not found much these days. The café is another reason to book. Run by Church Alley Coffee Bar, it's the best place in the neighborhood for your morning cortado.
DON'T MISS:
Step through the door at Galatoire's (the famed New Orleans dining institution), and you might forget what decade it is. The dining room—French bistro chairs, white tablecloths, and ceiling fans—seems virtually unchanged since 1905, when the restaurant opened. But it's the crowd, decked out in their old-school Sunday best (even during the week), that is really transporting. We're talking gents in bow ties and seersucker suits (jackets are required), and ladies in pale-pink and pistachio dresses. The menu is similarly unaffected by modern trends, full of classic dishes like the seafood okra gumbo (Louisiana shrimp, oysters, shellfish stock, and okra in a light roux) and the avocado and crabmeat salad. This is New Orleans as its best, and your experience in the city is practically incomplete without a meal here.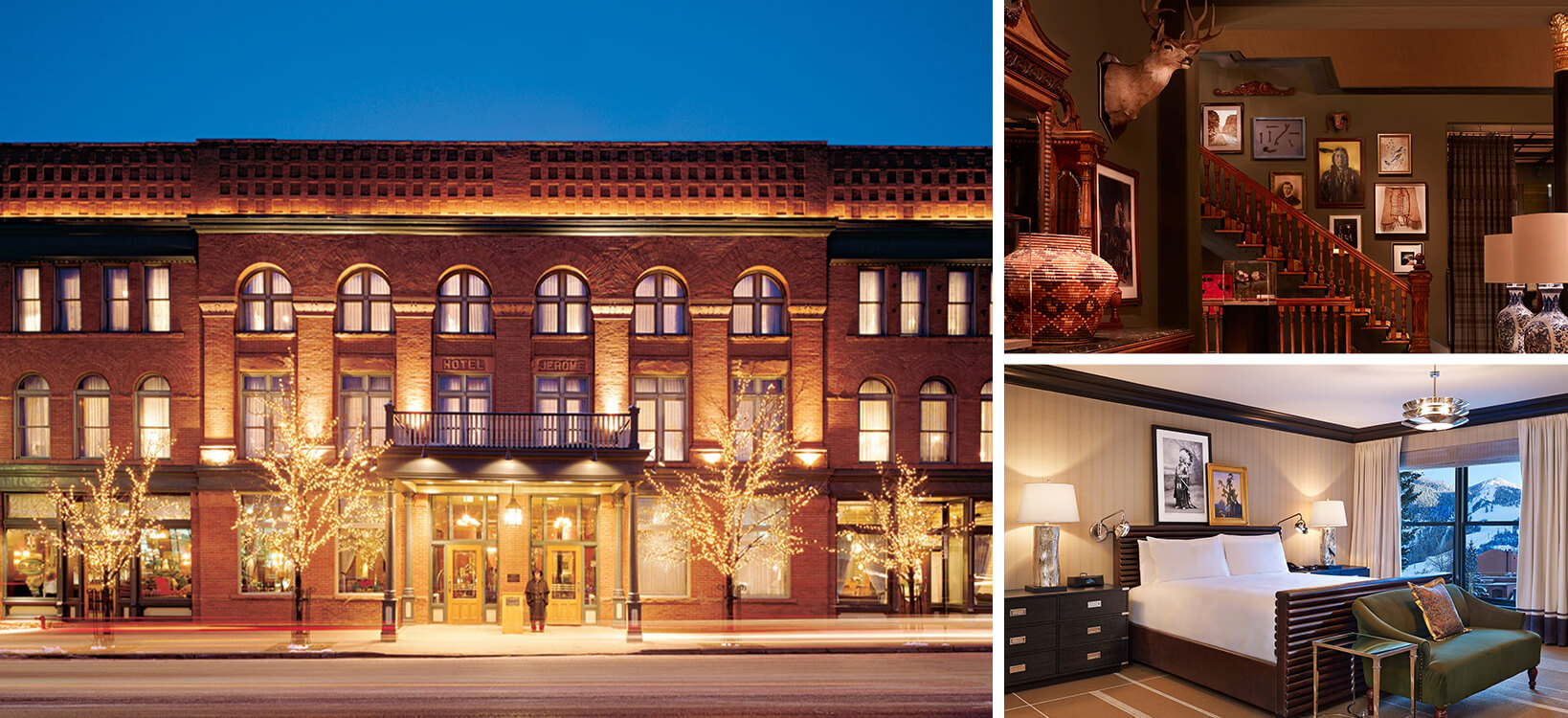 Hotel Jerome, Aspen
TRAVEL TIME:
A three-hour flight from Chicago.
WHAT TO EXPECT:
The historic Jerome has been part of Aspen's story since it opened as the town's first hotel more than 120 years ago. Still occupying its original building (albeit with an updated interior and an expansion), the hotel was purchased by Auberge in 2012. While it retains its small-town charm, it now offers Auberge-style amenities, like a gorgeously decorated bar, in-house ski rentals through Gorsuch, a luxe spa, and two full-service restaurants. As for the décor, it feels warm and stately, with deep greens, rich leathers, and Western touches like plaid and vintage portraits throughout the rooms and public spaces. The location, meanwhile, is perfectly situated between the base of Ajax and the river.
DON'T MISS:
No matter where you stay, the après timeline in Aspen hasn't changed for years—with good reason. Festivities start at Cloud 9 on Aspen Highlands, where everyone congregates in their ski boots at the end of the day, and where ski instructors are notorious for spraying bottles of champagne out onto crowds of merrymakers. Over on Aspen Mountain, Chair Nine at the Little Nell continues to be a lively spot for spiked hot chocolate as the sun goes down.
FROM THE
EAST COAST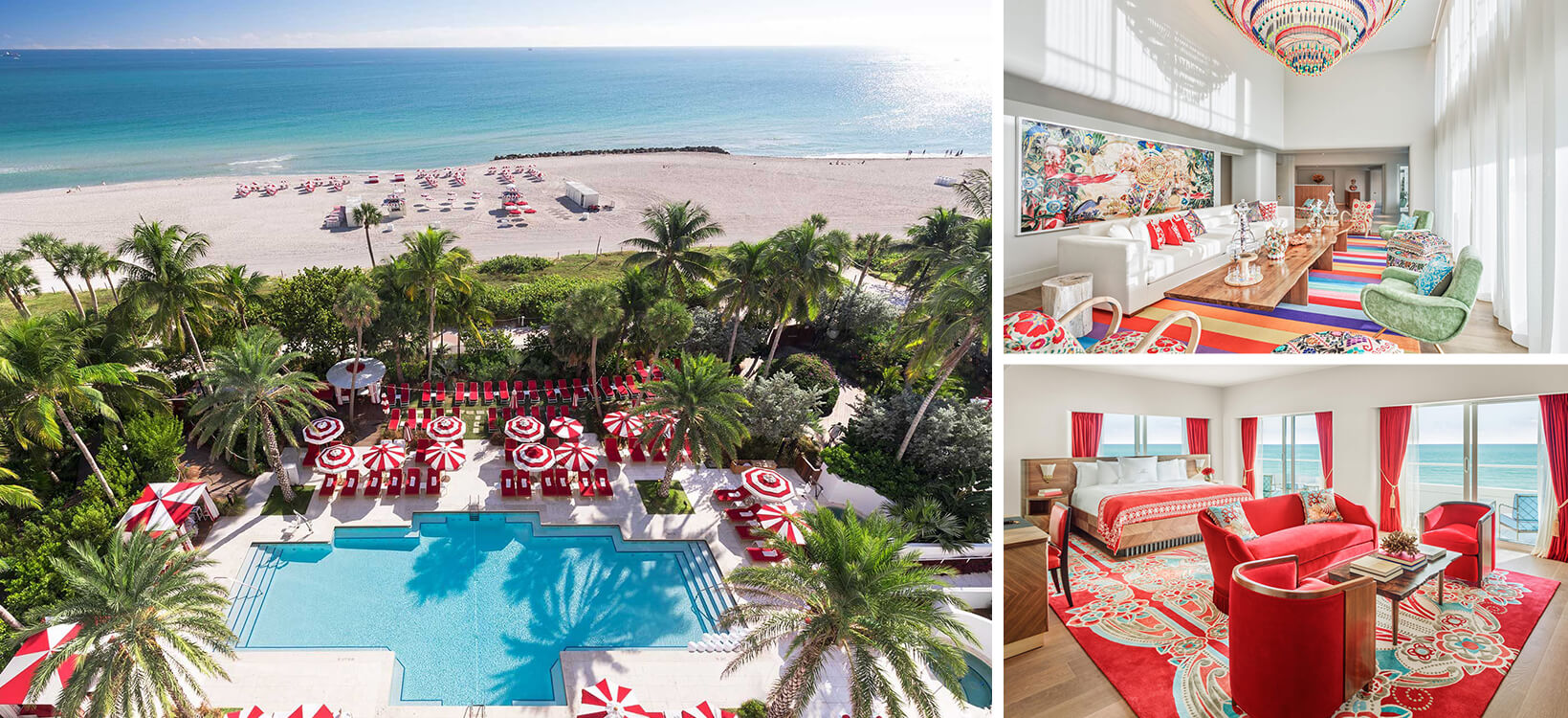 Faena Miami Beach
TRAVEL TIME:
A three-and-a-half-hour flight from New York or Boston.
WHAT TO EXPECT:
A spin-off of Alan Faena's beloved, eccentric Buenos Aires hotel, Faena Hotel Miami Beach is a reimagining of the 1947 Saxony building, which was an early lavish Miami hotel (Marilyn Monroe, Frank Sinatra, and the like performed there). It blends old-school glam with a vibrant South American vibe, richly decorated in ruby red and cool teal and turquoise blues, with Art Deco touches and serious animal-print accents throughout. Alan Faena collaborated with film director and producer Baz Luhrmann and his wife, Academy Award–winning costume designer Catherine Martin, on the design. The expansive hall lobby ("the cathedral") is lined with gold-leaf columns and floor-to-ceiling murals by Argentinian artist Juan Gatti. (Faena's collaborator list reads like a who's who of the arts and entertainment world, and the result is not unlike a Baz Luhrmann movie set.) The rooms, which begin around $700 a night, are generously sized, with the suites bordering on enormous. And the spa is outstanding, as is Francis Mallmann's Los Fuegos restaurant.
DON'T MISS:
Opened in 2013, the Herzog & de Meuron–designed Pérez Art Museum has been largely responsible for the renewal of downtown Miami. Funded partially by collector Jorge Pérez, for whom the museum is named, the 20,000-square-foot glass-and-concrete space boasts some 1,800 works from the likes of John Baldessari, Olafur Eliasson, and Dan Flavin. There are also works on display by important Latin American artists including José Bedia and Beatriz González. Walk through the outdoor tropical-plant-dotted sculpture garden, with large-scale sculptures that are breathtaking against the water's edge.
Rosewood Bermuda
TRAVEL TIME:
About a two-hour flight from New York City.
WHAT TO EXPECT:
Fresh off a brand-new renovation, Rosewood's pale-pink Bermuda property is small in size (only eighty-eight guest rooms) but has the amenities of a full-scale resort. Spread across 240 acres in Tucker's Point, there are three restaurants, a 12,000-square-foot spa, a private pink sand beach, infinity pools, and a golf and tennis club. We especially love the dive and watersports center, where you can arrange epic shipwreck (the island is famous for them) and reef scuba diving, snorkeling trips, and kayaking along the coastline. Rooms are serene and pristine, outfitted in creams and whites, with views of either the ocean or the harbor.
DON'T MISS:
Mark Twain was the first tourist to descend into the Crystal Caves in 1908. In the years since, they've become one of Bermuda's most popular natural wonders, thanks to the eerily beautiful, ancient stalactites (the massive, hanging calcium deposits that look like icy chandeliers) reaching down to the crystal-clear water. Wooden walkways make navigation easy, and there are guided tours multiple times a day throughout the week.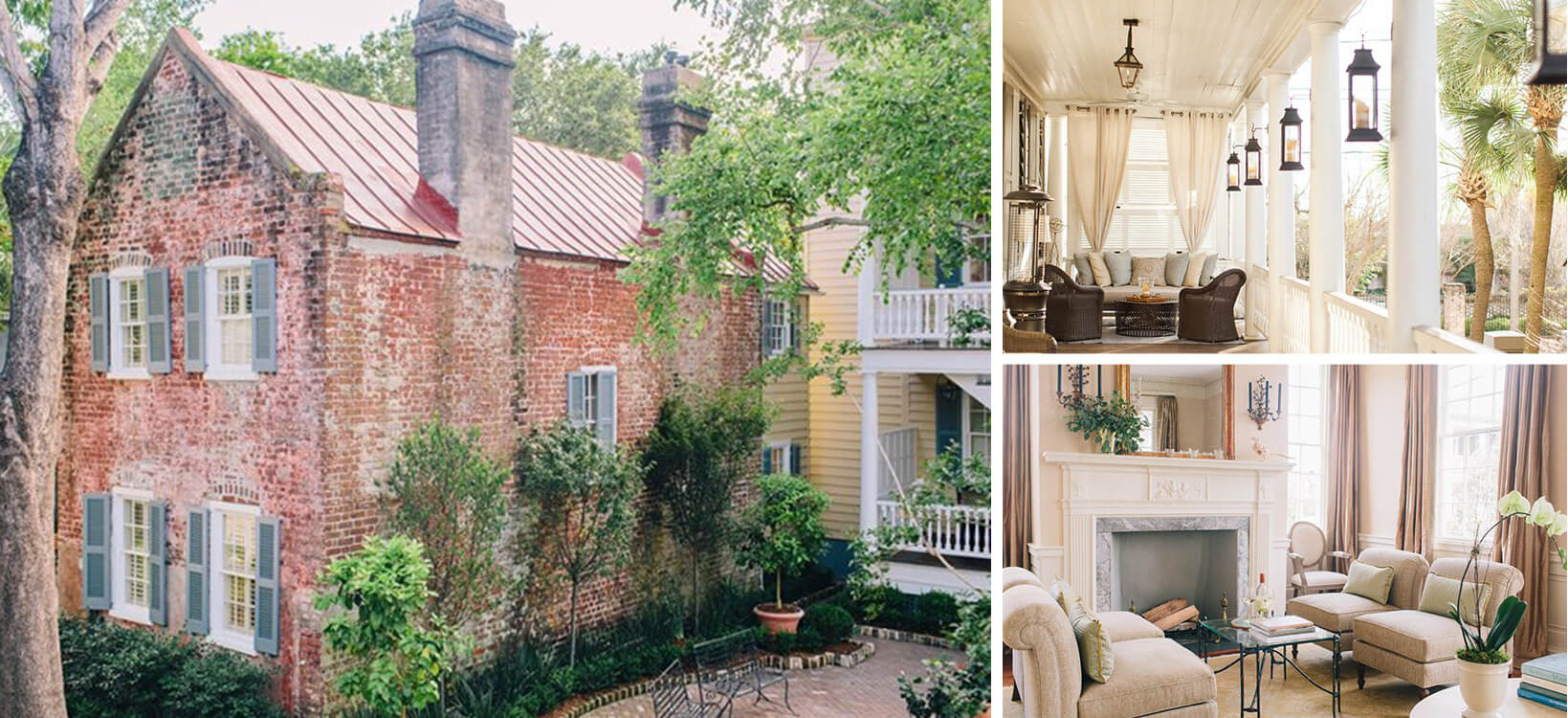 Zero George Hotel, Charleston
TRAVEL TIME:
About a two-hour flight from New York, Philadelphia, or Boston.
WHAT TO EXPECT:
Zero George Hotel (so named for its address, which actually is 0 George Street) is made up of five restored historic homes that all face each other around a quaint, landscaped courtyard. Two of them are actually transplants that were moved here from another part of town—ask the concierge for the full story, which is fascinating and fittingly Charlestonian. The buildings have all the charm of old Charleston, but the rooms themselves feel modern, with a neutral color scheme, cozy beds, and big, bright bathrooms, plus verandas looking out into the common space. The original 1804 carriage house plays host to the lobby and a recently renovated kitchen, where chefs host cooking classes and a wine-and-cheese very happy hour that's an excellent perk of any stay.
DON'T MISS:
Charleston is one of those places where it's enjoyable to actually wander around until you're fully lost. Its relatively small size also means you can cover a lot of ground in a weekend, or even a day. One of the best neighborhoods to walk is the residential section of town known as South of Broad (literally: south of Broad Street). To see some of the city's oldest architecture, quintessential Charleston homes (including tiny, quaint houses and grand, stately mansions), and lush gardens, walk down Church Street, taking detours to Stoll's Alley and Zig Zag Alley. Also near Church Street is Rainbow Row (on East Bay Street, between Elliot and Tradd)—a colorful stretch of homes that dates back to the eighteenth century and is perhaps the most photographed Charleston location. Another great walk is Tradd Street from east to west. Further south, below Tradd, and below South Battery Street, you'll find the waterfront White Point Garden, where you could walk the Battery, Charleston's historic defensive sea wall, along the Cooper River.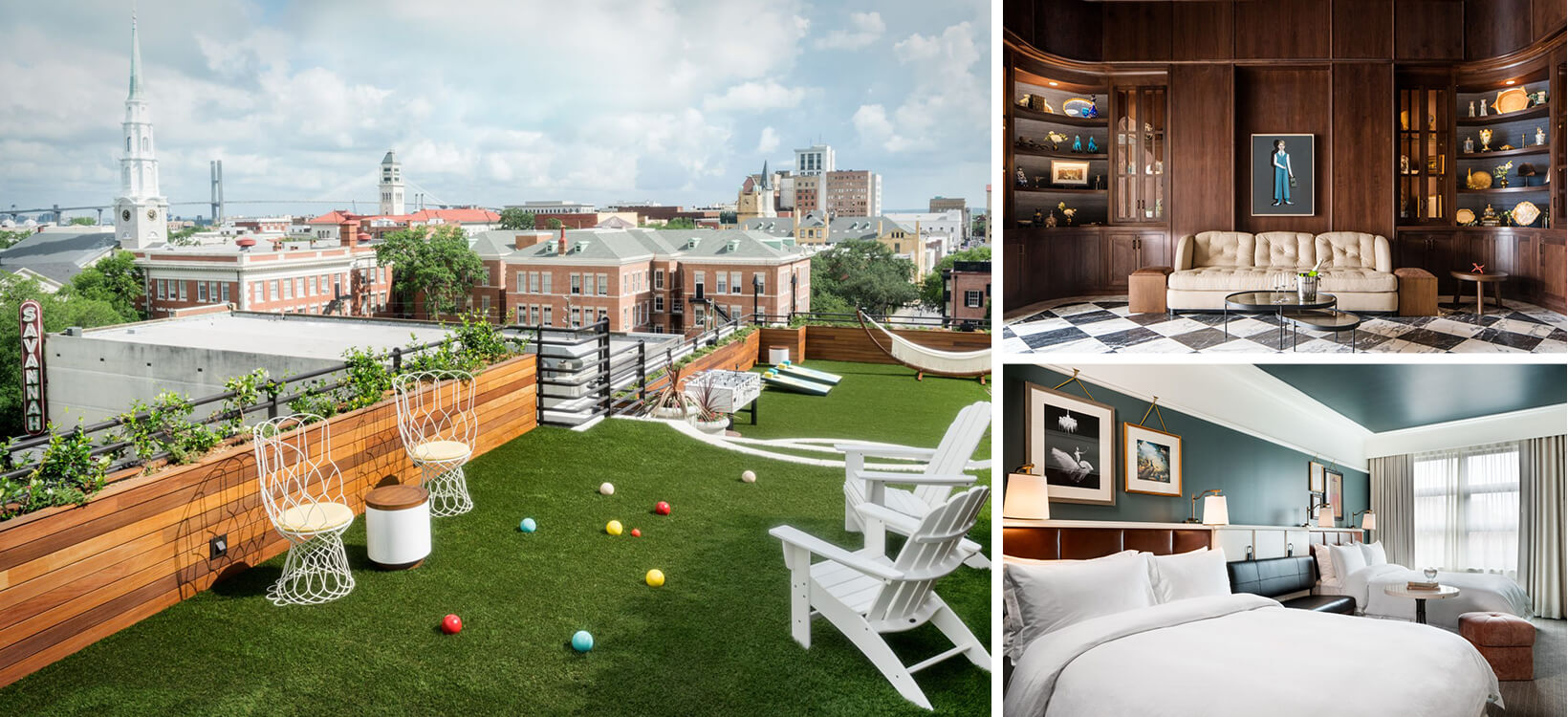 Perry Lane Hotel, Savannah
TRAVEL TIME:
A two-and-a-half-hour flight from New York City or an hour-and-a-half flight from Washington, D.C.
WHAT TO EXPECT:
When Savannah's founder, General James Oglethorpe, planned the city, he designed it to be an immaculate urban grid. This layout created two things: a town that's easy to navigate and a centuries-old reverence for the urban design, which became known as the Oglethorpe Plan. It's still so respected that the founders of Perry Lane, a Luxury Collection Hotel, created it to be two buildings—one on each side of the lane—so as not to disrupt the grid. Call it Southern charm or deep-rooted respect. Or maybe it's grace. Which abounds in this gorgeous hotel. Each of its 167 rooms is decorated with unique art and antiques, part of the hotel's incredibly extensive and impressive collection, and finished with plush Frette sheets. And because it's located seconds from some of the city's best restaurants, parks, and sites, it's tempting to rush around and explore. But before you do: Indulge in a few of the hotel's perks—in-room massages, house-made pappardelle at the Emporium Kitchen and Wine Market, maybe shopping at the impeccable Andie Kully Boutique. And before you call it a night, grab a whiskey at Wayward, the hotel's underground watering hole, a place that's dim and cozy and has a motorcycle suspended from the ceiling.
DON'T MISS:
The art scene in Savannah is enough to rival any of the great art cities anywhere in the world. Which is why collectors from New York, Los Angeles, and farther afield head here to add to their private collections. You'll find works by local artists, like Katherine Sandoz, and Abstract Expressionists, like Mark Rothko. Ask a local about their favorite gallery or art shop, because there are many. (One goop editor's favorite: Laney Contemporary Art, about a ten-minute drive from downtown.) But there's no better place to take it all in (and buy a few pieces to go) than SCAD, the Savannah College of Art and Design. Visiting the campus is like a B12 shot to your creativity. Students are running around, portfolio bags slung over their shoulders. And many are docents to the SCAD Museum, a world-renowned museum of vibrant, progressive, soul-stretching work by artists from everywhere. (If you don't make it there, you can still bring home the talent: go to ShopSCAD to buy pieces by students and alumni.)