Last-Minute Labor Day Holiday Getaways
For the procrastinators among us, we've checked for availability at some of our favorite long weekend escapes. Though a few might require a short flight, most of these are just a relatively short drive from the major cities on each coast.
West Coast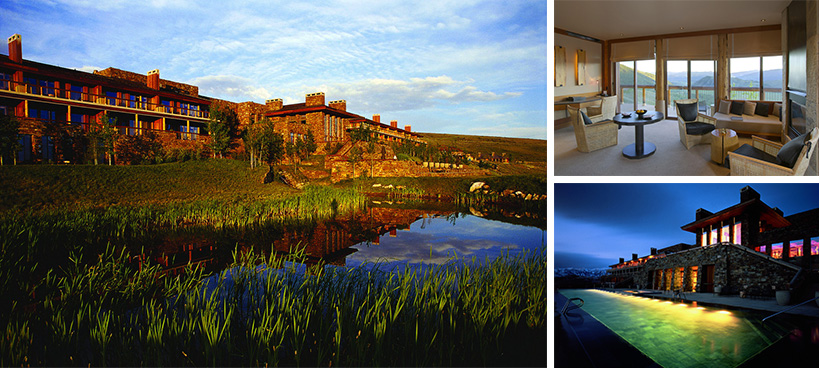 Aman resorts are known for impeccable service and some of the most stunning (and remote) locations in the world—no big surprise, but this one fits the mold perfectly. Set into a butte overlooking Jackson Hole and the Grand Tetons, it's a pretty ideal venue for skiing, though during warmer months, it offers great hiking, rafting, and horseback riding, where you might happen upon deer, bald eagles, and even black bears. It also has an excellent spa.
Travel Time:
A 2-hour direct flight from Los Angeles to Jackson Hole. They'll pick you up (complimentary) for the 20-minute drive to the hotel.
What to pack:
Jeans, a cowboy hat, and boots for horseback riding, along with hiking boots and river gear.
The Rooms:
Because the views of the Rocky mountains and the plains below are the focal point, all 29 suites are decorated in neutral tones that won't distract you from the outdoors. Along with decks and outdoor seating, each suite features a daybed in the bedroom, and a soaking tub that's positioned next to floor-to-ceiling windows.
Don't Miss:
The heated outdoor infinity pool overlooking the surrounding plains.
---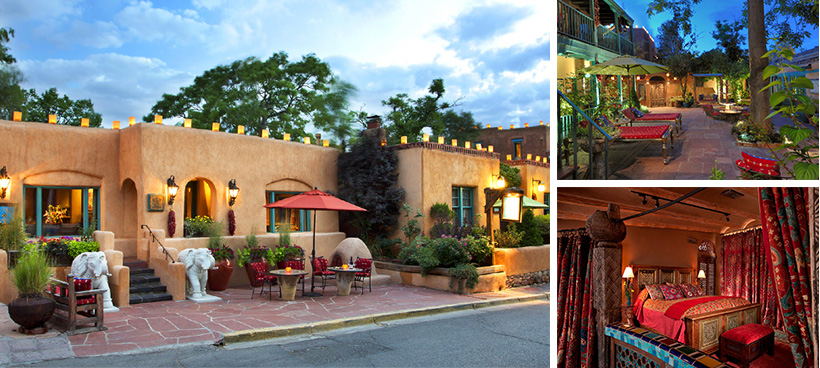 While the adobe suites here were built hundreds of years ago, there's nothing even remotely old-world (or neutral) about the décor at this Santa Fe haven: Each room is kitted out with a mix of bright, hand-tiled mosaics and the owners' finds from Turkey, Tibet, and Afghanistan. While it's located right in the middle of town, making it the perfect hub for exploring the area, the hotel's Ayurvedic spa is a huge draw, too.
Travel Time:
A 2 hour direct flight from both Dallas and Los Angeles to the Santa Fe Municipal Airport, plus a quick drive to the hotel.
Head Out:
There's plenty to see nearby, from the San Miguel Mission across the street (the oldest in the states), to the art galleries down Canyon Road. There, you'll see traditional Southwestern crafts mixed with art from the international gallery circuit.
Extra Credit:
The well-traveled owners, Ira and Sylvia Seret, named the hotel after the Tibetan philosophy that we are all lucky to have five senses (graces) with which to experience the world.
The Food:
A plentiful (and complimentary) breakfast of southwestern classics can be served at the restaurant, in the courtyard, or in your room.
The Rooms:
They are not understated when it comes to design flourishes, but it all somehow works.
---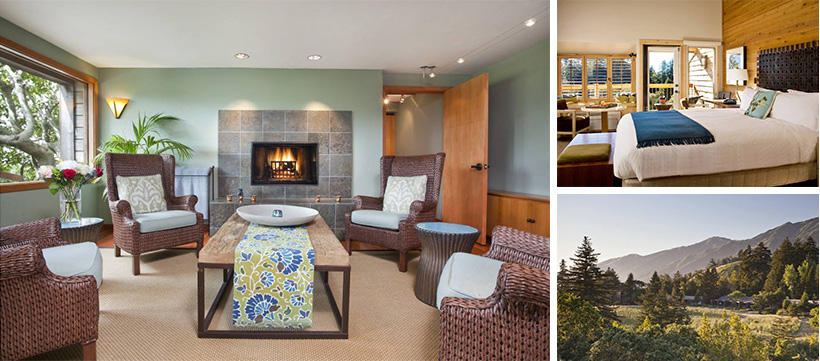 Nestled amongst the Redwoods on a cliff overlooking the Pacific, Ventana is kind of hard to beat. While the beaches and hikes of Big Sur are a bit of a siren song, it's hard to budge from the property's two on-site pools, Japanese soaking tubs, and nap-inducing hammocks. The restaurant, admittedly, is not Big Sur's best: Fortunately, Post Ranch Inn, Deetjen's, and Big Sur Bakery are all nearby.
Travel Time:
A 5 hour drive from Los Angeles or 3 hour drive from San Francisco.
What to pack:
There are tons of trails to pick from—redwood forests, waterfalls, and paths along the coast— meaning that hiking boots are an essential. The hotel runs a one-hour walk each day around the property starting at 10 am, and you can also book more challenging hikes with local guides.
The Rooms:
While mmodern in look and feel, the wood-panelled interiors and redwood floors are a constant reminder that you're in the woods. Most rooms and suites come with a private deck and fireplace, and some include a hot tub. The views of the Pacific and through the hills are spectacular.
Take Note:
Ventana is adults-only.
---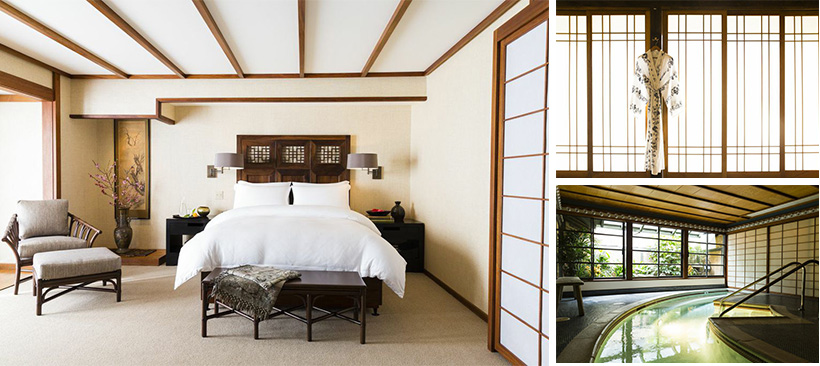 We've heard great things about this recently revamped spa, which comes complete with onsite Japanese gardens: If it's possible to extend your Labor Day stay, they encourage guests to check-in for a full week, and accordingly, a full reset, thanks to a daily menu of exercise and spa treatments. Labor Day weekend is actually Women's Week, which comes with a lineup of facials and body work.
Travel Time:
A 2 hour drive from Los Angeles.
What to pack:
While weight loss isn't necessarily the goal of a stay, bring running shoes, as there's a packed schedule of hikes, yoga, and fitness classes to pick from.
The Rooms:
Styled after a Japanese "ryokan" or inn, the rooms here all resemble traditional Japanese houses. The decorations are simple, with sliding doors, dark wood, and Asian-influenced accents.
The Food:
The Golden Door is meant to be place for detoxing both mind and body, and the food is accordingly local, organic, and healthy—so much so, that you may even spend time in the vegetable garden picking your own greens.
Extra Credit:
The collection of Japanese art and antiques from the 18th Century is pretty impressive, as is the bamboo garden and labyrinth
---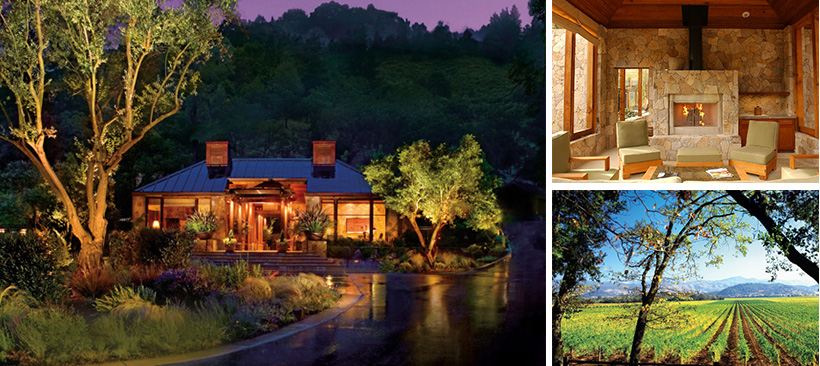 This hotel has its own Cabernet-producing vineyard, so you get the full Napa Valley experience without even leaving the property. There's plenty to do on site, from walking the stunning grounds and hanging out at the pool, to gathering eggs from their deluxe new coop. Should you want to go out (it is Napa, after all) you can borrow one of the ranch's cars.
Travel Time:
A 1.5 hour drive from San Francisco.
The Rooms:
Each of the 50 rooms has a fireplace, a private deck, and an outdoor shower, and occupies its own, secluded lodge, which guarantees plenty of privacy.
Kids:
While Calistoga Ranch makes for a great romantic holiday, it's kid-friendly too, with a new family pool and a lunchbox menu just for little ones.
Extra Credit:
Should you be there in the early fall, you can join the pruning, harvesting, and crushing of the grapes.
East Coast

Reopening just in time for Labor Day weekend, the historic White Hart Inn, located right on the town green in Salisbury, Connecticut, is poised to retake its place as a central fixture of town life after closing for five years. For one, the historic Tap Room will once again serve local spirits, as it has for literally two centuries. Plus, the new restaurant will lean heavily on local produce from nearby farms and growers. While there's plenty to see and do in the Connecticut countryside, the Inn itself is set up to provide a cozy, luxurious getaway should you choose to spend most your time reading in your room.
The Rooms:
The entire inn has been revamped, with 15 sumptuously decorated rooms by Matthew Patrick Smyth.
What to pack:
You can walk to the Appalachian Trail straight from the inn, so bring your hiking boots. The beautiful Bash Bish falls are also within striking distance: You'll be in Hudson River School country, so breathtaking views are a given.
The Food:
British Chef Annie Wayte of Nicole's and Café 202 fame is taking the helm at the restaurant. For this new venture, she's logged some serious time in the vicinity building a network of local farms where she'll be sourcing all her ingredients.
Extra Credit:
In nearby Goshen, Labor Day Weekend coincides with the old-fashioned town fair with activities like animal judging and an iron skillet toss. Later in the fall there are plenty of pumpkin patches and hay rides in the area, plus great antiquing and shopping. Privet House, owned by Richard Lambertson (of Lambertson Truex), is particularly wonderful.
---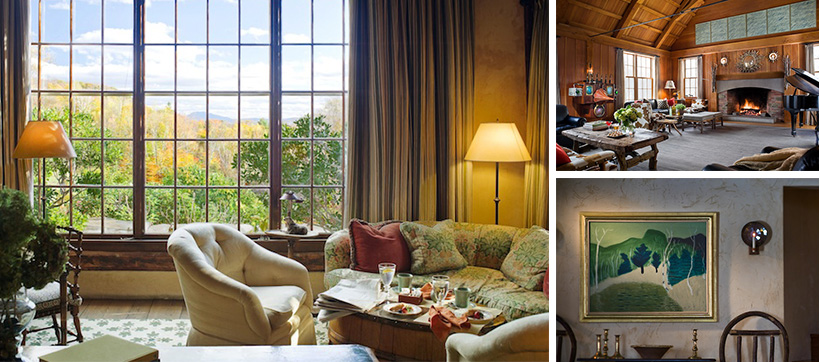 Originally a country home for journalist, Dorothy Thompson and her novelist husband Sinclair Lewis, this adults-only, all-inclusive luxury hotel still has the feel of a bohemian writer's retreat. Woodsy, outdoor activities including cycling, canoeing, and picnicking (skiing in the winter) are all on offer.
Travel Time:
A 1 hour flight from New York to Burlington, plus an hour's drive to the hotel, or a 2.5 hour drive from Boston.
The Rooms:
You'll find 10 individually themed cottages dotted throughout the Vermont forest, which means that you might end up in a fisherman's lodge, or a Moroccan respite with mosaics and a tented ceiling.
The Food:
The chef prepares a fresh, set menu daily, and consults you on your preferences before you arrive. The customized meals and wine pairings are part of the all-inclusive package. You can eat at the Main House, or in your cottage.
Extra Credit:
Twin Farms' art collection, which includes pieces from David Hockney and Jasper Johns, is outstanding.
Take Note:
This is a special place for a romantic getaway, not for kids.
---

This historic landmark hotel sits on a sprawling expanse right on the Nantucket harbor. You can sunbathe on the lawn, or head to a nearby beach (they'll provide the beach chairs, towels, and kids toys should you need them), or better yet, hire a Barton & Gray yacht from the hotel's dock. The hotel is known for Brant Point Grill (the seafood is excellent), along with its spa, but if you want to get out and go to town, they provide a car service.
Travel Time:
A 3.5 hour drive/ferry from Boston or a 1 hour flight from New York to Nantucket.
The rooms:
Each of the plush rooms, suites, and cottages are light and airy with elegant beachy touches. Most have a fireplace, which makes them nicely cozy for off-season stays.
What to pack:
You'll want to spend most of your time in or near the water, so bring a bathing suit
Kids:
Bring them! This is a family oriented hotel that provides babysitting service referrals, DVDs for kids, a kids menu at the restaurant, and an "adventure guide" and beach toys at check-in.
---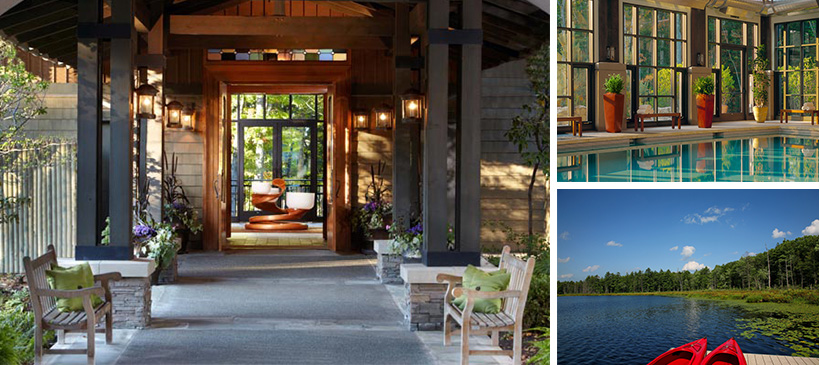 It's not unusual (or frowned upon) to spend the entire day in a bathrobe at this modern lodge in the Poconos, as the focus here is on the spa. Along with its 27 treatment rooms, there are saunas, steam rooms, soaking pools, and even a high-tech "hydro massage water wall" for working out any remaining kinks. And for those who don't naturally gravitate to the massage table, there are exercise classes throughout the day along with hiking, biking, and fly fishing in the lodge's secluded surroundings.
Travel Time:
A 2 hour drive from New York, or a 4.5 hour drive from Boston.
The Rooms:
The traditional décor here revolves around comfort. In any case, you'll want to spend most of your time either in the spa or outdoors.
What to Pack:
You'll need a bathing suit for all the hydro-treatments and soaking pools.
The Food:
At TREE, much of the fare consists of the hotel's own produce harvested from its sprawling garden. You might also catch a cooking demo at the Garden Shed, where the chef prepares meals straight from the vegetable patch.
---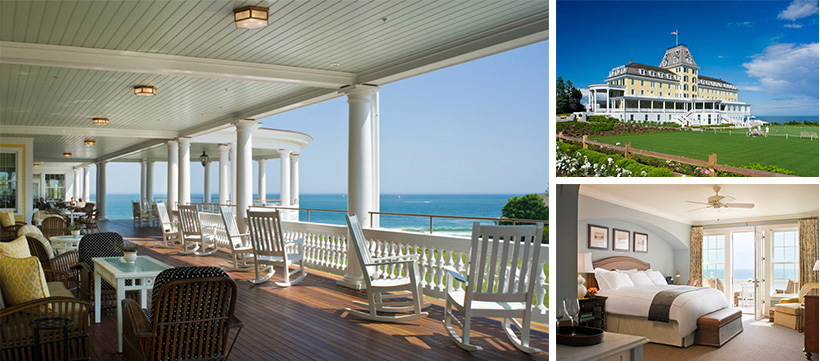 Perched on a hilltop overlooking the ocean, this historic, Victorian hotel was rescued from demolition in 2005 and lovingly restored by husband-and-wife team, Charles and Deborah Royce. In just a few years, it's become one of the East Coast's most favored retreats, thanks to its modern rooms, water views, cabanas, surf lessons, and fleet of yachts. The seafood-centric, on-site restaurant is great, too, making for a pretty classic seaside stay.
Travel Time:
A 1.5 hour train from Boston or a 3.5 hour drive from New York.
The Food:
The Verandah is a big hit among locals as it serves up traditional seaside fare (and a great raw bar) overlooking Naragansett Bay and the Atlantic.
The Rooms:
Ocean House is a classic along the Rhode Island coastline, but its recent revamp means that the rooms are all individually decorated in a homey, comfy style that has all the comforts you'd expect from a Relais & Chateaux property.
---
More goop-Approved Spots with Availability
Here, some other long weekend-worthy destinations that we've rounded up in the past (here and here).
Auberge Du Soleil, 180 Rutherford Hill Rd., Rutherford, CA | 707.963.1211

Montage Laguna, 30801 South Coast Hwy, Laguna
Beach, CA | 949.715.6000

San Ysidro Ranch, 900 San Ysidro Ln., Santa Barbara, CA| 805.565.1700

The Ranch 4.0, 2 Dole Dr., Westlake Village, CA | 310.457.8700

Manka's Inverness Lodge, 30 Callendar Way, West Marin, CA | 415.669.1034

Rancho Valencia Resort & Spa, 5921 Valencia Cir., Racho Santa Fe | 858.756.1123

Mii Amo Spa, 525 Boynton Canyon Rd., Sedona, AZ | 928.203.8500

Omni Montelucia Resort & Spa, 4949 E. Lincoln Dr.,
Scottsdale, AZ | 480.627.3200

Andaz Maui at Wailea, 3550 Wailea Alanui Dr., Maui, HI | 808.879.1234

The Modern Honolulu, 1775 Ala Moana Blvd, Honolulu, HI | 808.943.5800

Ka'anapali Beach Hotel, 2525 Kaanapali Pkwy., Maui, HI | 808.661.0011

Hacienda Beach Club, El Medano Ejidal, Cabo San Lucas, MX | 866.300.0084

Esperanza, an Auberge Resort, Carretera Transpeninsular KM7, Cabo San Lucas, MX | 866.311.2226

Imanta Resort, Montenahuac S/N, Punta de Mita, MX | +52.329.298.4242

La Casa que Canta, Camino Escénico, Playa La Ropa, MX| +52.755.555.7000

Viceroy Zihuatanejo, 40880 Ixtapa-Zihuatanejo, Playa La Ropa, MX | +52.755.555.5500

Blantyre, 16 Blantyre Rd., Lenox, MA | 413.637.3556

Castle Hill Inn, 590 Ocean Ave., Newport, RI | 401.849.3800

Canyon Ranch, 165 Kemble St., Lenox, MA | 413.637.4100

The Mayflower Grace, 118 Woodbury Rd., Washington, CT | 860.868.9466

Coqui Coqui, Carretera Tulum Boca Paila, Tulum, MX | +52.1.984.100.1400

Rosewood Mayakoba, Carretera Federal Cancún Playa del Carmen, Riviera Maya, MX | +52.984.875.8000

Elbow Beach, 60 S. Shore Rd., Paget Parish, Bermuda | 800.223.7434

The Fairmont, 101 S. Shore Rd., Southampton, Bermuda | 441.238.8000

The St Regis Bahia Beach Resort, State Road, Rio Grande, Puerto Rico | 787.809.8000

Inn at English Harbour, English Harbour, Antigua, Caribbean | +1.268.460.1014

Jamaica Inn, Ocho Rios, Jamaica | 800.837.4608

The House, Paynes Bay, Barbados | +1.415.400.5000

Trident Hotel, Port Antonio, Jamaica | +1.876.633.7000