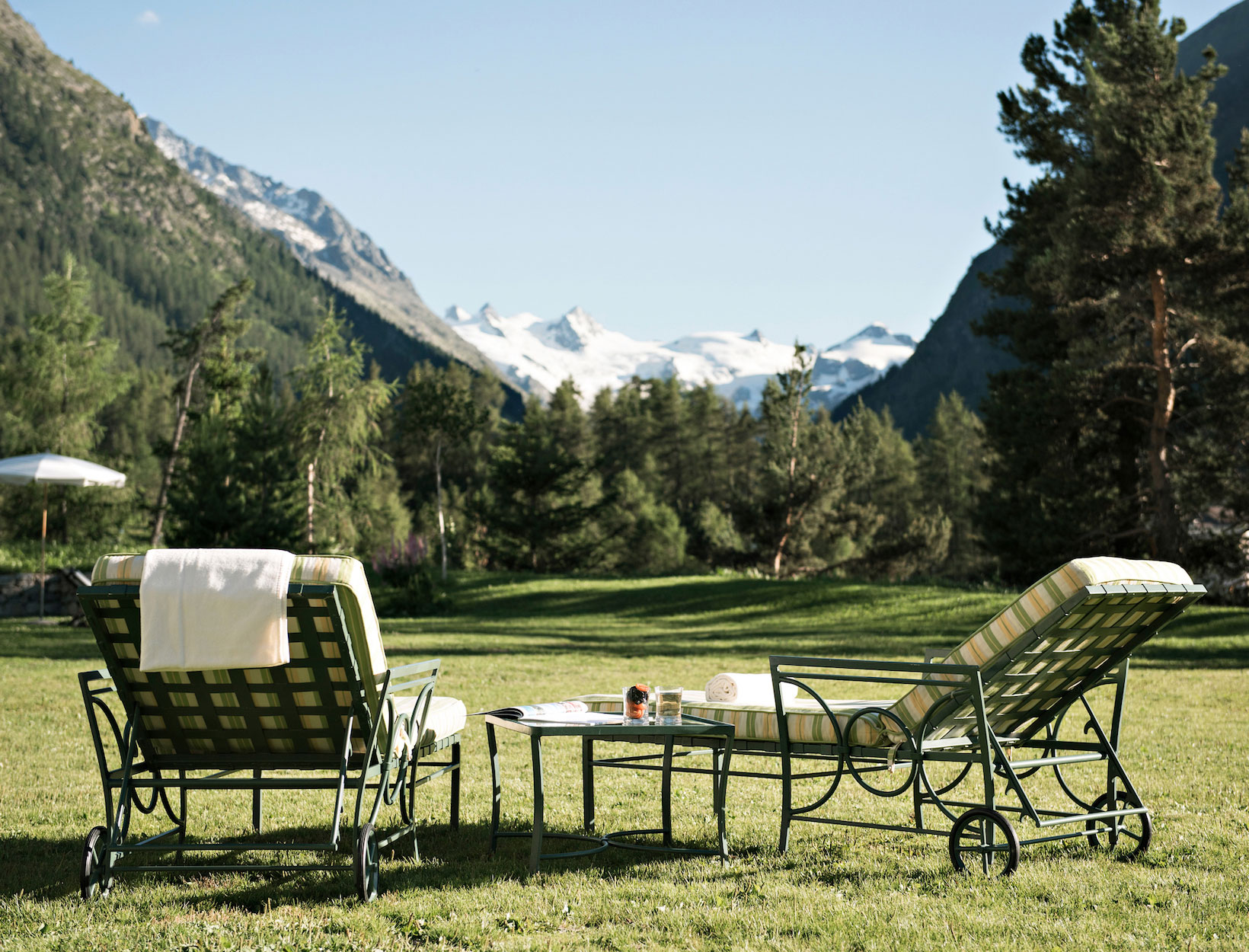 If You're Going to Stay in a Grand European Hotel, Do It in St. Moritz
There's a reason "St. Moritz" rhymes with "glitz." But the real draw of this Swiss resort town is less the glamour (though the Prada, Moncler, and Hermès outposts in town are tellingly gigantic) and more the epic glaciers that ring practically every valley in the area. In winter, when those Pradas and Monclers are packed, the skiing is famously some of the best in the world. And in the summer, the place is a little less crowded, and the hiking, swimming, biking, and driving (and just plain lounging) are sublime.
Whether you go in winter or summer, though, the Grand Hotel Kronenhof in the nearby village of Pontresina manages to combine Marie Antoinette, The Clouds of Sils Maria, and Youth into one exactingly restored, old-world hotel from 1898. A few miles up from central St. Moritz, Pontresina overlooks the surrounding glaciers that sparkle in the sun, with Kronenhof perched right in the middle of it all.

The enormous lobby is the place to order a cappuccino, settle into one of the sofas, and take in the stupendous view; there's also an old-school bar/cigar-smoking lounge overlooking the mountains. The dining room, meanwhile, features elaborately painted ceilings, crystal chandeliers, and gilded surfaces that make you forget what century you're in (a fine setting for a breakfast of fresh apricots, smoked salmon, and soft-boiled eggs).
There's also an extensive, thoroughly modern spa that goes far beyond the fancy-hotel-spa standard. For proof, check out the combination sound-bath/isolation-tank/soaking-tub room, the saltwater steam room, the enormous indoor pool that opens onto a great lawn overlooking a glacier, plus a silent lounge area stocked with modernist black-leather water beds and perhaps the largest, most perfectly rustic log-lined sauna we've ever seen.

The rooms are decorated in a crisply traditional style, and many have balconies with those incredible mountain views. And stacks of great art, décor, and photography books on the shelves are perfect for an evening with room service.
If you decide to stay in St. Moritz for easy access to shopping and restaurants, the Kronenhof's sister property, the Kulm, is smack in the middle of town, and a little more glitzy: more fabric, more gilt, more everything, all overlooking the enormous Lake St. Moritz. If you do nothing else, grab a meal at the hotel's pizza restaurant, which feels like a tiny ski cabin perched high above the lake. The food is absolutely that incredible. (There are few hotels on earth where the pizza restaurant is worth visiting; this hotel is worth visiting, if only for the pizza restaurant.) There's also an old clubhouse/music venue that's definitely worth stopping by for a drink. But mainly, this is St. Moritz. Did we mention the views?