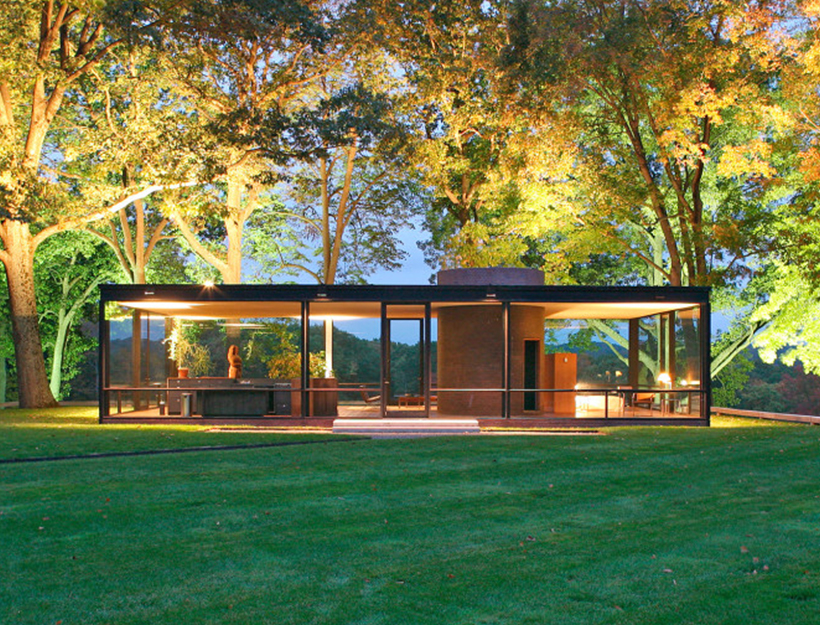 Homes by Famous Architects That You Can Actually Rent
We had the pretty incredible opportunity to take up residence in a Frank Lloyd Wright-designed space in San Francisco for our latest goop MRKT—and it was a transformative, why-can't-we-live-like-this-everyday kind of experience. We started digging around and compiled a list of homes around the world that you can actually occupy as vacation rentals. While some stays are more luxurious than others, they all offer a real window into how these famous artists and architects believe daily living ought to be.
The Turner Prize-winning artist Grayson Perry is one of the UK's best-loved artists and this newly built home he designed in conjunction with architecture firm FAT is an opportunity to experience his zany aesthetic on a whole new level. Reminiscent of a farmhouse in Candyland, the two-bedroom home is outfitted in custom, hyper-stylized, and colorful custom-designed furniture, tiles, tapestries, and ceramics, and makes for a sublimely quirky and immersive getaway. For more cutting-edge architectural projects like this one, Living Architecture, which commissioned this collaboration and many others, is worth checking out.
This iconic, mid-century modern home, which has been meticulously restored back to the way its famous architects, Conrad Buff and Donald Hensman, intended, is one of the standouts on homestay website One Fine Stay's roster. In their heyday, Buff & Hensman boasted clients like Frank Sinatra, James Garner, and Steve McQueen, making their signature wood-lined, post and beam style synonymous with a certain kind of Hollywood glamor. Outfitted with a pool, two fittingly retro bedrooms, sweeping views of the Hollywood hills, barbecue facilities, and a choice of three sitting rooms, it will be tempting to turn your stay with a few friends into one long, swanky house party.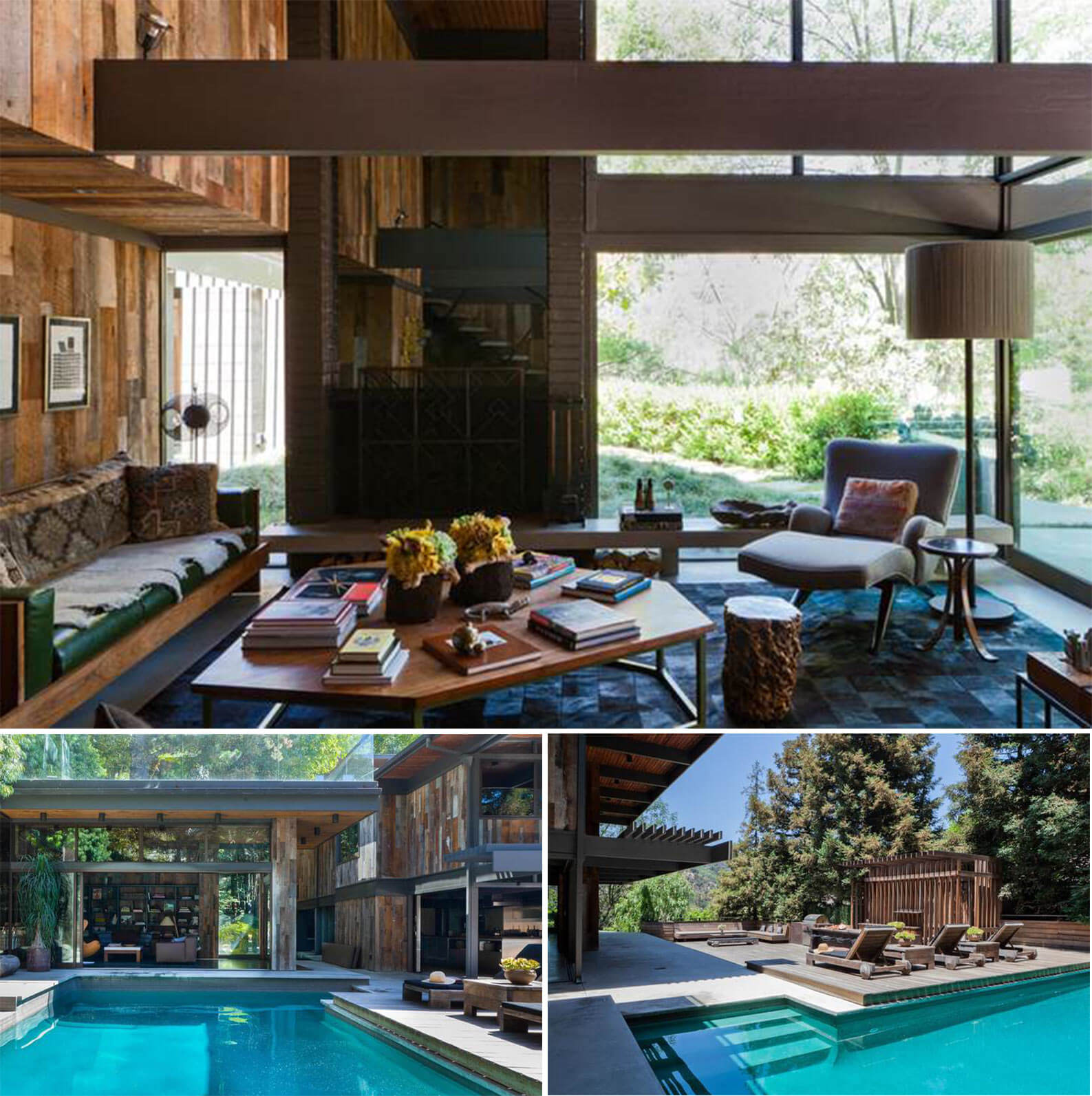 Tucked away on an unassuming street in De Beauvoir Town, London, you'll find one of famed Architect David Adjaye's early projects, which is available for short stays. This black wood-clad home is a great example of Adjaye's minimal aesthetic and features some of his signatures, such as its custom wooden staircase and large picture windows that each frame the outdoors and bring it in. The home is furnished pretty sparsely in exquisite modern furniture, which only adds to the experience of Adjaye's style. With two bedrooms, this makes a great city break stay for a small family or group.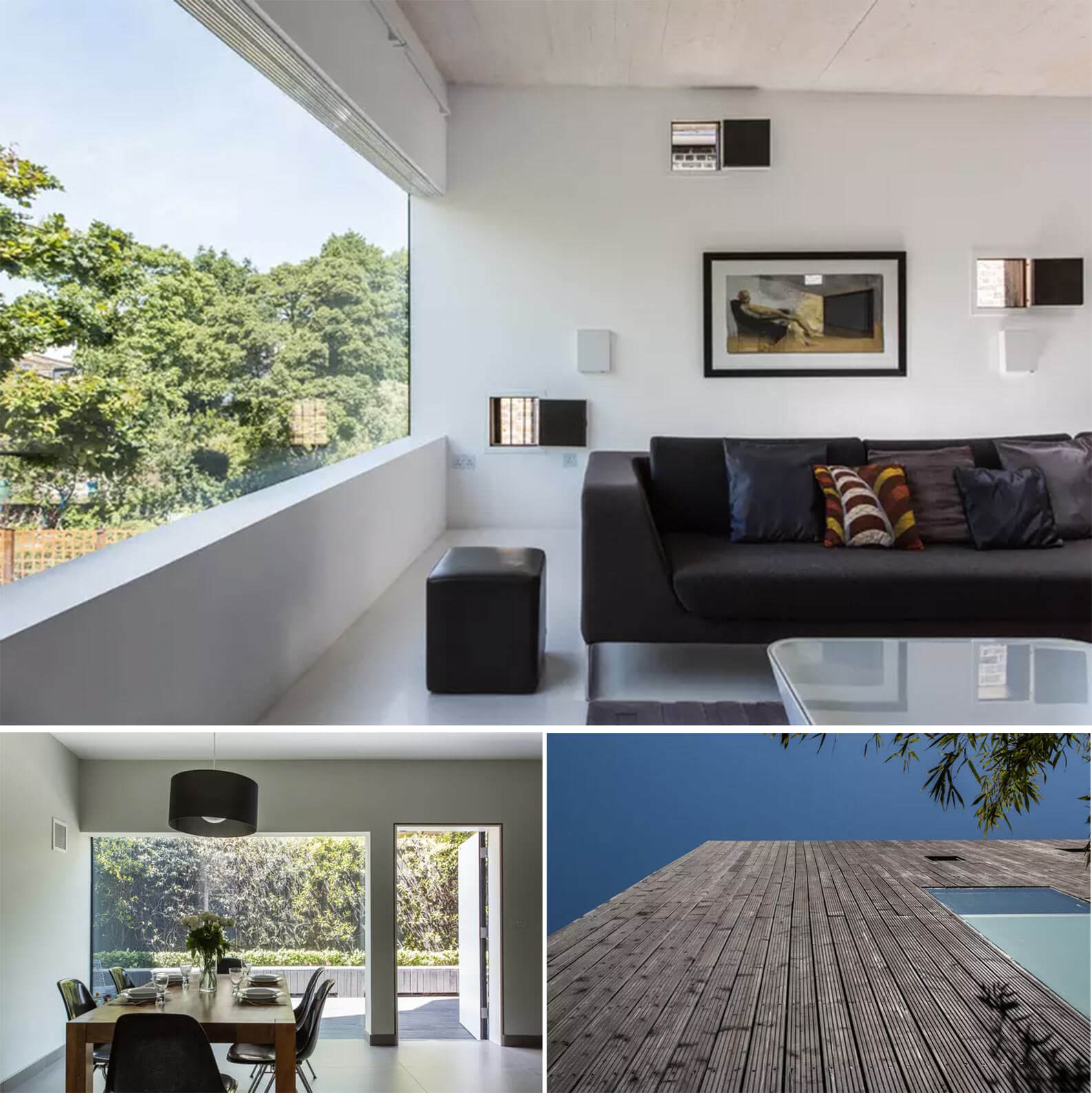 Wellfleet, Cape Cod is a storied hub for modernist architecture by the big names of the era like Marcel Breuer, Charles Gwathmey, and Serge Chermayeff and their accomplished acolytes, though many of these houses have since fallen into serious disrepair. Luckily, The Cape Cod Modern House Trust has come to the rescue and taken it upon itself to lease and return three excellent examples back to their former glory, including this beauty, designed by structural engineer and Marcel Breuer pal Paul Weidlinger in the early 50's. Built on stilts with an open-plan layout and sweeping windows, it's a great example of the Modernist take on a vacation home. The fact that it has three bedrooms and is right on the water makes it all the more desirable as an idyllic summer or weekend retreat.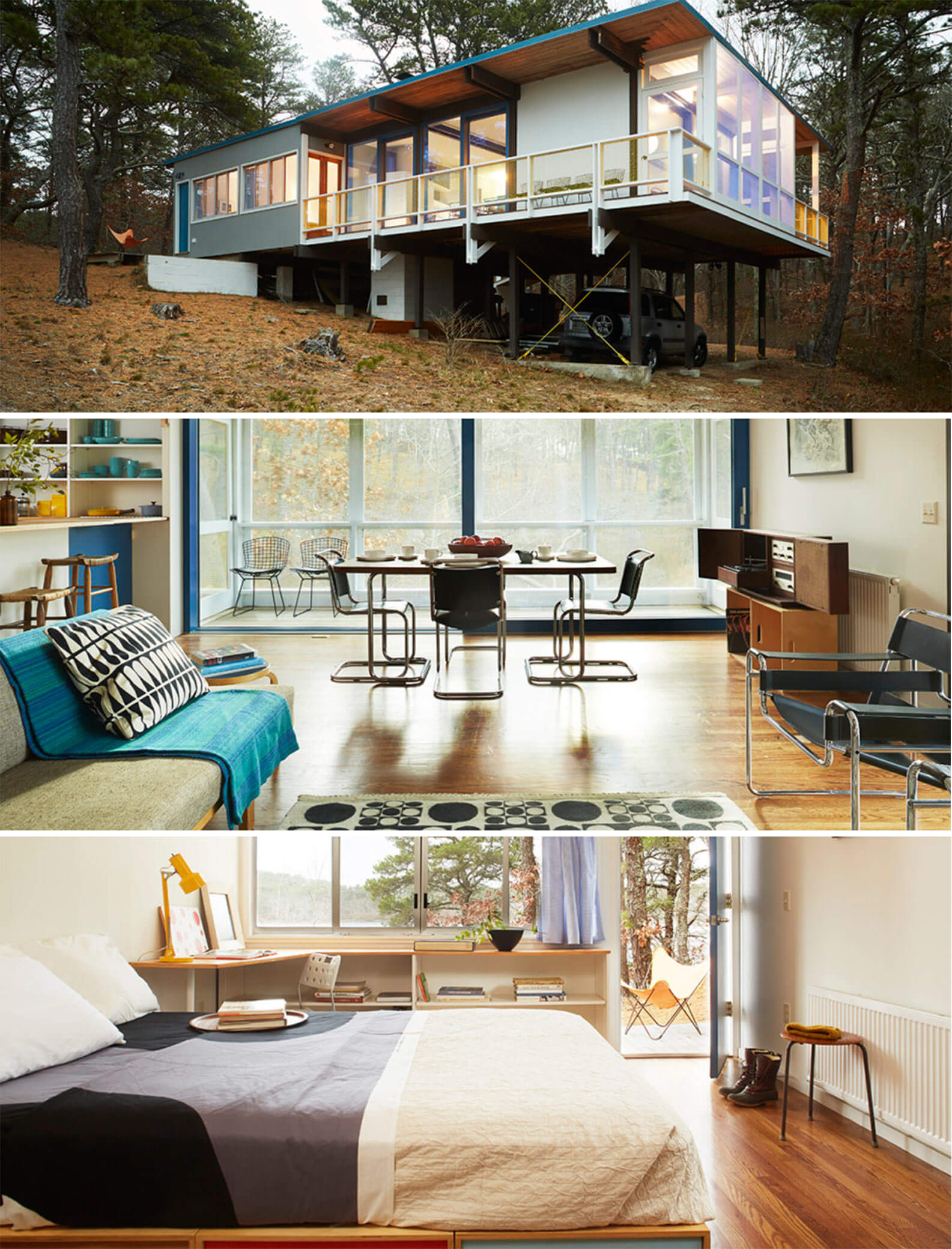 Photos: Kent Dayton
While there are plenty of Frank Lloyd Wright homes scattered across the country, visitors can seldom set foot inside one, let alone stay overnight, which is exactly what you can do at the Emil Bach House. Since 2014, this painstakingly restored 1915 Prairie Style mansion has been available for overnight stays—with hotel-like amenities—that give guests total access to the two-story home, kitchen included. While the tastefully chosen furnishings are contemporary, everything else from the staircases to the cabinetry and built-in features has been recreated to Wright's specifications, making a stay here as authentic to his vision as it gets. All this will cost you, however—at over $1k a night, access to the house is certainly a splurge.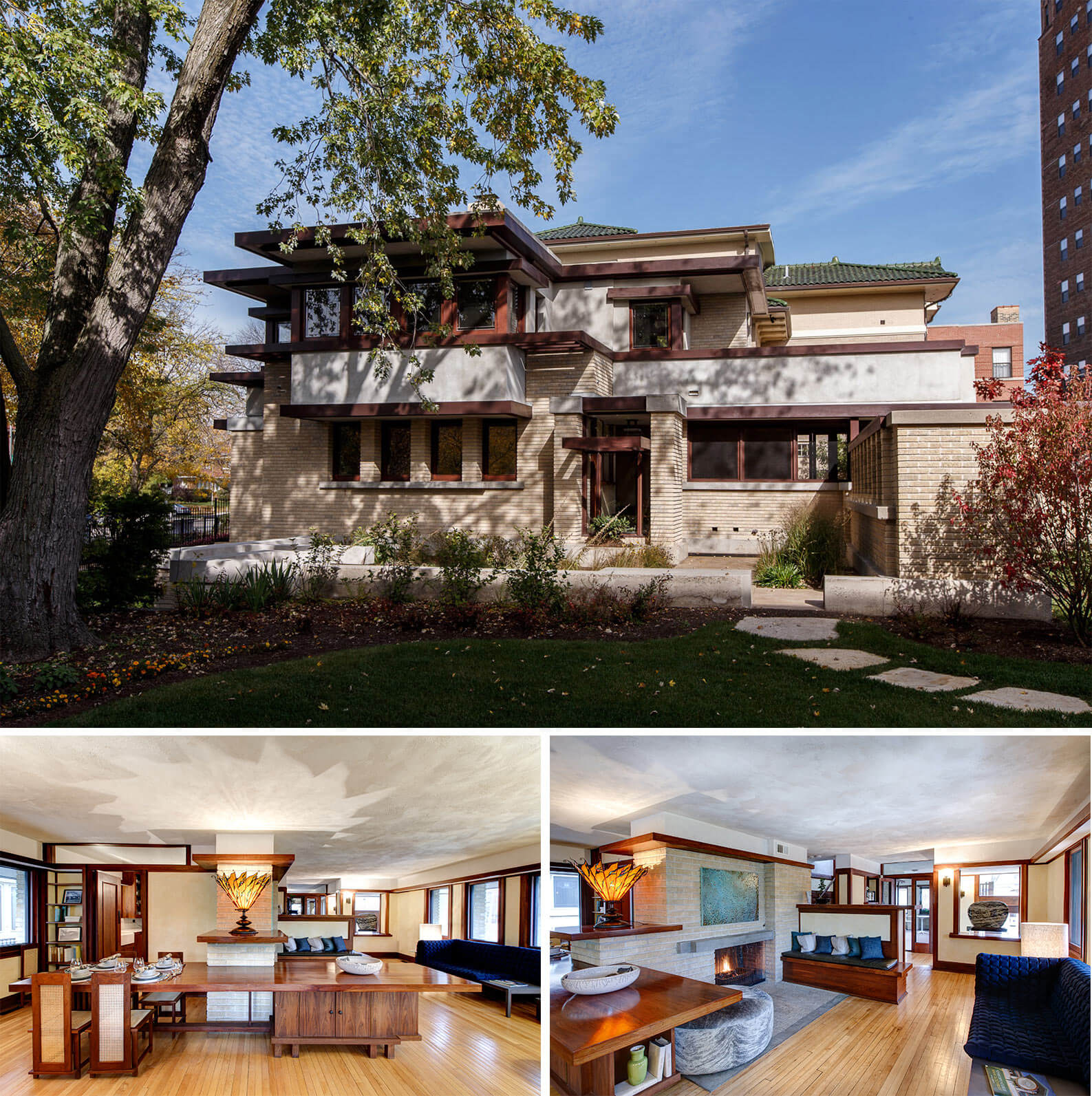 Built by one of the premier contemporary Mexican architects, Ricardo Legorreta, this house, located in the charming town of San Miguel Allende, is a worthy introduction to some of the prevailing motifs in contemporary Mexican architecture. The bright colors, bold geometry, and solid, hefty furniture and fittings are just a few of its hallmarks. The house, which accommodates up to six, comes with a pool and full-time staff for a sunny and relaxing holiday retreat. If this particular location doesn't work, the Modern House offers a great mix of contemporary architecture by major players in the field around the world.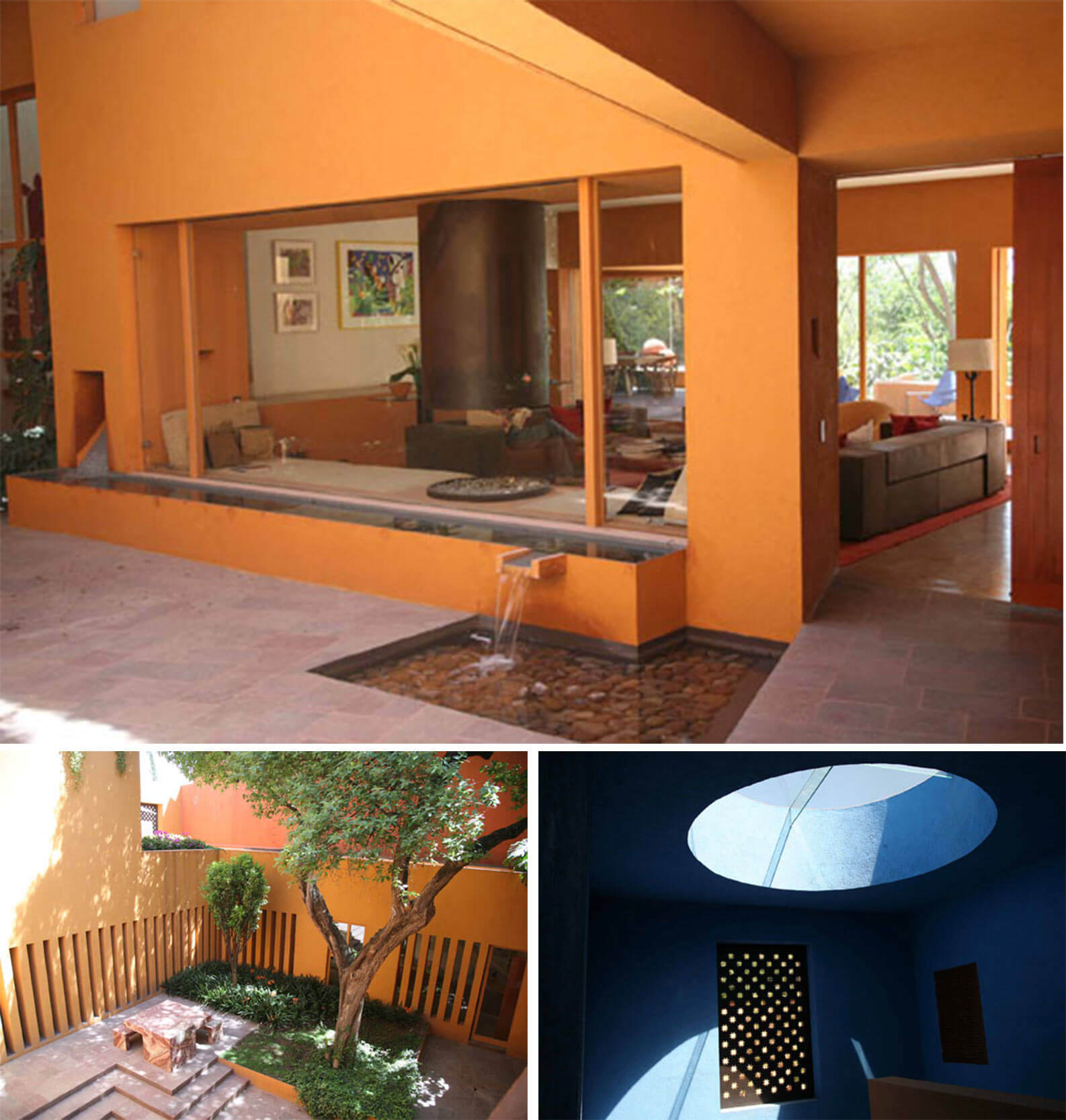 It's rare you get the chance to stay in the home of one of the most successful architects on the scene, but that's the case with Alex Michaelis of architectural firm Michaelis Boyd's vacation home in Cornwall. So busy is he with projects like the housing for the Battersea Power Station and many of the Soho Houses around the world, that he's put the place up for rent. Sleek, white, and perfectly integrated into the slopes of the Cornish cliffs at Praa Sands, it's the perfect spot for a family-friendly surf vacation with four large bedrooms, a games room, an outdoor hot tub, and importantly, access to the amazing Cornish waves.
This is pretty much the holy grail of architectural overnights, with the price tag to match. Staying at famed Modernist architect Philip Johnson's Glass House—a Mies Van der Rohe-inspired glass structure—means not only do you get to sleep and dine where the master architect did from 1949 to 1995, but you also have your own, exclusive access to the property's beautiful natural surroundings. Plus, if you do book in for the overnight option, you can invite up to 12 friends and preside over an organic, farm-to-table meal at Johnson's dinner table. Yoga lessons, painting classes, and more can all be arranged with The Glass House team, though we imagine the real highlight is the quiet of having the glass pavilion—and the landscape it overlooks—to yourself for one magical evening.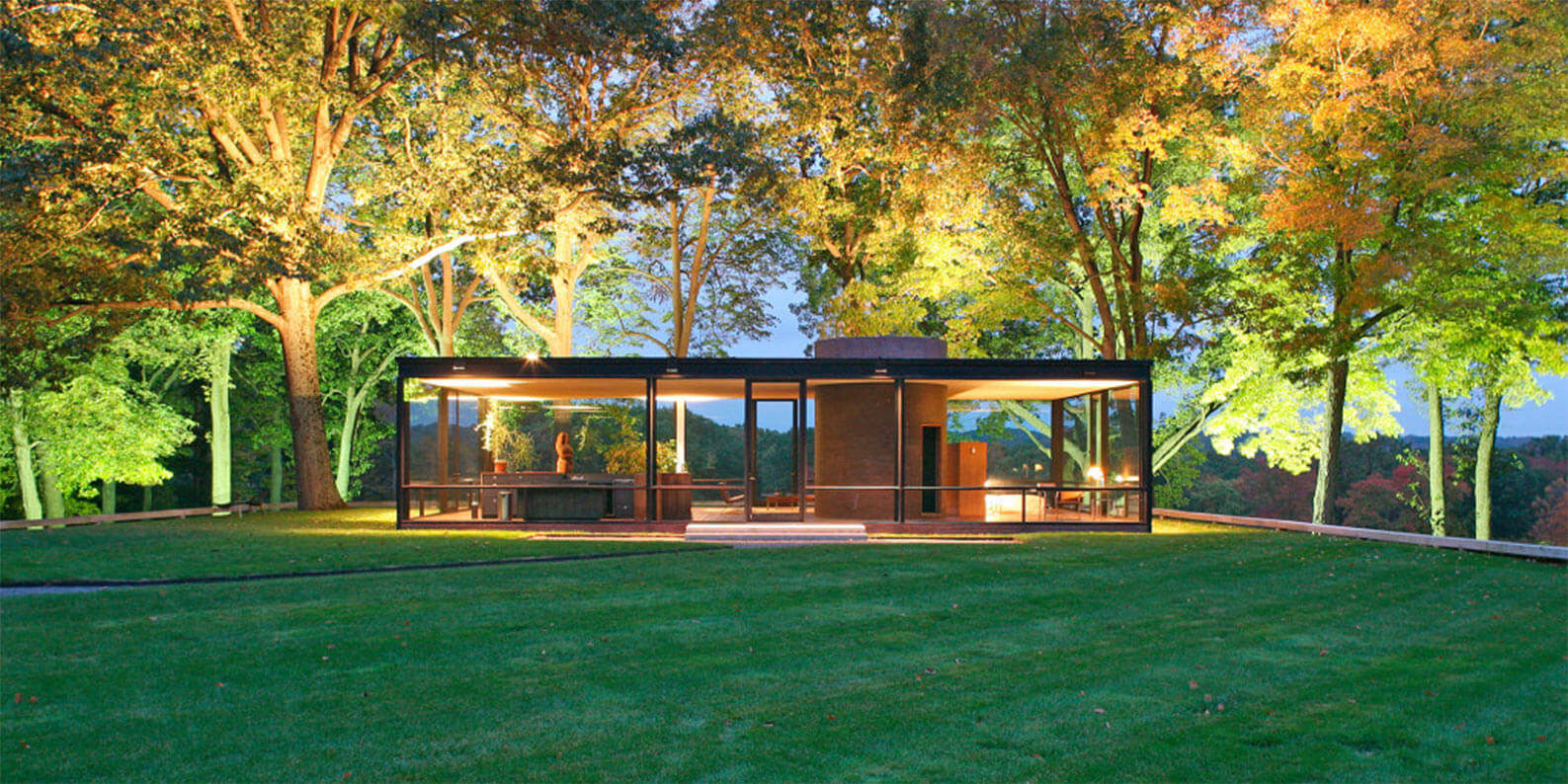 Staying in Julia Child's summer home in Provence would top pretty much any foodie's list, and the crazy thing is that it's possible. Not only is the traditional Provençal property gorgeous and large enough to house six, but the kitchen, which incidentally you can use, is almost exactly as Julia herself had it—pegboard and all—when she entertained famous friends like MFK Fisher and James Beard. The kitchen will take on a whole new life in 2017 when its new owners start a program of culinary retreats called La Peetch, though the entire place is up for grabs on Airbnb in the meantime.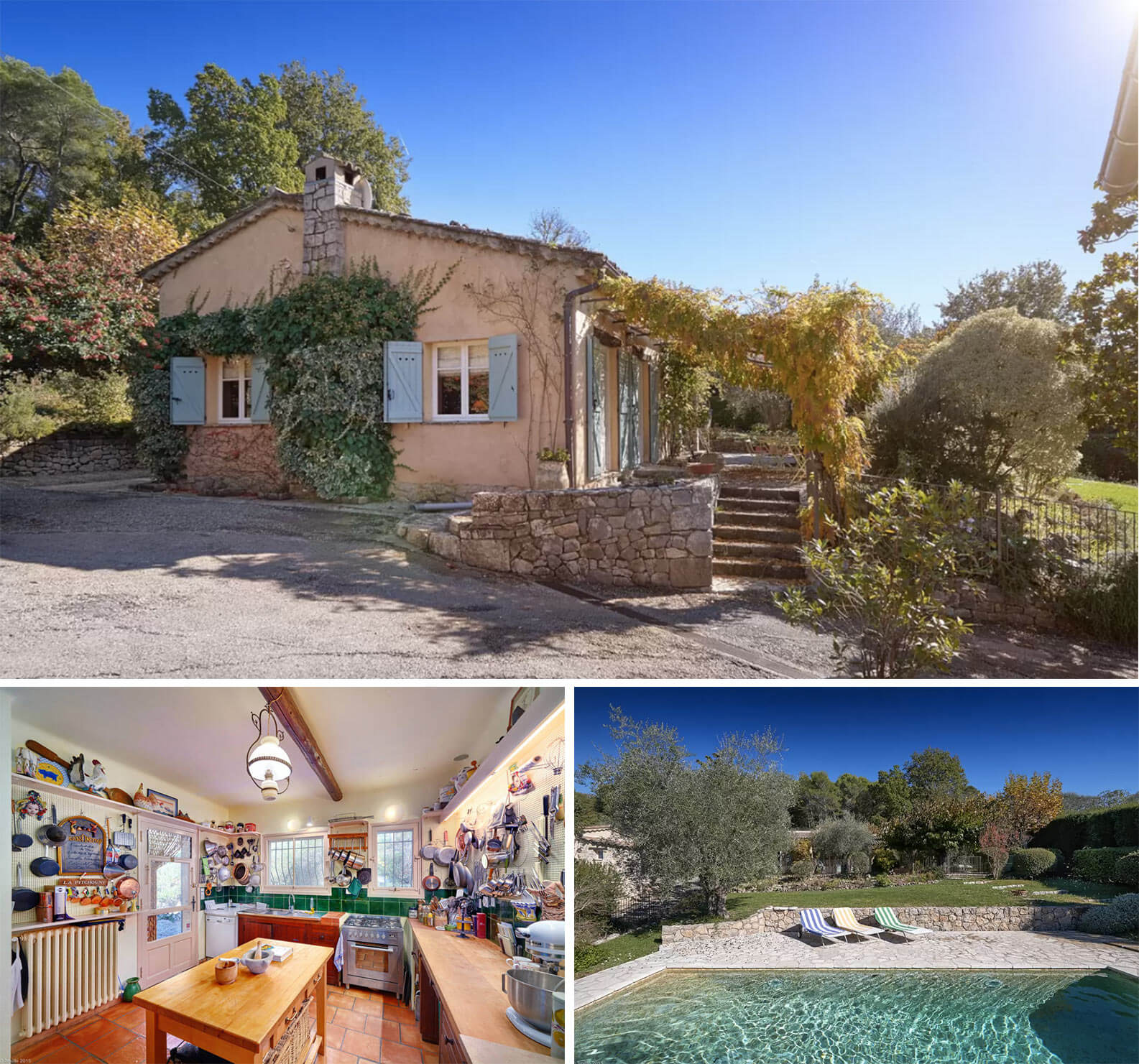 Arguably more of an architectural pilgrimage than a luxurious home stay, this hotel, embedded in Le Corbusier's first Brutalist housing unit in Marseille, offers a glimpse into what living in Corbusier's utopian tower block might have been like in the 1950's. The hotel owners took it upon themselves to restore as much as possible and to outfit each room in furnishings Corbusier's partner in crime, Charlotte Perriand, would have approved of. Meanwhile, many of the building's original features remain intact and thousands continue to live in the Cité Radieuse as they have for over 60 years. It's a chance to dip into the kind of communal living Corbusier hoped to create, if only for a day or two.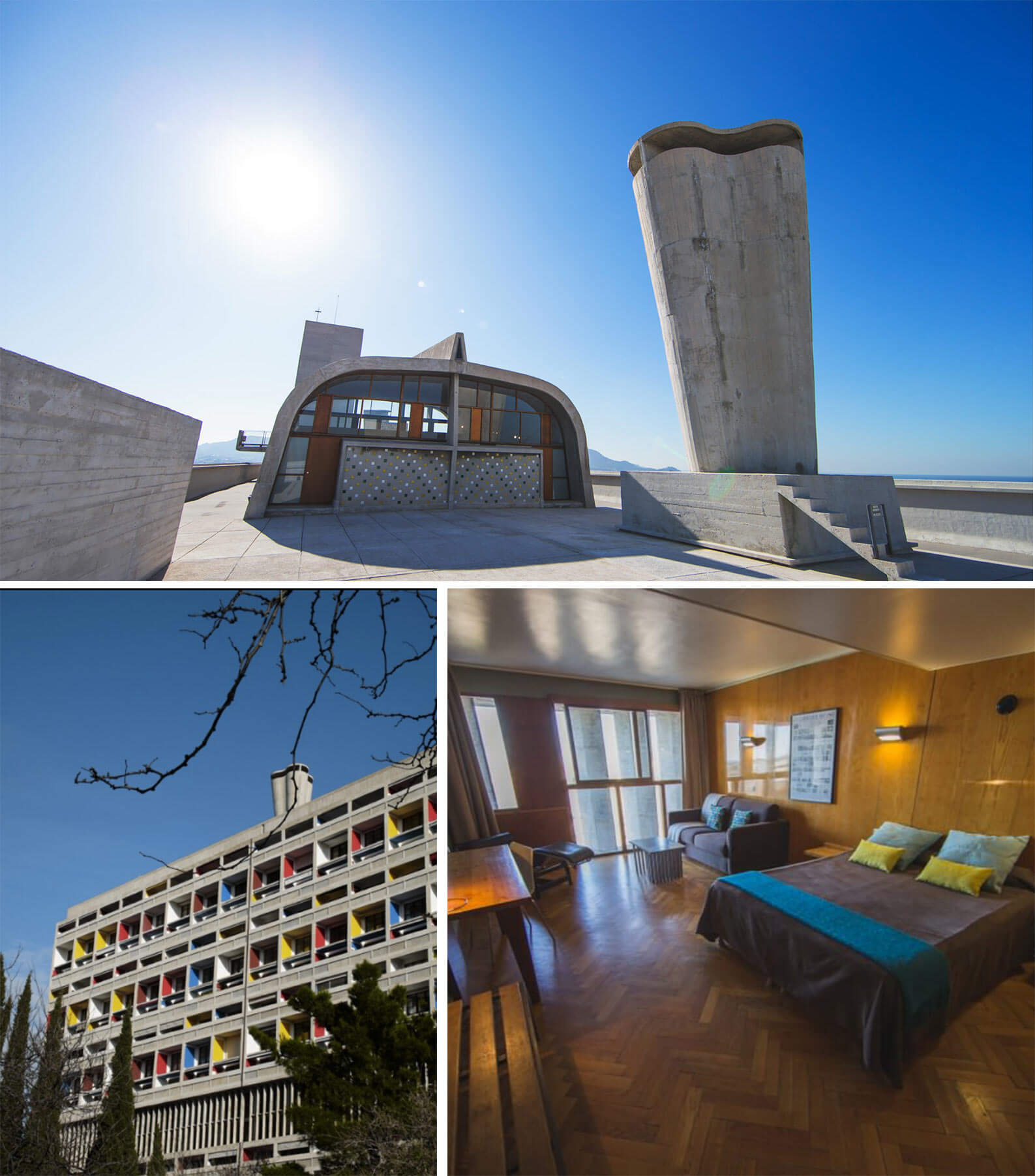 You'll find another opportunity to stay in a Frank Lloyd Wright original in the small, all-American town of Two Rivers, Wisconsin. In the late 30's, Bernard Schwartz commissioned Wright to build his family a "Dream House" that was originally designed for a feature on Modern living in LIFE magazine. Completed in 1940, this four-bedroom, open-plan, single story home is a great example of Usonian architecture, which is a term Wright used for affordable housing for the average American family. Many of his signatures are very much intact here: There is a large central fireplace, the use of wood and brick, big picture windows, and a play of light and shadow throughout the day. The house has exchanged hands only a few times since the Schwartz family lived here, and today is in the hands of Michael Ditmer, who is taking painstaking care to slowly restore the house to its original plans. With many original features still intact, many newly restored, and furniture that would have been in keeping with the style of the times, a stay here feels pretty authentic.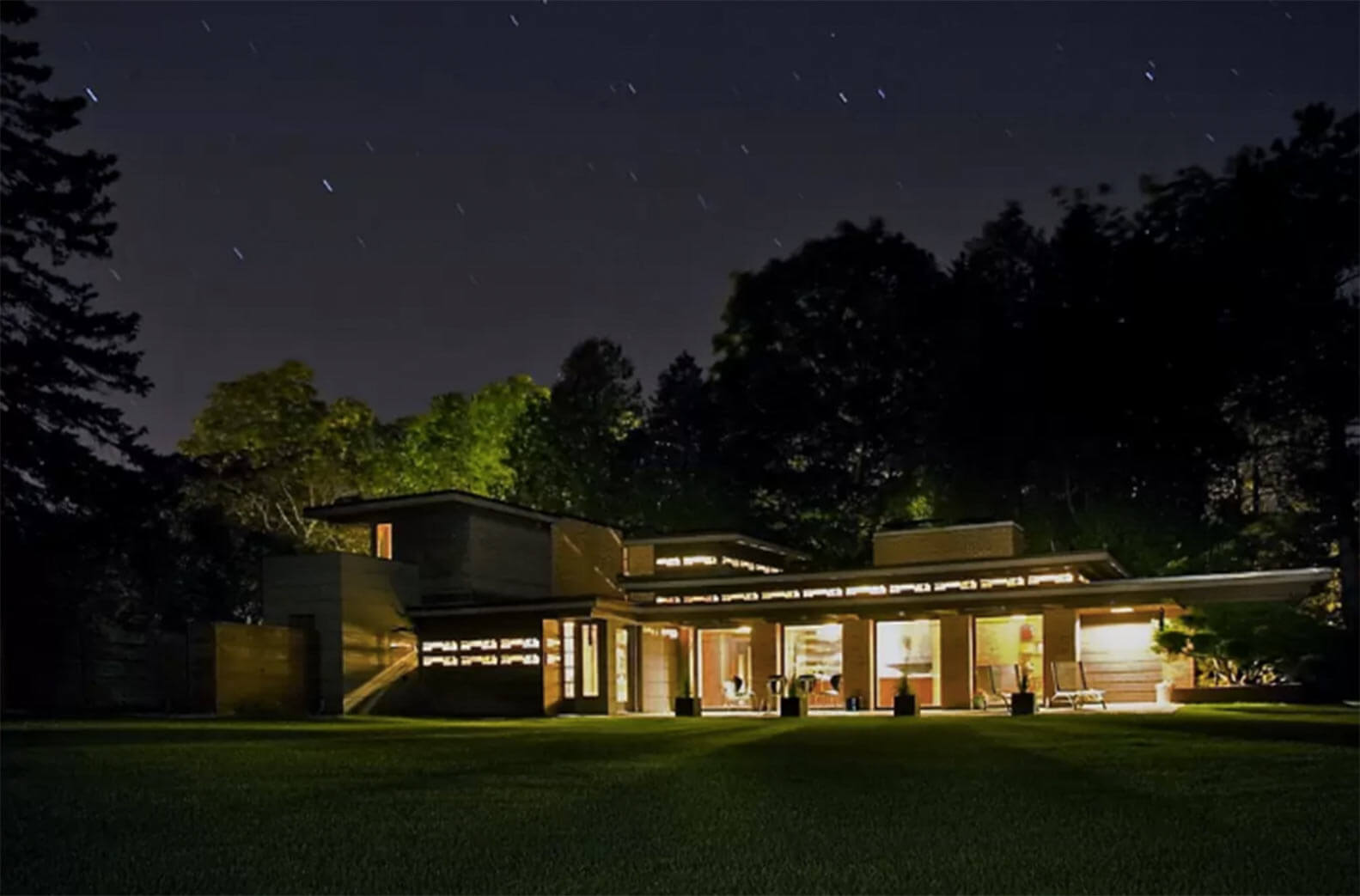 This apartment building designed by Modernist Austrian architect R.M. Schindler is part of the MAK Center, an arm of the Austrian Museum of Applied Arts. In fact, several of the apartments in the Mackey building host visiting artists, architects, and students as part of a residency program, making a stay here a real thrill for an architectural buff. It also means that this late 1930's penthouse apartment—part of BoutiqueHomes pretty extensive portfolio of home stays—is in incredible condition, and as faithful to Schindler's style as can be, flooded with light, spacious, colorful, and furnished sparsely with a mix of the architect's trademark built-in pieces along with modernist classics.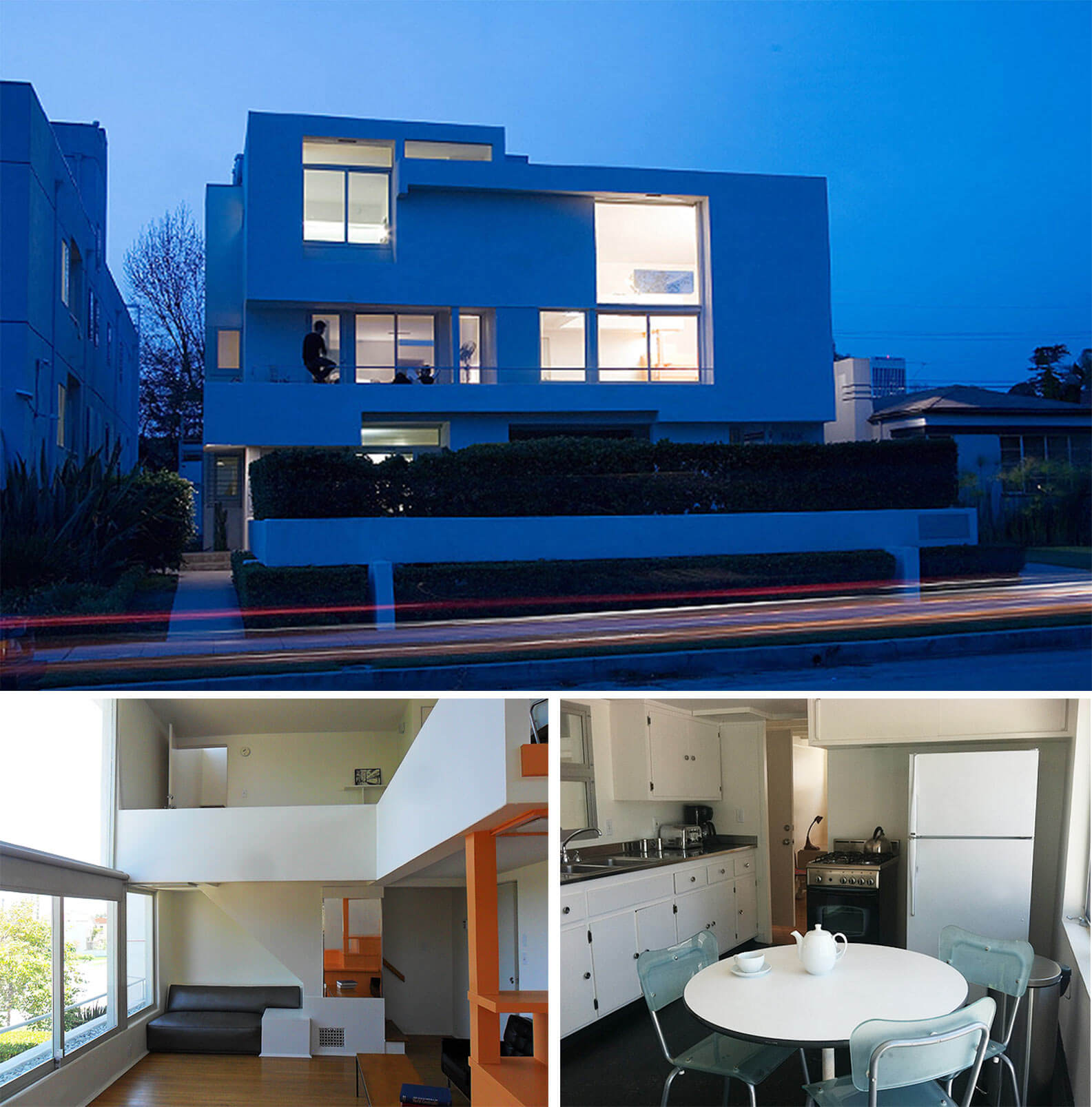 Located near the town of Tokomachi in western Japan, this traditional Japanese home, complete with sliding doors and tatami floors, was designed by artist James Turrell as a secluded but communal meditation space, high above the city. Here, up to three families can share the building—there are three family-sized rooms—and spend some time at sunrise and sunset meditating under Turrell's "Outside In" skyspace installation embedded in the ceiling. A local food delivery arrives at dinner; otherwise, you are left totally in peace to enjoy a most immersive experience.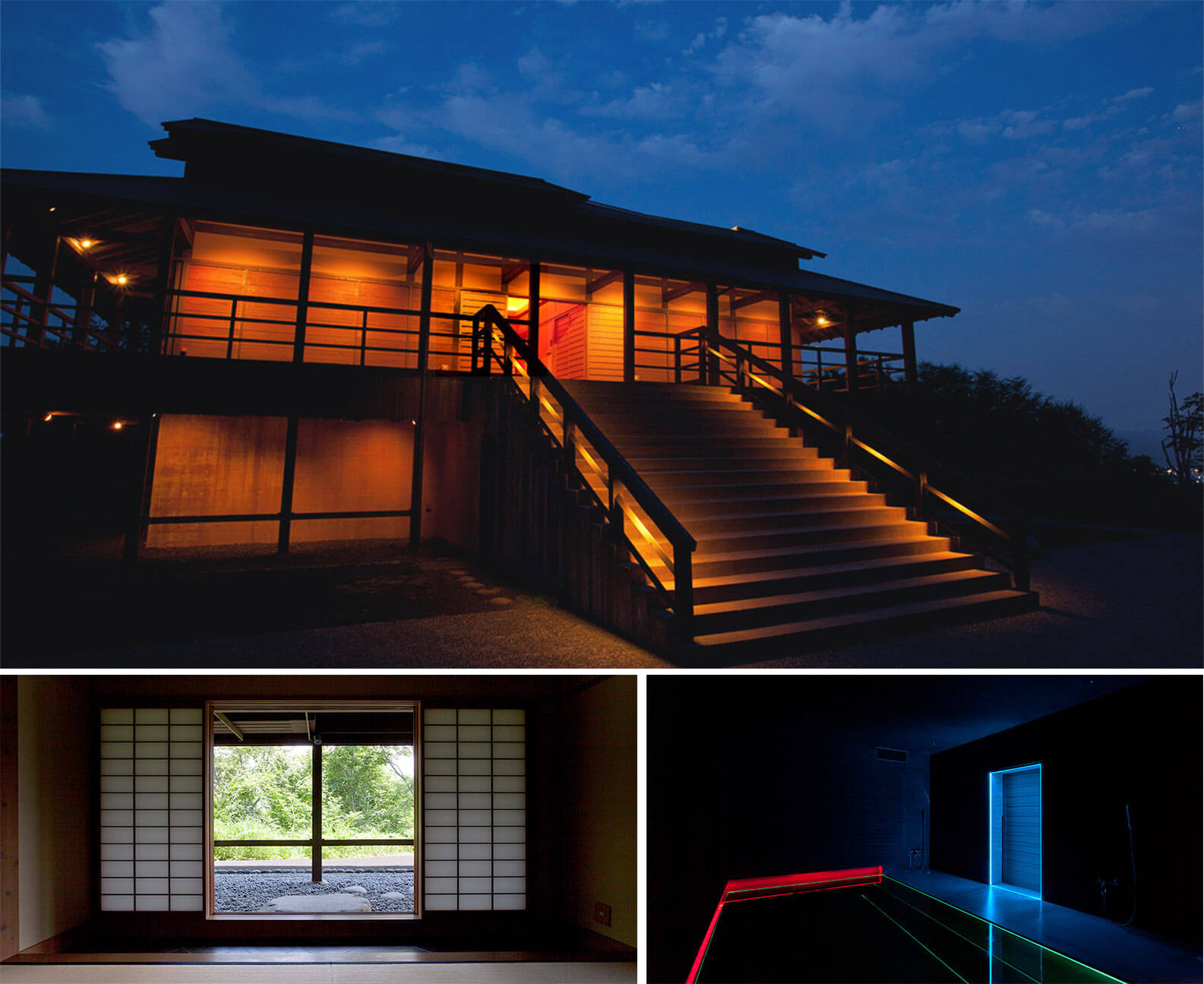 Photos: Anzaï
Built in the late 1980s, this utterly minimal and breathtaking four-bedroom vacation house in Mallorca is a stunning example of architect John Pawson's early residential work. Nowadays, Pawson is busy finishing up London's new Design Museum, which is due to open later this year, so this villa is a pretty unique opportunity to experience his signature clean lines away from the crowds. Here, the beautiful surroundings and sea views blend seamlessly with the architecture, constantly towing the line between indoors and outdoors. It's worth mentioning that while the site where we found this homeUrslaub Architektur, doesn't manage rentals, it does curate a number of contemporary architectural gems available as holiday rentals across Europe.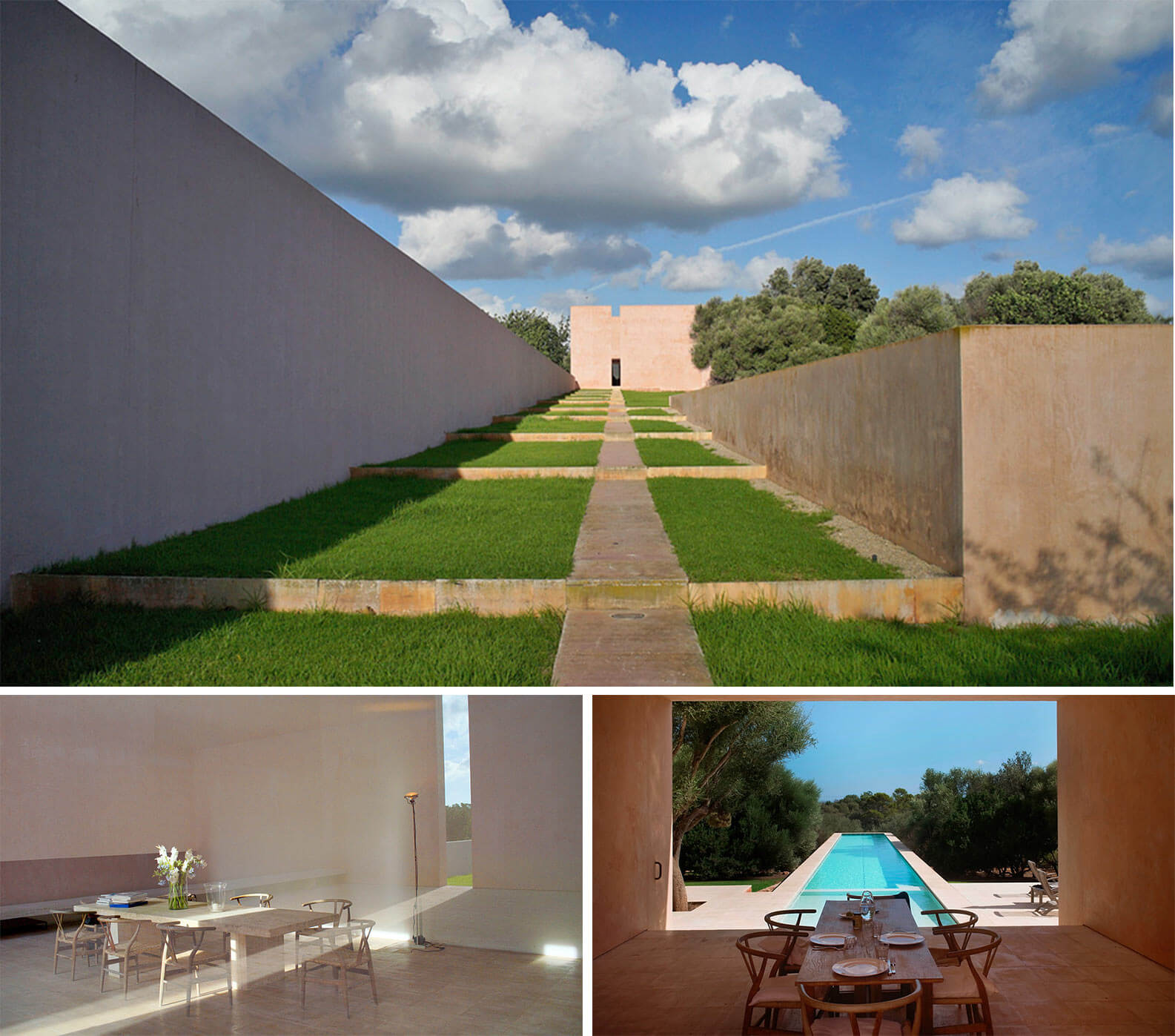 If there was one quintessential mid-century Palm Springs house, it would be Twin Palms, Frank Sinatra's four-bedroom estate complete with the iconic piano-shaped pool. For architect E. Stewart Williams, working for Sinatra was a lucky break, as he went on to build many similar homes across the California desert as part of the mid-century boom. Architecture scholars will delight in staying in the house that truly cemented the mid-century trend in the desert while music fans will love immersing themselves in the studio. While none of the furnishings are original, they're close enough in style to make the entire place feel like an absolute time warp. Meanwhile, the eponymous Hotel Lautner is another great option in the area.