The Bucket-List Winter Wonderland to Book Now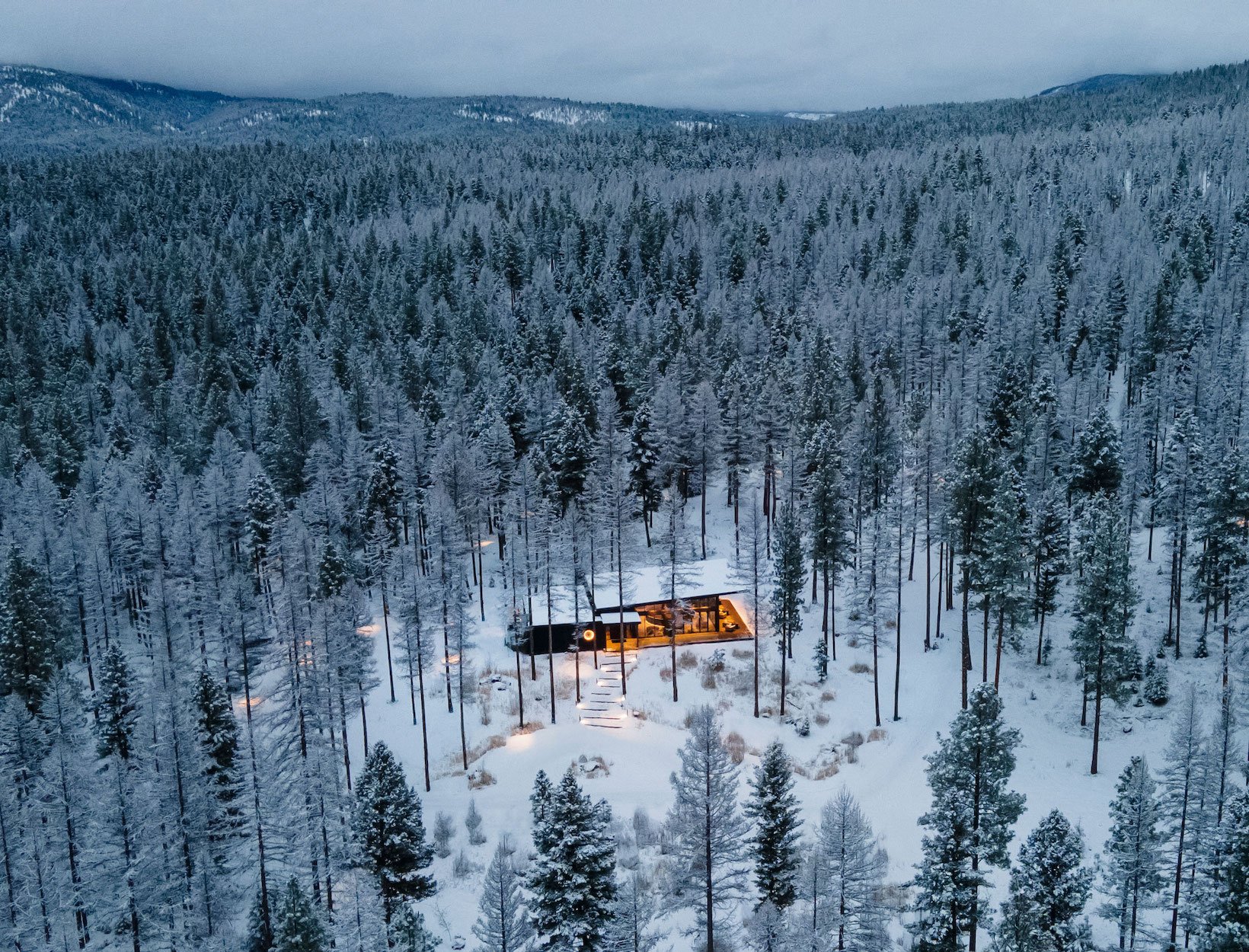 There comes a moment during every vacation, if you're lucky, when the world stops spinning. Sometimes it's only for a few seconds. You instinctively reach for your phone to capture it, but the photo that results seems muted—flattened—compared to the real thing. What remains is more powerful: transcendent awe and beauty rooted in a memory strong enough to access without a picture.
I had one of those moments last February on an unseasonably warm day in western Montana. I was on a snowmobile navigating (rather poorly) through snow-covered pines, willing my best friend to go a little slower on the trail ahead. And then we rounded a corner and the trees parted to reveal an open field. Backlit by the afternoon sun, less than 30 feet from us, was a herd of massive buffalo. The buffalo seemed totally unbothered. I, on the other hand, stopped breathing. I still think about it, completely transfixed, even eight months later.
You can't predict a crystallizing experience like that. And they are rarely what you imagine them to be. But at a property like the green o, the adults-only, all-inclusive luxury retreat where I was staying, they are the result of meticulous design. The experience begins after a 40ish-minute drive from the Missoula airport, when you enter the 37,000-acre wooded grounds and pass through a discrete gate lit by sleek modern lanterns and emblazoned with the property's signature o. Each of the resort's 12 houses is secluded and oriented around what they call the Social Haus: a gorgeous, cozy, light-filled structure where everyone convenes to eat.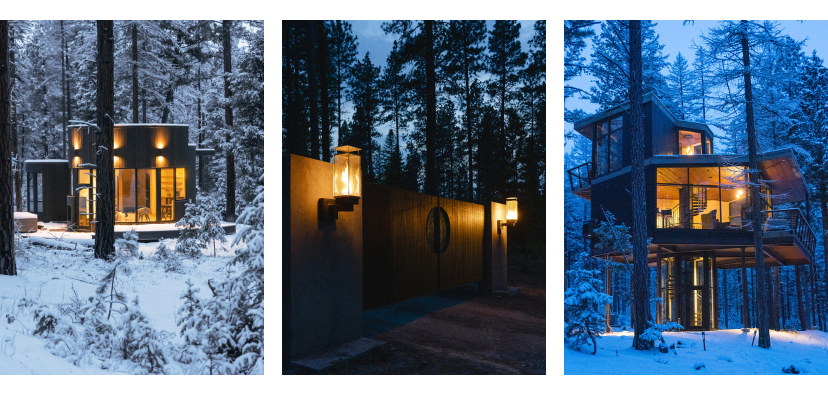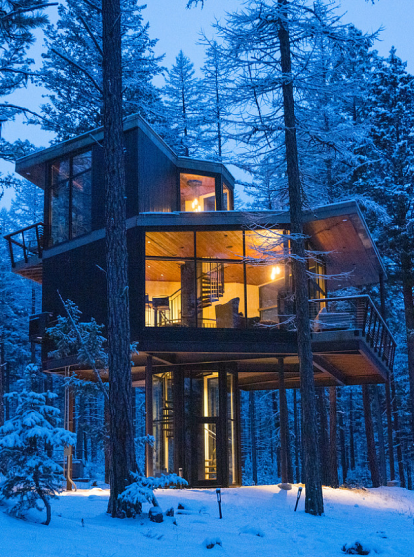 We were staying in one of the tree houses, tiered structures built around circular staircases. It feels immersive—floor-to-ceiling windows in every room do really make you feel like you're living in the trees. A beautiful bathtub with a view, an outdoor hot tub, and several fireplaces add to the overall understated glamour. (The Tree Haus is one of four room concepts: The Green Haus, for example, has a one-story layout with a bedroom skylight that allows you to stargaze as you nod off to sleep.)
The room felt remote and secluded, although at night you could see the soft glow of the Social Haus in the distance. Every morning begins with a prebreakfast Yeti left outside your door—within it, a canteen of hot coffee and freshly baked savory and sweet pastries. It took me a day to figure this out, but the food at the green o is so exceptional that everything on your itinerary is just an elaborate way to create enough appetite to eat again.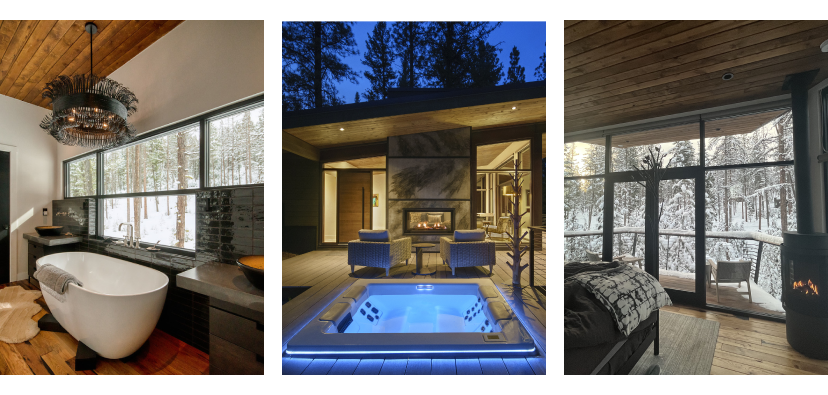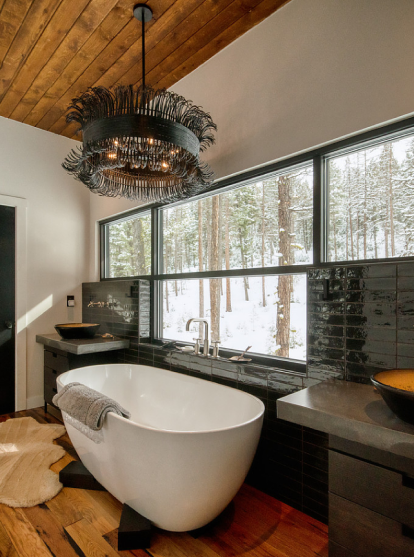 The star of the show is a nightly nine-course tasting menu. (You can opt for à la carte, but you'd be missing out.) It's the brainchild of Brandon Cunningham, executive chef of the Social Haus, and every bite is outstanding—and creative enough that after three nights, I don't think I had two dishes that were remotely similar. Our first night started with a re-creation of a Filet-O-Fish as an amuse-bouche; what followed was a perfect bite of beet with elderberry, then chanterelles in a decadent sauce, and so on. It's exactly the kind of fine dining that could be accused of being pretentious if it wasn't, in fact, the best thing you'd ever tasted. The move is to sit at the bar and watch the chefs as they move through their synchronized dance. (As someone with a gluten allergy, I had the rare experience of eating at an exceptional restaurant without feeling like I was missing out on something. The same care and thoughtfulness for my allergy—which went beyond simple substitutions—was extended to a vegetarian guest staying at the same time.)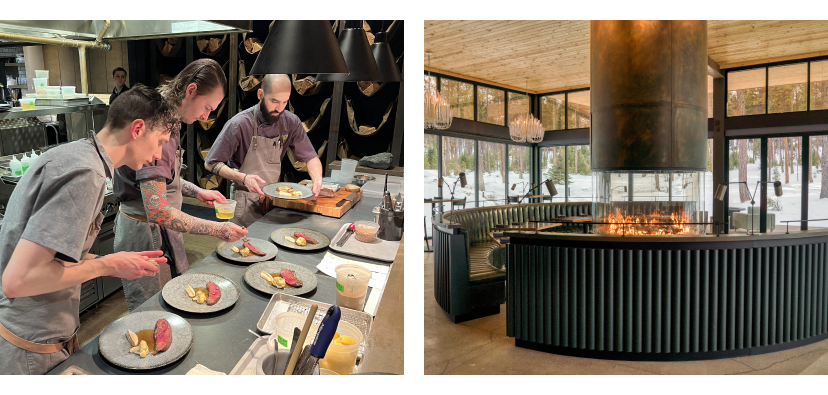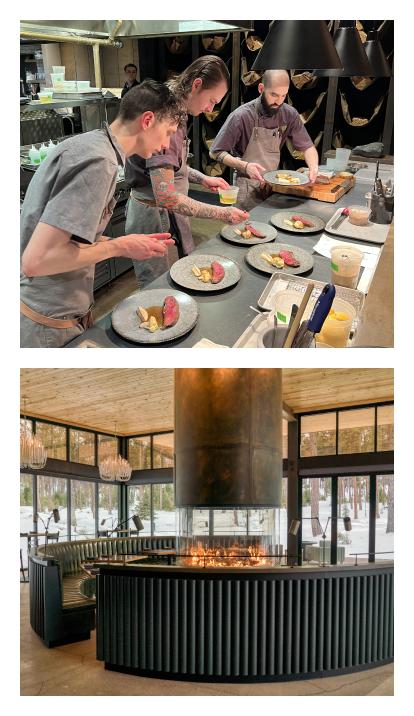 The culinary program is reason alone to book a stay, but then there's also what is available to you between meals. The green o opened in 2021 as the adults-only sister property to the Resort at Paws Up, which is like a family-friendly outdoorsy adventureland with horseback riding, the aforementioned snowmobiling, archery, and anything else you might imagine yourself doing in Montana depending on the season. (There are only 24 guests at the green o at a time, and you can fill your days with anything Paws Up has to offer.) There exists somewhere footage of me on a Moon Bike: Two very patient instructors taught us how to maneuver the electric bikes through the snow; it was exhilarating to zip quietly through the expanse of almost blindingly white open fields with no restriction. I did completely wipe out on a turn but loved it nonetheless.
The on-site spa was top-notch, as was the short drive to get there—our driver, Jason, generously pulled over to point out a bald eagle perched high in a bare tree. He also told us lore of a behemoth half-cow, half-buffalo (beefalo!) called Tyrone who famously roams the land. We kept our eyes peeled for the next few days. He remained elusive, much to my disappointment.
But there's always next time.