GP's Italian Scrapbook

With only about a week to explore Italy—and a detour to Rome for Valentino's haute couture show in the middle—packing it all in became an impossible-to-solve Rubik's Cube. The mandate? Maximizing every day and every meal with a little road-tripping thrown in for good measure. Momentum, who put together GP's sail-of-a-lifetime through the Indonesian Archipelago a few years ago, stepped in to stitch it all together, bringing together two of the Italy's most incredible properties (Castello di Reschio, Villa Treville), Michelin-starred meals, and all sorts of extra-credit adventures, like a truffle hunt and cooking classes. The details, below.
SCRAPBOOK
Umbria

The truffle-laden woods where we searched for 'shrooms.

Nero, the hunter, found a treasure in the rocks.

A big black funghi.

Fresh fichi.

The day's bounty.

Sticks and stones.

A view from Citerna, a stunning medieval village in the Upper Tiber Valley.

Back at Bianconi homebase, they turned our loot into lunch.

A fig and truffle salad.

The harvest, four ways.

Citerna is walled and fortress-like, and named after the ancient tanks that were excavated below ground for collecting rainwater (seven still remain intact).

Maybe the world's chicest wine shop, on-site at Reschio.

Dinner selfie.

That specific Tuscan green.

Count Bolza's incredibly chic cabin by the lake.

The magic of an outdoor living room.

Organic lettuces from the Countess' gardens (see below).

A bento-esque picnic box done noble architect-style.

A private lake for picnic lunches.

Pasta making class.

Bolognese.

Tagliatelle with fresh tomatoes and basil.

Rome

Con mi chica Delfina Blaquier Figueras. #wearefigueras

A wonderful post-show dinner.

The original gangster, flanked by two ladies in red. (Rosario Nadal.)

Positano

I found flipper. #LiGalliIslands

A view from Villa Treville.

A gorgeous little cove, visible from the hotel.

Fresh sardines at Da Adolfo.
THE DETAILS
[Perugia, Italy]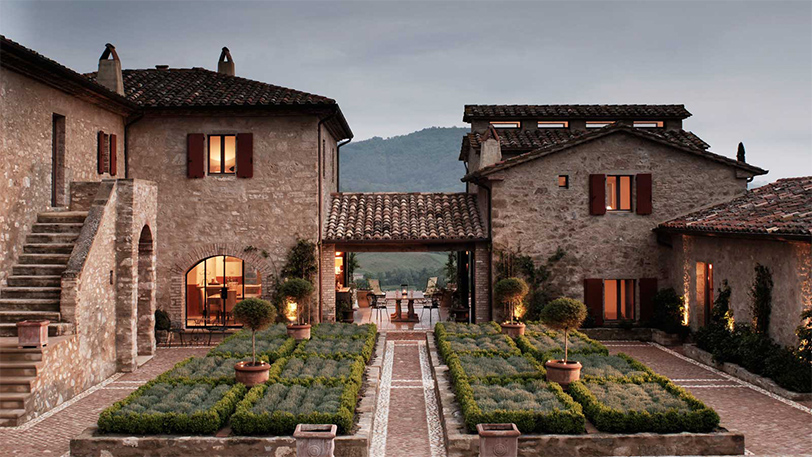 In the early 90s, Count Antonio Bolza and his wife Angelika came across Reschio—a largely abandoned and derelict estate from the 11th-century that had once guarded the Umbrian/Tuscan border—and began the process of slowly breathing it back to life. Now under the care of their architect son, Count Benedikt Bolza, and his wonderful wife, Nencia, Reschio is once again thriving: There are numerous meticulously restored and stunning palazzos—complete with private pools, tennis courts, and fridges stocked with the harvest from the adjacent olive groves, vineyards, and biodynamic garden—along with a restaurant, wine shop, and stables, where you can ride the family's Andalusian horses. At 2,600 acres, there are private lakes, vast oak forests, and rolling hills in every direction.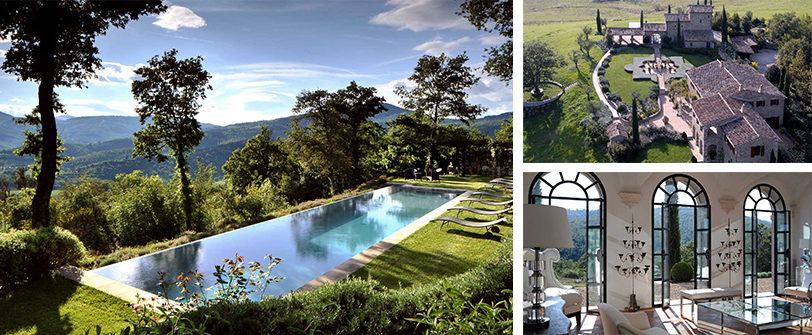 The Count's design firm has an office on-site in the restored Tabaccaia from the '40s, which also functions as a gallery—in addition to being on Architectural Digest's list of the world's top 100 architects, he produces a lighting and furniture line that's made by area artisans from local materials. It doesn't hurt that these craftsmen some of Italy's best, as evidenced by the incredible restoration: In the main palazzo, the vaulting was created with plaster board in the traditional style, the semi-spiral staircase was assembled with hand-cut travertine blocks (no cement or metal rods hold it in place—it's all step key), and the wash basins were carved from marble by the marble workers Vaselli Marmi on the road to Siena.
The Countess' Garden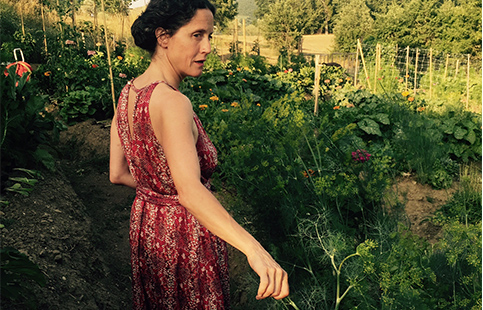 The Countess, Nencia Bolza, oversees the estate's incredible gardens, or "orto." They are biodynamic, or "synergic," so once the raised beds are established, they are self-maintaining and require little in the way of water. She grows six types of tomatoes, zucchini, eggplant, peppers, lettuce, kale, cavolo nero, basil, parsley, butternut squash, beans, and many other herbs. And there are flowers, too, to bring in the bees. There's a more formal garden as well, which is planted in enclosed and checkered parterre: It includes thyme, sage, rosemary, lavender, santolina, and artichokes.
Countess Nencia subscribes to a gardening philosophy that revolves around the lunar calendar of Maria Thun, which delineates what to plant and how to tend the garden according to the phases of the moon and its influence on the atmosphere. Maria Thun passed away in 2012, but the calendar continues: Every year Countess Nencia plans the work in the garden and fields according to its dictates.
The Countess' Nut Spreads
Countess Nencia whips up all sorts of incredible nut-based spreads—she was kind enough to share a recipe for this Pistachio-based version.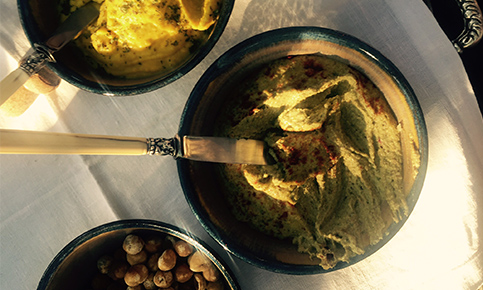 The Countess' Pistachio Spread
Pistachios, ginger, and cilantro might sound like an odd combo, but this dip is delicious. Like a lot of Italians we know, the Countess cooks by instinct rather than precise measurements, so feel free to play around with the proportions to suit your tastes.
Get Recipe
Italy Recs from
The Count & Countess
Piano Grande di Castelluccio "In late June/early July, there is a wonderful place to visit that's just over an hour's drive from Reschio. Piano Grande di Castelluccio is a big plain, which was the caldera of an old volcano and has lentils and other crops, as well as a profusion of wild flowers. There are 3- to 4-inch high wild tulips, wild orchids, and many other flowers—the colors are truly a sight to see. It is a really hidden gem and only seems to be known to some locals. Of course the lentils are very good too.

Le Grotte della Cività This is a hotel that's actually located in a cave—it is in Matera, in the region of Basilicata in the South of Italy (the instep of the big boot).

Roberto Cucciaioni Roberto is a wonderful local tailor who creates custom suits and clothing in a traditional manner.

Busatti These local shops are a wonderful resource for linens.
[Positano, Italy]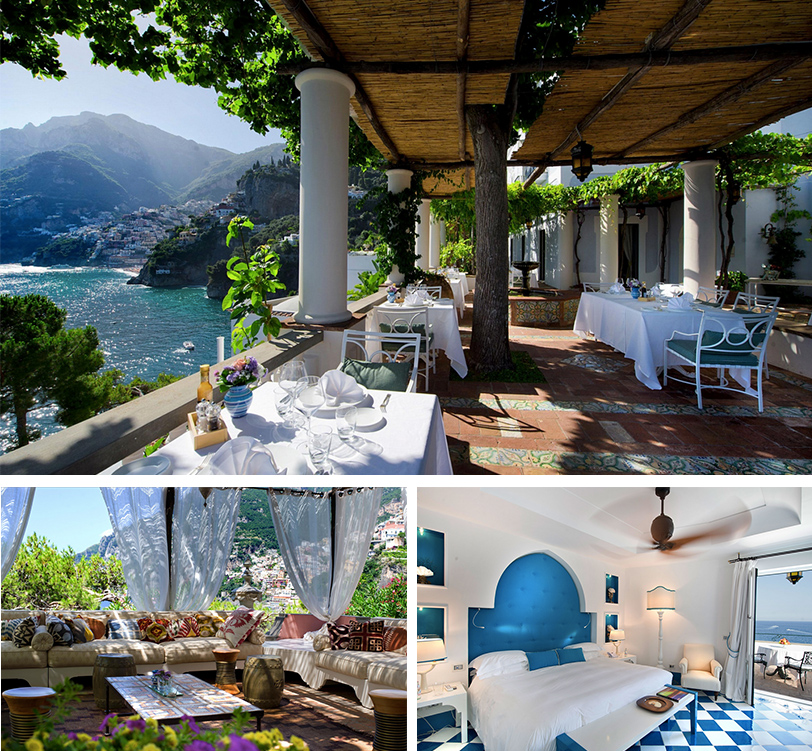 Ranging along a cliff overlooking the surreally blue Tyrrhenian Sea, this fabled spot once belonged to Russian writer Mikhail Semenov who acted as a siren song for Europe's intelligentsia, including Zeffirelli, who lived here for thirty-odd years. While in residence, Zeffirelli oversaw the transformation of the interiors and gardens. These days, under the care of Govind Friedland, it's one of the world's most romantic boutique hotels thanks to its original, history-laced rooms and its incredible views. Plus, it's Positano.
SOME OTHER RECS
We haven't had a chance to check these all out, but have heard that they're all great.