Cruising around the French and Italian Riviera
Created with Celebrity Cruises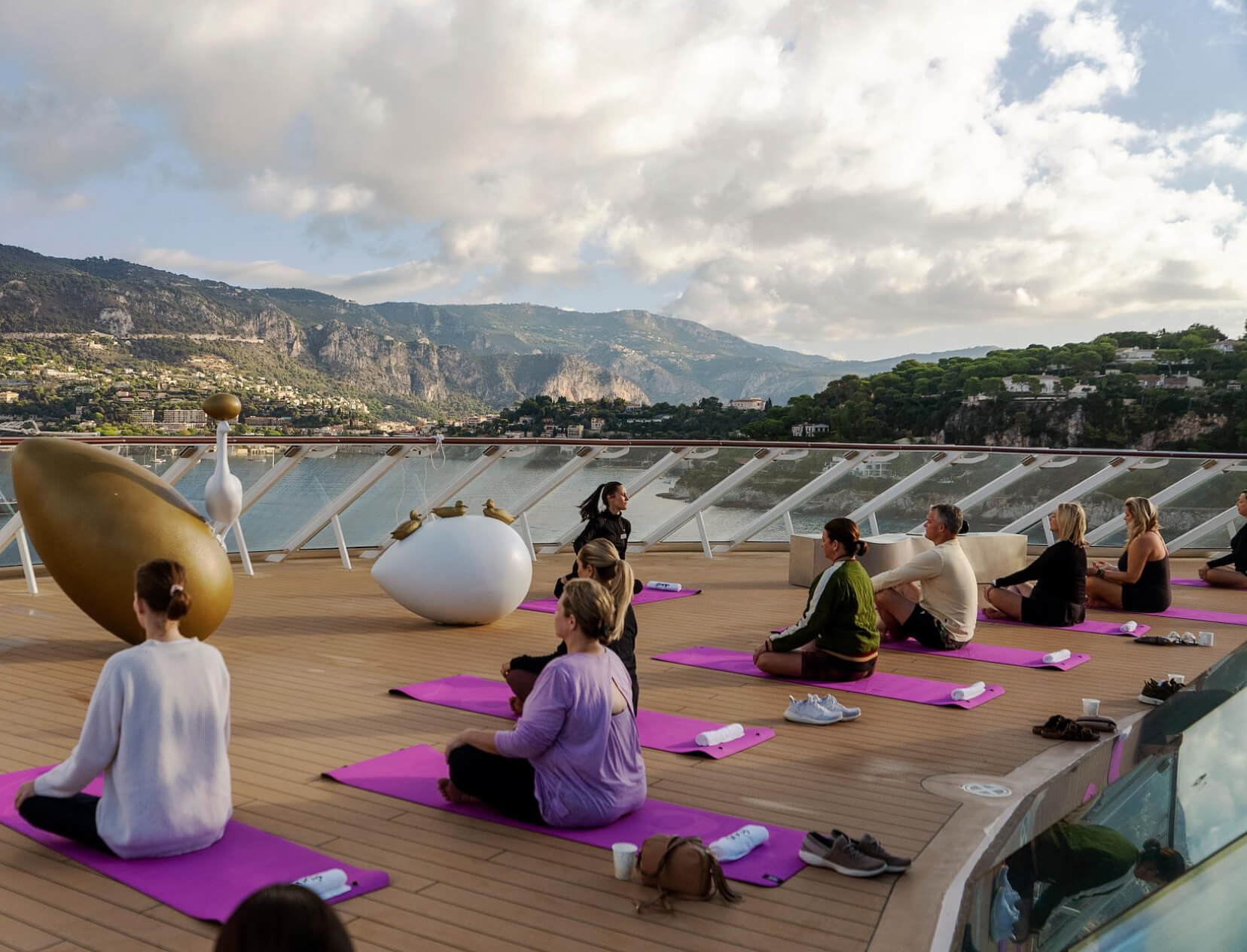 There are people who love planning a big, epic vacation. And there are some of us who find it excruciating to pick even one destination to hit during our coveted PTO. Putting together a multicity itinerary takes skill, and enjoying it often requires some endurance. Have you ever felt like you've needed another break after your vacation?
Here's why we've been working with Celebrity Cruises: The Celebrity Cruises team does most of the legwork for you. They deliver an exceptionally luxurious experience by incorporating well-being practices and moments of restoration into travel so your vacation can feel like…a vacation.
This September, we spent some time on board Celebrity's newest ship, Celebrity Beyond, hosting goop at Sea. The experience was part of a nine-night European tour through France and the Italian Riviera. (Yes, we know. We're very lucky.)
Cruising turns out to be one of the easiest, most unique ways to experience the Mediterranean and hit those dreamy, Instagram-worthy spots on your bucket list. Aix-en-Provence, Cap Ferrat, Portofino: check, check, check. Admittedly, we failed to imagine the potential level of splendor of a cruise until we were actually on board Celebrity Beyond. It was grand.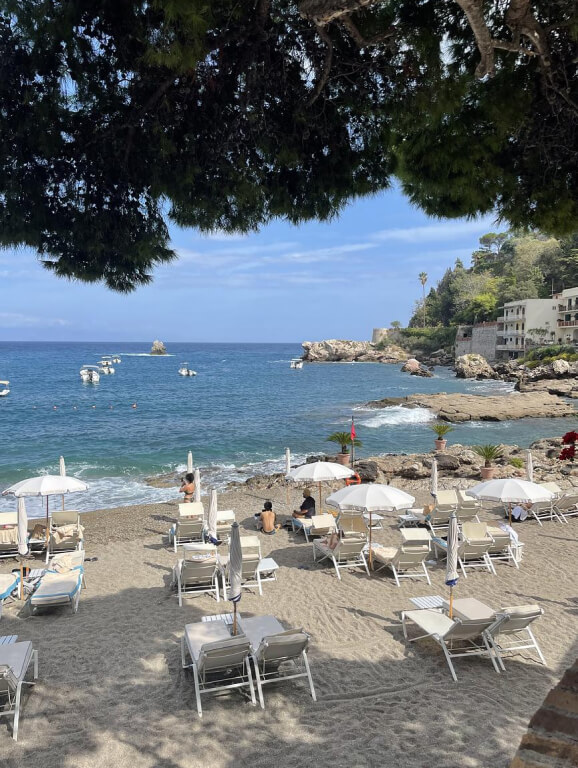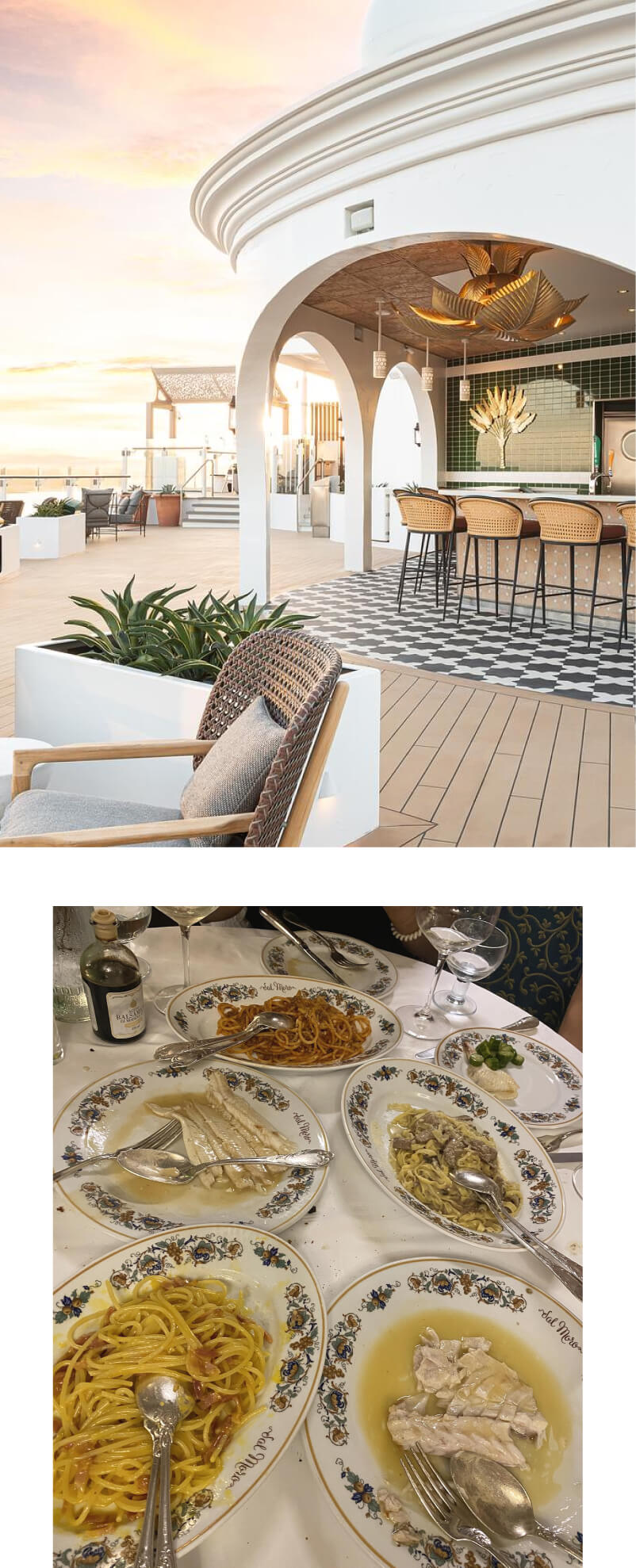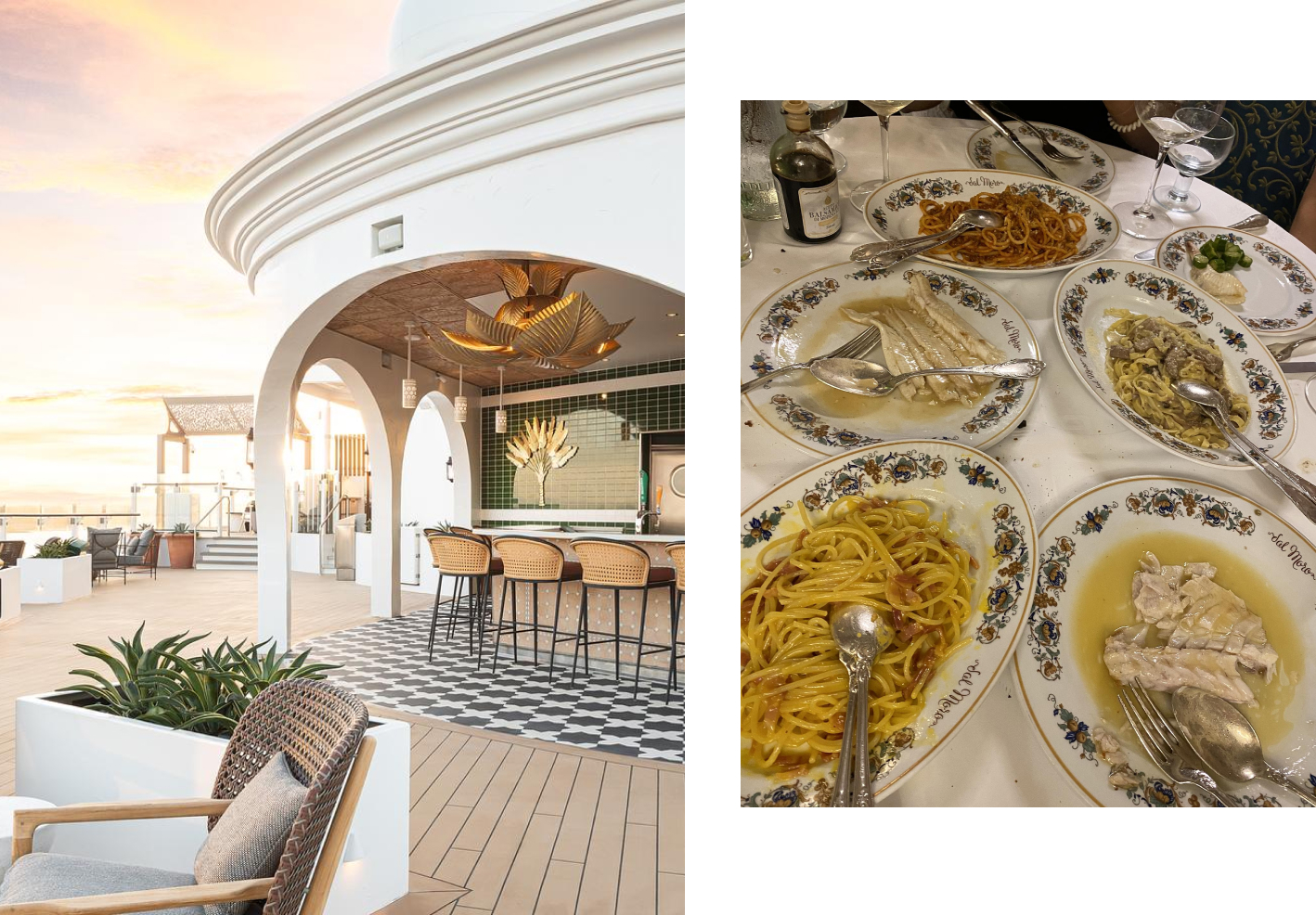 We started off the trip in Barcelona. Gwyneth had just passed through and gave us her short list, which we made good use of (see the list of off-ship recommendations below). We kept saying that we were so glad we were able to give ourselves a couple of days in Barcelona before we boarded the ship—it's nice to get acclimated to the time zone before setting sail.
We arrived at the ship on a Saturday morning. Celebrity Beyond is a decadent sight—all 1,073 feet of it. We had a moment to take it all in before heading to our rooms, complete with private verandas. (Some of the more water-inclined among us would keep their windows rolled down every night and fall asleep listening to the sea. Some of us preferred listening to Spotify.)
An annoying part of travel is schlepping your luggage and unpacking and repacking. Even after only 48 hours in Barcelona, we were grateful and felt a sense of relief as soon as we stepped in our staterooms: You live here now. Your bags are being brought up to your room. You can fully unpack (and bring something much larger than a carry-on), because there's no shortage of storage space. Bring as many serums, toners, and tubes of cream as you'd like—your bathroom is sized and ready for your 10-step skin-care routine. And, like a hotel but better, your stateroom is stocked and cleaned and tidied daily (multiple times a day, if you wish).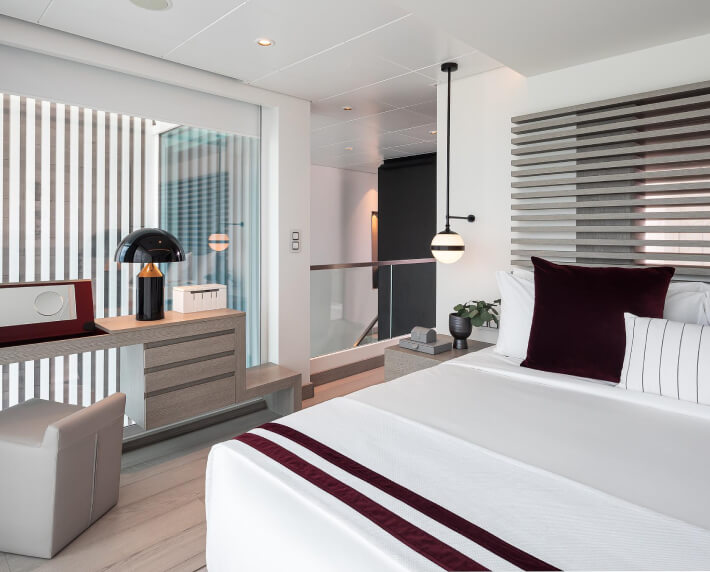 We kicked off goop at Sea the best way we know: with in-room gifts and a welcome toast hosted by our VP of content, Kiki Koroshetz. After cocktails with our (very lovely) group of guests doing goop at Sea, we tucked into our comfortable king-size beds, knowing that tomorrow, without doing any work, we'd be in France.
The next morning, half of the goop at Sea group did a Torch'd workout with Isaac Boots (accompanied by his poodle, Davis), and the other half did a stretch and breathwork session on an open-air deck. We've done a lot of things in the name of goop and research, but we'd never done high-intensity dance cardio on a deck overlooking the crystal-clear waters of the Mediterranean, with the South of France in the background. It was the way to start the day, and we soaked it up.
After the workout, we grabbed our goop detox smoothies from The Spa Café before hitting breakfast at Oceanview Café, one of the many dining offerings on board. No going hungry before setting off to explore Marseille for the day.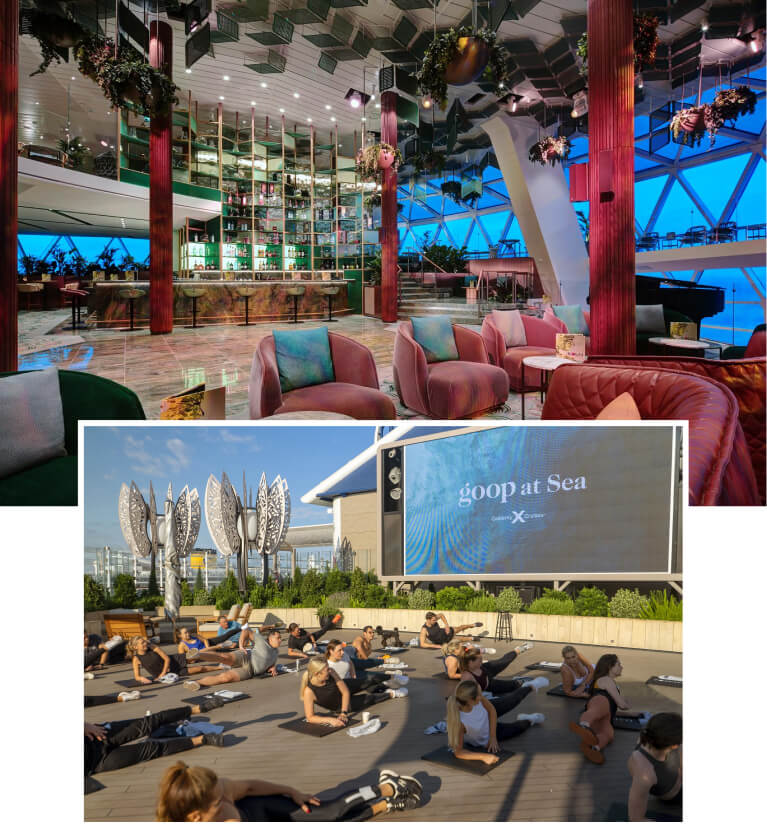 We returned to the ship around 5 p.m. Back on board Celebrity Beyond, there's still plenty to do for those who want to do. You can (and should) go to the Nate Berkus–designed Sunset Bar and enjoy an aperitif while watching the ship sail away from the port. You can make a dinner reservation at chef Daniel Boulud's first restaurant at sea, Le Voyage, or try something more casual at Cyprus or Tuscan. We loved the sushi spot, Raw on 5, for group dinners. After dinner, a few of us caught a Sunday night football game on the massive screen in the ship's stunning Rooftop Garden.
Evenings are a study in hedonism. For the first couple of days of goop at Sea, we had exclusive access to the spa, which offers everything from massages and facials to acupuncture and reflexology. If you're getting a spa treatment, you also get access to the Sea Thermal Suite. Dedicate some time trying each of the rooms in there. Our favorites: the heated salt room, hammam, and crystalarium (an aromatherapy room with a beautiful amethyst at the center for gazing and good vibes).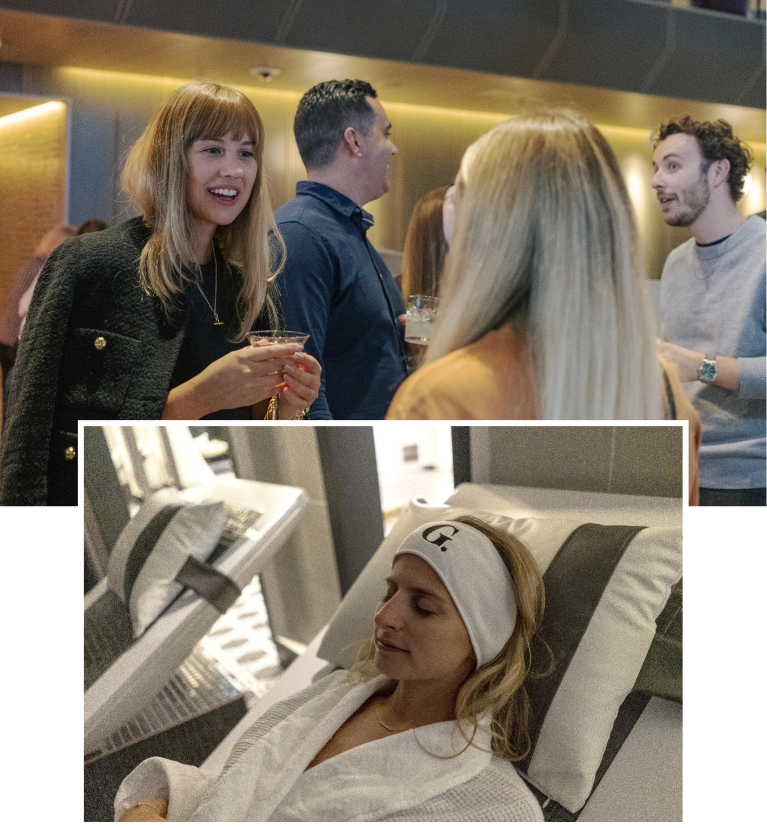 The following days of the sailing followed a similar pattern, with goop at Sea sessions spread throughout and the ship docking nearly every morning at a different port. Alongside our movement sessions, we also hosted workshops on support languages with psychological astrologer Jennifer Freed, PhD, and holistic strategies for managing anxiety with integrative psychiatrist Ellen Vora, MD. We drew tarot cards with Freed. On day seven, GP joined us and interviewed Vora. They talked about mental health and the ways that psychiatry is changing. Vora shared gentle ways to minimize stress, get more sleep, and get out of our heads. And GP also took questions from the audience about how she's approached different challenges, relationships, and turning points in her own life. By the end of their conversation, it felt like we had formed a brilliant new community.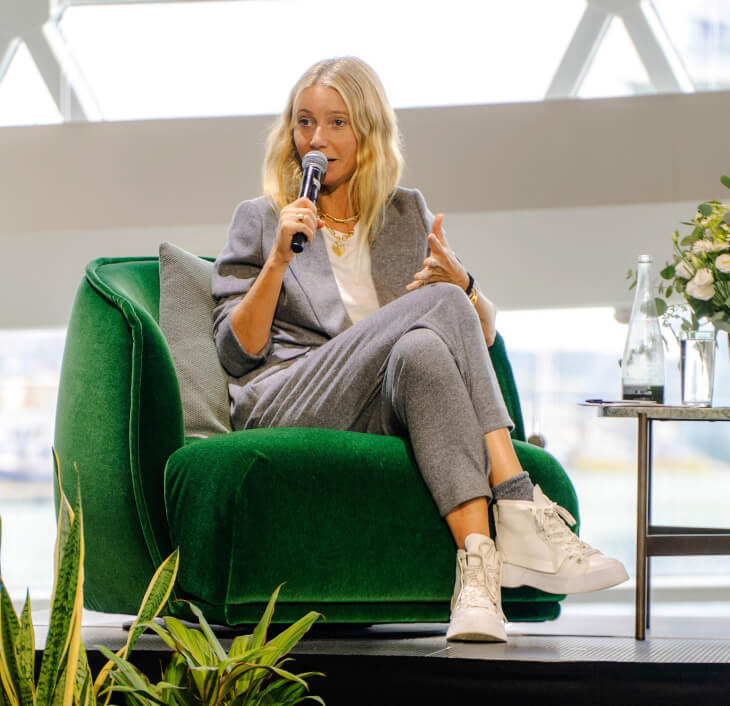 Of course, there was a lot of joy. We did a cooking class where we learned how to roast a chicken and made a kale and sweet potato salad with miso and frozen cherry bonbons together. We went to the beach in Nice. We traversed the streets of Sicily, ferried to Capri, and ate pizza in Naples.
Every night back on the ship, we recounted the best moments of the day and felt a type of ease knowing that all the thinking and legwork for the next stop was in the best of hands. Some nights this recounting happened at the Martini Bar, pre-silent-discoing with new friends. Other nights it was at the spa or while shopping, betting on red at the casino, or watching one of the acrobatic shows (wow).
It was a rare vacation—the kind you can put a minimal amount of effort and planning into and still maximize your amount of pleasure, fun, and connection.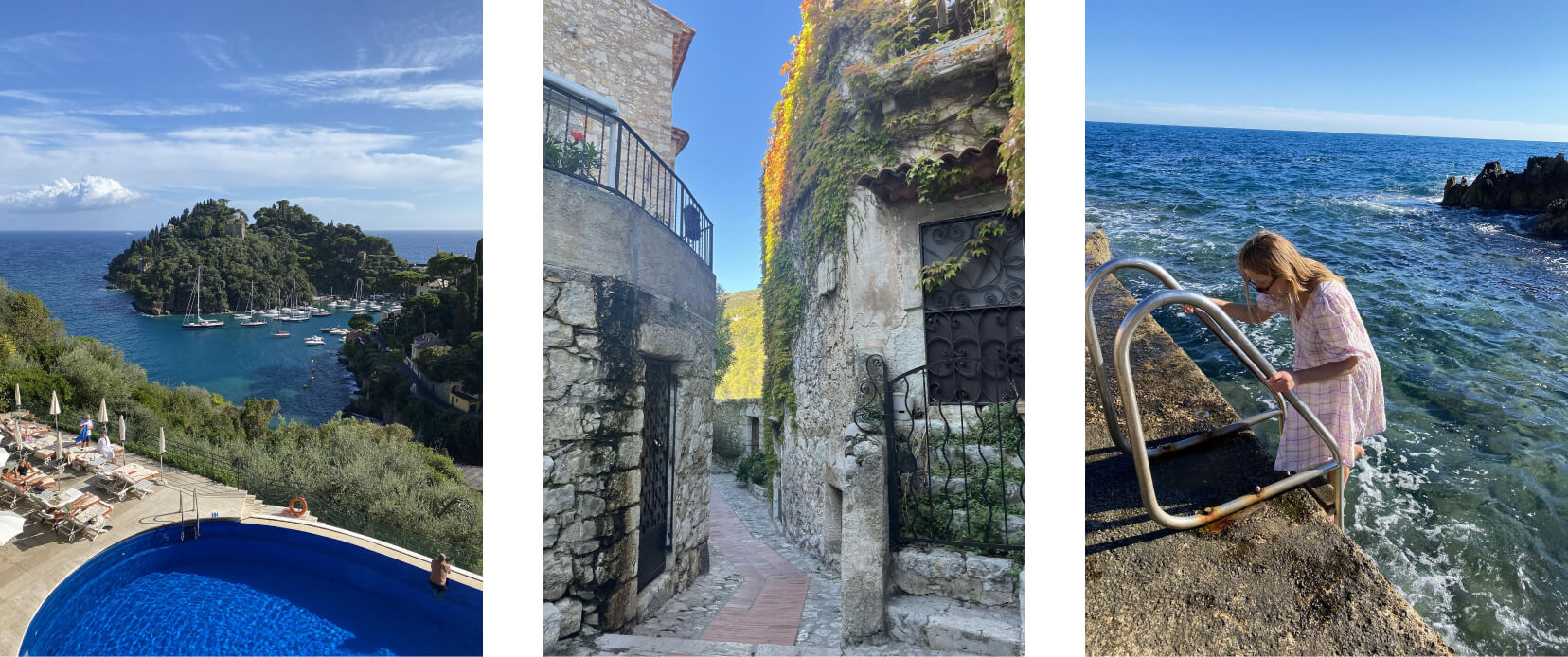 Our Favorite
Off-Ship Stops
If you have a day in these cities, this is how we'd do it.
In Barcelona:
Take an afternoon walk to the Sagrada Família.

Grab tapas at Casa Bonay.

Get a cold brew at Satan's Coffee Corner.
In Marseille:
Take a cab to Aix-en-Provence and have a meal at Francis Mallmann's restaurant at Château La Coste.

Or head over to Cité Radieuse, one of Le Corbusier's most famous architectural projects.
In Nice:
Hit the Club Dauphin pool club at the Grand-Hotel du Cap-Ferrat.
In Santa Margherita:
Have a Campari spritz and catch a view at Splendido, in Portofino.
In Sicily:
Stroll the streets of Taormina, then relax at the Belmond Grand Hotel Timeo.
In Naples:
Catch a ferry to Capri and take the funicular (a cable car) up the mountain.
In Rome:
Get to Da Enzo al 29 early for lunch (the line is usually long).

Stroll the Villa Borghese gardens.

Have dinner at Al Moro, then end with gelato near the Trevi.
OUR BEAUTY KIT