3 Days at the Most Family-Friendly Luxury Resort in Mexico
Created with Simon & Schuster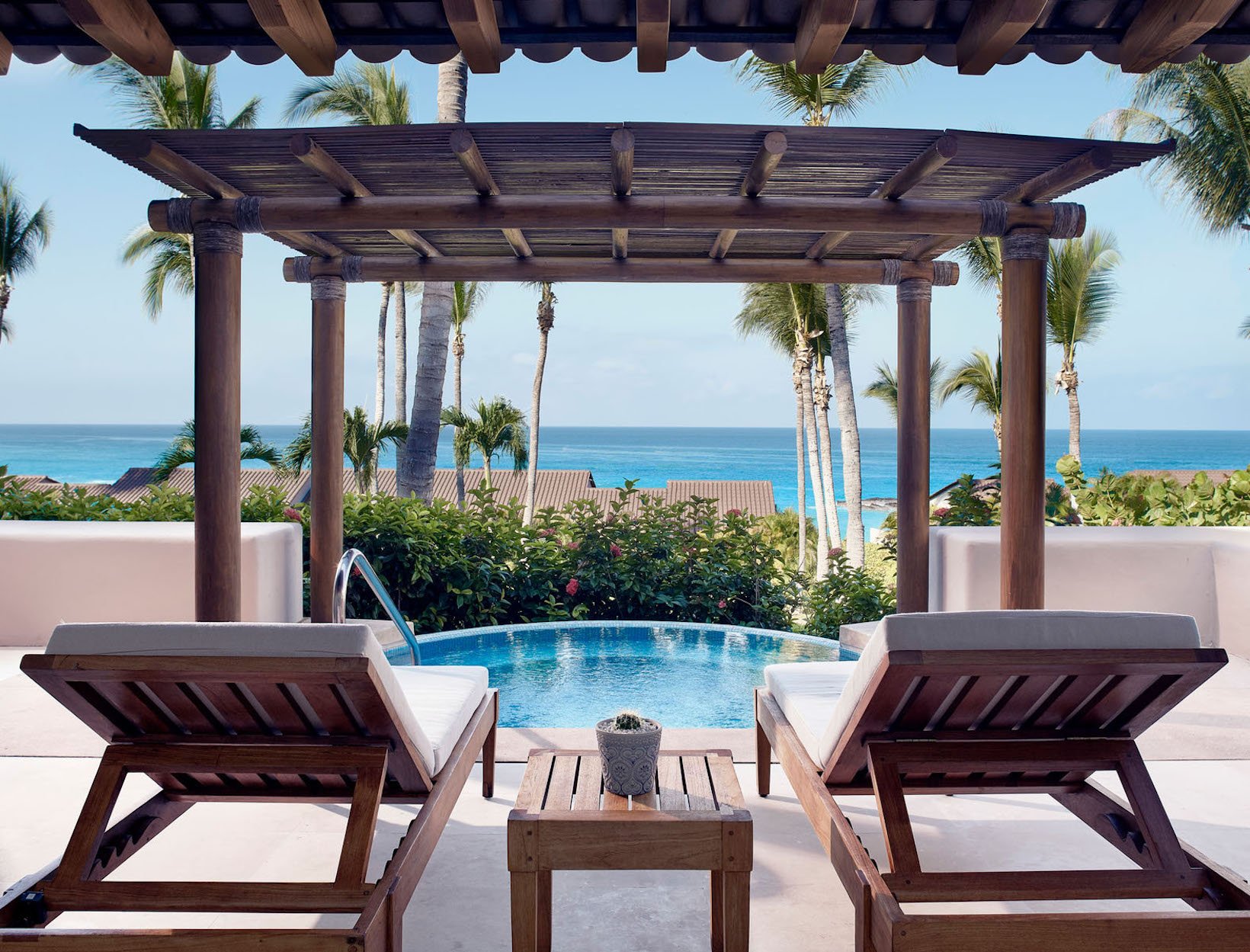 For those traveling with kids below the age of six, the "vacation" part of "family vacation" is somewhat laughable. Oh sure, the kids have fun. (Kids always have fun.) But for the grown-ups chasing rogue toddlers, scavenging for food that kids will actually eat, and wrestling wiggly bodies out of wet swim diapers and sandy swimsuits…well, for us it's the same itinerary as at home but with more sunscreen. Pulling into the Four Seasons Resort in Punta Mita, which sits on the beach end of a seemingly endless gated community, I felt something I'd yet to feel on a trip with my two kids, Sonny and Kitt: hope. Here, they've got it figured out. And by "it" I mean what it takes to make sure everyone has a good time.
DAY 1
GOLF CARTS, GUACAMOLE, AND A PLUNGE POOL
Luck was on our side from the moment we checked in because our room came with a private plunge pool. Being able to lounge and swim in a contained environment, without having to locate the room key, was a revelation.
After aquatics were taken care of, we ventured out to explore the resort via golf cart. There's a whole fleet of 'em. Call the front desk and one will arrive at your door in minutes to take you anywhere on the 52-acre property. The kids loved being zipped around the curvy walkways and lush foliage as if it were their personal Indy 500 track. We grown-ups loved not having to schlep.
At Dos Catrinas, the open-air Mexican food spot that serves as the central hub of the resort, guacamole is made tableside and devoured in seconds. At the beach, my husband and I each cracked open a book for the first time in months while our giddy, full, just-tired-enough kids chilled out in the sand. After a dinner of zarandeado-style fish for us and one of everything on Bahía's children's menu for them, we hit the arcade. (Yes, there's a full arcade.) Hours of Foosball, air hockey, Mario, Ms. Pac-Man, and about a dozen more games meant every member of the family was ready for bedtime.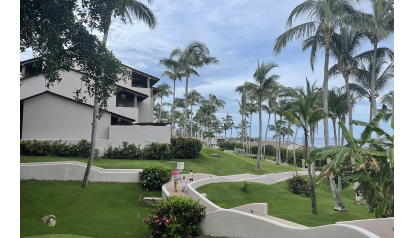 DAY 2
CHURROS, MASSAGES, AND A PIÑATA PARTY
At the breakfast buffet, the hits just kept coming: From customizable chilaquiles to a mobile churro-making station to a bounty of fresh fruit, everyone got exactly what they wanted to start the day.
Like all Four Seasons properties, Punta Mita has an on-site kids' clubhouse—with the thoughtful addition of wellness programming. So while my husband and I headed to Apuane Spa for our massages—full-body tranquility for me, deep tissue for him—a babysitter (hi, Cecy!) took Sonny and Kitt to the clubhouse for a few hours of guided meditation, journaling, and crafting luchador masks.
For lunch, the Salad Shack is a make-your-own salad spot right on the beach. While the littles haven't graduated to salads quite yet, they filled up on udon noodles and turkey breast. After the obligatory post-meal 30, it was back in the water to swim out to the massive inflatable trampoline floating right offshore. This was followed by boogie boarding for Kitt and a private fishing lesson for Sonny. Core memories were made when he finally caught (and released) his very first fish. Did the activities staff somehow make the fish happen? I wouldn't put it past them.
You might think that at this point we'd have peaked on the fun meter, but you would be wrong: We had a piñata party to attend. It's one of the many private experiences you can set up to surprise and delight. The subsequent sugar rush was a small price to pay. In the interest of balance, dinner was at Aramara, the Asian-inspired restaurant on the property. Sushi rolls, edamame, kung pao shrimp—the works.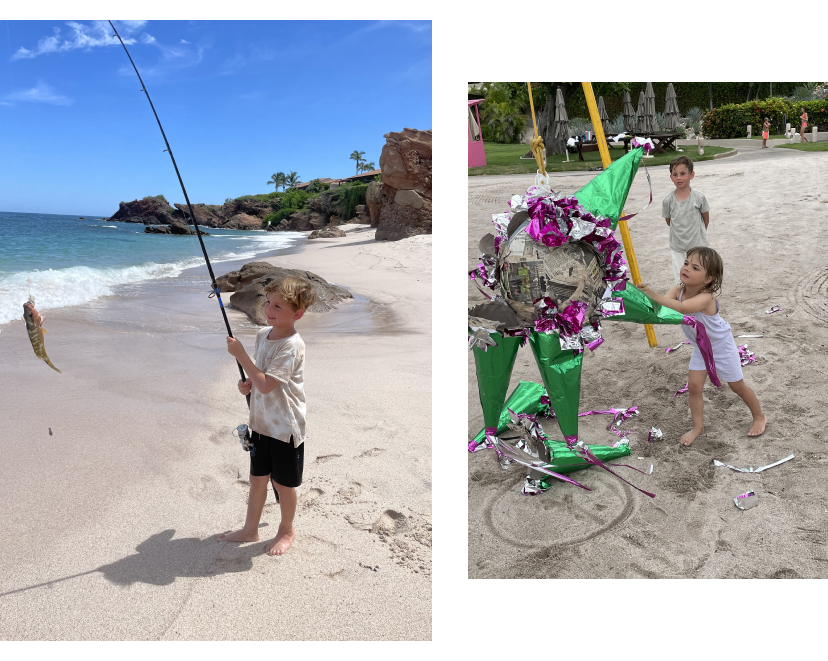 DAY 3
REST, RELAX, AND PLAN AHEAD
It's important to note that doing every activity that the incredibly gracious staff is ready and willing to arrange is impossible. Sonny and I could have ridden horses on the beach while Kitt and her dad chartered a fishing boat to explore local marine life. We could have taken a family cooking class, made our own Mexican chocolate bars, or had a family photo shoot. All excellent options.
What we chose to do on our last day is understandable to any caregiver: We dropped the kids off with their babysitter (we love you, Cecy!). While they enjoyed their alone time, we enjoyed ours by taking a 20-minute drive down the coast to take a peek at the newest Four Seasons property in Mexico, the adults-only Naviva. It's 15 villas that blend into the surrounding forest, and it operates on an all-inclusive system that accounts for all food, daily spa treatments, a private beach, and so much more. If there's a better way to end a vacation than making plans for the next one, I don't know what it is.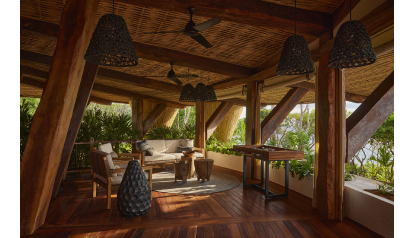 Editor's Picks: The Packing List
In your carry-on: mineral SPF; an easy, breezy linen set; and the memoir your book club—and everyone else, for that matter—has been buzzing about.